Inventory Insights: 12 Ways ONE-KEY™ Brings Digital Transformation to Contractors
Thought Leadership
Lucas Marshall
|
Published: April 6, 2023
|
Updated: June 6, 2023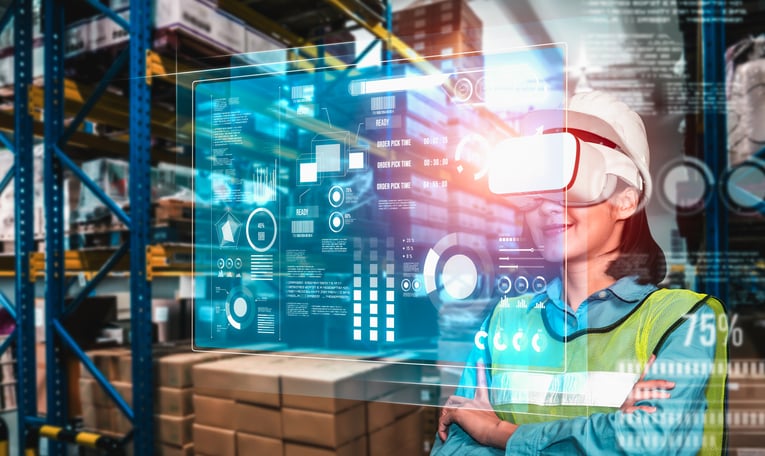 In 2016, McKinsey & Co. released a seminal article entitled "Imagining construction's digital future" (4), where they ranked construction behind all but one industry with regard to its digital journey and proposed "5 big ideas" for how the industry can digitize.
Since then, we've covered a great deal of the technological advancements McKinsey predicted, these predictions in fact gaining traction in the industry via venture capital investments reaching $1.57 trillion in 2021 (2) in startups specializing in construction robots, data management, automation, and augmented reality. We've also covered other topics the McKinsey article outlined, such as LiDAR, the use of construction drones and improvement to geographic information systems, such as integrating with BIM, as well as covering the importance of sustainable construction, sustainable building materials, and sustainable building equipment like the MX FUEL™ Equipment System that cuts down on environmental and user hazards like harsh emissions. Many of the improvements McKinsey outlined via the Internet of Things have in fact been seen led here at Milwaukee Tool.
The industry has come a long way since that 2016, seminal McKinsey article with an uptick in productivity app usage, for example. Yet, the fact remains that integration is in the sub 20% range – meaning that workflows are improving but company-wide processes can still be improved for greater transparency, unification, and collaboration. In fact, a more recent 2019 McKinsey article (3) placed fragmentation among the issues needed solving and hinted at industrialized construction as the way forward (i.e., replacing the one-off project approach for a systematic framework that optimizes output and perfects QA through productization).
There is still work to be done to fully digitize not just projects but operations holistically (see: digital twins construction and construction's metaverse). However, in this article, we've laid out some quick tips where you can begin your digital journey, whether you're just starting out or fully committed to organizational digital transformation.
Jump Ahead:
What Is Digital Inventory

?

Digital Inventory Meaning

We've previously defined inventory management at a high level—just as inventory management seeks to take stock of and control the flow of your on-hand assets to the job, a digital inventory moves to digitize the inventory management flow in order to maximize visibility to where these assets are in flight, at any given point, minimize human error, maximize jobsite uptime, make the process more collaborative among team members, and ultimately increase productivity.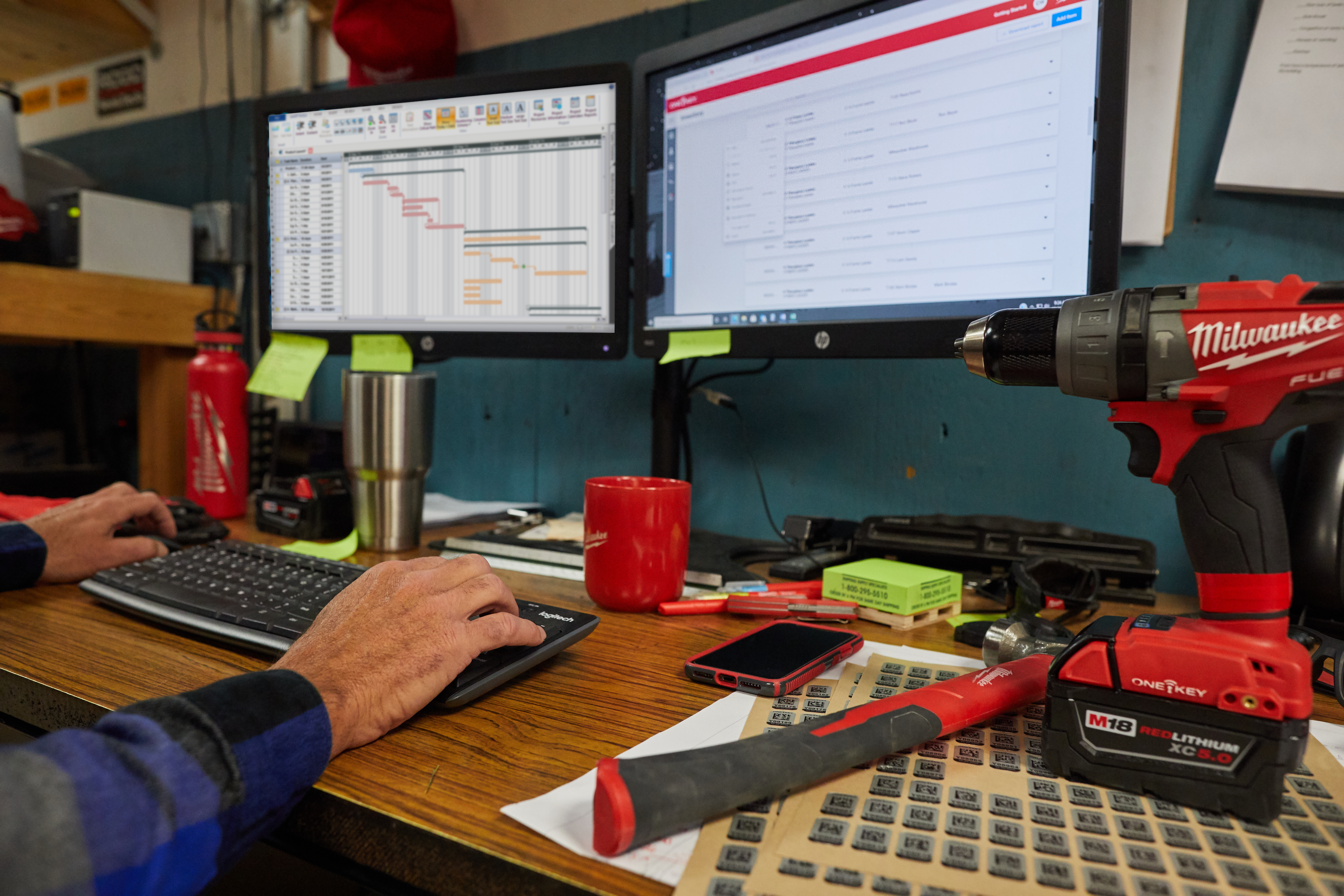 A digital inventory system can have a wide range of features, such as:
A stock system and integrated dashboard and hardware technology (such as barcodes/scanners) to allow adding and tracking new and existing inventory.
Online portal and smartphone apps (see below benefits), if applicable, to manage inventory from the tool crib or on the go.
Commercial tracking technology that ties inventory to financial accounting
Reporting software to better set and track KPIs.
What Are the Benefits of Digital Inventory

?

The value of inventory tracking has been proven not just good business sense, but also, the use of barcodes on medication administered at an academic medical center reduced errors in administration by 41.4% and saved lives (6). The need for digitization is not lost on business owners, either. Back in 2018, a Logistics Management report showed a drop in reliance on paper-based picking systems in warehouses, down 62% at the time compared to the previous year (via Deskera).



The major benefits of a digital inventory, explored in our free guide, include:
Streamlined inventory management in the tool room
Reduced inventory-related downtime incidents
Increased transparency
Cross-team collaboration through data sharing
When Milwaukee Tool launched One-Key back in 2015, the company wanted to "unlock" the untapped productivity gains that a more connected, digital jobsite could provide contractors and professional tradespeople.
Underpinning our digital inventory app are some differentiating factors:
Accessible Construction Software – the One-Key connectivity platform offers real-time visibility to your assets on any device via a cloud-based web app and smartphone apps accessible for iOS and Android, as well as iPad. This means you can access your inventory from the back office, from the tool crib, or on the go (e.g., on the jobsite, in the service van, etc.), and when changes are made, similar to a Google Doc or Microsoft SharePoint Doc, those changes in your inventory are reflected for everyone in the app—no more versioning control, scouring your local hard drive or email inbox for the most recent attachment (or worse, a messy tool crib desk for the hard copy).
Tool and Equipment Tracking – we've amassed the industry's largest Bluetooth Tracking Community, which helps you securely crowd-source your equipment locating via millions of location updates a day, while in-app barcoding scanning allows contractors to ditch the often expensive external barcode scanner hardware in

favor of the convenient camera built into the smartphone you have sitting in your pocket. Further, heavy-duty Asset ID Tags replace the flimsy barcodes found in traditional warehouses and pack better tech, while the company continues to research and bring additional industry-leading tracking technology (such as the recently launched, industry lauded One-Key Bluetooth Tracking Tag).
Connected Smart Tools and Devices – The industry's widest range of connected smart power tools, contractors and tradespeople can find an application-specific solution; standard security and tracking to protect their investment; customizable precision settings for repeatability and reliability in any conceivable application; and utilization and reporting (on select models) for better quality assurance.
Data and Integrations – Finding ways to help contractors channel big data at their disposal includes actively building integrations between software to better connect workflows, reducing errors from manual entry, and creating data partnerships to drive the industry forward.
Inventory Management Software Free? What Are the Costs Associated with a Digital Inventory Solution?
Digital inventory systems can range in price—from a few thousand dollars or a rolling subscription cost (according to Shortly) up to $20,000-$50,000 for a custom build, Crowdbotics points out.
That said, there are free inventory solutions. In contrast to the paid software solutions available to construction companies, ONE-KEY™, Milwaukee Tool's connectivity platform, offers a free digital inventory app with unique and useful features, which some users have pointed out would come at a premium when rolled into a competing service.
Digital Inventory Examples

: 12 Ways Contractors Can Digitize

Now that we've discussed what a digital inventory app is and what one can do, here are 12 ways contractors can digitize their inventory ops:
Bulk Uploads & Automating Inventory Entry
Service Records & Reminders
Adding Manufactures Beside MKE®
Digitizing/Automating Tool Crib Ops via Tool Transfers, Kitting, & Audits
Site-Level Geofence Tracking
Digitizing QA via Utilization Data & Reporting Site-Level
Inventory Reporting
IoT via Smart Tools and Trackers
Unlimited Customization for Repeatability via Mode Library
Integrations for Better Cross-Functional Collaboration
Job Costing for Project Management and Clearer Financials
People Management
Bulk Uploads & Automating Inventory Entry
A statistical analysis showed that human error in data entry can ruin statistical results and conclusions, its authors concluding that "researchers cannot rely upon histograms and frequency tables to detect data entry errors" and that "Single entry and visual checking should be replaced with more effective data entry methods, such as double entry" (1).
As we've previously advised, inconsistent data entry practices are among the most common mistakes we see gumming the works of an otherwise smooth, frictionless digital transformation. To avoid these inventory pitfalls, we recommend documenting your inventory input practices to maintain consistency, avoid data bloat, and, better yet, to take advantage of our bulk upload and editor tools. You can even add new items from existing entries to ensure unintentional variations are avoided when adding additional inventory, which we recommend.
Service Records & Reminders
Preventive maintenance plays a critical role in improving the longevity of your tools. As we've previously recommended in our helpful Repair or Replace Tool Guide, we've offered some advice on how to use One-Key to improve the life of your tools:
Service Records: There's no cap on how much you want to add to One-Key, so we recommend taking advantage of that luxury (in a world where data caps are commonplace and costly). In addition to adding any relative paperwork, like your manufactures' guides (for Milwaukee tools, we prepopulate these for you!), we recommend staying on top of your service. Similar in theory to the ones found in the back of a Harley-Davidson owner's manual (which I myself forget to pencil in on occasion), our digital service records can be updated and maintained virtually, so you never have to worry about the physical documentation, should that service booklet go missing.
Service Reminders: Better yet, service reminders in One-Key help you automate your preventive maintenance in that, when you set these reminders for yourself in the app (monthly, quarterly, semiannually, or annually), you'll automatically be reminded when your tool is nearing its service interval.
Adding Manufacturers Beside MKE®
Did you know that you could add tools from other manufacturers to One-Key? Just as the One-Key app is free to use, which is not common in the industry, One-Key is also a comprehensive solution, meaning you can add and manage tools and equipment of any manufacturer and tag assets via any standard warehousing barcodes (though our asset ID tags provide better durability and functionality, as we've discussed).
Digitizing/Automating Tool Crib Ops via Tool Transfers, Kitting, & Audits
Now that you've digitized the adding of inventory, the managing of your inventory flow from the crib is key to minimizing construction downtime related to inventory management and control—and the difference between a carefully orchestrated symphony and a skipping needle on the record player.
Tool Transfers: Tool transfers allow you to document single (or bulk) transfers of tools and equipment from the crib to the jobsite and back.
Inventory Audits: A mobile feature, inventory audits allow you to scan by the nearby vicinity (such as the tool crib or jobsite inventory).

Tool Kitting

: Also called "bundling" or "grouping," NetSuite notes, is a powerful inventory management technique that offers many advantages, such as cutting down on errors due to careful arrangement and pre-planned picking and packing, lower labor costs, faster (and smoother) shipping to the job. In essence, kitting allows you to group items you're sending to the job in bulk (such as items in a gang box), the ability to audit these kits (and their inners) in one fell swoop, and the feature is superpowered when you combine your physical storing and organization (such as via PACKOUT™) with the digital features of One-Key and related hardware. As an example in action, when you kit out a PACKOUT in One-Key and add a One-Key Asset ID Tag or Bluetooth Tracking Tag on the lid of that PACKOUT, a simple scan of that QR code will automatically bring up a pick list of everything that's supposed to be in that kit – so if something's missing, you can ring it from the app (if it's outfitted with a Bluetooth Tracking Tag), or use the Find Item feature to find whereabouts on the jobsite it's hiding.
Site-Level Geofence Tracking
In addition to being able to add tools to inventory, you can add places and assign inventory to these places (such as the crib, individual jobsites, and even service trucks) and people – but on top of that, our Geofence feature lets you maintain real-time visibility to the comings and goings of your inventory flow to these places.
This cutting-edge inventory tracking feature, which has been written about in Popular Mechanics, works like this:
Once you've added your place to One-Key, you can set up a virtual perimeter around it.
Tools assigned here, if they're One-Key compatible or tracked via a One-Key Bluetooth Tracking Tag, will then automatically update their location should the app see these items start to wander outside of the established geofence to which they're assigned.
Digitizing QA via Utilization Data & Reporting
Digitally optimized smart power tools, like our Digital Torque Wrench or many of our hydraulics tools, provide a wealth of utilization data that can be synced digitally on tool and pulled into customizable reports that can be supplied to stakeholders (such as a client, an inspector, or supervisor) to provide proof-of-work and quality assurance (i.e., proving installations have been performed to specification).
Inventory Reporting
Inventory-related reporting exists to provide smarter, more robust jobsite management.
Tool Management Reports: You can create customizable reports related to your inventory, providing information like how long items have been seen onsite, all items in need of service, items that have been seen outside of their geofence, etc.
Alerts Reports: Similar to Tool Management Reporting, Alerts Reports offer the ability to report out on more critical alerts related to your inventory (e.g., items past due for service, a low coin cell battery that should be replaced soon before losing tracking capabilities, previously missing items that have been found, etc.).
IoT via Smart tools and Trackers
As McKinsey previously predicted (4) of how the industry can be improved through IoT, several examples (like smart construction wearables and smart HVAC systems) we've covered in this publication, while many of the other improvements via the Internet of Things that McKinsey outlined back then (particularly related to inventory) have been seen led here at Milwaukee Tool, such as NFC built into the Bluetooth tags that underpin our inventory system—additional technology advancements we've brought include accelerometers to improve the item tracking capabilities and historical context for inventory managers looking back. Furthermore, the use of machine learning in power tool design by Milwaukee Tool has brought safety features like drill kickback prevention, while even more cutting-edge smart power tools have been optimized for application-specific work (see next).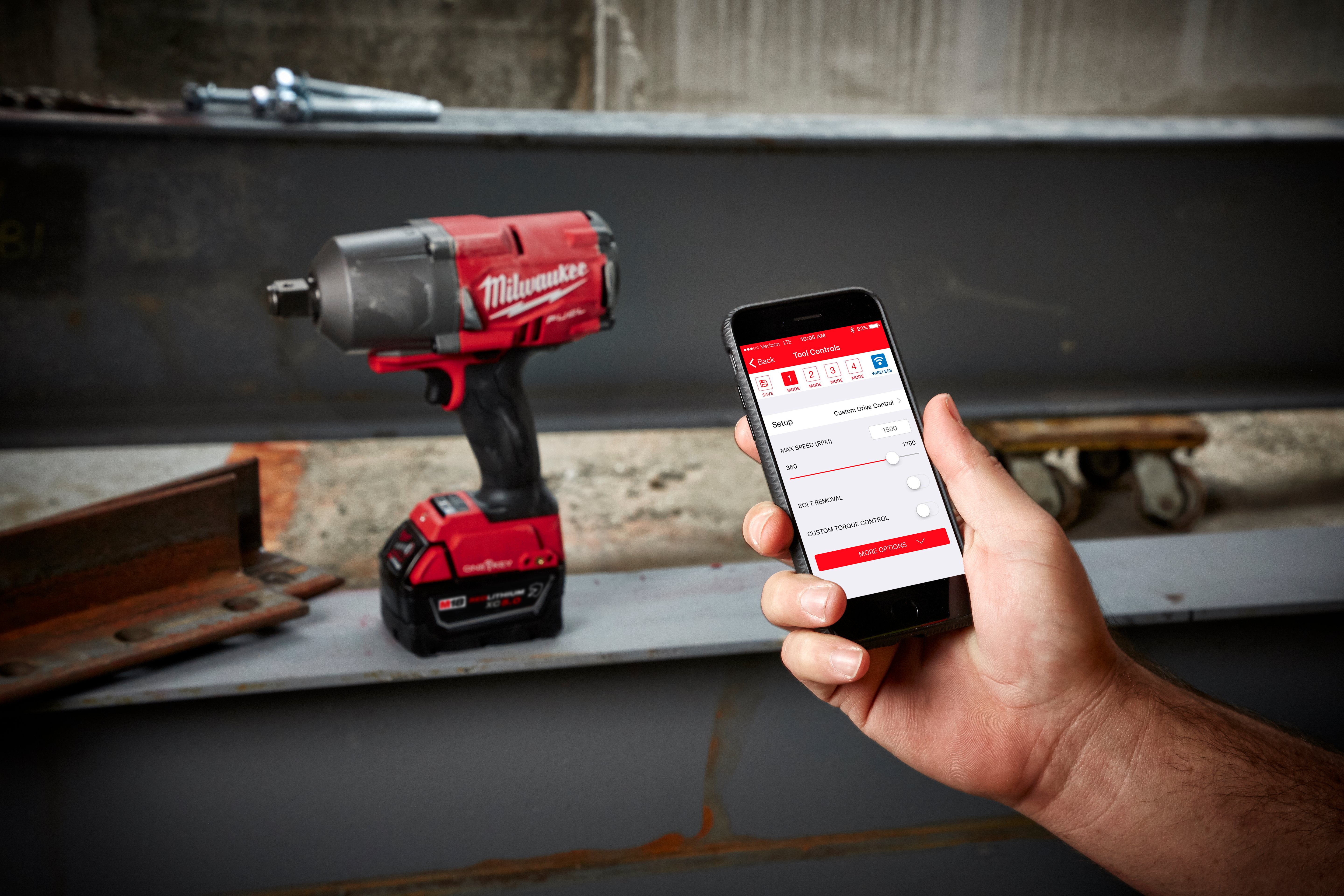 Unlimited Customization for Repeatability via Mode Library
Among the coolest, most cutting-edge features of Milwaukee Tool smart power tools is the deep customization at your fingertips via the One-Key app on your mobile device.
For example, jobsite lighting can be turned on, adjusted, and scheduled via the app, while power tools themselves can be set up for specific applications that require precision settings and reliable repeatability in these applications. Heavy-duty mechanics, for example, have indicated that the use of our 3/5-inch drive impacts are specifically relied upon thanks to One-Key customization that lets them dial in near-certification-level of fastening tightness and dependable precision fastening in these instances.
Even better, though, is the mode library – just as One-Key allows for virtually unlimited inventory data entry, the mode library allows for virtually endless mode customization and logging. While each tool has a few customizable modes on-tool, these modes can be synced and logged away in the mode library—that way, when you need it, you can apply one of these modes to one of the modes on your tool ahead of your workday and ensure you'll have all-day precision.
Integrations for Better Cross-Functional Collaboration
Digitizing work between cross-functional teams saved one team 20 hours of staff time per week, cut down the time to generate reports by 75%, and sped up document transmittals by 90% — as well, it saved another project more than $110 million and boosted productivity by using automated workflows for reviews and approvals (4).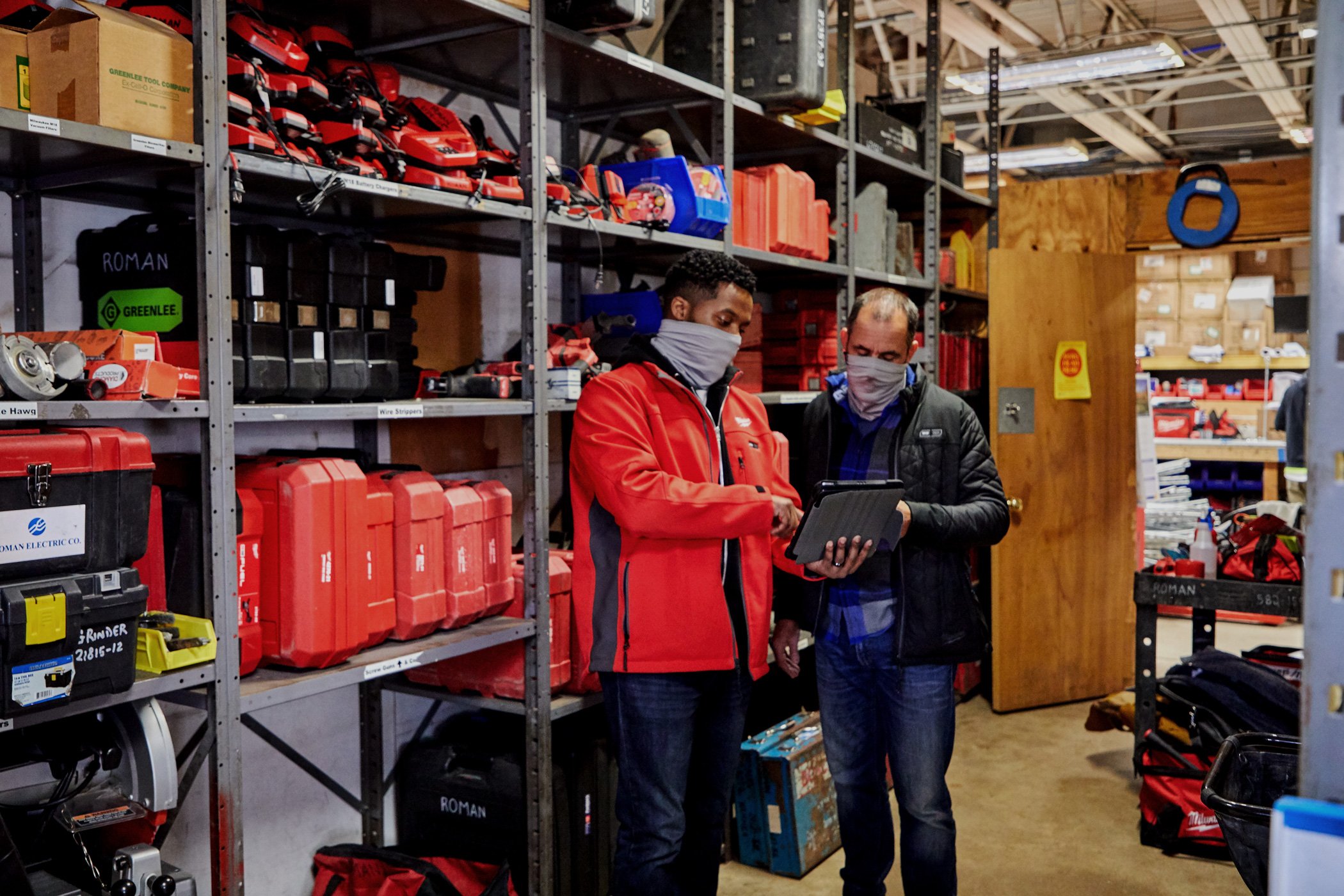 Examples abound where improving collaboration between cross-functional teams can streamline workflows, reduce errors from manual entry and duplicate data, and boost productivity and profitability company-wide.
Job Costing for Project Management and Clearer Financials
Job costing in construction is how tool managers, similar to the supply chain managers at some of the largest ecommerce sites on the web, manage overhead and prevent financial peril.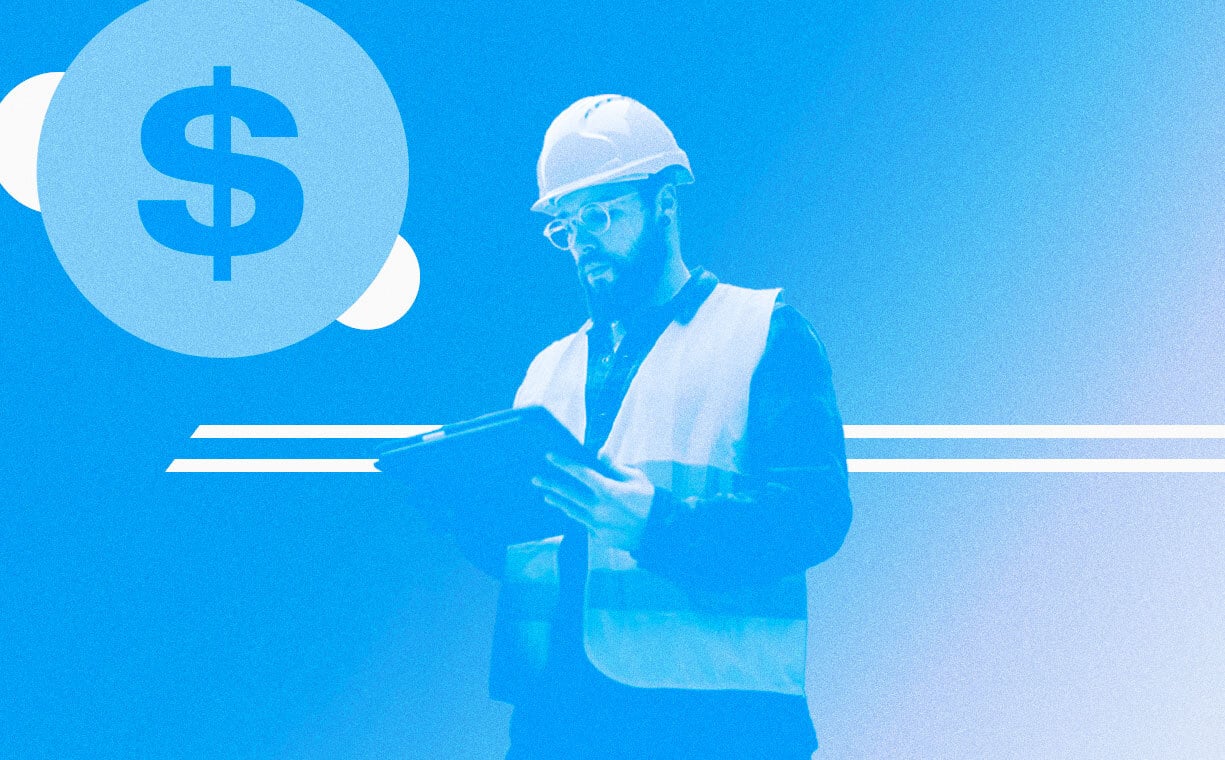 The Job Costing Feature in One-Key offers the ability to add daily or weekly tool rental rates, apply these rates to inventory manually or via smart sheet (to automate the process), and report out on these rates to start tethering your inventory items to dollar values (and, in turn, preventing those items sitting onsite unused)!
People Management
The ability to tender data among teams drove profit margins by 3-5% (3), which is nothing to sneeze at in an industry that regularly sees profit margins in the 1.4-1.7% range. Digital transformation can result in productivity gains of 14 to 15% and cost reductions of 4 to 6% (3).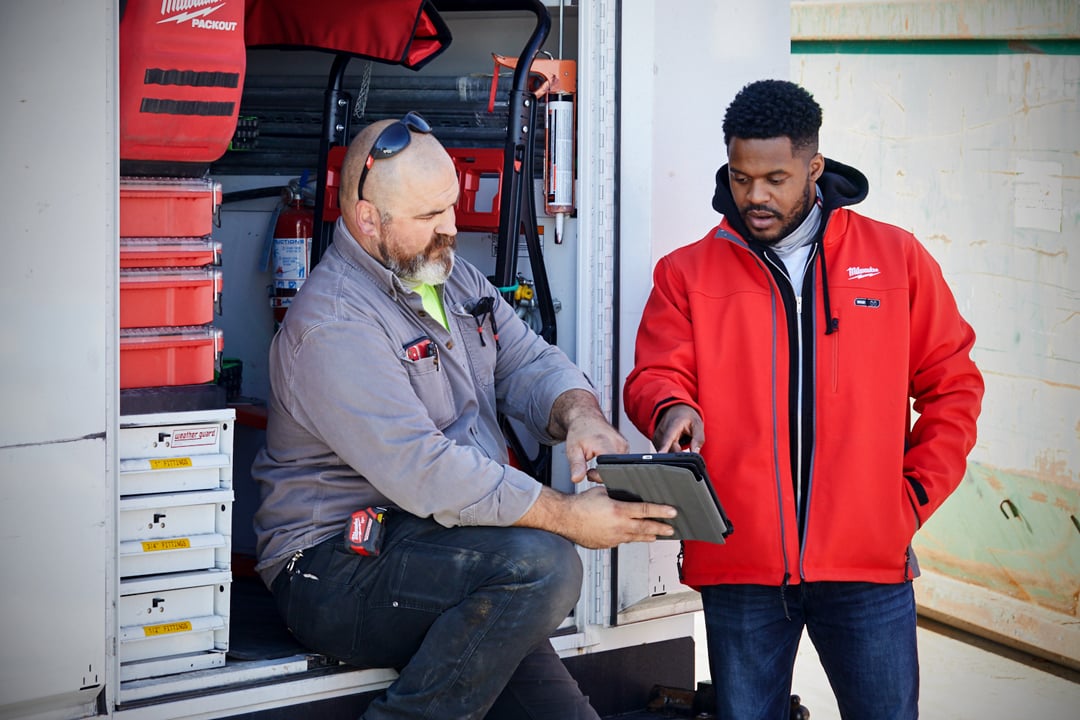 Part of that digital transformation includes figuring out a better way to collaborate among team members.
One-Key offers solutions:
Streamlined communications, including the ability to add people, places, and divisions; the ability to import contacts from your address book and text or email these individuals right from the app, without interrupting your flow.
Multi-user admin allows you to retain control as the admin while inviting team members to join and work off one inventory with customizable permissioning that ensures those that need access to certain levels of access have it, and those who don't, don't.
A Career in Digital Inventory Management and Construction Technology
Digital transformation is an uphill challenge. Keep in mind that the success rate of digital transformation is less than 30%—however, having the right digital-savvy leaders in place can boost these efforts by 70% (5).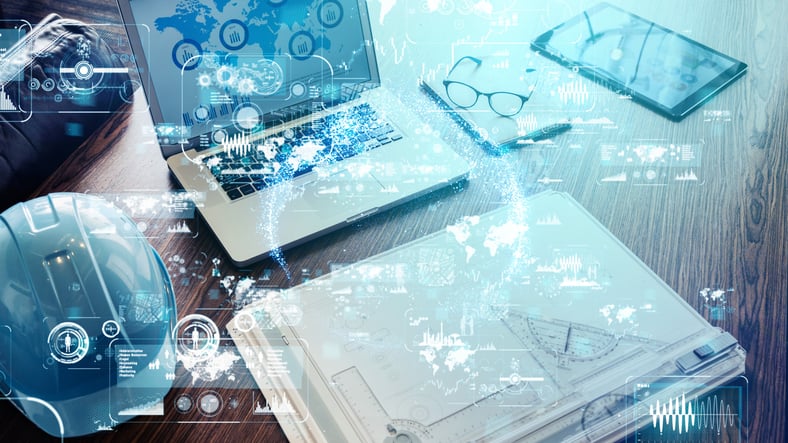 Pursuing a career in digital inventory management and construction technology just might be the career trajectory and challenge you're looking to tackle.
We've previously outlined inventory management strategies, a digital inventory manager utilizes tools like One-Key to manage the flow of inventory from the crib to the job, while a construction technologist sits somewhere between IT and project management, leveraging the company's digital transformation – piloting platforms like One-Key or drones, robots, and other technologies like lean construction. A BIM specialist, still yet, manages a company's building information modeling stack.
A career path in digital inventory and construction technology may be profitable:
A

digital inventory analyst salary

is $63,225 on average, according to Glassdoor. Operations managers can pull in north of $97k, Glassdoor reports, while purchasing managers can pull in over six figures, BLS reports, while director of inventory pulls in well over that, Glassdoor reports.
A construction technologist salary is just under $60k, Glassdoor reports, while those equipped with a college degree may net just over six figures, Payscale reports. Similarly, up the career ladder, a director of construction technology can expect to make well over six figures, Glassdoor reports.
A BIM specialist salary is $64,302 on average, according to Glassdoor, while BIM manager earns $81,493, Glassdoor reports, and BIM director can net $90k, ZipRecruiter reports.
Bottom Line
Digital transformation is an uphill challenge but, as McKinsey has reported, putting the right digital-savvy people at the helm can dramatically improve your organization's success rate. If you're the ambitious, hardworking, and visionary-type to take on this challenge, we recommend following the guidelines herein to leading that charge.
References
About the Author
Lucas is Content Marketing and SEO Manager for Milwaukee Tool, where he and his team raise awareness about the company's digital products and educate users on best practices through a variety of content vehicles.
More Content By Lucas Marshall
Subscribe to Our Blog
Sign up to receive ONE-KEY™ news and updates.
Recent Articles
Editorial Note: This article was brought to you courtesy of Rose Morrison, managing editor of ...
September 13, 2023
In the next installment of our employee spotlight series, we introduce Aaron Wenzel, a product...
September 11, 2023
If you're a construction professional searching for a simpler way to efficiently manage your...