Milwaukee® ONE-KEY™ + PACKOUT™ = A Productivity Power Duo
Thought Leadership
Lucas Marshall
|
Published: March 1, 2023
|
Updated: August 31, 2023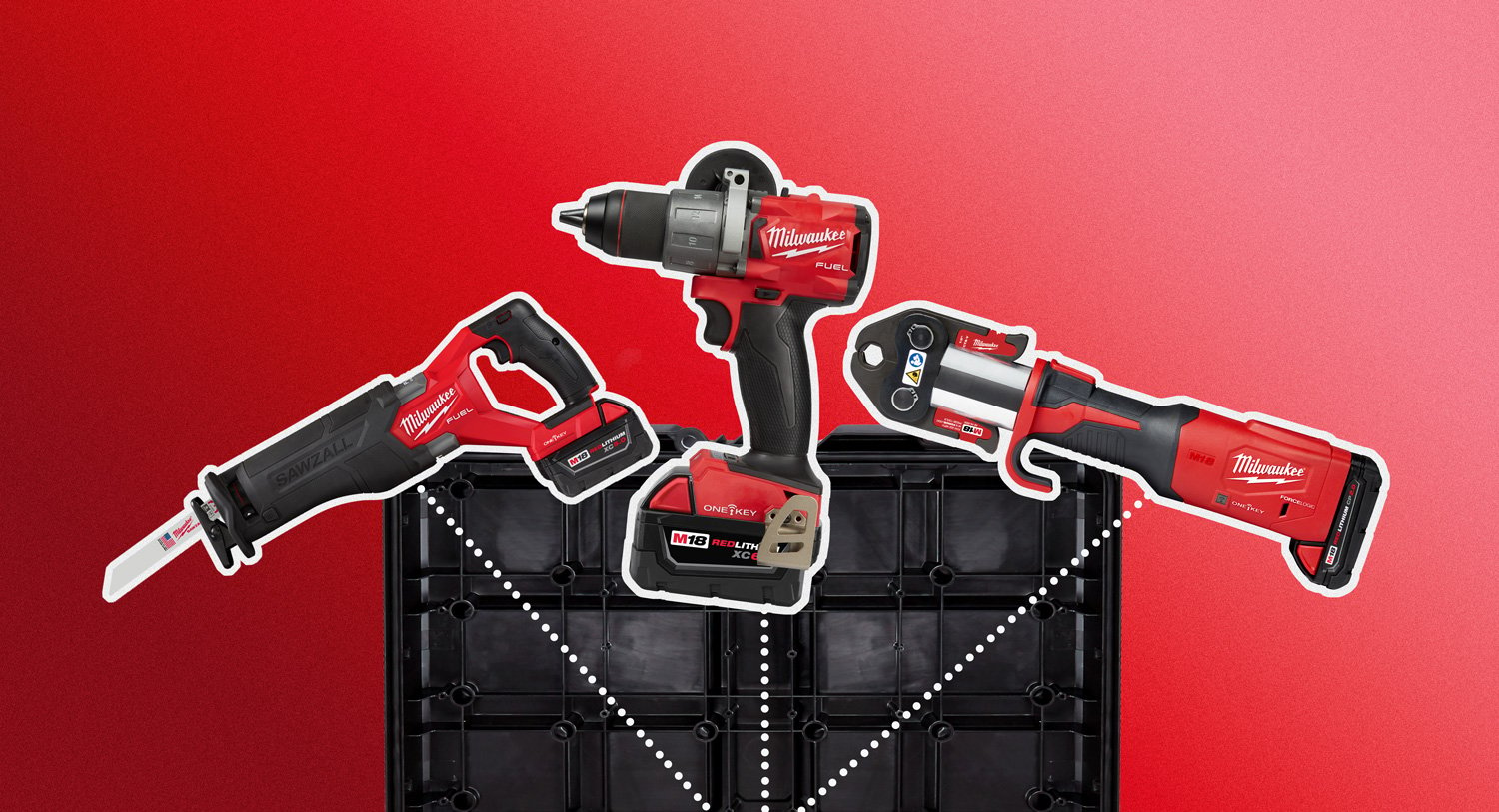 Productivity is a universal, if ambiguous, metric that businesses across every industry aim to measure, understand, and improve.
In the cubicle-filled workplace, that means office managers looking to improve environmental factors and ergonomics that would otherwise drive desk workers to lose focus. On the jobsite, it means replacing ineffective processes that, if left alone, can lead to construction downtime, a major productivity staller.
Autodesk lists several "challenges in productivity" in the construction industry. To name a few:
60% of general contractors

see

problems with coordination and communication between project team members and issues with the quality of contract documents as the key contributors to decreased labor productivity

.

35% of construction professionals' time (over 14 hours per week) is spent on non-productive activities including looking for project information, conflict resolution, and dealing with mistakes and rework.

68% of trades point to poor schedule management as the key contributors to decreased labor productivity.
Equipment breakdowns, waiting for materials to arrive, and communication silos rank high among the culprits to project downtime that stalls productivity on jobs.
To prevent these problems from arising, traditional wisdom would tell you that you ought to focus on improving how you stay ahead of servicing your tools, how you store and transport your tools, and how you manage the process (and people) that are using your tools on the job.
In this article, we'd like to share a couple tips on how to do just that in both the physical and digital worlds—an important balance to strike to maximize your productivity potential (see: digital twins concept, defined). Particularly, we'll show how two of product platforms from Milwaukee®, ONE-KEY™ and PACKOUT™, work better together—and finally, we'll share a couple of stories of end users in the field who use these platforms in tandem to get more work done.
Let's dive in!
Jump Ahead:
Building Product Ecosystems: Products Superpowered When They Work "System-Wide"
Consulting firm EY reported in a study that 91% of business leaders agree that "ecosystems" have increased the resilience of their business.
What Is a Product Ecosystem?
The term "ecosystem" is oft associated with high school science class. National Geographic defines the term as such: "A geographic area where plants, animals, and other organisms, as well as weather and landscapes, work together to form a bubble of life."
Such a description may summon grand landscapes—forests where bears roam; deserts where cacti thrive in scorching sun and rattlesnakes slither; the deep blue where schools of fish swim.
But the same "organisms [… that] work together to form a bubble of life" are acknowledged interlocking in the products we use from the companies we admire.
HubSpot defines "Product Ecosystem" as "when a business offers multiple complementary products or services for their customers to purchase and use in tandem," in order to "simplify the lives of customers by providing products or services that can be used for a variety of needs."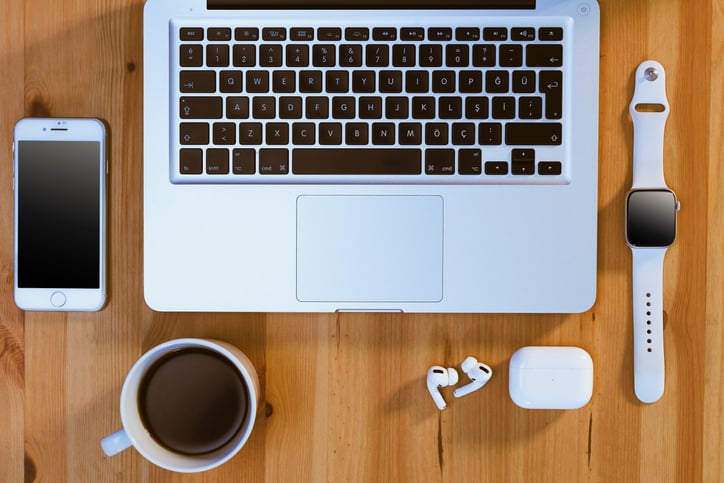 "These products or services," they explain, "can coexist peacefully and integrate or connect with each other which makes them more powerful and valuable for users."
Product Ecosystem Examples
HubSpot offers Apple as an "Example of a Product Ecosystem," explaining how this works in practice:
"Plug your iPhone into your MacBook Pro to view all details related to the phone including your storage, different aspects of your phone's history, your music library, and more via your laptop. And speaking of your music, connect your AirPods in just seconds to your iPhone and your MacBook for seamless listening opportunities cross-device."
At Milwaukee Tool, our "system-wide" mantra that unifies our battery platforms (e.g., M12™, M18™, MX FUEL™) speaks to the breadth of line in our product ecosystems designed to help end users complete a job, from start to finish, on one battery system.
For example, the high-output, "performance-driven" M18 FUEL™ battery pack that powers the precision woodworking onsite is the same one that helps with cleanup at the end of the day. On the other hand, the "portable productivity" offered from your M12 battery pack that heats your jacket in the cold can equally fill your vehicle's tires that have lost tire pressure as temps drop.
However, just as one battery system works to power a full-scale job given the application, our product ecosystems work best in tandem—just like how jobsite storage in the physical space can be mirrored digitally, and how in fact our equipment tracking products can help keep tabs on your entire inventory, regardless of whether your tools are Bluetooth®-enabled or are flanked by a lightning bolt.
What Is Milwaukee Tool's One-Key?
One-Key is Milwaukee Tool's connectivity platform that aims to put jobsite management squarely in your hands.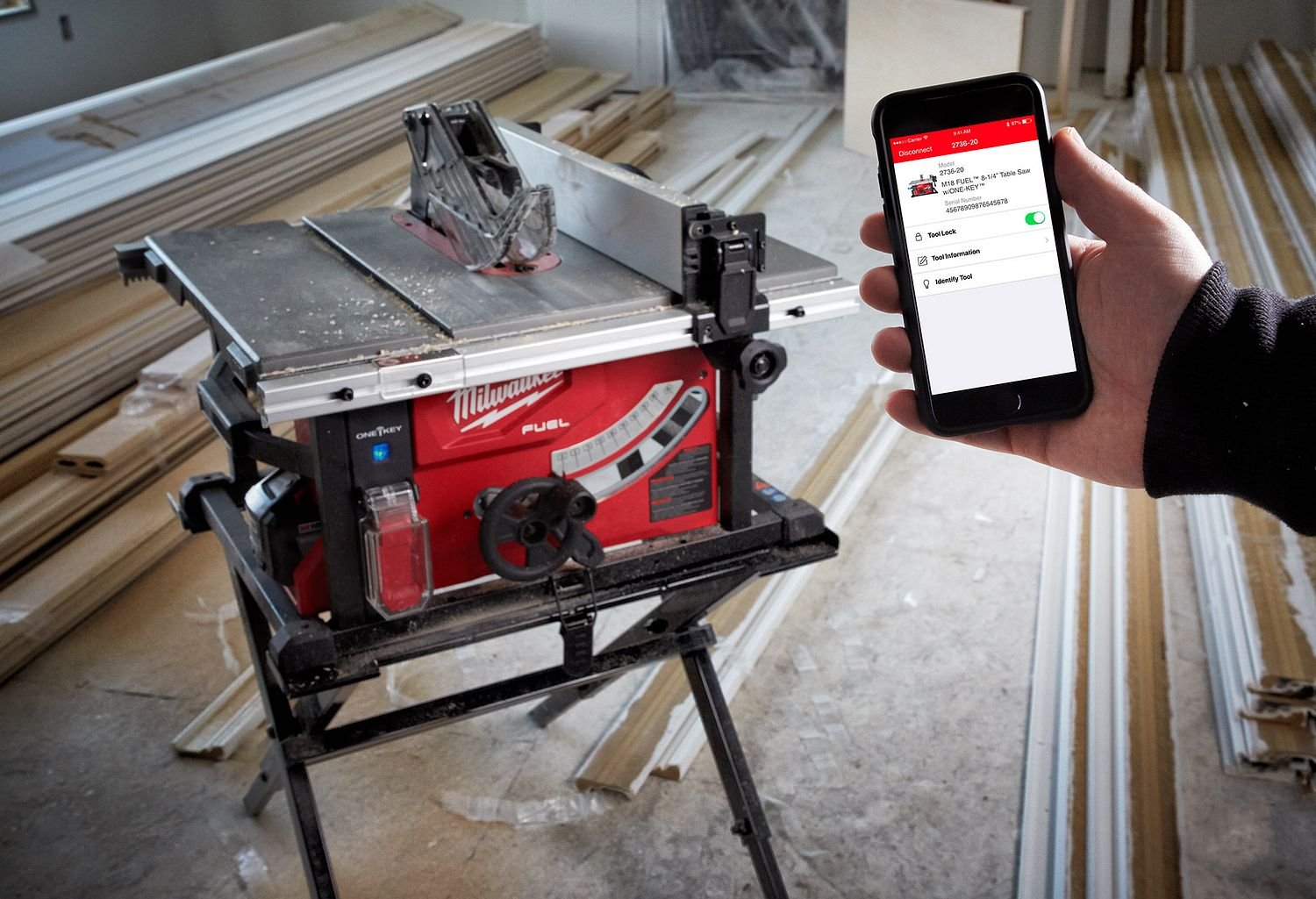 The platform combines smart power tools; processes like barcoding, equipment tagging and Bluetooth® tagging; and utilization data to drive smarter outcomes onsite and boost productivity.
The free-to-use, digital product is defined by four tenets:
What Is Milwaukee Tool's PACKOUT?
What Is PACKOUT Used For
?
PACKOUT is Milwaukee Tool's Modular Storage System, which revolutionizes tool transportation, organization, and storage for the trades, providing users with the ability to interchange and interlock a wide assortment of heavy-duty toolboxes, organizers, and storage totes in multiple different configurations. The PACKOUT modular storage system is also the most versatile and durable modular storage system in the industry.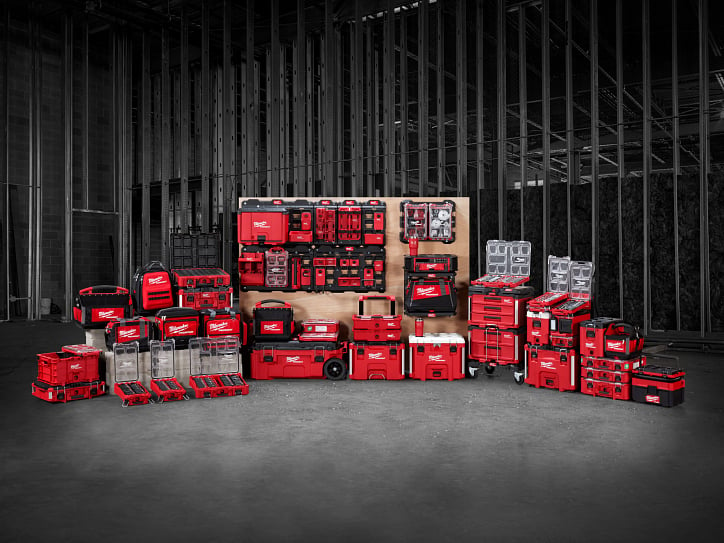 Key Features and Innovations from PACKOUT:
Modularity

:

While traditional tool

storage

is often monolithic, each solution staying squarely in its established zone, PACKOUT brought forth

a much-needed

innovation to a tired space

with the development of modularity

. Each PACKOUT features locking points

, universal to the system, which are used to build PACKOUT "stacks" of virtually any configuration an end user could possibly think up or need, similar how LEGO® blocks snap into each other, or how "

modular construction

"

methods

can be used on a job to preassemble modules that are later transported and put together onsite.

Versatility

:

The modularity of PACKOUTs also make them quite versatile. These PACKOUT stacks can be used in a shop,

in a tool crib

,

in a service van

, and we've even seen hyper-specific PACKOUT kits which combine One-Key kitting (which we'll discuss a little later) to cart

and keep track of job-ready inventory (e.g., plumbing rough-in kit, demo day kit, woodworking kit, electrical service kit, mechanical kit, etc.).

PACKOUT Builder

:

In addition to

PACKOUTs in the physical world, our PACKOUT team has also entered the digital space by recently unveiling the

"

PACKOUT Builder

," accessible on the PACKOUT landing page as well as on select distributor sites. This is

a digital product our PACKOUT team built from the ground up

, which allows potential PACKOUT buyers and fans to digitally configure a PACKOUT stack, adding any PACKOUTs across the system and determining

proper fitment even prior to entering a Depot store. More recently, the PACKOUT "Wall Plate Builder" component of the PACKOUT Builder allows end users to configure

wall-mounted

PACKOUTs utilizing

our

recently announced

shop solutions that allow you to fu

lly customize

your shop

storage with wall plates, hooks, tool racks, tool holders, and a cabinet that connect with all PACKOUT solutions.
A Winning Combo End Users Are Implementing
But don't take our word for it. Here's how a couple end users are using these two platforms together in the field today.
End USer Story #1: Derek T., Heavy-Duty Mechanic
Derek T., the lead heavy-duty mechanic for Top Lift Enterprises, describes how he and his small team are tasked with maintaining a fleet of 30-40 pieces of heavy equipment.
They also self-manage the tools they use to service this equipment fleet, using the One-Key app and primarily Milwaukee brand power tools.
"The tools that I've purchased myself have become more of a 'shop use' tool," he explains. "So, being able to track how it's used, if it goes offsite or not, and being able to hold people accountable for damages or whether they're missing or not has definitely been a benefit."
Of the tools his team uses to maintain the company's inventory of heavy equipment, he describes, "about 95% of our electric tools are Milwaukee."
Breaking into a new battery platform, he explains, is an expensive barrier. The extensiveness of Milwaukee Tool's "system-wide" battery platforms served as a competitive advantage.
"The wide range that was available when we started purchasing was one thing that caught our eye."
Using One-Key for Precision Fastening
Of the tools in their arsenal, Derek says 10 or 11 of these tools are One-Key compatible. "Most of our impacts are what have it, like the 1-inch impact, the 3/4-inch drive impacts."
He explains that the team's use of One-Key functionality on the tools that are compatible with the app is largely rooted in their need to deliver reliable precision fastening.
"A lot of our stuff requires almost certification-level of fastening tightness," he explains.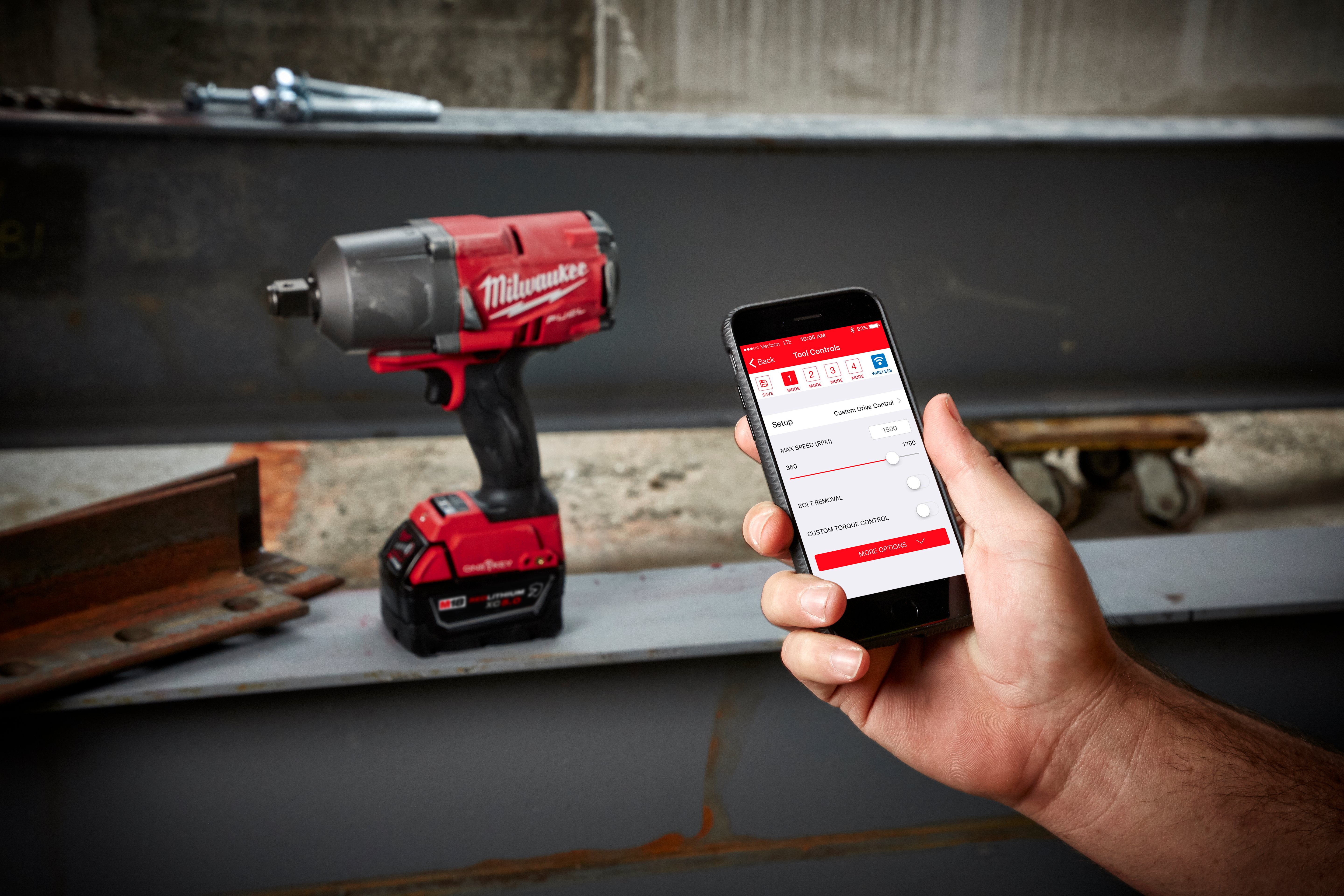 "The app is incredible, and I'm actually quite happy with some of the newer technology on some of the tools," he explains, adding "For us, specifically the impact gun, where you're able to adjust the torque on the app."
"The usability and the functionality of these tools has come a long way, even from when I first started buying Milwaukee about 6, 7 years ago compared to now."
Using One-Key for Shop Inventory, Tracking Warranties, and Service
Derek says the team uses One-Key in the shop to keep track of inventory, track warrantees, as well as stay on top of their preventive service. "I really like the warranty aspect of it, and being able to track the receipts, especially when serial numbers can get scrubbed off tools pretty easily."
The One-Key app allows users to add unlimited service records, tool identification, and other important documentation, even the ability to set a recurring service reminder to automate preventive maintenance.
"One-Key in general is something that no other companies are really doing. [Milwaukee] is pioneering the electronics side of the electric tool space, where it's not only easy to track the receipts and track warranties, get your stuff repaired on time, but it has definitely made it better for a company to work better with their employees and say, 'Hey, this is the stuff that you're getting, and now it's your responsibility, and it's all logged.'"
When asked whether he and his team had been using the "service reminders" feature in One-Key, Derek confirmed they had been. "Yes, absolutely!"
Using One-Key and PACKOUT Together
Derek confirmed he is also a PACKOUT user, both at home as well as in the shop.
He estimates that he has 12 PACKOUTS that he uses at home for personal use, while his team has built 8 or 9 PACKOUTs in the shop.
They're currently using 5 of the larger, clear-top organizers and two of the larger stationary toolboxes. One of their techs, he added, uses his own smaller black top toolboxes.
His team uses the PACKOUT modular storage system in tandem with One-Key.
He explains that they've recently began purchasing PACKOUTS to build pressure test kits and hydraulic fitting kits. The reasoning for buying PACKOUTS, he ties to the system's superior durability and versatility.
"They're a lot more heavy duty than most of the stuff you can buy, and they carry better, and overall they're a better way to carry and house a bunch of our more important stuff."
The PACKOUTs are used in concert with the One-Key "kitting" feature in the app. These preassembled "kits" they build in PACKOUTS, he explains, are then "kitted out" in the app.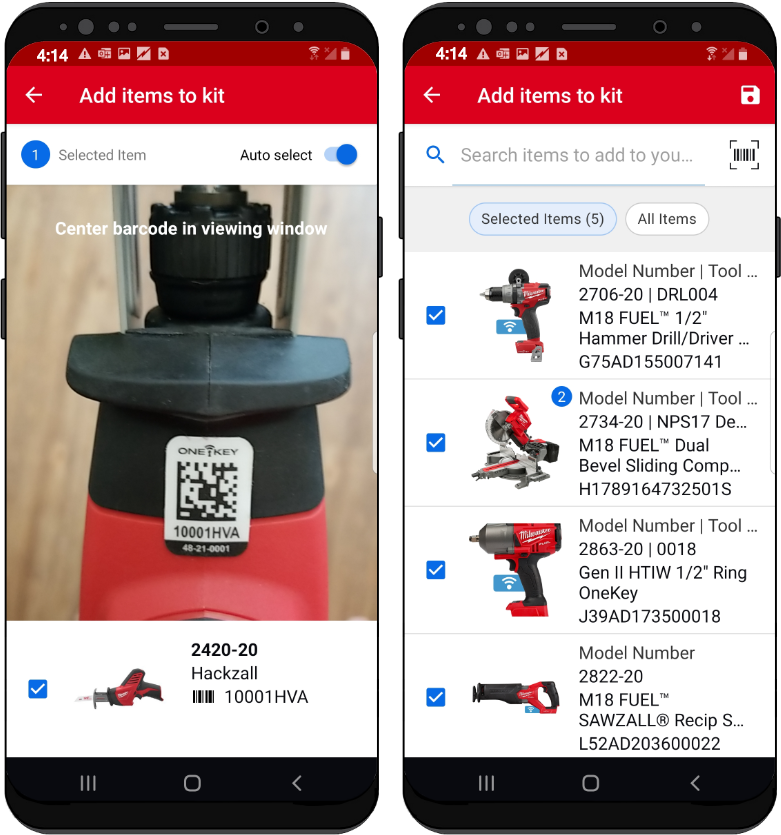 Pictured Above: Tool Kitting Feature in One-Key app. You can add items you're sending to the job in bulk via Tool Kitting.
He explains, "Our service kits will have a couple of our more frequently used sockets, an impact gun, a couple socket lock-on rings," adding, "When we send the kits out, we will have our guy go through it to make sure everything matches what's on the app—and if not, then they can refill as needed."
"It gives a good starting point on where our kits are, and works as our own stock system basically," he adds.
Outside of service van kits, he notes that they use PACKOUT and One-Key kitting for kitting out different "styles of kits—fitting kits and o-ring kits," as an example.
On One-Key overall, Derek concludes, the app "has added more usability to the end user as well as the company to work more cohesively together."
"It has helped with item tracking, and I think it has definitely helped across the board with the loss of tools, because as the price goes up, theft always increases, so being able to find where it is and lock it out has been a major steppingstone."
A Milwaukee Tool and One-Key Advocate
Derek noted that he's advocated the One-Key app while working with his father-in-law's company, a homebuilder.
"They were heavily into Makita, and I've slowly been getting them changed over," he shares, adding: "They're now about 80% changed over, and I got him started on the One-Key app. They are starting to buy One-Key tools, because they lose quite a bit – and [One-Key] is starting to help them on tool recovery."
End User Story #2: Mitch V., Union Carpenter
Mitch V. is a union carpenter who recently joined the union as of July, who brings a background in post-frame construction, manufacturing, and concrete to his small company, where he and his team are responsible for everything from concrete to framing to rough-in framing to finishing.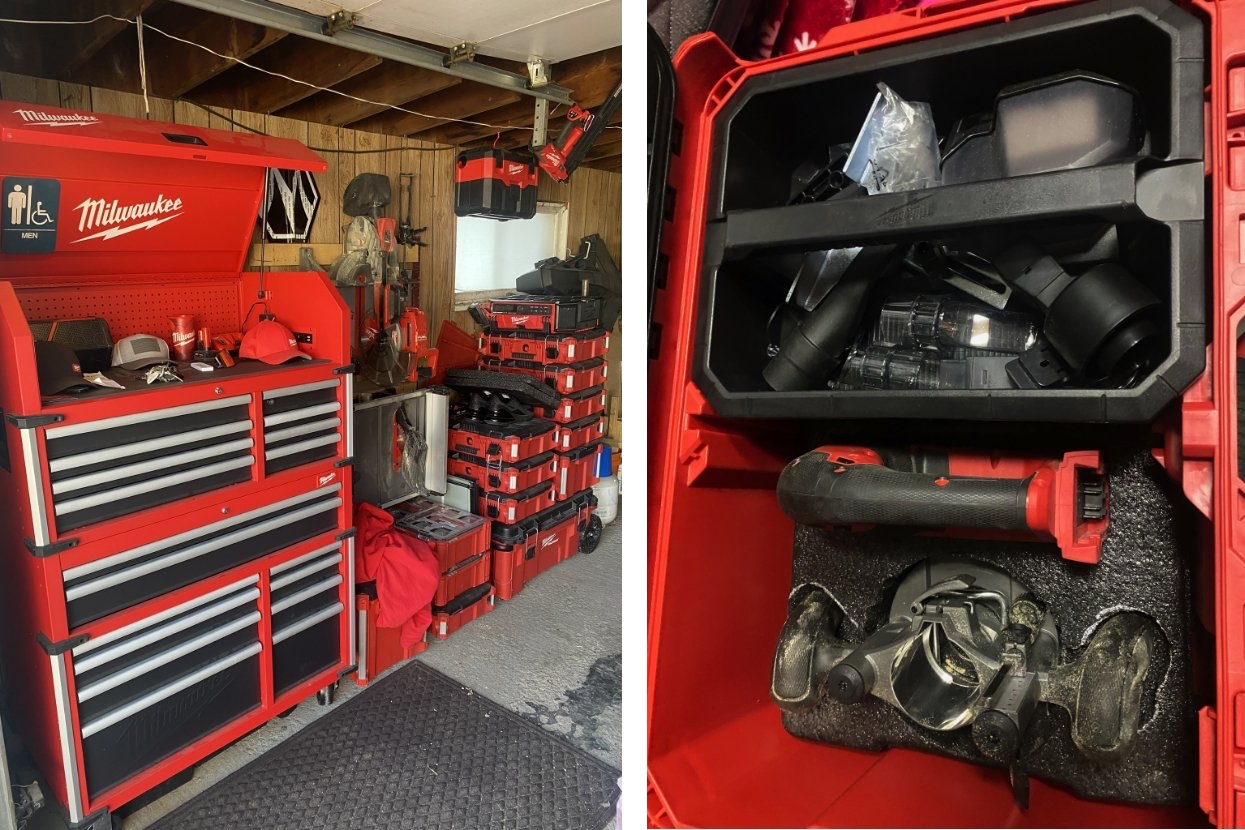 "We do everything, he explains, adding "It's kind of a learning curve of what I have and haven't done."
Committed to the Battery Platform
"I ended up buying the Milwaukee 1/2" hammer drill, and then the 1/4" impact driver, and then from there, I didn't stop buying tools," he explains.
"I started thinking. Yeah, there are one or two DeWalt tools, where I'd be like, 'Oh, that would be cool to have,' like Milwaukee's not on that tool yet. But I'm like, 'I'm not going to go and change my battery platform and buy a bunch of DeWalt."
Using One-Key and PACKOUT Together, across Many Jobsites for Different Stages of Work
As a union carpenter, who is currently working on 6 different jobsites that are in different stages of work, Mitch explains that all of his tools are broken up into PACKOUTs.
"My 1/2" impacts are in one, my 3/8"'s are in one, my grinders are in another—everything's kind of broken up together, but individually, so I have tools at each 6 jobsites right now, and I go in and I track, I've got them all kitted out."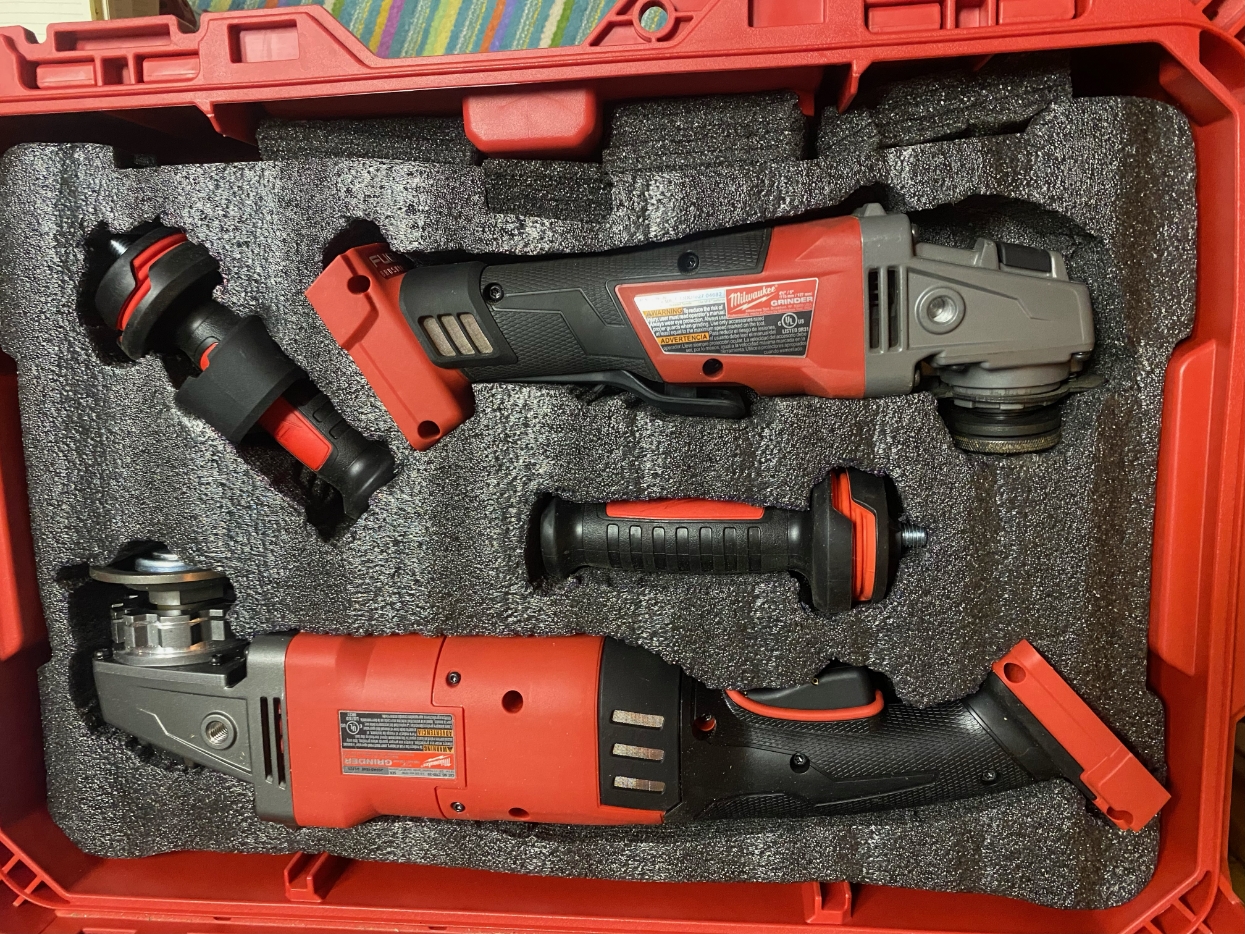 He recalls meeting with Tennyson, a Milwaukee Tool User Experience Researcher that works on the One-Key app, who turned him onto the "tool kitting" feature within One-Key.
"The kits are so much easier. It was instant. I didn't have to manually move each one. They're in the PACKOUT already, so I can just click the PACKOUT, click in the kit. It takes 2 seconds instead of taking 20 minutes to do everything. I love the feature of being able to just move stuff instantly."
Since then, he's broken all his tools into individual, application-specific PACKOUT stacks that are "kitted out" in the app. "I'm able to move them here, move them there—if I take them to another jobsite, I just transfer it over. It's easy. Then I know exactly where they are."
A PACKOUT Superuser
Mitch says he currently uses the PACKOUT rolling tool chest, the rolling toolbox, a couple of the extra-large PACKOUTS, as well as a couple of the large PACKOUTS, 8 regular PACKOUTs, the PACKOUT crate, and the PACKOUT backpack.
The rolling PACKOUTS in particular allow him to roll his stacks onto the job for easier transportation of tools to the job.
He explains his use of PACKOUT is mainly for "transportation to and from the jobsite as well as when I'm not there."

What's more, he's foamed-lined his PACKOUTs and made cutouts for each tool. This makes it easy to keep track of everything, obvious when everything's in its right place, equally obvious when a tool is missing from its cutout slot.
A One-Key Bluetooth® Tracking Superuser
Mitch says he uses Milwaukee's TICK™ Tool & Equipment Trackers to keep eyes on his PACKOUT stacks and tools in the app.
We often recommend, for end users looking to get the most out of One-Key and improve their Bluetooth range, to create a mini-Bluetooth tracking community onsite, which can help increase the frequency of location updates (especially in remote areas). Paired with features like "Find Item" can help narrow in-vicinity item finding within 100-ft.
Mitch confirms his team is following these guidelines to the letter.
"All my coworkers do have the One-Key app." He adds that the team is using geofencing, an in-app feature where users can set a virtual perimeter around a physical address in the real world.
When items assigned to these geofences—either One-Key compatible tools or tools that have been TICK'ed or tagged with a Bluetooth tracker—these items, if seen moving outside of their assigned borders, are pinged, alerting their owners that they were seen outside their geofence.
"They show up to work, and it pops up and is like 'Hey, there's a TICK showing up,' and it'll tell me, 'Hey, your PACKOUT was found here, and I say, 'Perfect, I know exactly where it is."
Concluding his thoughts on One-Key, Mitch noted, "It's helped me a lot, knowing where my tools are." He added, "I get 4 or 5 notifications every day of 'Hey, this is here,' and I know 'Well, it's locked, it's in the trailer, we're okay.'"
PACKOUT, he concludes, has helped him being able to stay organized. "If I open up my PACKOUT and see something is missing, I know it's missing. It's not just all thrown in there. That's another reason why I use the foam inserts, and cutting them out. If I see something's not in its spot, and I know exactly what I'm looking for, and where I should be able to find it."
Combining these two platforms, he agrees, is a powerful duo, helping him blend the physical and digital tool organization, being able to instantly transfer his tools to the job, and keep eyes on them whether he's on the job or they're in the trailer.
Should anything look amiss or he get an alert that seems suspicious, he's got the digital breadcrumbs to find his way back to where his tools are in the physical world.
One-Key Features to Get the Most Out of PACKOUT
PACKOUT and One-Key work great on their own, but even better together.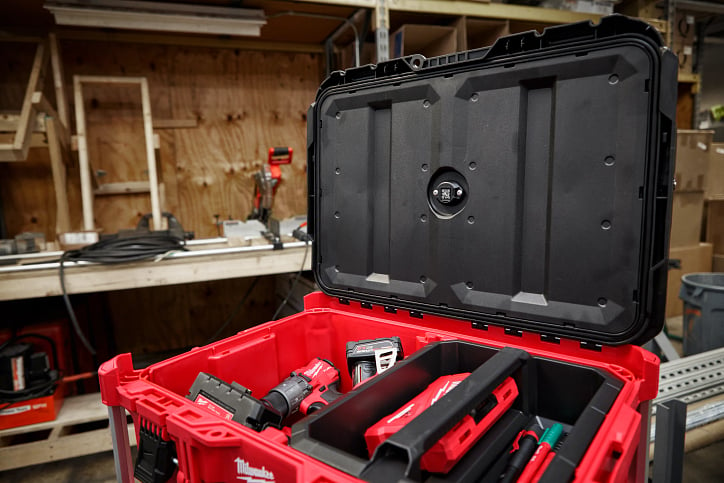 Here are a few One-Key features that lend themselves to PACKOUT and PACKOUT "Kitting:"
One-Key Products to Get the Most Out of PACKOUT
If One-Key software products and PACKOUT hardware go together like lamb and tuna fish, then tying the two platforms together with One-Key tracking hardware products is like the precise pasta noodles you need to tie your spaghetti and meatballs dish together.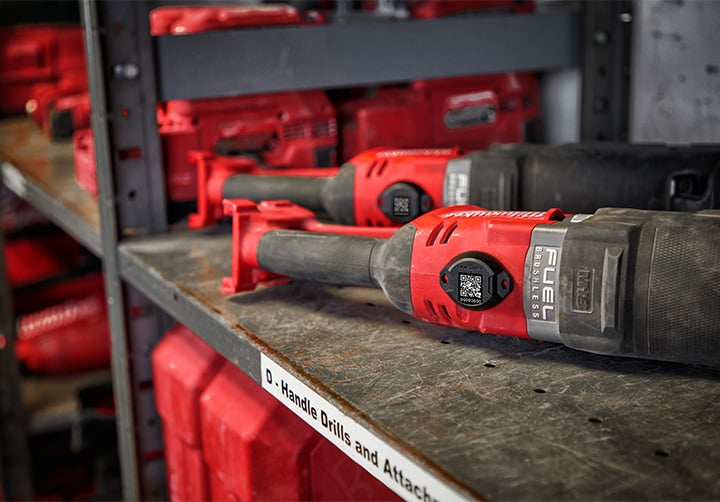 Asset ID Tags

: One-Key Asset ID Tags offer a solution for

tool equipment tagging

and

small tool tracking

situations. They offer superior, construction-grade durability and ease-of-use/scanning that traditional barcodes don't offer. Where traditional barcodes wear out, fall off, and need to be regularly replaced as well as requiring expensive external hardware, One-Key Asset ID Tags offer longevity that lasts the life of the tool, and in-app barcoding functionality that allows users to only need the smartphone in their pocket to scan these tags on the go.

One-Key Bluetooth Tracking Tag

: This

Pro Tool Innovation Award

and

Chicago Innovation

-winning product adds superior tracking functionality, including cutting-edge tech like built-in

Near-Field-Communication (NFC)

, an

accelerometer

, a built-in speaker (with 3 buzzer sounds) for finding nearby items that aren't in sight, construction-grade durability, a 300ft Bluetooth range (3X its predecessor), a compact design (30% smaller than its predecessor), and more!



PACKOUT Products to Get the Most Out of One-Key
So, which PACKOUTs, then, lend themselves to the One-Key app?
Here's what we recommend:
Organizers

: The regular organizer may be used for small consumables, drill bits, screws, and other fasteners. Deep organizers may be used for fittings.

Toolboxes

: Toolboxes, from large to extra-large, may be kitted out for job-specific kits, from woodworking (like circ saws and Sawzall®s ) to plumbing to electrical service and HVAC service kits. We even offer

tool cases w/ foam inserts

to start your PACKOUT superuser organization like Mitch discussed he customizes himself in all his PACKOUTs. Further,

PACKOUT toolbox cabinets

may be useful in the shop (see below).

Mountings Plate, Racks, Hooks, & Holders

(for van or in shop): We offer an assortment of mounts, racks, and holders to customize your shop storage, as well as your service van. This could be anything from cabinets for the shop to holders for tools in the crib. Heck, we even offer kits (like first aid kits) and compatible battery chargers, and the much-needed PACKOUT Radio + Charger to stream your

on-the-job playlist

through.

Rolling Storage

(onsite or in transit): Like Mitch discussed, the rolling PACKOUTs lend well to building your PACKOUT stack on for easy on- and -off the job transportation for carting those job-specific kits you're rolling onsite.
Final Consideration: One-Key Compatible Tools: Baseline vs Reports and Full Customization
The final consideration: One-Key compatible smart tools offer a level above standard Milwaukee® power tools to drive productivity through standard tracking & security, as well as (on select models—see below) advanced reporting and customization to drive smarter insights, maximize uptime, and boost productivity.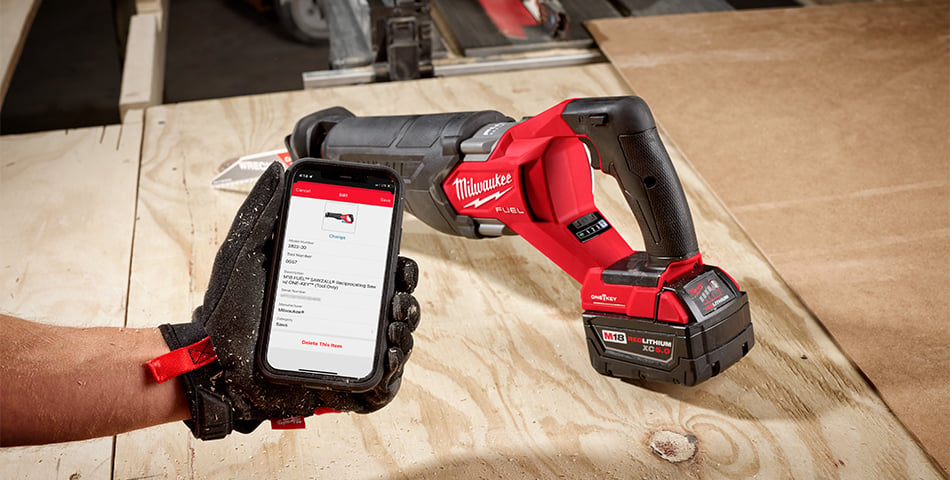 Baseline Functionality

: Baseline One-Key functionality includes

standard tool security

(lockout) and Bluetooth tracking built-in.

Report. Track. Manage

: Some of our smart tools, like our

Digital Torque Wrench

and our

hydraulic tools

, offer the ability to pull utilization data and create custom reports that can be useful to provide proof-of-work, quality assurance, and accountability to stakeholders. In other words, if you're required to fasten to a precision specification, these reporting dashboards allow for you to be able to prove, to the event, that those specifications were properly fastened to spec.

Customize. Track. Manage

: Custom tool controls on our top-of-the-line smart tools offer users the ability to drill in application-specific "modes" that offer accuracy and repeatability. The "

mode library

," what's more, allows users to log virtually limitless settings to the cloud—depending on the day and the work needed onsite, they can apply these modes to their on-tool modes, enabling them to select the appropriate mode and work all day without skipping a beat.
Bottom Line
Milwaukee Tool's One-Key and PACKOUT platforms are powerful by themselves—PACKOUT serving as an organization tool in the physical, One-Key as an organization, inventorying, and connectivity tool in the digital—but these two platforms, like many product ecosystems, work infinitively more powerfully together.
As evidenced by their natural compatibility and these end users' stories using these platforms together, it's clearer Milwaukee Tool's commitment to being a solutions provider, driving the industry forward with productivity platforms that work both system-wide and cross-system wide.
About the Author
Lucas is Content Marketing and SEO Manager for Milwaukee Tool, where he and his team raise awareness about the company's digital products and educate users on best practices through a variety of content vehicles.
More Content By Lucas Marshall
Subscribe to Our Blog
Sign up to receive ONE-KEY™ news and updates.
Recent Articles
2023 has been a year of tremendous change and accomplishment for the One-Key team.
November 27, 2023
Editorial Note: This article was brought to you courtesy of Rose Morrison, managing editor of ...