Tracking Tag vs Asset ID Tag vs TICK™: What's the Difference?
Thought Leadership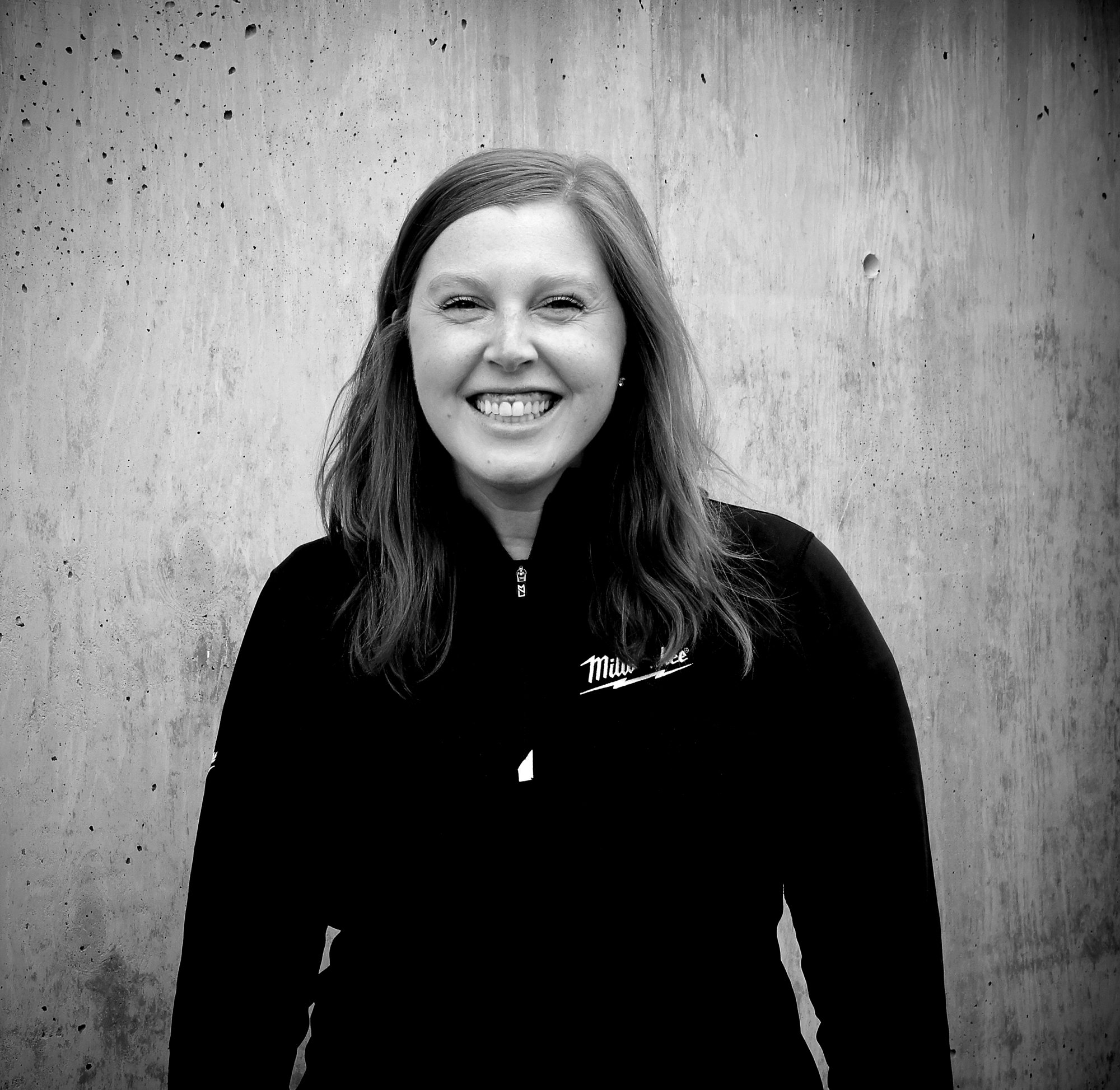 Emma Knetter
|
Published: November 22, 2021
|
Updated: April 29, 2022
As we've previously discussed, the adoption of equipment tagging continues to rise among contractors, particularly the Bluetooth tracking tag.
Recently announced, the newest tracking solution from Milwaukee® Tool has arrived: The ONE-KEY™ Bluetooth® Tracking Tag. This product was designed specifically with contractors' continued adoption and usage of equipment tagging best practices in mind.
A quick recap of its industry innovations:
Built-in near-field-communication (NFC) and a scannable QR code offering a simple 2-step activation process.

Built-in speaker allows you to ring your tracking tag within 50ft if the product it's attached to is not physically visible.

Accelerometer provides information on the last time equipment was used.

Compatible with One-Key with improved tracking features, like a last-100ft tracking experience

proximity tool

, and a

30-day history

that contextualizes where your tag has been. Backed by an

agile software development

team focused on continuous improvement, users can take part in beta tests, reach out and request features (our development team is all in-house), and receive biweekly app updates.

Professional-grade durability and weather-proof construction built to withstand harsh jobsite conditions, abuse, shock, drop, and extreme temperatures not seen in consumer-grade trackers.

Compact design offers even more versatile attachment capabilities.

Powered by an internal battery with a 3-year run time.

Available in 1-pack, 2-packs, and 10-packs depending on user's needs.
So, how does it differ from Milwaukee Tool's other offerings?
That's what we'll be discussing in this article, as well as which applications you would use each tracking solution.
Bluetooth Tracking Tag versus TICK™ Tool & Equipment Tracker
The Milwaukee TICK Tool & Equipment Tracker, first announced in 2017, was an innovative product: a professional, construction-grade Bluetooth tracker that offered versatility with a low-profile design, multiple attachment options, and the ability to withstand the harshest jobsite conditions.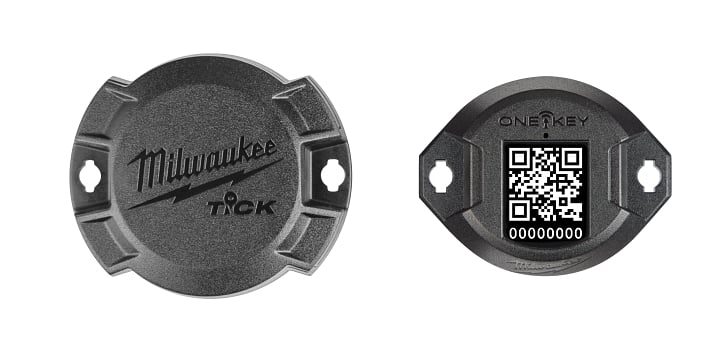 Many large contractors to this day use TICK trackers across their inventories. It's worth noting that, among the articles featured in our support site, the "Add a TICK™ Tracker" article remains among the most viewed of articles. And, while the majority of users who reach the end of this article and use the "Was this article helpful? prompt select "Yes," a considerably large percentage of users opt for the other. These responses are not lost on us. For many, the reason our support documentation for adding a TICK is not helpful is that connecting via Bluetooth with a TICK—manually getting the TICK open, pulling the battery out, waiting 10 seconds, putting it back in—can be frustrating, especially if you experience a syncing error and need to repeat the whole process again.
The TICK is still a revolutionary, industry-disrupting product. But when developing its successor, the Bluetooth Tracking Tag, we went in with two important questions in mind:
"

How can we improve on the TICK and solve the issues end users face

, and

How can we create an even more industry-disrupting product packed with advanced tracking capabilities and additional features that will make users more productive?"
Here's where we landed
TICK Pain Points:
It's hard to connect:

Tracking Tag

Solution

: Added built-in NFC, as well as a scannable QR code with the same durability seen in our Asset ID Tag, which offers a simple 2-step activation process. In a sense, the old way to add a TICK wasn't working for everyone, so we threw it out, and we added in place of it a far easier way with dependable scanability that uses your mobile device's built-in camera (no external hardware needed!).

Tracking Range

: The range of a TICK is too short for some users.

Tracking Tag Solution

: We've managed to pack an additional 200ft range (300ft total!) capacity into this tracking tag. You asked for a

Bluetooth tracker with long range

. We delivered!
New Enhanced Features
Onboard Speaker:

We've innovated by adding an

onboard speaker

. That way, if you can't see your item, you can simply ring it from the app, when within 50ft; and what's more, additional in-app functionality, like our last-100ft experience, helps put you in a closer vicinity of your tool. While onboard speakers have existed in consumer-grade Bluetooth trackers, these options lack the durability that our professional-grade, jobsite-ready trackers deliver. With the new One-Key Bluetooth tracking tag, you get that additional functionality but on a tag that will survive the jobsite abuse it's expected to.

Accelerometer

: We've also added more tech with an onboard accelerometer that

provides information on the last time that equipment was used.

Compact Casing

: While the original TICK had a low-profile design, we've iterated on this idea and improved, delivering a 30% size reduction to the new tag.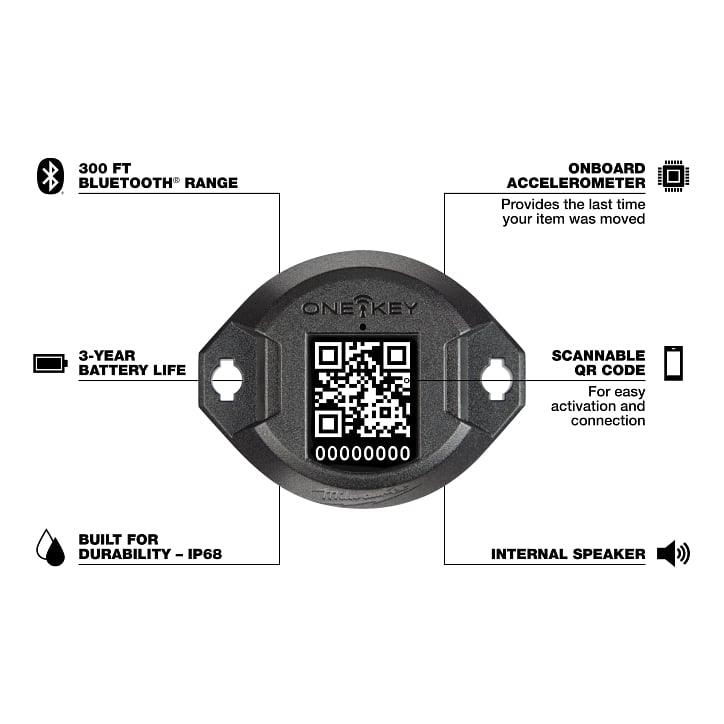 Bluetooth Tracking Tag versus One-Key Asset ID Tag
The One-Key Asset ID Tag, which we recently launched and announced last year, fills an important gap that had existed in our product line: an entry-level tracking solution for the professional contractor.
Product Background:
Back then, the TICK tracker was our solitary tracking hardware product, and it was comparatively expensive when used for things like small hand tools, job carts, garbage bins, and so forth. For these items, the TICK may have offered more advanced tracking functionality, but to a fault; for inexpensively priced consumables like these, the price of a TICK wasn't justified, but that didn't mean a tracking solution wasn't needed. Small tools are among the commonly lost items onsite, and making a habit of replacing them can seriously overrun your project and negatively impact your ongoing business.
The then-dominant solution for keeping track of these items was the barcode, primarily used in warehouses. While using traditional barcodes remains possible with One-Key, we found multiple problems exhibited by contractors using them in the field: They were prone to becoming worn out (hard to scan and quick to fall off); lacking in the durability department, they still frequently require expensive external hardware (barcode readers), which may not be compatible with all barcodes.
The One-Key Asset ID Tag gives professional contractors a viable option for using equipment barcoding practices in jobsite settings, engineered with jobsite durability in mind, but also adds additional, key features that traditional barcodes simply can't compete with.
Key Features of One-Key Asset ID Tags:
Made with durable metal and plastics and adhesives, keeping them planted and surviving extreme fluctuations in temperature.

Treated with fade-protection from UV light, and resistances to scratches, water, and chemical exposures.

Compatible with the One-Key app, they allow contractors to ditch expensive external hardware (like barcode scanners) and, instead, use their mobile device's built-in camera.

Time and location data updated in the app with every scan.
How Does an Asset ID Tag Differ from a Bluetooth Tracking Tag?
We've now discussed the improvements to our legacy TICK that the One-Key Bluetooth Tracking Tag addresses. We've also discussed how our Asset ID Tag fills a gap that existed in the industry by delivering a jobsite-capable asset tag, offering entry-level tracking capabilities for consumables that traditional barcodes can't compete with.
Now, how about a comparison between an Asset ID Tag and a Bluetooth Tracking Tag? When would you use one over the other?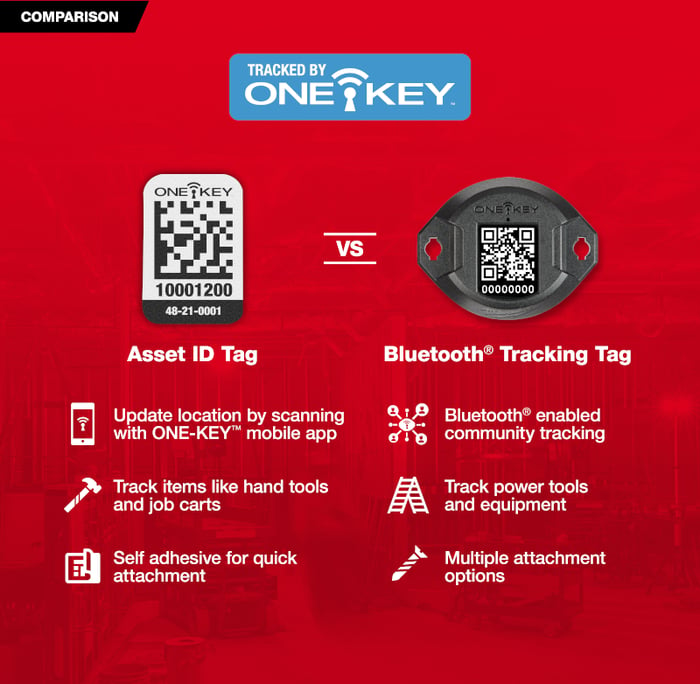 Asset ID Tag Applications
If you're looking for entry-level inventory tagging capabilities, such as for lower-priced items like hand tools and job carts, we recommend using an asset ID tag.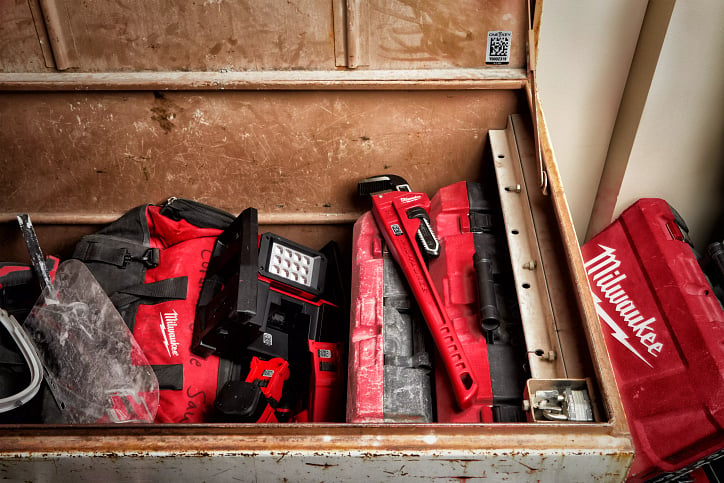 You might also use an asset ID tag as part of your check-in/out processes of inventory you're sending to a job. With our tool kitting feature, you can, for example, get everything you're sending organized in the app, and loaded in a PACKOUT™. Then, when that PACKOUT arrives onsite, your in-field crew can scan an asset ID tag that's been secured to the outside of your PACKOUT and get a list of everything inside, which can be verified; missing items can be left unchecked, and the kitting report sent back to the tool team via a PDF attachment sent by email of what's missing and needs to be filled.
Bluetooth Tracking Tag Applications
We generally recommend tagging your higher-priced items with a Bluetooth tracking tag because it adds additional tracking capabilities for items that don't have One-Key in them by default (think: standard Milwaukee tools and tools and equipment from other manufacturers).
Let's consider the above-mentioned kitting scenario.
Missing items could be marked as such, and once the item is seen by our network, you'll get an alert.
On the other hand, the added Bluetooth tracking capabilities of this kind of tag can be used onsite when getting ready to send stuff back to the crib.
While both an asset ID tag and a Bluetooth tracking tag can be scanned if you have the item on-hand, its details pulled up, as a way to ensure the item is where it needs to be, the Bluetooth tag helps you make sure nothing is forgotten and left behind.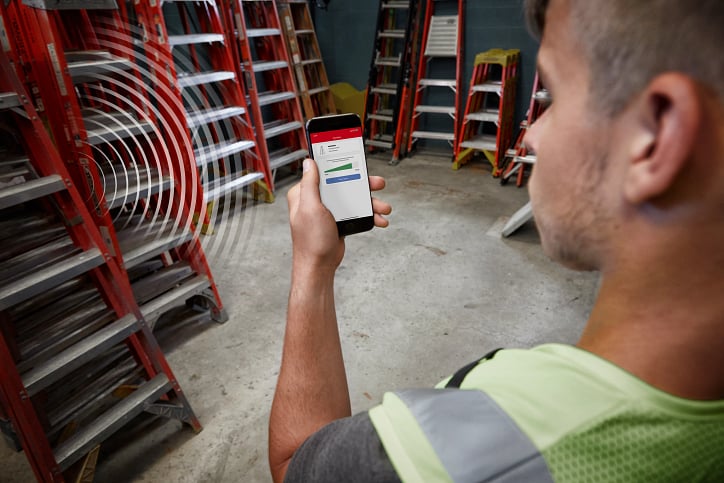 For example, maybe one of your guys was working upstairs and forgot to bring the tool he was using back down and into the kit after he was done. The foreman onsite can check the tool kit list and verify what's there, same as with check-in. When he sees an item is missing, he'd be able to scan the area for the item. The in-app last-100ft tracking experience gets him in the general area of where the item is. If he still can't see it, he can use the onboard speaker to ring the tag, hear where the ringing is coming from, and locate the resting place of its associated item.
Recap: How Do These Products Stack Up, and Where Would You Use Each?
To recap: We offer a number of Bluetooth tracking solutions that allow you to get the most out of our app, as well as our industry-leading Bluetooth community, regardless of whether your tool is red and bears a lightning bolt.
One-Key Asset ID Tag

: One-Key asset ID tags are ideal for lower-priced items and tool kitting inventory practices. They're highly durable and easy to use, a world's apart from the traditional barcodes they'll replace.

TICK Tool & Equipment Tracker

: The TICK adds Bluetooth tracking capabilities where a barcode or asset tag doesn't. You're able to get roughly a 100-ft-range out of a TICK, and it offers durability not available with consumer-grade trackers, able to withstand the harshest jobsite conditions. The major pain points we've had with this product over the years (upon which we've improved; see below bullet) is its range may be hindering, and how connecting to it to add it to inventory and to an item can become cumbersome. We will continue to support the TICK in the app, so if you're currently using them in your inventory, there's no need to worry.

One-Key Bluetooth Tracking Tag

: The Bluetooth tracking tag was built to address user gripes with the TICK while also adding more advanced functionality that makes it more powerful and capable, while simultaneously simpler to use. Bult-in NFC, and an onboard, highly durable QR code, deliver a rapid-firing 2-step activation process. An onboard accelerometer adds more location data we're able to pull for you; and an onboard speaker means you can ring the item when you can't see it. It's also considerably smaller than its predecessor, delivering a 30% size reduction; and we've added considerably more tracking functionality into the app since the TICK first launched, ultimately supercharging your inventory management process. More tech, smaller package!
General guidelines to improve tool tracking:
As a community Bluetooth tracking application, the more users in the app within your area, the better. While our tracking is industry-leading with a Bluetooth tracking community that's larger than all of our competitors combined, you can still improve your experience in the app (particularly on remote jobsites) by ensuring everyone on the job is in the app.

Ensure location services and Bluetooth permissions on your device are enabled (location allows us to triangulate where your tools are located in relation to you and provide location updates, and Bluetooth allows for you to be able to scan for nearby devices).

New to Bluetooth tracking? Learn

how community Bluetooth works

. Learn about deciding whether

Bluetooth vs GPS tracking

is right for your tool tracking process.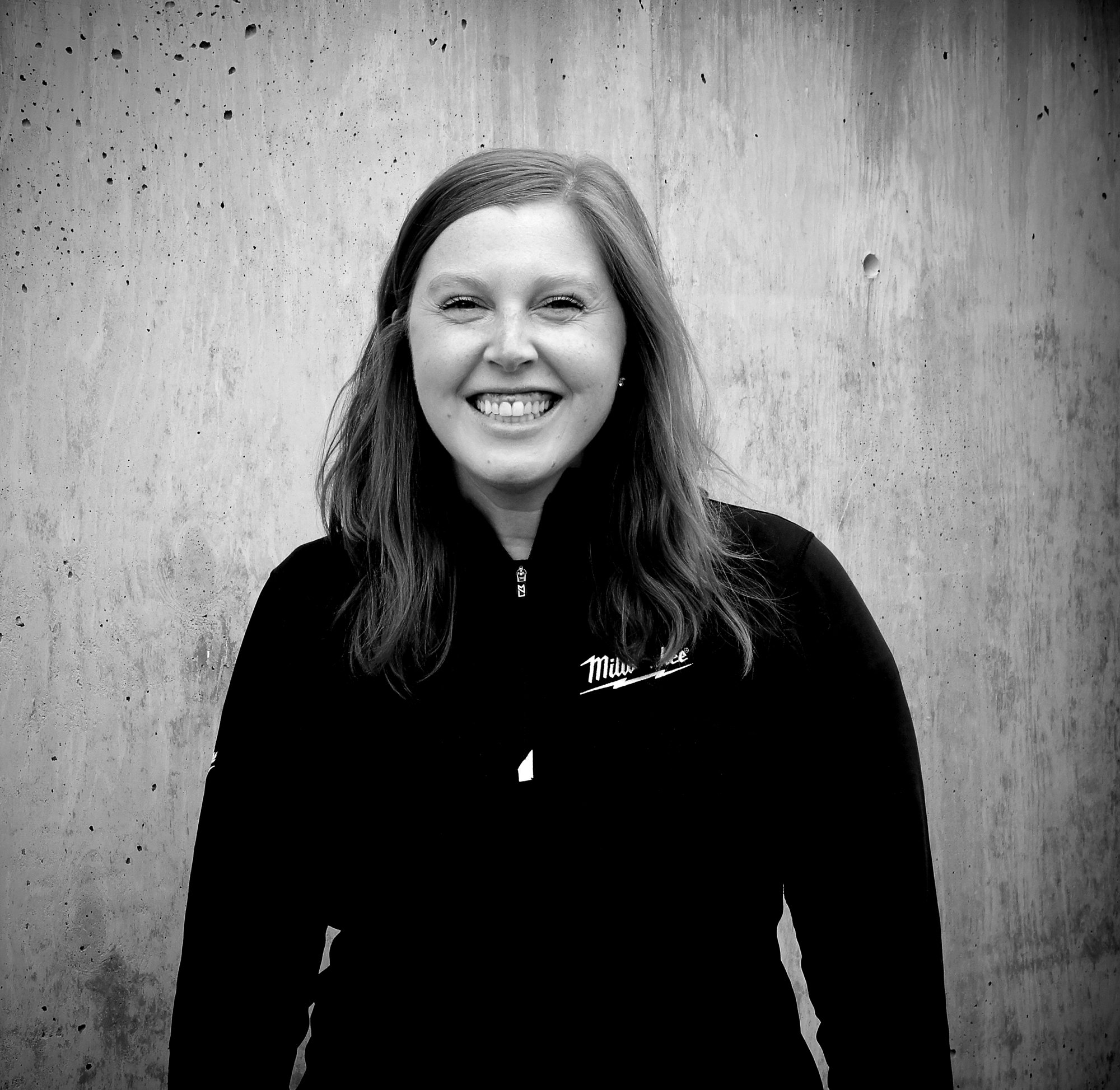 About the Author
Emma is a Digital Product Manager for Milwaukee Tool and works on the One-Key team. Previously, she worked in business analyst roles for other major Milwaukee-area companies like Johnson Controls, Kohl's, and Northwestern Mutual.
More Content By Emma Knetter
Subscribe to Our Blog
Sign up to receive ONE-KEY™ news and updates.
Recent Articles
In our next installment of our employee spotlight series, we highlight Dean Gagliano, a Customer...