Power Tool Theft Protection: Preventing (& Responding to) Stolen Tools
Thought Leadership
Lucas Marshall
|
Published: June 17, 2022
|
Updated: June 17, 2022
Tool theft is a growing problem. A 2016 report conducted by the National Equipment Register in conjunction with the National Insurance Crime Bureau found that construction companies face losses between $300 million and $1 billion annually due to equipment theft. The same report also suggests that, beside the expense of losses of materials and equipment, tool theft can often lead to construction project downtime (time spent filing police reports and insurance), resulting in costly project overruns as onsite productivity and project progress screech to a halt.
Tool theft is also a global threat; for instance, reporting in England the Construction Index, citing police data, revealed £17.5 million worth of tools were stolen in London in 2020, representing a value of £57,000 stolen each day. What's worse, only about 1% of stolen power tools were recovered, they note. A tool had been stolen from a tradesperson every 17 minutes in England, Wales, and Northern Ireland since March 2021, according to analysis of police data from Direct Line business insurance. Direct Line reports that £83 million worth of tools have been stolen across England and Wales between 2017 and 2019, while £245,893 worth of tools have been reported as stolen from vehicles every day across the UK since the easing of lockdown in April 2021, according to a more recent report. What's more, the same study found that 4 in 10 (38%) had fallen victim to tool theft in the past, a growing threat with 56% reporting they leave equipment in their vehicles overnight, and 59% not carrying specific insurance to cover the event of tool theft.
Preventing stolen tools is thus ever important to keeping budgets in check and projects moving along as expected.
But what do you do when tools are stolen?
In this article, we discuss power tool theft protection, how to protect your tools and stop tool theft, as well as what to do when tools are stolen and how to track stolen tools.
What's inside
What Are the Most Commonly Stolen
Construction
Items
?
Reported in the above-mentioned Construction Index report, thieves are 10% more likely to steal powered hand tools than non-powered hand tools, they report, accounting for 32,067 (power tools) from 2019 to 2021 when compared to 2,993 hand tools.
On the other hand, WCC TV ranks the most commonly stolen construction items as:
Where do stolen tools get sold?
A critical question is, what do thieves do with stolen tools? The NYU Dispatch notes that thieves steal the tools from hardware stores, then sell them in exchange for money or drugs to people known as "fences," criminals who will then list these products online at much cheaper prices than in-store, on websites like Facebook Marketplace, OfferUp, and Letgo. Those caught involved in these kinds of activities can be charged with "receiving stolen goods" and "larceny with intent to sell," they note.
If you do find yourself unwittingly in the hands of items you suspect to be stolen, we offer the following policies. We find the old adage, "If it seems too good to be true, it probably is," to hold true; we therefore recommend approaching the second-hand power tool market with intense scrutiny. Furthermore, we encourage you to report suspected fraudulent websites, which will help prevent others from falling victims to scams.
Anti-Theft Devices for Power Tools
Below, we discuss some anti-theft devices for power tools, both in the crib and in the field.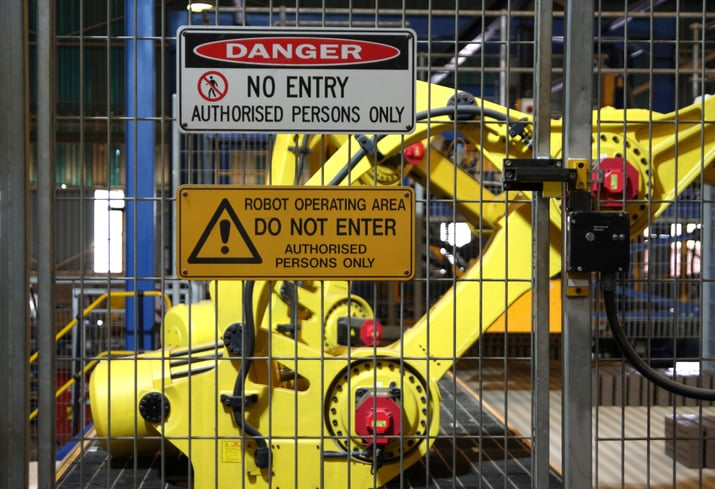 At HQ or in the tool crib
Wire fence

: As

we've previously noted

,

tool crib storage

like wire caging and equipment cage solutions are common fixtures of industrial tool cribs, helping to keep valuable inventory secured and accessible only to those with access.

Padlocks

: Adding

padlocks

at entrances of equipment cages is a no-brainer. Just as the stores at your local mall will pull down a security fence at the end of the night secured with a padlock to protect the valuable inventory inside, tool cribs contain valuable tools and equipment worth securing under lock and key. You can even use

biometric padlocks

(capable of storing up to 10 fingerprints in some cases), allowing only those with the highest level of security access capable of gaining entry. Like

construction cybersecurity advice

includes having two-factor authentication enabled to prevent conniving cybercriminals brokering breached password data for ill gain, biometric padlocks add an extra layer of security at your HQ, ensuring, for example, opportunistic eavesdroppers who've overheard a lock combination can't easily gain entry. On the other hand, padlocks with keyed entry and

hidden shackles

or those with

reinforced, shrouded design

minimize shackle exposure to protect against bolt cutters; padlocks with a reinforced shackle, furthermore, ensure that, if bolt cutters are applied, the likelihood of breaking through is much lower.

Security cameras

: Onsite security cameras,

both stationary and mobile

, can help assist law enforcement should theft incidents occur. As

MTAS Research and Information Center notes

CCTV was "more effective in reducing car thefts and other 'acquisitive crimes,'" also adding that CCTV is best used in conjunction with other deterrent methods."
In the work van and on the jobsite
Direct Line reports that 28% of tools are stolen from vehicles. It takes around 10 seconds for a thief to break into a van, they note. Therefore, it's critical to lock all doors and make sure your windows are closed, even when loading and unloading.
Some of their tips for keeping your van secure include:
Purchasing a van with an alarm or

immobilizer

(or upgrading if these features are not standard).

Using slam locks, which automatically lock doors when closed.

Using steering wheel locks, blacked-out rear windows, and locking wheel nuts.

Parking in busy, well-lit, and secure parking areas.

If possible, removing tools and valuables (especially overnight), as your insurance may not provide coverage for tools left in the van overnight.

Keeping valuables out-of-sight.

Making sure you have the appropriate level of insurance for your business needs.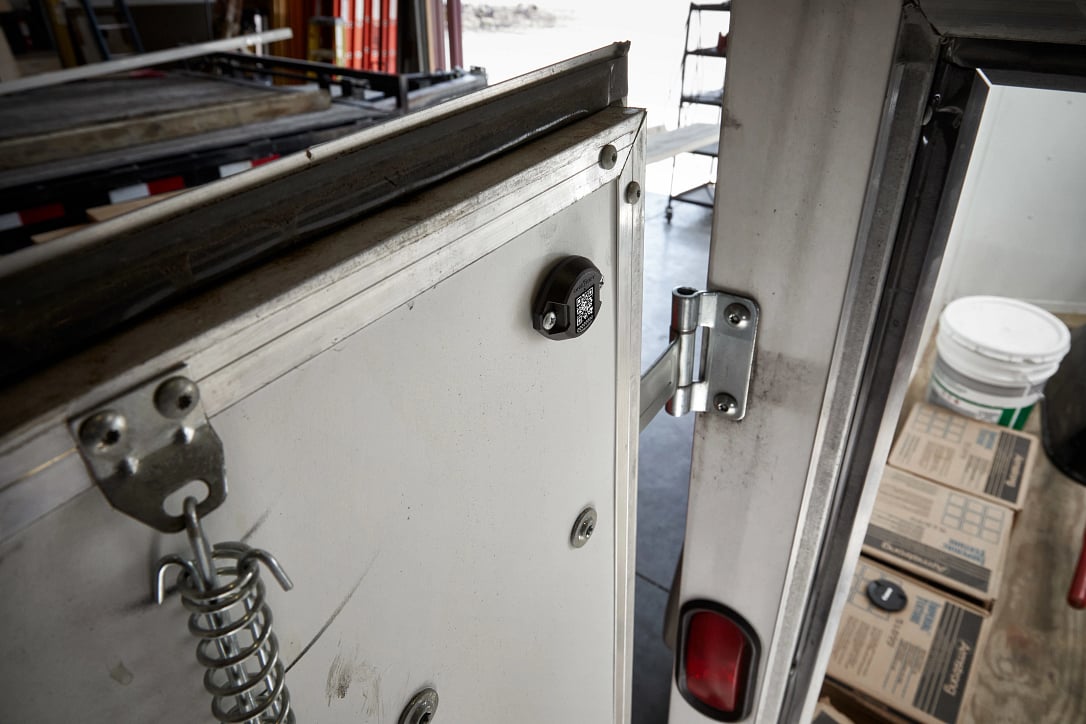 Equipment Tagging can help maintain visibility as you deploy your equipment to the jobsite:
Asset ID Tags for Check-in/out

:

Asset ID tags

can be used to check items in and out of the tool crib, providing location updates for each time they're scanned and notifying a

tool crib manager

of the tool's/tools' current whereabouts.

Bluetooth® Trackers for Tools and Transport

: Bluetooth trackers like our

ONE-KEY™ Bluetooth® Tracking

help add more real time updates by updating their location when they come into range with other users who have the app installed on their devices. This information

can be provided to law enforcement when you file a police report

and assist them in their investigation. What's more, our

Bluetooth Tag

features cutting edge equipment tracking technology, including: built-in

near-field-communication (NFC)

; an

accelerometer

providing information on the last time equipment was used; a built-in speaker (with 3 buzzer sounds) to increase findability by allowing you to ring your tracking tag within 100ft if the product it's attached to is not physically visible; a scannable QR code, offering a simple 2-step activation process; professional-grade durability and weather-proof construction built to withstand harsh jobsite conditions, abuse, shock, drop, and extreme temperatures not seen in consumer-grade trackers; IP68 rating, the most durable on the market; 300ft Bluetooth range (3X greater range as compared to its predecessor); compact design with 30% smaller footprint offers versatile attachment capabilities; an internal battery with a 3-year run time that is maintenance free. 

New to the Bluetooth tracking space

? Learn more about how

community Bluetooth tracking works

and the differences between

Bluetooth and GPS tracking

. 

GPS Trackers for Tools

and Transport

: Individual GPS trackers or programs such as

LoJack

can be added to vehicles to provide the most accurate and real-time (LoJack, for example, reports a 98% recovery rate) location data that can assist law enforcement to track down stolen property. GPS trackers come at a much higher cost and require a monthly subscription, hence why we recommend adopting them for your high-value assets (such as your fleet vehicles).
On the worksite, you might consider additionally
:
Deploying

mobile

"managed mobile surveillance cameras," which can be backed onto the job. This footage can help law enforcement identify suspects or even help them spot identifying information such as license plates numbers.
Smart Tools
Smart tools can provide Bluetooth tool tracking functionality out of the box, in addition to (on applicable models) customization features to help tradespeople optimize their installations in virtually any application they may encounter.
Tool Lock Out
Standard tool security features allow the entire line of Milwaukee Tool compatible smart tools to be locked out. If you find you must leave your tools onsite overnight (such as a cumbersome table saw or miter saw), we recommend locking your tools out at the end of the day—that way, if they are stolen, they will be useless to thieves. In fact, we've had customers whose stolen tools have been sent to Milwaukee Tool authorized service centers (the thieves thinking these locked out tools were broken), allowing for service techs to reach out to the tools' rightful owner and reunite them with their tools! If you do end up encountering tools that become lost or stolen that you previously hadn't locked out, you can mark them missing—the next time the tool passes within range of a device with the app installed, it will become locked out and unusable to the thief.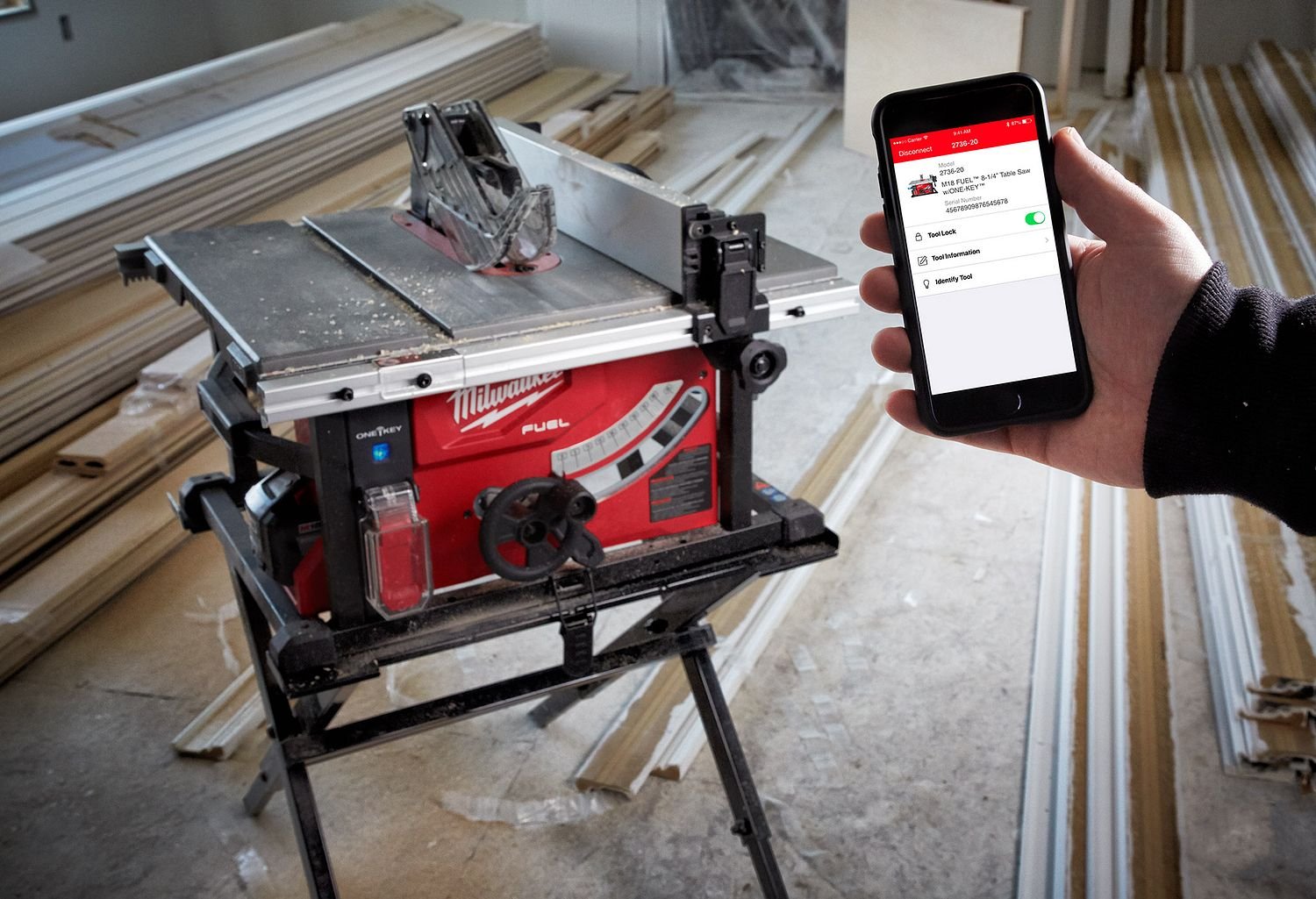 IMPORTANT: A common misconception we have to dispel is that our tools are tracked by default. In order for our smart tools to be tracked by their owner, they need to be put into that person's inventory, which notifies to One-Key that person is the rightful owner of those tools. Why? If a thief does walk off with their tools, there's nothing stopping them from downloading the app, adding them to inventory, and locking you out of them. That's why we recommend adding your One-Key smart tools to inventory straight away.
Use a Cloud-Based Tool
Construction Inventory App
Using a cloud-based digital inventory app can help contractors maintain continuous visibility to their equipment as they send it to the field.

Some features of our app, for example, include:
Important: Here's how to properly configure tool tracking settings in the One-Key app.
What to Do When Tools Are Stolen
We've documented our procedures for assisting you should you find your tool has been stolen.
If your tool ends up in one of our service centers or we're informed by a buyer they suspect the tool is stolen, one of our service representatives will contact you directly and begin a resolution process. We will never provide personally identifiable information about you (or the buyer). You can also reach out to us by calling 1-800-SAWDUST.
Resolution Process

We will ask that you file a police report for your stolen item with your local law enforcement department.




If a police report

cannot

be provided, you should contact your local police. You'll have 30 days to provide a police report to us or the tool will be released.

If a police report

can

be provided, we will alert the police and assist as needed.

We'll also inform the possessor of the tool that your tool was stolen or lost, a valid police report was provided, and the tool was returned to its rightful owner.

If you

do not

reply or a police report is not provided, after 30 days:

The tool will be released by removing it from your inventory

The service center will unlock, fix, and return tool to the new owner

If, on the other hand, you

did

sell the tool and forgot to remove tool from your inventory:

We can remove the tool from your inventory for you

We can unlock, fix, and return the tool to the buyer
If it's a One-Key compatible tool, we recommend marking it missing to ensure it will lock out the next time it comes within range of our Bluetooth tracking network.
Bottom Line
Tool theft is on the rise. Taking proactive steps is key to preventing stolen tools.
Furthermore, we hope you don't encounter theft, but should you encounter an unfortunate tool theft situation, the above procedures are in place to help make you whole should you ever find yourself a victim of jobsite thievery—what's more, we continue to add in-app features like Tool Location History to improve the item locating experience and which can help assist law enforcement locate your stolen property in tool theft situations.
About the Author
Lucas is Content Marketing and SEO Manager for Milwaukee Tool, where he and his team raise awareness about the company's digital products and educate users on best practices through a variety of content vehicles.
More Content By Lucas Marshall
Subscribe to Our Blog
Sign up to receive ONE-KEY™ news and updates.
Recent Articles
2023 has been a year of tremendous change and accomplishment for the One-Key team.
November 27, 2023
Editorial Note: This article was brought to you courtesy of Rose Morrison, managing editor of ...