Unpacking the "Booth-in-a-Box:" Your Hands-on Experience with ONE-KEY™
Thought Leadership
Lucas Marshall
|
Published: June 22, 2023
|
Updated: June 22, 2023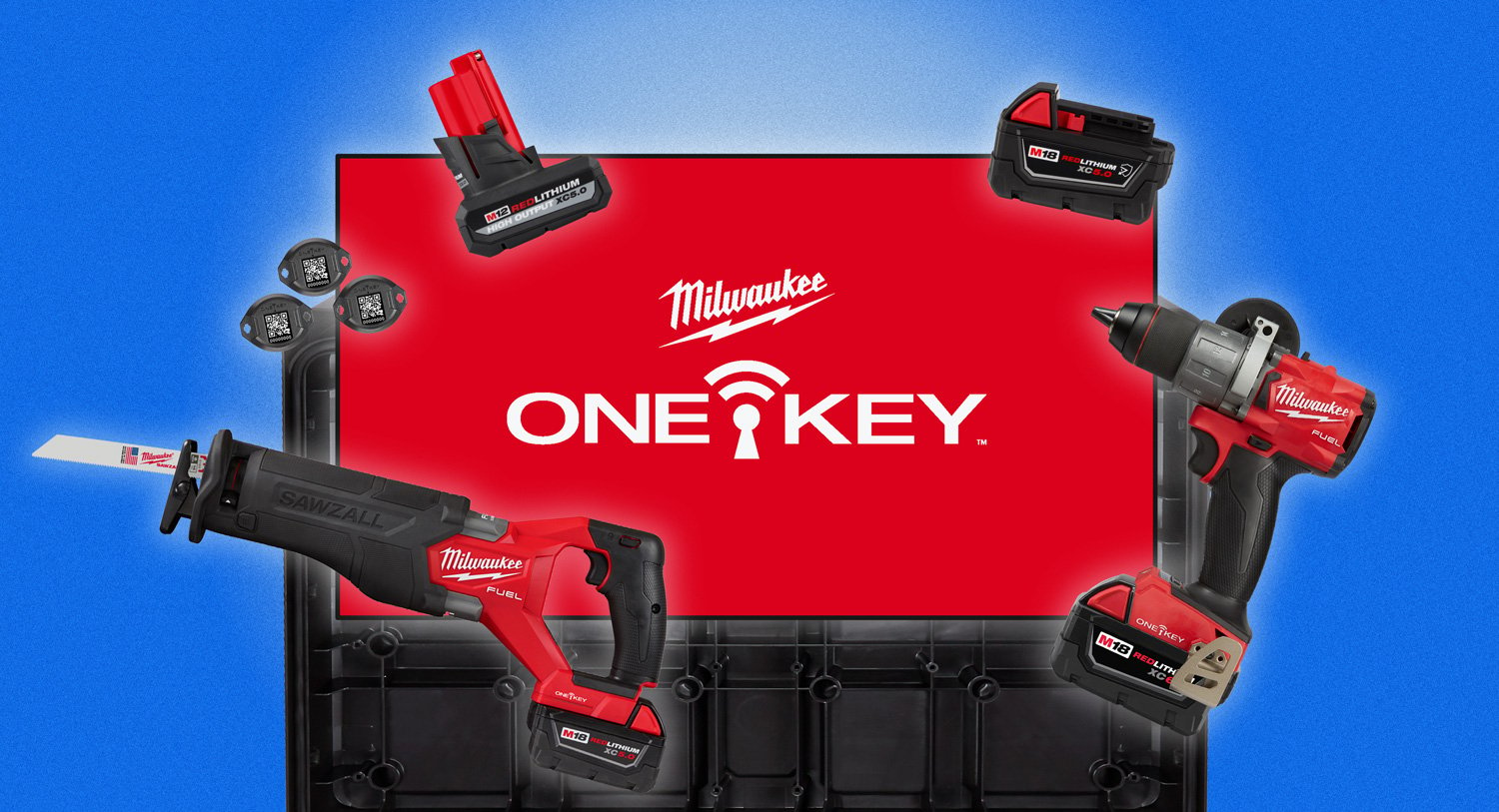 On the floor of a trade org conference or among the crowd at a major event (like World of Concrete), you can easily spot Milwaukee Tool's ONE-KEY™ booth—drawn in by the prominent and familiar red banners and the iconic lightning bolt that underlines our namesake.
But what's going on at our booth is a far cry from the uninspired slide decks accompanying the monotone sales pitches recited by entry-level tech sales reps. "Oh, you're just trying to sell me vaporware, like it sounds great coming out of your mouth, but really what can it do for me?"
These are some of the complaints heard from information-overloaded customers. Andy Lambert, the inspiring leader of our One-Key product management team and mind behind our new product demo rituals, has looked to prove this value for customers in real time rather than recycling product specs.
If you've attended a trade show or have been visited by a Milwaukee® Jobsite Solution (JSS) rep, you've likely had a dissimilar experience from the typical "vaporware" pitch – rather, an opportunity to experience the ONE-KEY™ app through an immersive, hands-on demonstration.
We sat down with Lambert to understand how the concept took off. We'll share these findings in this article.
And if you haven't had the privilege, you might stop by our booth at the next major trade show, especially if you'd like to see for yourself the value the One-Key app and connected products may offer your business.
The Mythology Behind the Booth-in-a-Box
Andy Lambert, the mind behind the Booth-in-the-Box, has worked in construction software management for nearly 20 years. Among the job titles he's held, "Director of Learning" and "Applied Construction Technology" seem apt to describe the experience you'll find in our new hands-on One-Key demonstration.
Lambert now serves as Director of Product and Construction Technology for Milwaukee Tool.
This experience he's created, known internally as "the Booth-in-a-Box," is exactly how it sounds.
Open on our booth table is a rolling PACKOUT™ — in and outside this PACKOUT comfortably sit many of the trappings that represent the One-Key experience.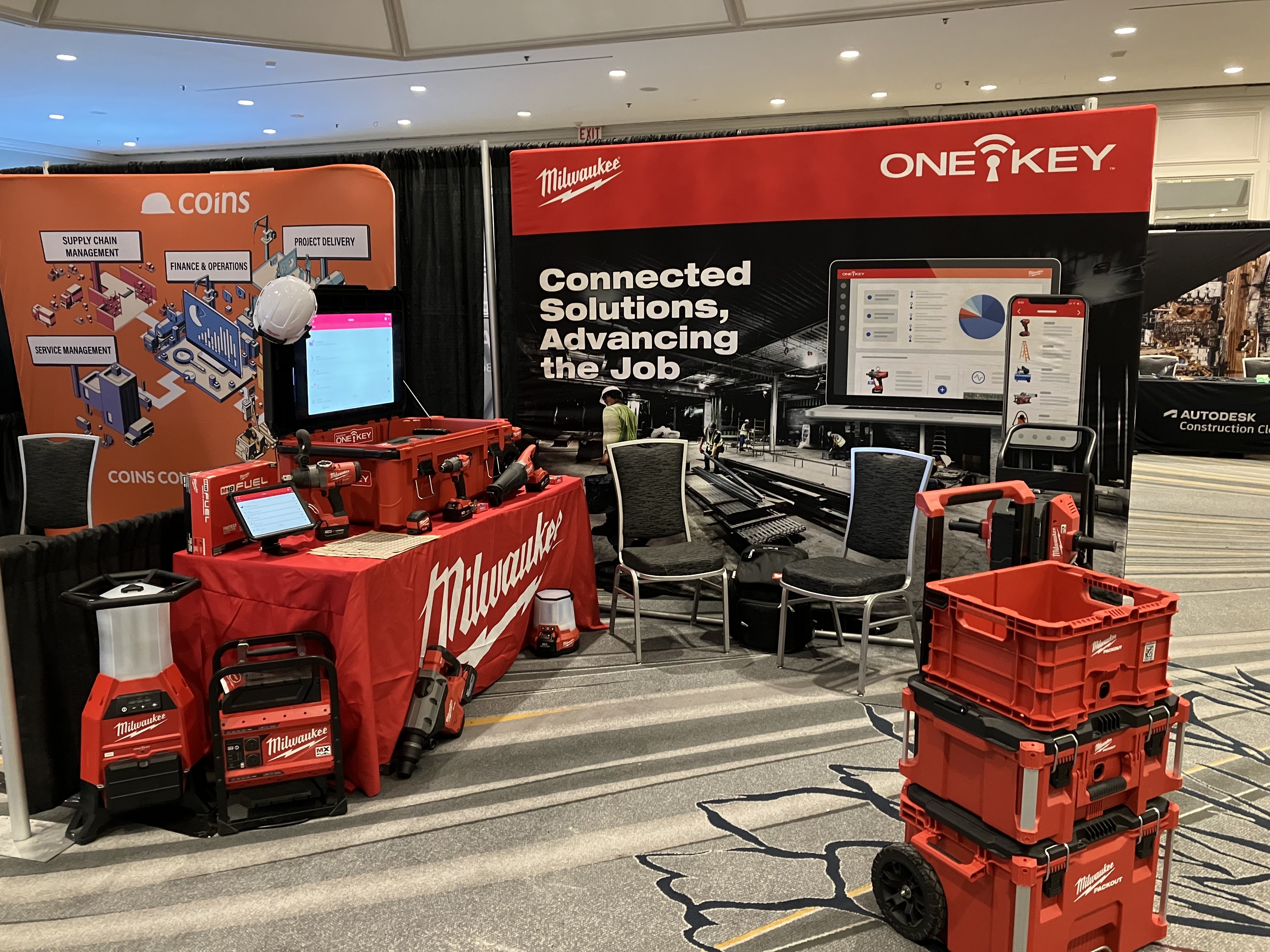 Inserted neatly in foam cutouts, One-Key compatible smart tools, tracking products (e.g., One-Key Bluetooth® Tracking Tags and One-Key Asset ID Tags), and M12™ and M18™ batteries comprise a mini site inventory.
A 32-inch monitor is securely fastened under the lid of the PACKOUT, which can be operated via remote control. Underneath the foam sits an Apple TV. The team has even included detailed setup and pack up instructions to ensure a seamless experience for the demonstrator.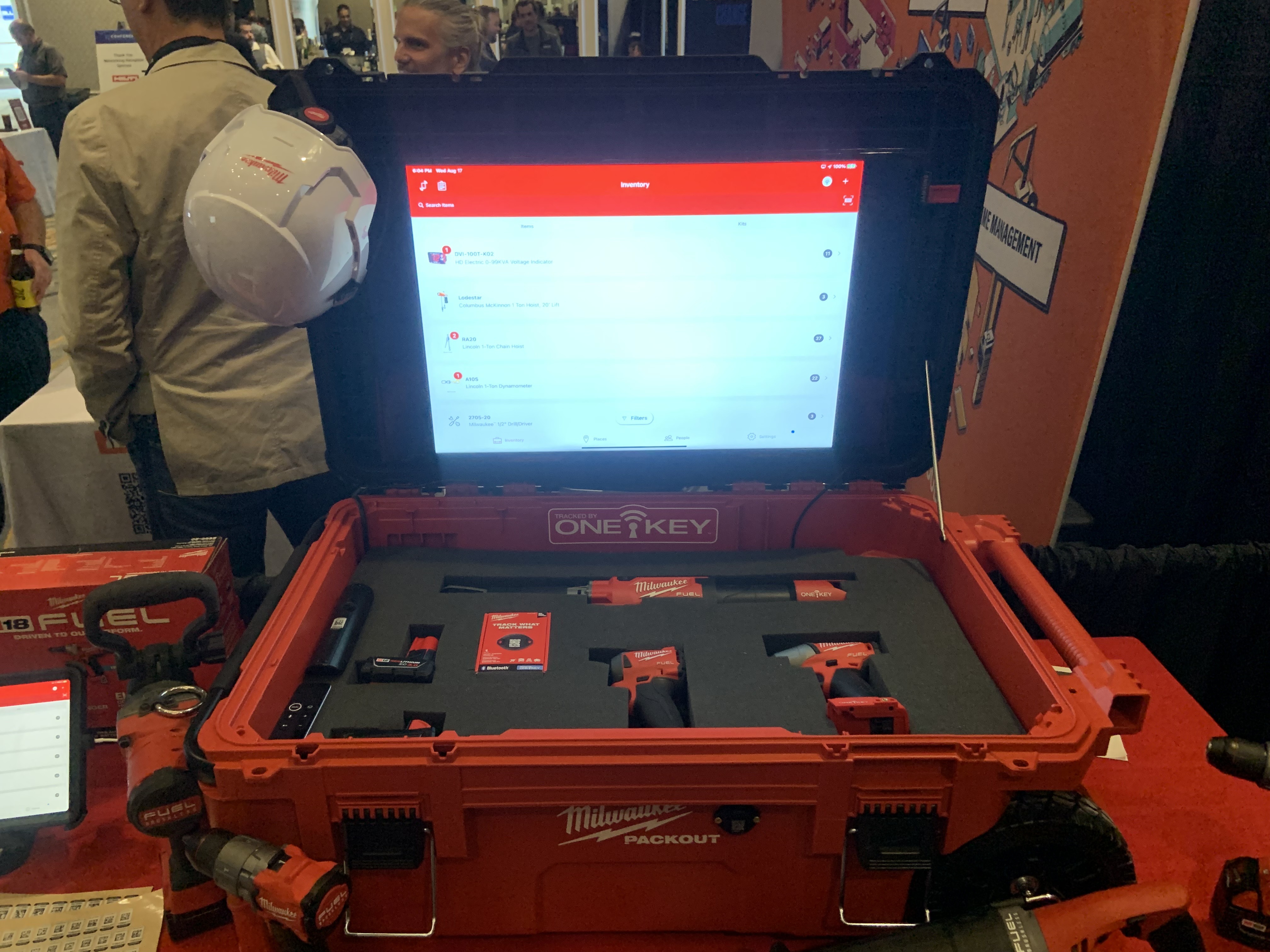 The included Apple TV and iPad allows the demonstrator to showcase the One-Key app user interface (UI) – whether that's what it would look like to tool up a job from the crib, reviewing a tool management report from the back office, or unboxing a day's worth of equipment in the field to get to work.
A Technical Headscratcher Solved: Delivering a Hands-on, Immersive Experience in a Box
Encapsulating the One-Key experience – which means multiple things for many unique end users – was a technical challenge.
Lambert tells me that cracking the nut to showcasing One-Key, a constantly evolving IoT product, was "overwhelming" at the onset. "How do you show the capabilities from an operation standpoint of the software itself and what it can do to make you more organized and drive accountability and be more efficient in how you're tooling up jobs?"
"The platform is wide and deep, and it's really hard to just show one thing right," he explains.
"There's the software, [which can be showcased to end users] with a laptop or a by mirroring my iPhone" he adds. "But then there's tracking location services where we have trackers and asset ID tags, and the Bluetooth capabilities of tracking tools' locations. Then you have the connected tools themselves, and all the things you can do there."
That challenge, after all, is part of what differentiates Milwaukee Tool's competitive advantage with the One-Key connectivity platform. "We're a hardware company that traditionally makes hardware, power tools, and accessories, and tangible goods. But at the same time, we also grid software," Lambert explains. "So, it's really unique about Milwaukee Tool that we can do both at once, plus they interact with one another."
"In essence, we have this digital side that creates and extends the experience of our traditional products," he expounds.
Lambert recalls how the Booth-in-a-Box concept emerged in his mind. "I thought, like what? What makes this more real to people is seeing it in an immersive experience, so how do we create more of a hands-on experience?"
"It's easy to talk about a digital solution," says Lambert, explaining the challenge that underpins educating the value of a digital solution in a meaningful way: "If someone is being shown a tool and they can hold it, and they can see, that is real — defining software and showing its value is trickier. You can't say, 'Oh yeah, this is what you're telling me it is.'"
But he and his team were up for the challenge.
Starting with a Goal
"How do you enable yourself to speak to everything that One-Key is in a hands-on fashion? That was our goal and objective," Lambert explains. "Let's make it real to the audience at hand, and that's what we wanted to set up."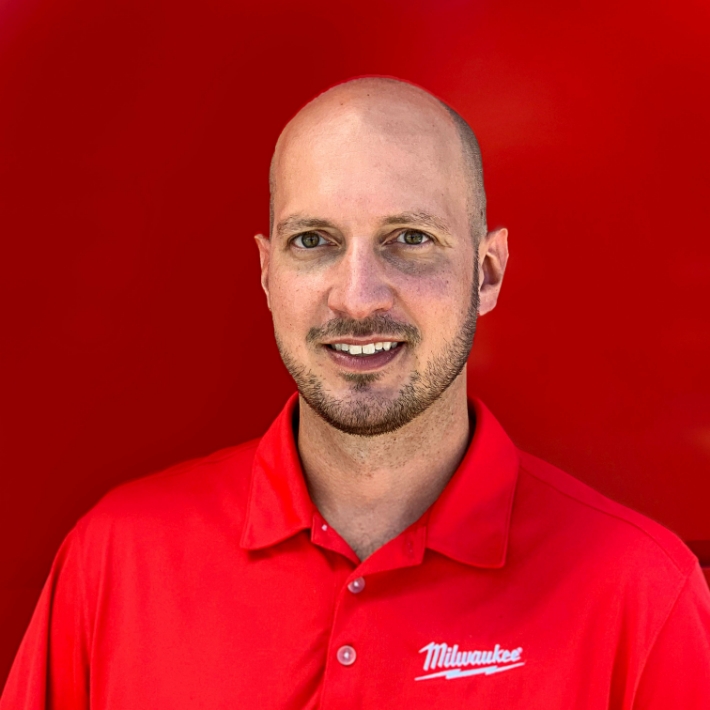 "Creating that immersive experience allows the end user to place the product with their needs and the solutions that we're building. So, it's a lot easier than a PowerPoint presentation or speaking to it or purely demoing software. It's no, 'This is an experience,' and we want to create that experience, to whomever we're talking. And we believe that's important to them, to feel the weight of the solution and how real it is."
Andy Lambert·Director of One-Key Product Management & Construction Technology
Inspiration Strikes
"I thought, 'how do we get this into a smaller, immersive experience that is really easy to set it up and you can walk through everything that One-Key is, while giving the person that you're speaking to the ability to immerse themselves in it?" Lambert describes his early problem statement.
He describes step-by-step how he built the first booth-in-a-box. "Let's get a really durable box that we can put it all in, so that you could set up somewhere easily."
He explains the booth's construction and contents. "It was a giant Pelican case that included a monitor, this big stand to put the monitor on, a handful of tools, and an iPad and Apple TV."
The first iteration of the booth-in-a-box was ambitious, but the execution, he explains, needed a second generation. "If you wanted a screen share, your mobile app and all this stuff, and it was cool at first until you realize, 'I got to unpack this box.'"
Evolution of the Booth-in-a-Box: Software Ecosystem Meets Product Synergy
"That's when the rolling PACKOUT came," Lambert tells me, a critical moment in time when One-Key software development and Milwaukee Tool modular storage product development perfectly intersected. "[Those] two things kind of like morphed us from having nothing to the Pelican case to then where we are today," he explains. "It was the introduction of the kitting feature and the rolling PACKOUT."
This intersection in time, he tells me, served as the catalyst "to start to tell that story."
A Perfect Pairing: A Productivity Power Duo to Show, Not Tell
The story, he explains, is how "PACKOUT is the hardware solution to help you become more organized and our software application is a digital solution that helps you become more organized."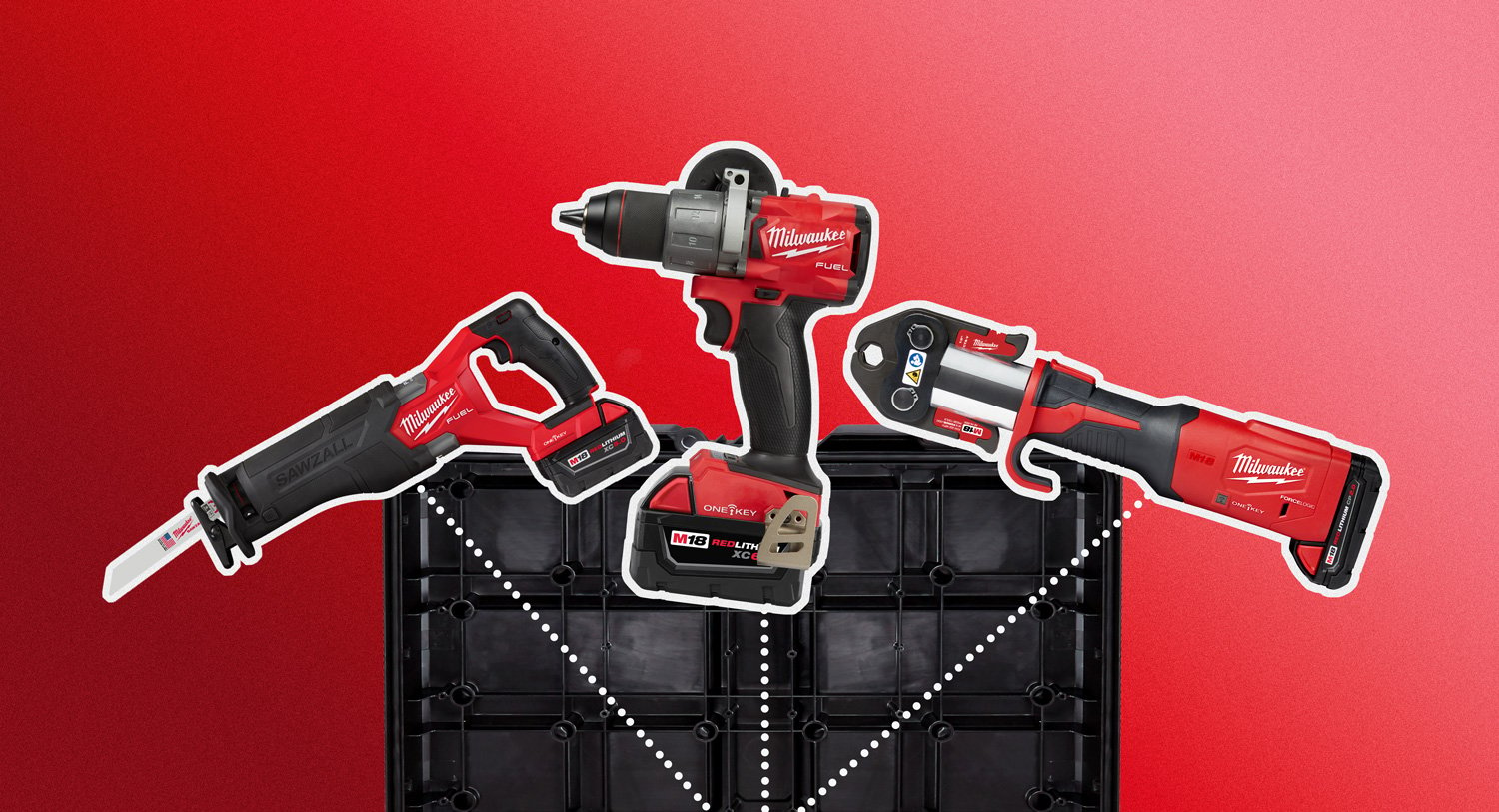 "All of a sudden," he recalls, "we can link the story of other Milwaukee products into One-Key and we said, 'Okay, what's the size of that rolling pack out? Oh, my God, we could fit a 32-inch monitor in there!"
He continues:
So, we ponder, what if you brought them Milwaukee PACKOUT, you rolled it up, you put it on a table, you opened it up and there you had a monitor. And you had foam that had cutouts for tools and trackers, but PACKOUT was a kit, so we can actually show that kit and the associated tools in the software. We could put our asset ID tag on it. We could also put our Bluetooth tracker on it, and you could digitally transfer that booth-in-a-box in One-Key to the location that you're traveling to, and you could show the geofence and all that stuff, so you're almost replicating a PACKOUT on a jobsite and how you would manage that.
Since the original booth-in-a-box, three more have been added to the One-Key product management team's inventory. "We created a One-Key account specifically for those boxes, so we can manage all three of them and you can see what boxes are where," he explains. "So, we're actually able to inventory and audit our boxes, just leveraging the software features that exist in a meaningful way."
The onsite demo preparation, Lambert explains, shifts from creating a static PowerPoint presentation—the act of telling, or lecturing—to actually doing, tooling up a job like an end user would, only the job is the event hall where the demonstration will take place.
"You can see which PACKOUTS are in the tool crib — which is our office," explains Lambert. "And then you can see what locations they've been sent to. You can audit the inventory within those PACKOUTs and make sure everything's returning." With this approach, he explains, the team leads by doing. "You're really able to kind of eat your own dog food and you're using the solution that we built to manage the demonstration of the solution that we built."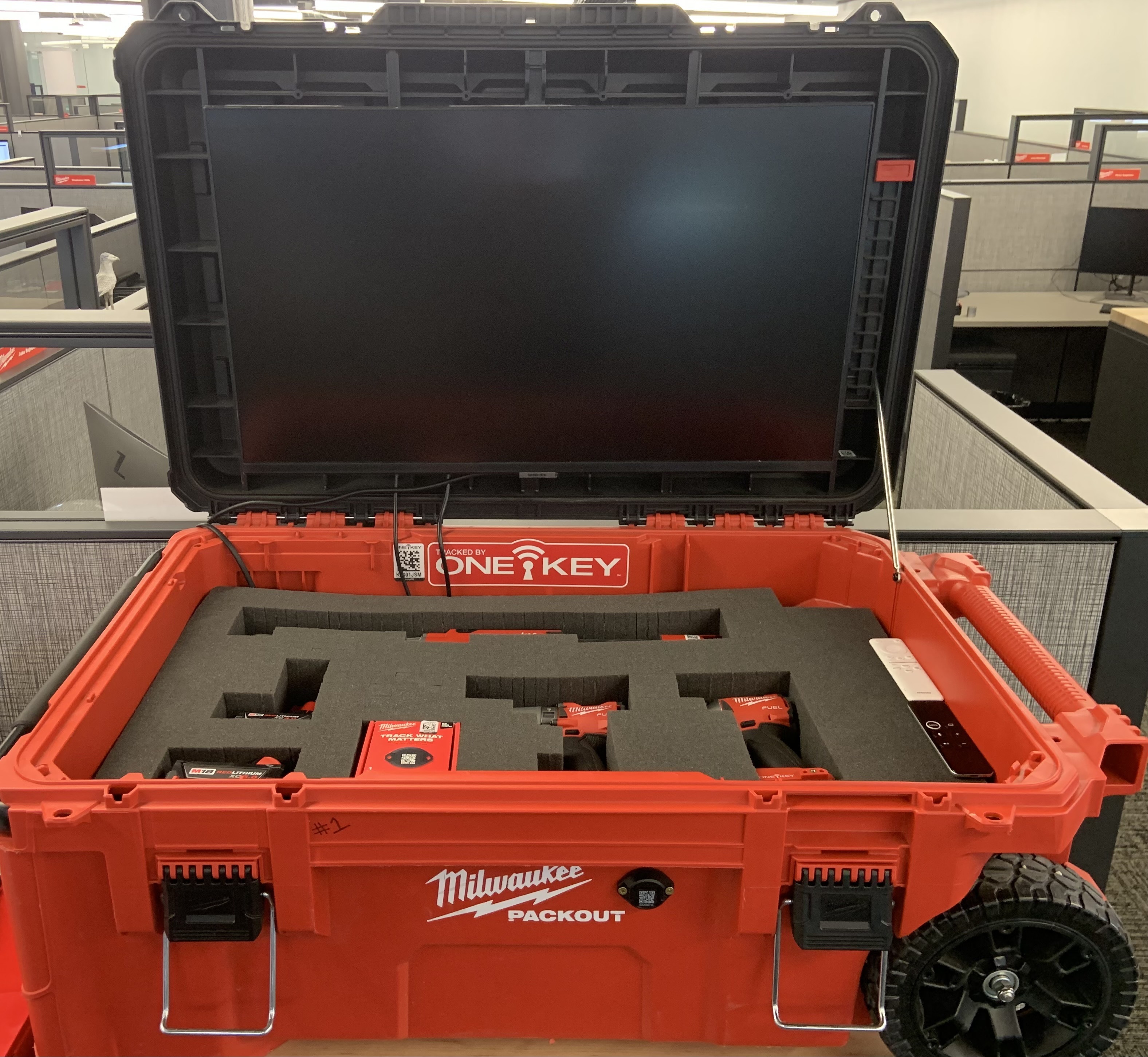 "You could tell the story of the crib manager that's trying to organize these tools in a kit, and show location updates on it," he explains. "You want to get location updates on the One-Key tools that are in it, and you can get that he can set up the geofence."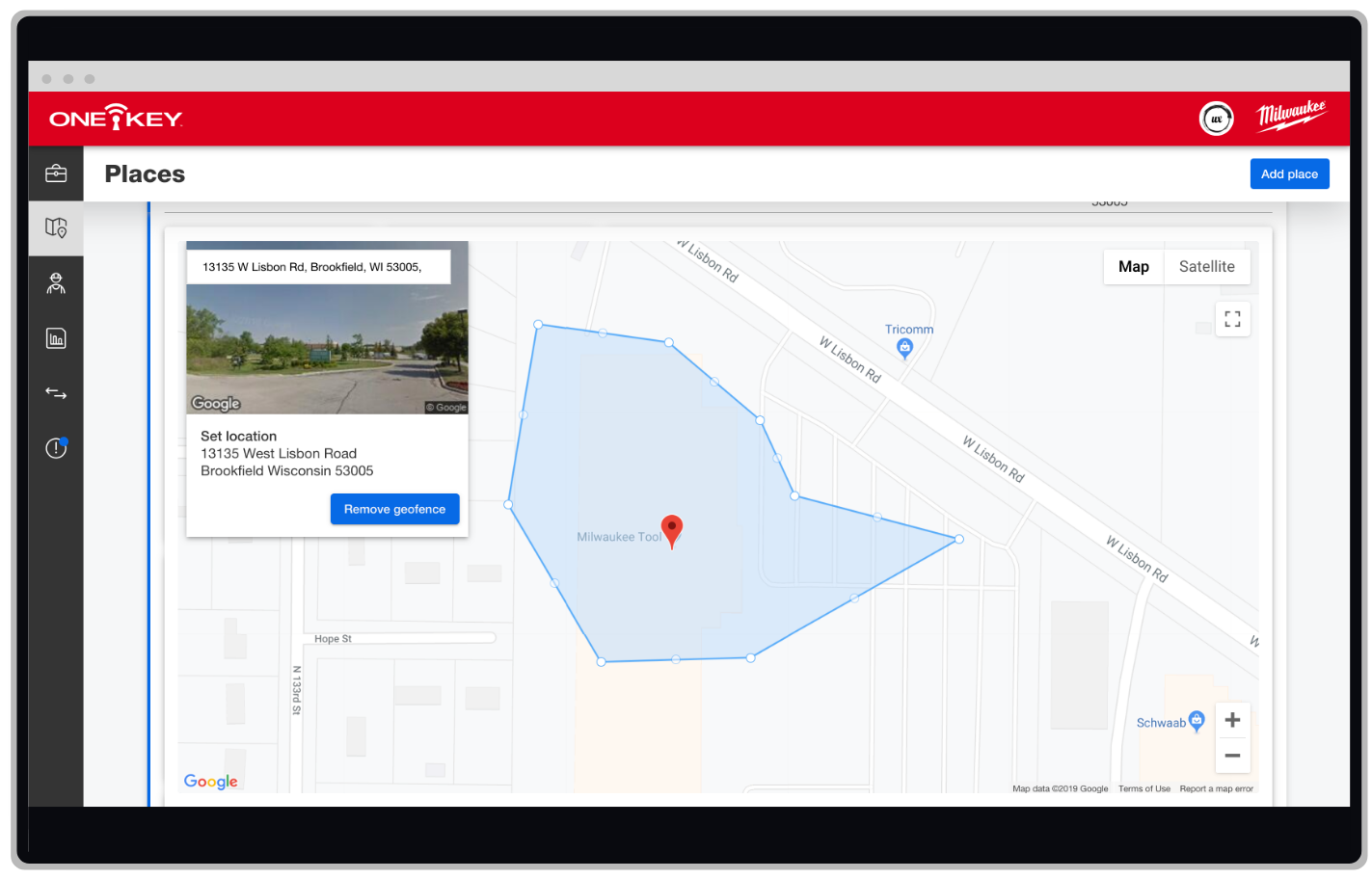 The possibilities for showcasing the One-Key connected ecosystem abound, Lambert proudly states. "If you're a tradesperson and you take a tool out, because you're going to use it, you can show that connected experience through." He explains, "I can start to customize the settings on this tool. I can get reporting off of this tool and you can go through all of them."
With a booth-in-a-box, this entire workflow, from installation onsite to reporting in the back office, can be demonstrated in person, right there. A digital torque wrench can be used to sync an event on-tool and to the cloud. Then, using the Apple TV and monitor, the web app experience of building a report pulling those events can be experienced in real time.
An End-to-End Representation of Milwaukee® Innovation
and a Hot Commodity among JSS
As the team started using the booth-in-a-box concept in the field, Lambert reveals, "We've realized the Milwaukee ecosystem of products plays in perfectly for something like this."
Lambert says that the reception of the booth-in-a-box has been positive. Particularly among Milwaukee Tool's salesforce, known as Jobsite Solutions (JSS), these rolling product demos are a crucial "enabler."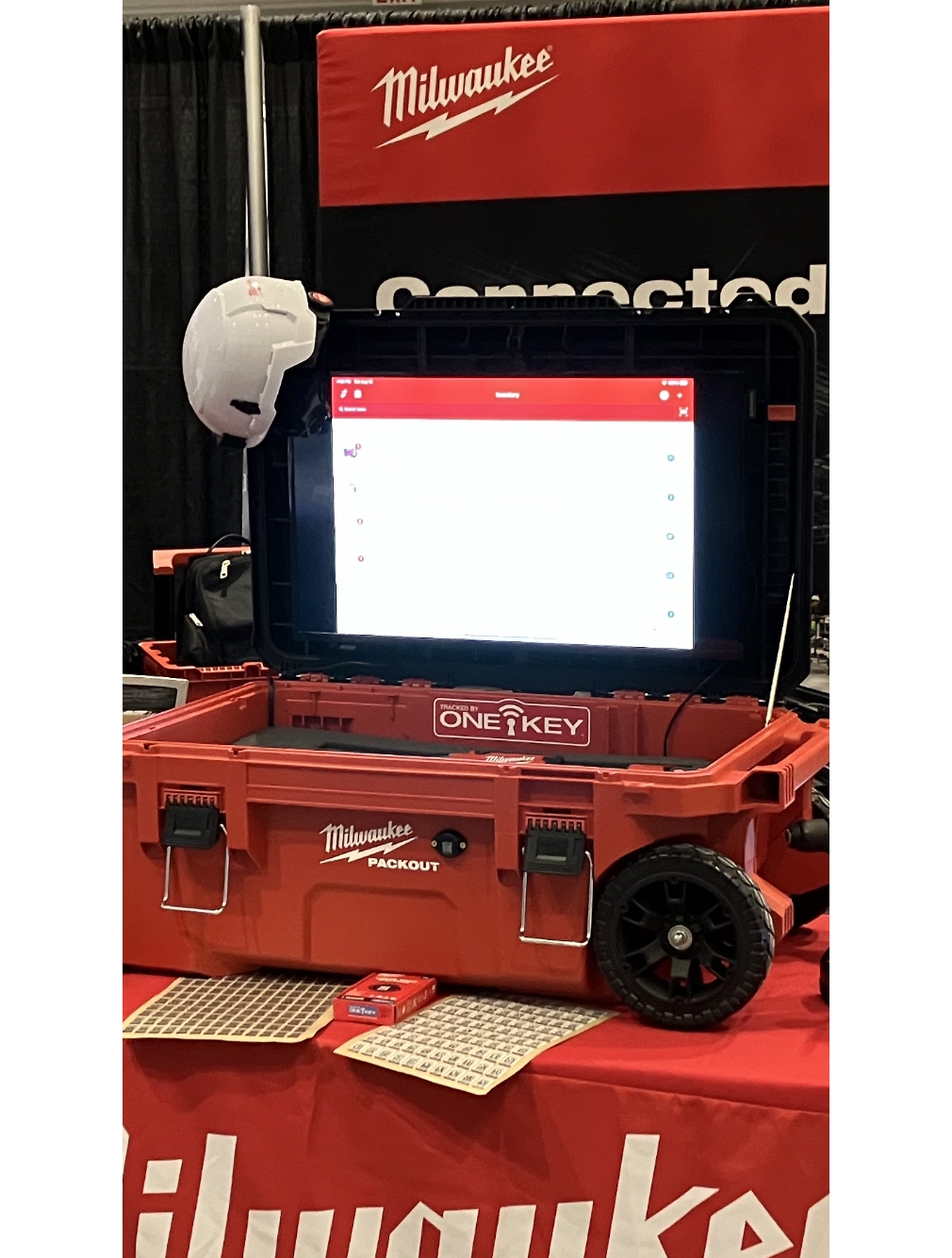 "We took them on the road to some of the trade shows to the point where the JSS team was like, hey, that PACKOUT, it's amazing," he recalls. "They asked, 'Can I get it for this event that I'm doing?' So then we started sending them around the country to the point where we had to create three of them."
"Being out in the field, trying to figure out how do you message and showcase all of these things," he explains, the booth-in-a-box offers an elegant solution: "Here's a manageable PACKOUT that you open it up and it does all of those things in a meaningful way."
The rapid growth of Milwaukee Tool and the One-Key system, Lambert adds, makes the booth-in-a-box a powerful tool. "For most people, they don't realize how wide and deep one key is and how we've grown and matured," he explains.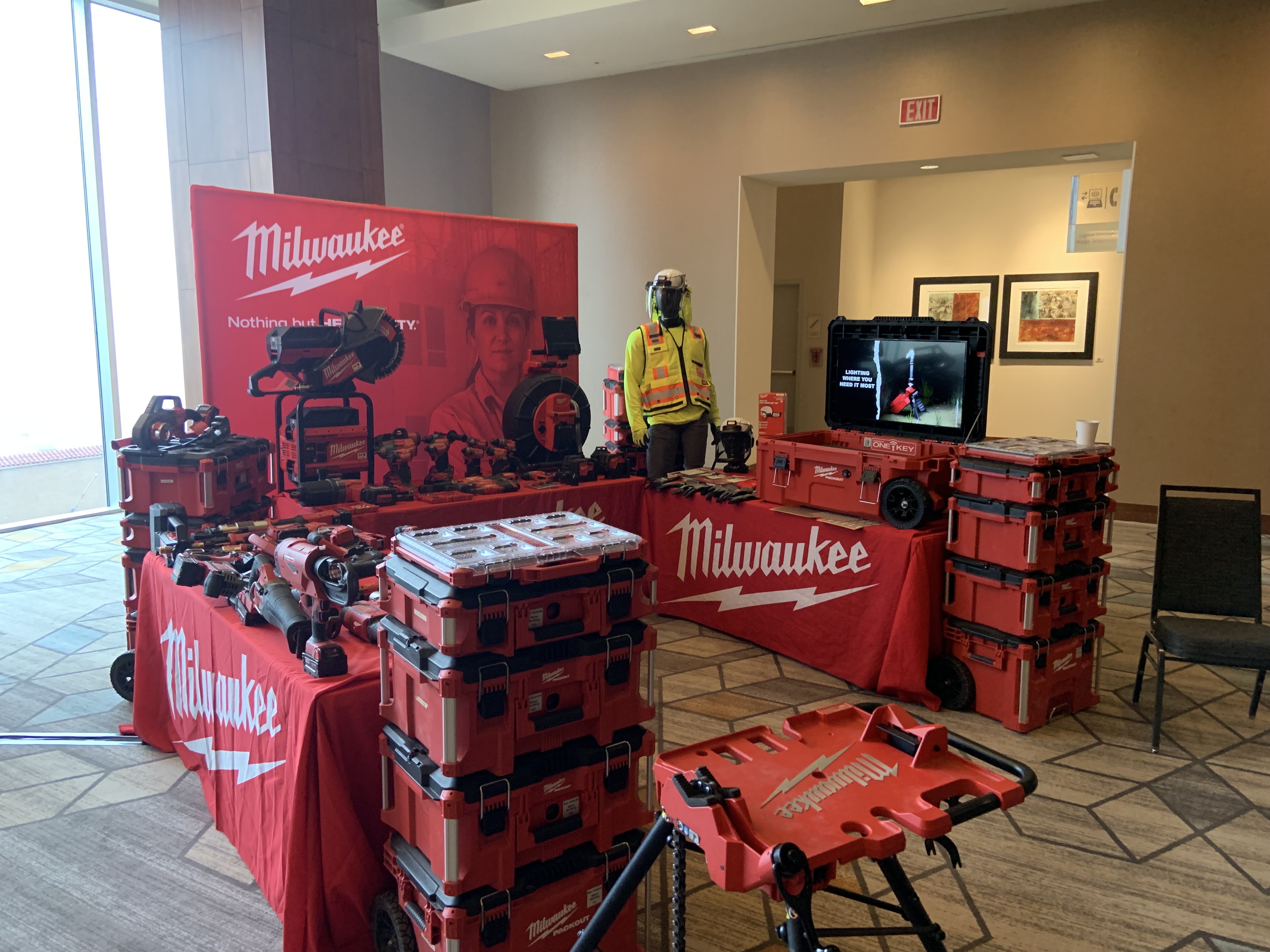 Lambert tells me, as they add new boxes to their arsenal, they have iterated on and improved the design, while they're also retrofitting the original box. Some events, like the World of Concrete, take place outdoors, hence why newer boxes feature anti-glare monitors.
"We continue to learn and iterate on those in how they're set up, ease of use," he adds. They also iterate on their inventory ops. "Trade show events are perfect because you're trying to bring in product, you know, through the local team — this allows us to say, 'hey, you don't have to worry about getting a rolling PACKOUT. We'll bring one and, oh, by the way, it'll have everything we need to talk about One-Key," he explains.
The three booths, he explains, are widely circulated. "It goes to most national conferences for all of our trade org partners, and JSS may request one for more of a regional event. We've had them requested for MIT, Milwaukee Innovation training, where we'll do it, and at the end, user or contractors office. We're still learning. It just continues to grow and evolve," he adds.
Lambert's excitement for the booth-in-a-box initiative, Milwaukee Tool's growth, and the rapid expansion of One-Key connected solutions is infectious. Wrapping up our interview, I told him, the idea for this story you're reading came from a chance encounter with two of these boxes cracked open when visiting the downtown Milwaukee Tool office. "There's a story there," I remarked. "I'd love to hear the mythology, and I'm sure our readers, if they haven't seen one in action themselves, would find the backstory compelling."
He smiled and nodded. "It shows our innovation, right? In the digital space."
About the Author
Lucas is Content Marketing and SEO Manager for Milwaukee Tool, where he and his team raise awareness about the company's digital products and educate users on best practices through a variety of content vehicles.
More Content By Lucas Marshall
Subscribe to Our Blog
Sign up to receive ONE-KEY™ news and updates.
Recent Articles
Editorial Note: This article was brought to you courtesy of Rose Morrison, managing editor of ...
November 13, 2023
There's a whole alphabet soup of inventory management methods to choose from if you're a...