Construction Industry Predictions for 2023, according to 8 Experts
Thought Leadership
Lucas Marshall
|
Published: February 6, 2023
|
Updated: May 5, 2023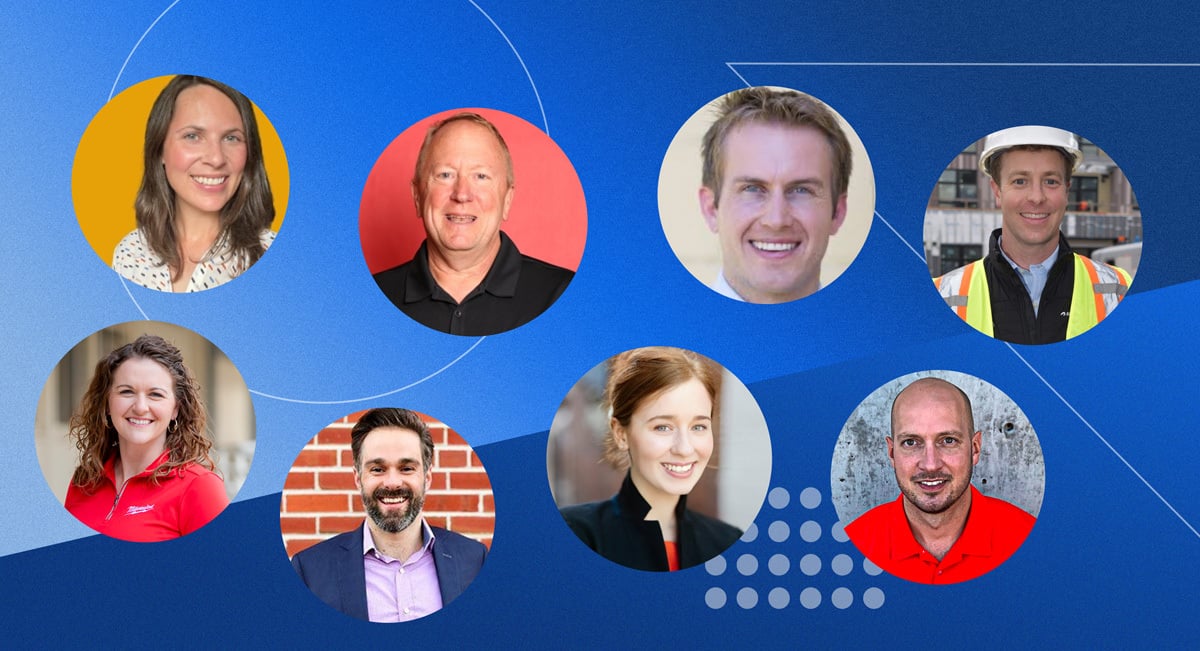 It's February already—how did that happen?
If you're worried about Punxsutawney Phil's latest prediction, foretelling another six weeks of cold weather construction, you're in luck—because it's about to heat up with the industry trends we see playing out this year!
We just sat down with a panel of industry experts, who shared their own 2023 predictions for the Construction, Architecture, Engineering, and Construction (AEC) industry this year.
Let's dive in!
---
Editor's Note: We've added additional contributors' insights since publishing this article in early February! Read on to enjoy their predictions for the industry. We will update the article as additional contributors field our query, so we recommend bookmarking the page if you'd like to check back on new developments.
---
Common Trends & Themes
Experts agree, 2023 will see:
Process improvements and automation

to streamline construction, including lean construction methods, which, along with BIM, can drive benefits including higher quality construction (in 84% of survey cases), greater customer satisfaction (80%), greater construction productivity (77%), and improved safety (77%), according to a survey conducted by Dodge Data & Analytics.
Workforce/labor

will continue to be the

challenge to solve.

The 2023 Construction Outlook National Survey Results

conducted by AGC

, for example, found that 80% of survey respondents

were "having a hard time filling some or all positions"

—

41%

believing "It will continue to be hard to hire" within the next 12 months, and 17% feeling "It will become harder to hire."

Data & integrations will continue to be important to improve how often small, cross-functional teams are able to work together more efficiently.
Technology usage usage will be critical for increasing productivity across the whole gamut of project management

—f

rom daily reports to employee tracking/approvals to document management/sharing to job costing to customer relation management to equipment tracking to RFIs and submittals. Full-scale technology adoption, on the other hand, will be the problem to solve, with 40% believing that time will be needed to "implement and train" employees, and 38% reported they expected "employee resistance to technology."
Experts in Manufacturing, Risk, Financials, and Construction Technology Chime in
Alan Gasvoda – End User Productivity – Continuous Improvement Lead, Milwaukee Tool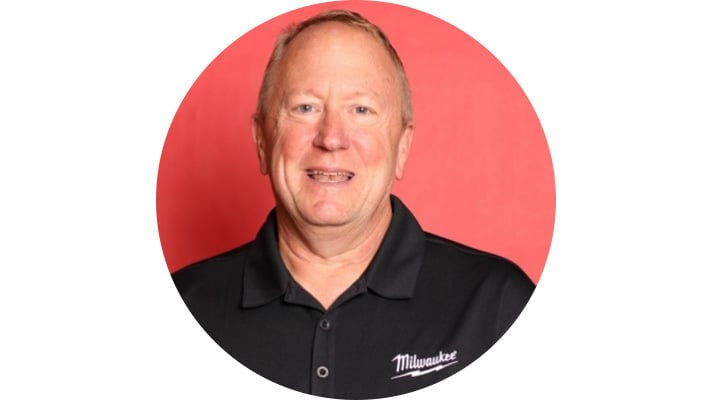 "Here are (3) trends that I see in 2023:
Continued advancement of "Industrialized Construction (IC)." Contractors will continue to look to source work into prefab and explore modular construction in order to deliver work content safer, faster, and at higher margins. Those that fail to focus only on site work will struggle to maintain existing business models. IC will continue to be a significant way to reduce waste (and costs) across project workflows.

Further leverage technology to reduce waste. We often focus on the flow of material and products to the jobsite. Advancements in technology (adoption, integration, and new solutions) will continue to improve the flow of information across the project lifecycle. Solutions enable designs to be confirmed sooner and changes shared in "real-time," enabling more effective planning and execution and thereby reducing risks that were associated with early prefab operations.

Workforce Challenges will continue. Optimizing the productivity of current workers should continue to be a top priority. Building awareness around non/low-value added tasks and actively engaging employees in eliminating such activities will continue to be a top priority."
About Alan: Alan serves as an End User Productivity Leader for Continuous Improvement at Milwaukee Tool. He has served as a leader for supply chain and lean materials for GE Healthcare and has held director- and senior manager-level roles at MillerCoors, ARAUCO – North America, TreeHouse Foods, and Foremost Farms USA. In addition to his role at Milwaukee Tool, he currently serves as a voluntary AME Excellence Award Assessor at the Association of Manufacturing Excellence (AME).
Abby Ferri, Chief Risk Officer Insurate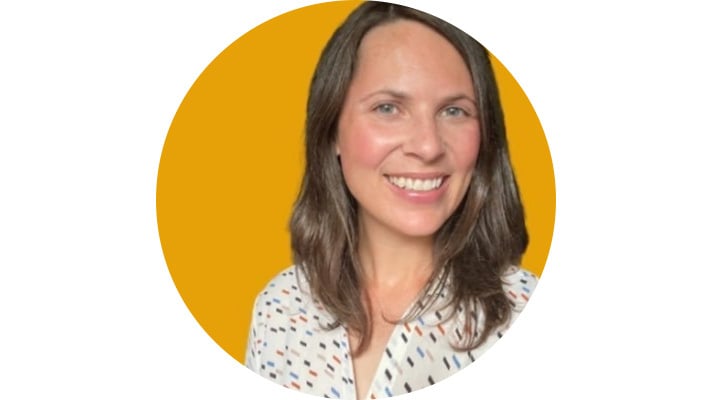 TECH: "My predictions and hopes are different because I must temper my enthusiasm for tech adoption with the reality of practicality at the jobsite level. As construction safety and risk professionals learn more about the technology available to them, I foresee more intentional trials of solutions like computer vision, safety management system (SMS) software platforms, and connected devices. I don't anticipate much large-scale spending to invest in new systems like the ones mentioned, but smaller spends to level up existing systems, i.e.: a company using a mobile safety app may level up and purchase a subscription to an SMS platform that takes the data gathered at the field level, analyzes it, and produces trends for the safety and risk professional to prioritize."
Diversity, Equity, & Inclusion (DEI): "With the recent release of BLS statistics showing a disproportionate impact of injuries and fatalities on minority construction workers, safety and risk professionals must identify ways they are currently not serving those populations well. Tough questions and discussions will likely follow, as it's not only the safety professional's responsibility, but that of management at multiple levels of the project to ensure these workers receive appropriate training and other supports to do their job safely."
Serious Injuries & Fatalities (SIFs): "With research groups like the Construction Safety Research Alliance challenging traditional safety metrics (OSHA TRIR, DART, etc), safety and risk professionals can lead with improved communication of data that assists decision-makers. With this information, budgeting for safety and operational improvements can be smarter, leading to supports and tools for worker safety that minimize the most severe injuries and fatalities experienced by the construction industry."
About Abby: Abby Ferri is Chief Risk Officer for Insurate
About Insurate: Insurate is a workers' comp carrier that uses their proprietary Safe-Tier™ underwriting tool for data-driven insight without the overhead of deploying wearables, sensors, or monitoring applications.
Josh Cheney – Head of ERP & Financial Partnerships, ACS at Autodesk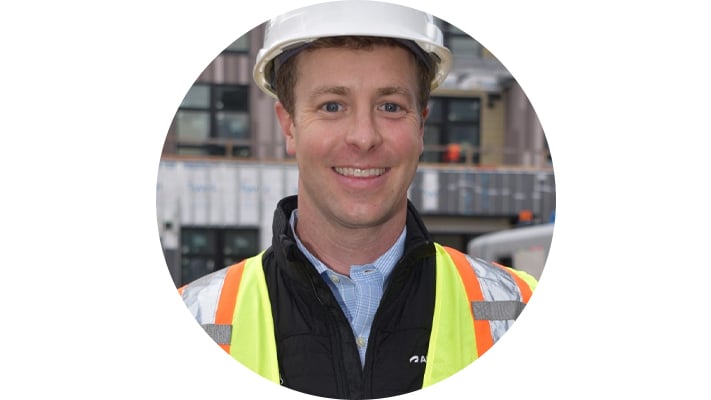 "Some of my future trends for 2023:
Continued consolidation through acquisitions. 2022 was a big year for acquisitions as funding dried up and larger players (ADSK, PCOR, TRMB, etc.) looked to expand their construction software portfolios.

The rise of middleware iPaaS. Autodesk Construction Cloud Connect (ACC Connect), Agave, Morpheus Tech Group, and hh2 are just some names that will continue to play an even greater role in connecting and enabling customer workflows.

Bidding will become more competitive. Everyone is trying to predict macroeconomic conditions which could lead to backlog. With that focal point in mind, construction firms will be more prepared to reduce margins to ensure their employees are kept busy.

Firms will revisit their tech stacks. There will be a big opportunity for firms looking to create competitive advantages and operational and financial efficiencies. Strategies will include evaluating new technology, improving existing systems, investing in training and education, and offsetting labor shortages.

Cloud-based accounting migration. Construction accounting software will continue to migrate from on-premise to hosted.

APIs or bust. Construction companies will begin to force their software providers to deliver APIs. Software companies will either get onboard or see an increasing number of churning customers."
About Josh: Josh Cheney is Head of Enterprise Resource Planning (ERP) & Financial Partnerships for Autodesk Construction Solutions (ACS) at Autodesk.
About Autodesk: Autodesk is a multinational SaaS company providing software product solutions for the architecture, engineering, & construction; product design & manufacturing; and media & entertainment industries. The company is world-renowned for AutoCAD®, the company's computer-aided design (CAD) software, released in 1982, and Revit® building information modeling (BIM) software, used by architects, engineers, and structural designers all over the world.
About ACS: Autodesk Construction Solutions (ACS) is Autodesk's software arm for the company's Construction Solutions.
About Autodesk Construction Cloud: Autodesk Construction Cloud™ is a cloud-based construction management software platform offering a full suite of software solutions, including construction management, design collaboration, qualification, risk management, and data management.
Nathan C. Wood – Executive Director, Construction Progress Coalition (CPC)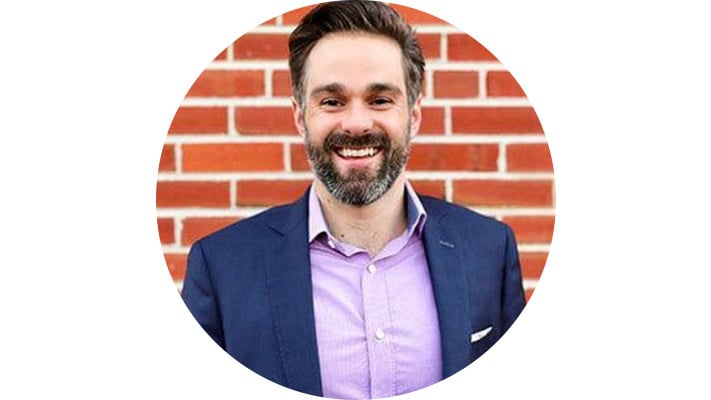 "My prediction is more integration and acquisition," Wood says, signaling the recent acquisition by Trimble of integration Platform-as-a-Service iPaaS) provider Ryvit as the "most recent example" of the direction the industry is moving toward data connectors.
Wood believes owners should be ready for the "next generation of platform wars," but he makes an important distinction: "Rather than a 'do it all' strategy, [companies] will focus on 'integrate it all.'"
About Nathan: Nathan serves as Executive Director for the Construction Progress Coalition (CPC), is a trained civil engineer with experience as a BIM specialist and construction technologist, and is a trusted industry expert and visionary who leads the charge in pushing the industry forward.
About Construction Progress Coalition (CPC): The Construction Progress Coalition is a grassroots nonprofit initiative that aims to educate architecture, engineering, and construction (AEC) professionals about the need for open interoperability standards between project delivery stakeholders.
Andy Lambert, Director of One-Key Product & Construction Technology, Milwaukee Tool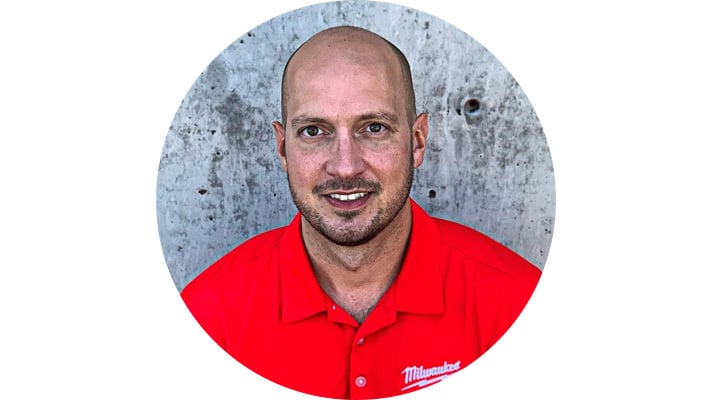 "The Construction Technology Ecosystem will continue to drive the accumulation of rich data in a way that allows the industry to better understand our productivity challenges, and push the industry further into lean principles of planning and collaboration."
About Andy: Andy Lambert serves as Director of One-Key Product & Construction Technology here at Milwaukee Tool. To his role, he brings industry experience as an electrician, as well as over 15 years of experience in the construction ERP Software as a Service (SaaS) space through various roles including account management, quality assurance, and applied construction technology.
Patrick Hogan, CEO, Handle.com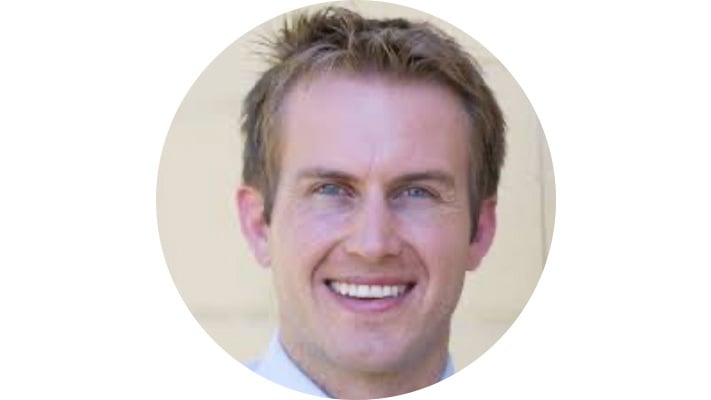 "The construction industry is undergoing a digital transformation and as it continues to evolve, solution providers will need to demonstrate the value of their technology in the short-term and long-term. One of the major challenges in this process is the transition away from outdated, legacy systems and processes. Technology companies can play a vital role in overcoming this challenge by highlighting how digital tools can streamline workflows, provide cost savings, and help long-time professionals in the industry become more comfortable with new and more efficient ways of working, allowing them to focus on more valuable tasks. It is important that the construction technology applications seamlessly integrate with existing systems to create clarity and improve workflow, rather than simply replacing legacy methods with a new but still clunky way of working. It is important to highlight the need to ensure that data is not lost and workflows are not disrupted, making the transition smoother and more efficient for all stakeholders."
About Patrick: Patrick Hogan is the CEO of Handle.com, where they build software that helps contractors and material suppliers with lien management and payment compliance. The biggest names in construction use Handle on a daily basis to save time and money while improving efficiency.
Brianne Stewart, Senior Construction Technology Manager, Milwaukee Tool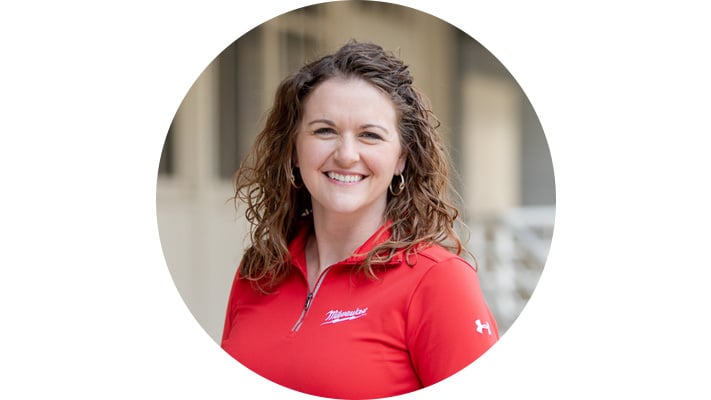 "On a very practical, operational side, I think we are going to see contractors buckling down and truly evaluating their tech stacks to determine what is valuable, what is not, and how they can get the most out of their business systems.
Data – greater usage of aggregate tools with more capability than Excel, like Power BI & Tableau to consolidate data from multiple streams. This will be a stepping stones to deliver on the promises and expectations of Machine Learning.
Technology adoption centering around human augmentation, rather than replacement.
I expect to see contractors leaning into process improvements & technology adoption that allow contractors to augment and optimize the expertise of their workforce, whether it's software, material movement, AR/VR for training and remote troubleshooting, and autonomous operations. This will help to address issues with labor shortage and an aging workforce.
Image capture & analysis foundational technology leading to advancements across multiple platforms, from robotic guidance to progress tracking. The technology to capture the environment around us is increasingly more capable, faster processing, and available at lower price points. I expect that this will translate into incorporating image capture and analysis more regularly in progress monitoring, payment confirmation, and guidance of semi-autonomous systems."
About Brianne: Brianne is a Senior Construction Technology Manager for Milwaukee Tool, previously having worked on the Accessories Engineering team. She is a University of Iowa Mechanical Engineering graduate who has worked in Manufacturing/Process Engineering for national known companies like John Deere and Procter & Gamble. At Milwaukee Tool, she finds herself gravitating toward the "people-side of tech adoption," focusing on how to effectively understand people and their processes, and identify opportunities. She has been featured on BuiltWorld's Adoption Leaders 50 List multiple times (#3rd in 2021, #47th in 2022), and is a regular speaker at construction technology conferences.
Rose Morrison, Managing Editor, Renovated.com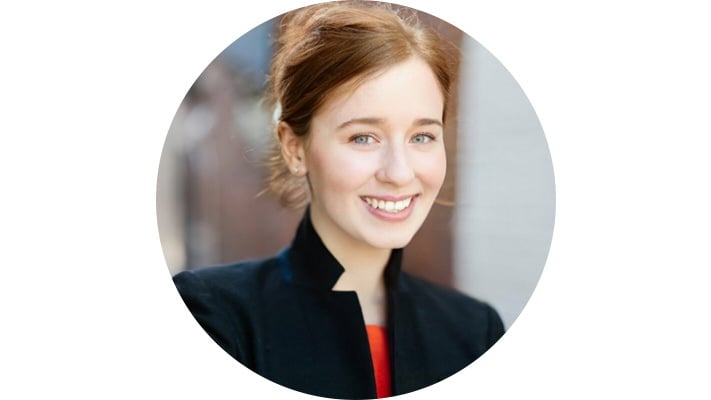 "Sustainability figures to be one of the top priorities, with new methods like modular building and 3D-printed homes hitting the mainstream.
Modular building is up to 50% faster than conventional construction, while 3D printing can build up to 40% of the homes needed to solve the housing crisis. Some are predicting a 3D housing revolution, which would be monumental if it comes to fruition.
Although we won't call it a revolution yet, we can safely say that 2023 will feature some big steps in the development of modular and 3D-printed housing. For example, the first 3D-printed home made solely from bio-based materials was completed in late 2022, which is a promising sign of things to come in the near future.
Natural building elements will also see a significant rise in popularity in 2023 as consumer priorities shift. Stone, wood, and recycled bio-based materials will start to overtake the cheap artificial materials of years past. Biophilic building designs could reshape our cities and make urban life more sustainable. These changes will require years to implement, of course, but 2023 could be the year that we get the ball rolling.
Other notable technologies that will make an impact in 2023 are AI construction wearables and robots. These resources have proven to be faster and more efficient than humans with essential construction tasks. They will inevitably become mainstays on construction sites in 2023 and beyond, helping contractors compensate for lost labor and create higher-quality structures."
About Rose: Rose serves as Managing Editor for Renovated.com. She's also a regular contributor to the ONE-KEY™ Connectivity Blog!
Area of Interest: Sustainable Construction & Technological Innovations in the Built Environment.
About Renovated: Renovated is a home living site with a mission to flip the home industry. From real estate to construction to design & renovations, Renovated strives to leave its readers inspired, informed, and energized to navigate the industry's current topics.
About the Author
Lucas is Content Marketing and SEO Manager for Milwaukee Tool, where he and his team raise awareness about the company's digital products and educate users on best practices through a variety of content vehicles.
More Content By Lucas Marshall
Subscribe to Our Blog
Sign up to receive ONE-KEY™ news and updates.
Recent Articles
Editorial Note: This article was brought to you courtesy of Rose Morrison, managing editor of ...
September 13, 2023
In the next installment of our employee spotlight series, we introduce Aaron Wenzel, a product...
September 11, 2023
If you're a construction professional searching for a simpler way to efficiently manage your...