Careers in Construction: How to Become a Woodworker
Thought Leadership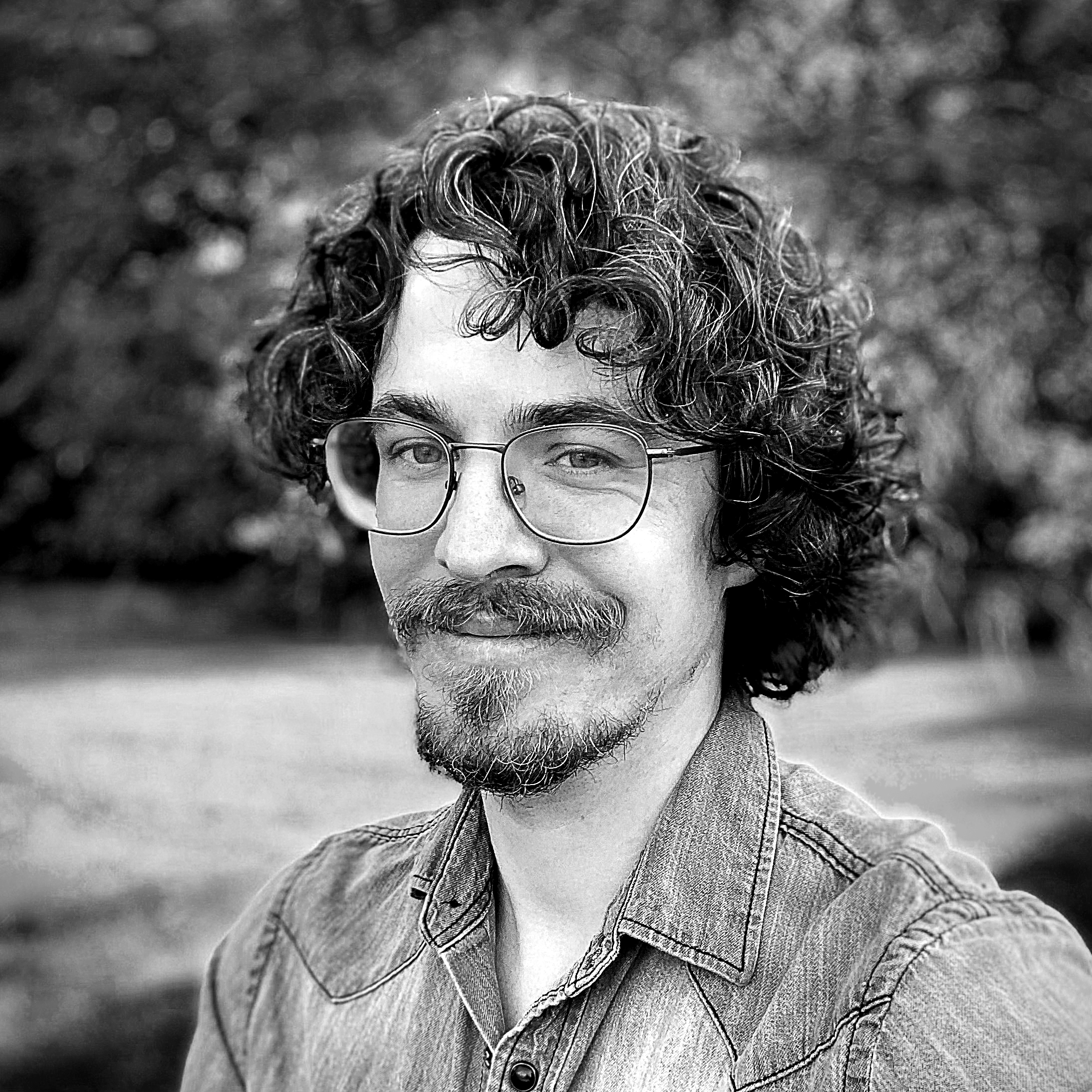 Mike Anderson
|
Published: July 12, 2021
|
Updated: April 29, 2022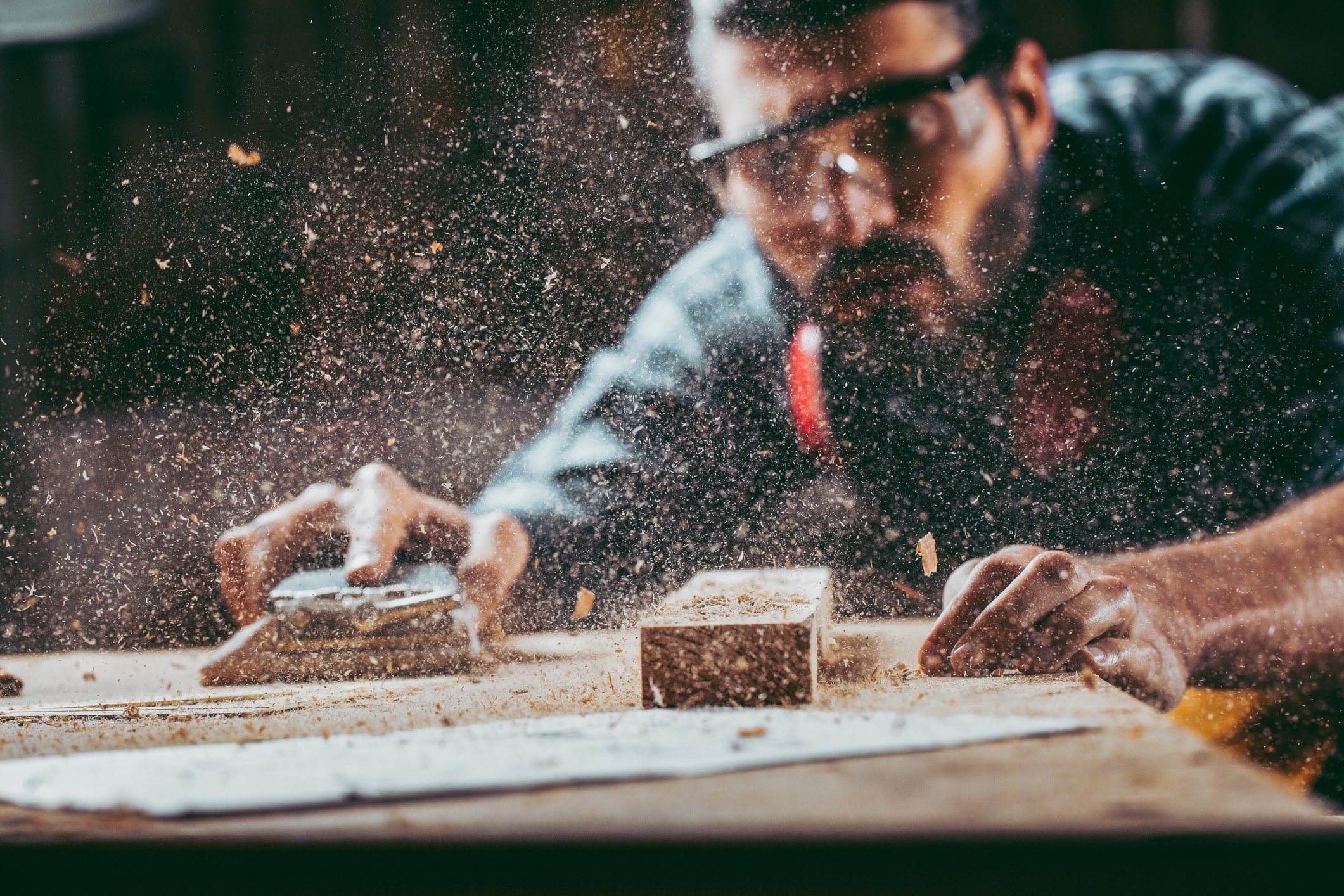 Trace with your eyes the ripple of walnut grain, the ember of inner light in a panel of stained mahogany. Feel in your hand the heft of an oaken stave, the burr of fresh cut pine. Breathe in the smell of wood shavings, lungs filling with cedar, birch, and rosewood. Listen to the rhythm of the saw in your hand, to the silence all around you.
Woodworking is a craft to get lost in, a vehicle for creative self-expression that enlivens the senses and soothes the mind. In this way, it's a little different from some of the other jobs we've discussed in our careers in construction series thus far. Every trade requires a high level of skill and artfulness, but none are as steeped in history, tradition, and romance as woodworking.
Setting the folklore aside for a moment: It's also a job that you can get paid to do. This article will explain what kinds of skills a woodworker uses every day, breakdown some nitty gritty economic stats, lay out a path for how to learn this unique DIY craft, and chart a course into its future. The world of woodworking is rich and vibrant. Whether you're a beginner, a hobbyist, or a seasoned veteran of the trade, there's always something new to learn.
Woodworking Job Description
Woodworkers are builders, tinkerers, and artisans. Like other skilled trades, they work primarily with their hands. Instead of assembling complicated systems like a plumber or electrician, woodworkers make things like furniture, cabinetry, and musical instruments—really, any object that's made of wood.
Some typical duties, according to the Bureau of Labor Statistics, include:
Understanding detailed architectural drawings, schematics, shop drawings, and blueprints.

Preparing and setting up machines and tooling for woodwork manufacturing.

Lifting wood pieces onto machines, either by hand or with hoists.

Operating woodworking machines, including saws and milling and sanding machines.

Listening for unusual sounds or detecting excessive vibration in machinery.

Ensuring that products meet industry standards and project specifications, making adjustments as necessary.

Selecting and adjusting the proper cutting, milling, boring, and sanding tools for completing a job.

Using hand tools to trim pieces or assemble products.
Woodworking Jobs
There are a variety of woodworking jobs available, ranging from skilled craftspeople working out of their personal workshops to trained professionals laboring in large-scale manufacturing centers. Some are self-taught or learned from a family member while others gained their skills over time at a school or vocational program.
Relevant
woodworking job titles
Carpenter

: A carpenter is a tradesperson that constructs, repairs, and installs building frameworks and structures made of wood and other materials. Within the carpentry trade, there are a few specialties you may pursue:

Construction carpenters

are carpenters who construct, install, and repair structures of wood, plywood, and wallboard, using carpenters' hand tools and power tools.

Rough carpenters

are carpenters who build rough wooden structures, such as concrete floors; scaffolds; tunnels, bridge, or sewer supports; temporary frame shelters, according to sketches, blueprints, or oral instructions.

Wood flooring installers

are carpenters that specialize in putting in a variety of materials, including plank, strip, end-grain, and parquet flooring. These products may be nailed in or glued down.

Cabinetmaker or bench carpenter

: A woodworker that specializes in cutting, shaping, assembling, and making parts for wood products, such as sets of cabinets that are customized for particular spaces. Duties may begin with designing a set of cabinets to specifications and culminate with the installation of these cabinet sets.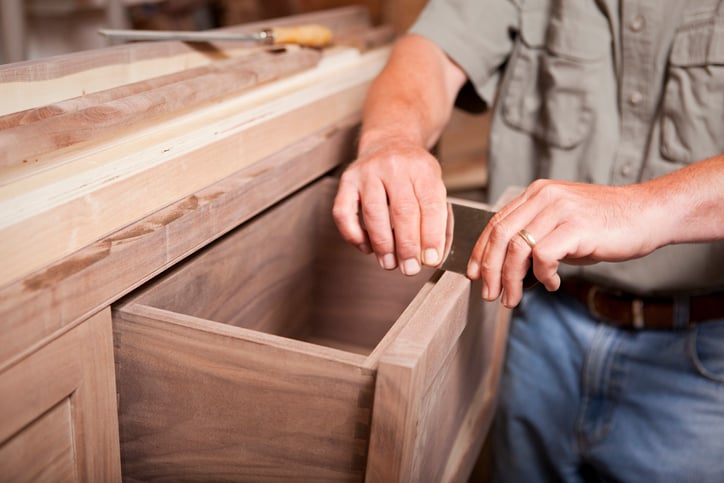 Furniture finisher

: A woodworker who specializes in shaping, finishing, and refinishing damaged and worn furniture. These individuals may specialize in working with antiques and may judge how to preserve these valuable items. Additional duties may include: Staining, sealing, and top coating at the end of the process of making wooden products.

Wood sawing machine setter, operator, and tender

: A woodworker that specializes in operating specific pieces of woodworking machinery, such as CNC machines.

Woodworking machine setter, operator, and tender (except sawing)

: A woodworker that specializes in operating woodworking machines, such as drill presses, lathes, routers, sanders, and planners, as well as, in some cases, CNC machines.
Related careers, trades, and
job titles
Woodworking Skills
Whichever woodworking career path you take, you're going to need to get the hang of a few foundational skill sets. A woodworker has to be able to envision a project and layout its design with pencil and paper, even if it's just a crude drawing on the back of a napkin. You're going to need a basic understanding of how to read and take measurements, then be able to apply those measurements to materials in the real world.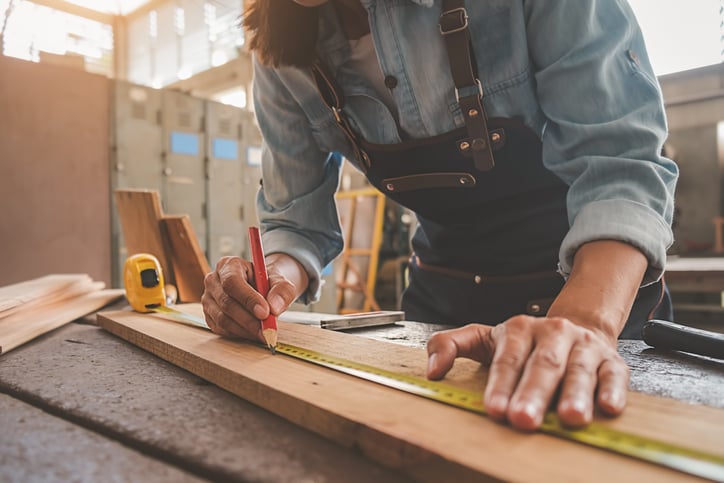 You'll need a familiarity with the different types of wood and what kinds of projects they're best suited for. A woodworker also has to be intimately acquainted with their tools: mallets, clamps, chisels, carving knives, hand planes, hand saws, bow saws, tape measures, straight edges—these are just a handful of the tools a woodworker uses every day. Then there's the power tools: drills, lathes, circular saws, table saws, nail guns, sanders, grinders, impact drivers—again, only a short selection. Every woodworker's workshop is different, ranging from a minimal to an expansive arsenal of tools tailored to their preferences; some projects can even be tackled with little more than a rubber mallet and some glue. A woodworker brings all these skills together to shape objects that are as beautiful as they are useful out of finished timber, roughhewn planks, or the trunk of a tree felled in last night's thunderstorm.
Woodworking Job Outlook

and Pay
We're not going to sugarcoat it: the job outlook for woodworkers isn't great these days.
However, this fact shouldn't discourage you from pursuing woodworking, and we'll tell you why in a moment. First, let's run some numbers.
The Bureau of Labor Statistics predicts that the job market for most occupations will grow by 4% over the next ten years. Woodworkers, however, are excluded from this trend. Instead of growth, the BLS estimates the job market for woodworkers will actually shrink by 4% between now and 2029.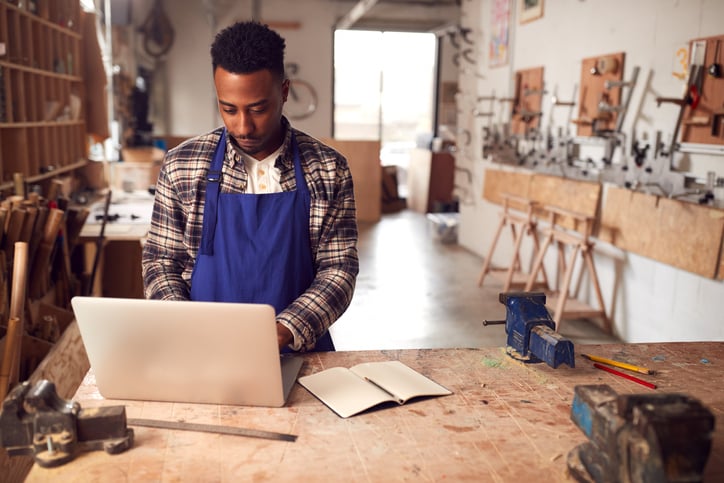 What's more, the pay is low compared to other construction jobs. The BLS lists the median annual wage for woodworkers at $33,750 as of May, 2020. This is low even compared to similar production woodworker jobs, which can expect to make a little over $37,000 annually, while most other construction professions can comfortably earn upwards of $47,000 a year. It looks a little brighter if you go the carpentry route, which has a median annual salary of $49,520, but the job market for that career is the same as woodworking, with a 4% decline projected over the current decade.
It can definitely be difficult to make a living as a woodworker. But remember, woodworking is an art form, and like any art form, there are many evergreen reasons to throw yourself into it besides money or the state of the job market.
Keep in mind, too, that a woodworking salary may differ depending on the specific job title/position attained. Pursuing the carpentry trade may yield the highest salary.
Woodworking salary
by job title
Cabinetmaker and bench carpenter

: $36,710

Furniture finisher

: $32,970

Woodworking machine setter, operator, and tender, except sawing

: $32,160

Sawing machine setter, operator, and tender, wood

: $31,590
The top woodworking industries are:
Specialty trade contractors

: $38,280

Furniture and related product manufacturing

: $35,260

Wood product manufacturing

: $31,880
Carpenter salary
by industry
Nonresidential building construction

: $54,220

Building finishing contractors

: $50,030

Foundation, structure, and building exterior contractors

: $48,430

Residential building construction

: $47,710
Why You Should Get into Woodworking Anyway
As we've already touched on, woodworking offers more than just a paycheck. For some of its most devout practitioners (master woodworker Peter Korn, for instance) woodworking speaks to something deep in the soul, offering a kind of spiritual refuge from the metal and glass abstractions of our hyperdigital world.
In his book The Hand: How its Uses Shape the Brain, Language and Human Culture, neuroscientist Frank R. Wilson writes about how hands-on pursuits like woodworking are naturally more satisfying than other types of work:
"...when personal discovery and desire prompt anyone to learn to do something well with their hands, an extremely complicated process is initiated that endows work with a powerful emotional charge. People are changed, significantly and irreversibly it seems, when movement, thought, and feeling fuse during the active, long term pursuit of personal goals."
Woodworking instills confidence and self-reliance, imparting practical skills that you can use wherever you go then pass on to your descendants. Imagine looking around your home for something you need or want—maybe a bookshelf, an elegant coffee table, or some new cabinets in the kitchen—and being able to build it yourself.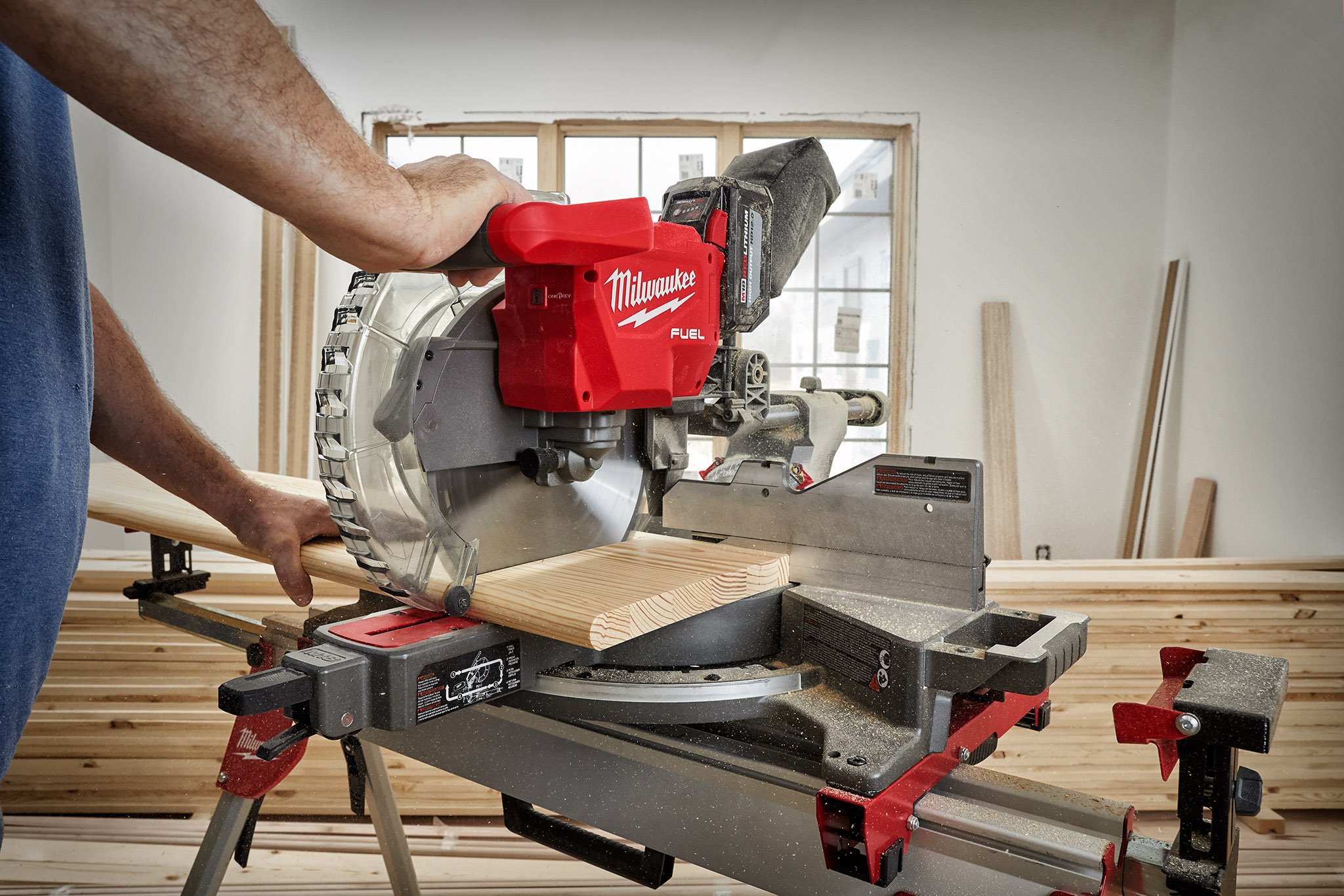 Woodworking is also healthy. Your cardiovascular system benefits when you're on your feet and lifting lumber in your workshop. Working with your hands also sharpens your mental faculties, strengthening hand-eye coordination and engaging your mind in problem solving strategies. What's more, woodworking can be enormously beneficial to your emotional wellbeing.
In her book Lifting Depression: A Neuroscientist's Hands-On Approach to Activating Your Brain's Healing Power, Kelly Lambert talks about how our minds and bodies feel rewarded "...by doing certain types of physical activities, especially ones that involve your hands."
"It's important that these actions produce a result you can see, feel, and touch, such as knitting a sweater or tending a garden. Such actions and their associated thoughts, plans and ultimate results change the physiology and chemical makeup of the effort-driven rewards circuit, activating it in an energized way."
In short: you should get into woodworking because it feels good.
Woodworking Education
Like any trade that involves working with your hands, woodworking is best learned by watching and doing.
If you wish to become a carpenter, aside from a high school diploma or equivalent, you'll find vocational or trade school programs culminating in an applied associate's degree may be helpful, while a 4-year apprenticeship is generally necessary to obtain your on-the-job training. The latter will help you train for and pass the required Occupational Safety and Health Administration (OSHA) 10-hour safety course. Additionally, a remodeling certification, offered through the National Association of the Remodeling Industry, as well as various certifications for installers, craftsmen, and master craftsmen which can be obtained through the National Wood Flooring Association, can be obtained.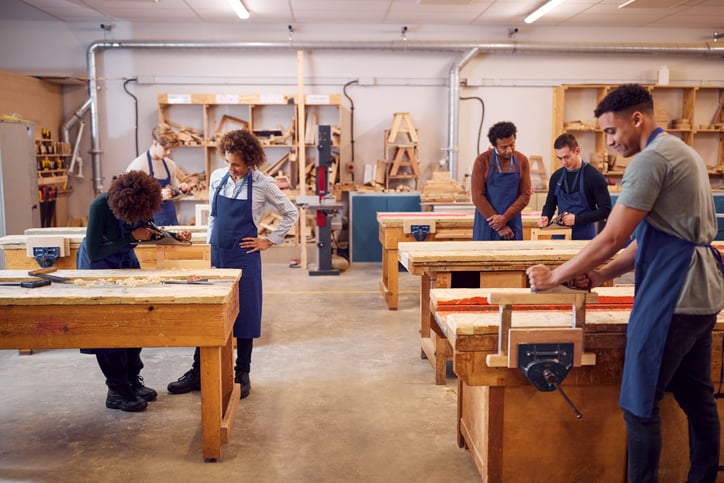 If you wish to pursue a general woodworking career, similarly, a high school diploma (and evidence of wood shop classes) or equivalent is typically required; as growing woodworking machinery becomes more sophisticated, pursing skills through a woodworking trade school in your area may be helpful to hone your skills. These programs can help prepare you for jobs in production and manufacturing, as well as for upward mobility in supervision, engineering, and management, should you aspire to these pathways. Licensure through the Woodwork Career Alliance of North America can earn you 5 progressive credentials to further hone your skills and earn you credibility through a nationally recognized professional organization.
Whether you're a beginning DIYer or a seasoned craftsperson, YouTube is also an excellent resource, offering a whole world of free instructional one-off videos and multi-hour courses finetuned to your skill level. Maybe you're looking for a walkthrough of a particular project, a breakdown of essential tools, or are just looking to zen out to an extremely satisfying video on the art of traditional Japanese joinery. If you're at the beginning of your woodworking journey and searching for a good first step to take, chances are you'll find it on YouTube.
Here's a few channels to get you started:
Wood Culture Tour: Curated by the International Wood Culture Society, this channel features short videos that explore the diversity of how woodworking is practiced in cultures all over the world. Enter the workshop of a Lebanese luthier or learn about the 2,000 year old method of Dongyang wood carving in China. The picture that emerges with each tap of the chisel is one of a vast multi-cultural heritage that bridges divides, revealing how woodworking is an important part of life wherever you go.

Steve Ramsey - Woodworking for Mere Mortals: As the title suggests, this is a great channel to check out if you're new to woodworking and are looking to learn the fundamentals of the craft. Ramsey's decades of experience and fun down-to-earth teaching style do a great job of demystifying woodworking and empowering beginners to take their first step. The channel features great practical advice on everything from how to create a workshop on a budget to how to build a cat tree for your favorite furry friend while in COVID lockdown.

April Wilkerson: An avid DIYer, Wilkerson's number one goal is to be able to some day look around her home and have a difficult time finding something she didn't make with her own two hands. She's documented her journey on her channel, where she posts videos of her tackling projects big and small around her home. Wilkerson hopes to inspire others to take a shot at building things themselves rather than paying someone else to do it for them.
For a more formalized approach, you can also pay for online woodworking classes through Udemy and Skillshare.
Of course, there's nothing better than learning under the direct guidance of an expert craftsman with a lifetime of their own experience. Take a look around your community—maybe at your local farmer's market or art gallery—and see if there's a skilled woodworker in town you might be able to learn from in-person. Approaching a potential mentor is an art form unto itself and there are a variety of arrangements you could suggest; even if it's only to clean up their workshop in exchange for being able to observe their process a few days every week. If you're up for it, go ahead and ask, and remember: the worst thing that can happen is they say no.
Once your woodworking skills are built up, the next step if you're looking to enter the field as a professional would be to seek out a formal education at a vocational program or trade school. What route you should take depends in large part on what kind of work you want to do. Are you interested in the fine detail work of marquetry or ornate wood carving? Do you want to make musical instruments, furniture, or other household items? Or do you want to work as a carpenter building homes and other wood frame structures?
Here's some woodworking schools to help you along the way:
Center for Furniture Craftsmanship: Based in Rockport, Maine, the Center for Furniture Craftsmanship is an international non-profit geared toward woodworkers of all skill levels. Started in 1993 by master woodworker Peter Korn, the school centers on the belief "that design and craftsmanship are deeply meaningful expressions of the human spirit."
Red Rocks Community College Fine Woodworking Program: With campuses in Lakewood and Arvada, Colorado, this program offers students multiple routes of study: traditional woodworking, advanced woodworking technologies, and the art of stringed instrument making.

The North Bennet Street School: Based in Boston, Massachusetts, the North Bennet Street School offers a wide variety of manual trades programs, including carpentry, cabinet and furniture making, piano technology, and violin making and repair. The school follows a Swedish education philosophy called sloyd that "focuses on the development of character, intellectual capacity, and hand skills, which includes an understanding of tools, materials, and processes."
Woodworking Tools
There are a wide variety of woodworking tools that may be of interest to someone pursuing a woodworking career:
Hand tools such as tape measures, mallets, hammers, handheld saws.
Circular saws

, particularly cordless circular saws, can provide versatility, superior performance, runtime, and durability to cut down plywood and shape rough-in framing.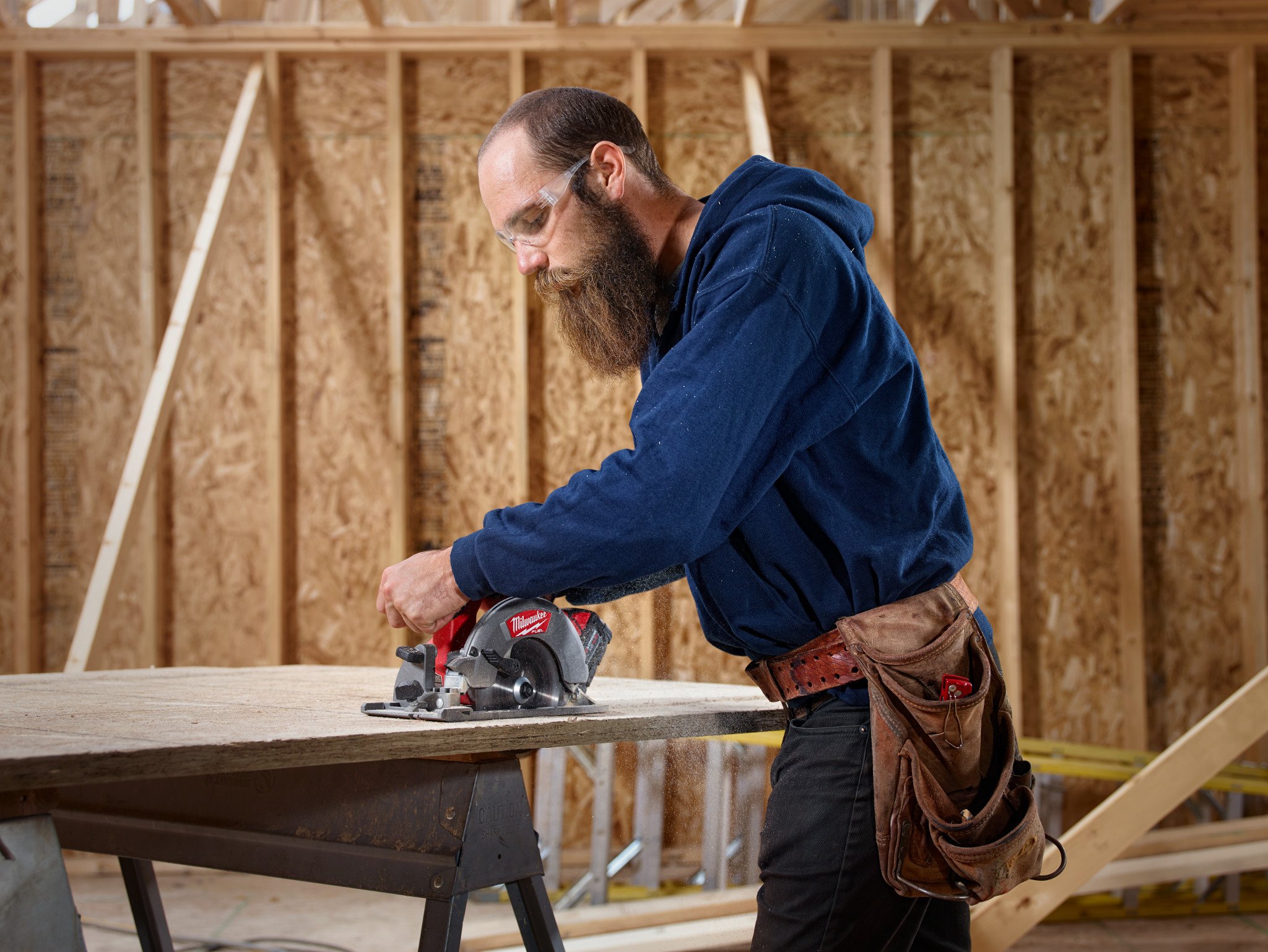 You might also consider adopting a digital, cloud-based tool tracking platform like One-Key to keep an eye on your valuable woodworking inventory, with solutions for those small, easy-to-lose hand tools, as well equipment tagging, trackers, and a full-suite of inventory management options for your woodworking equipment and higher-ticket items.
The Future of the Woodworking Industry
Like many professions, woodworkers of the 21st Century will have to compete with a growing host of automated machines, robots, and computer guided processes that take human craftsmanship out of the equation. We got the first glimpse of what this might look like in 2018, when woodworking machine manufacturer Homag unveiled the world's first fully automated woodworking shop.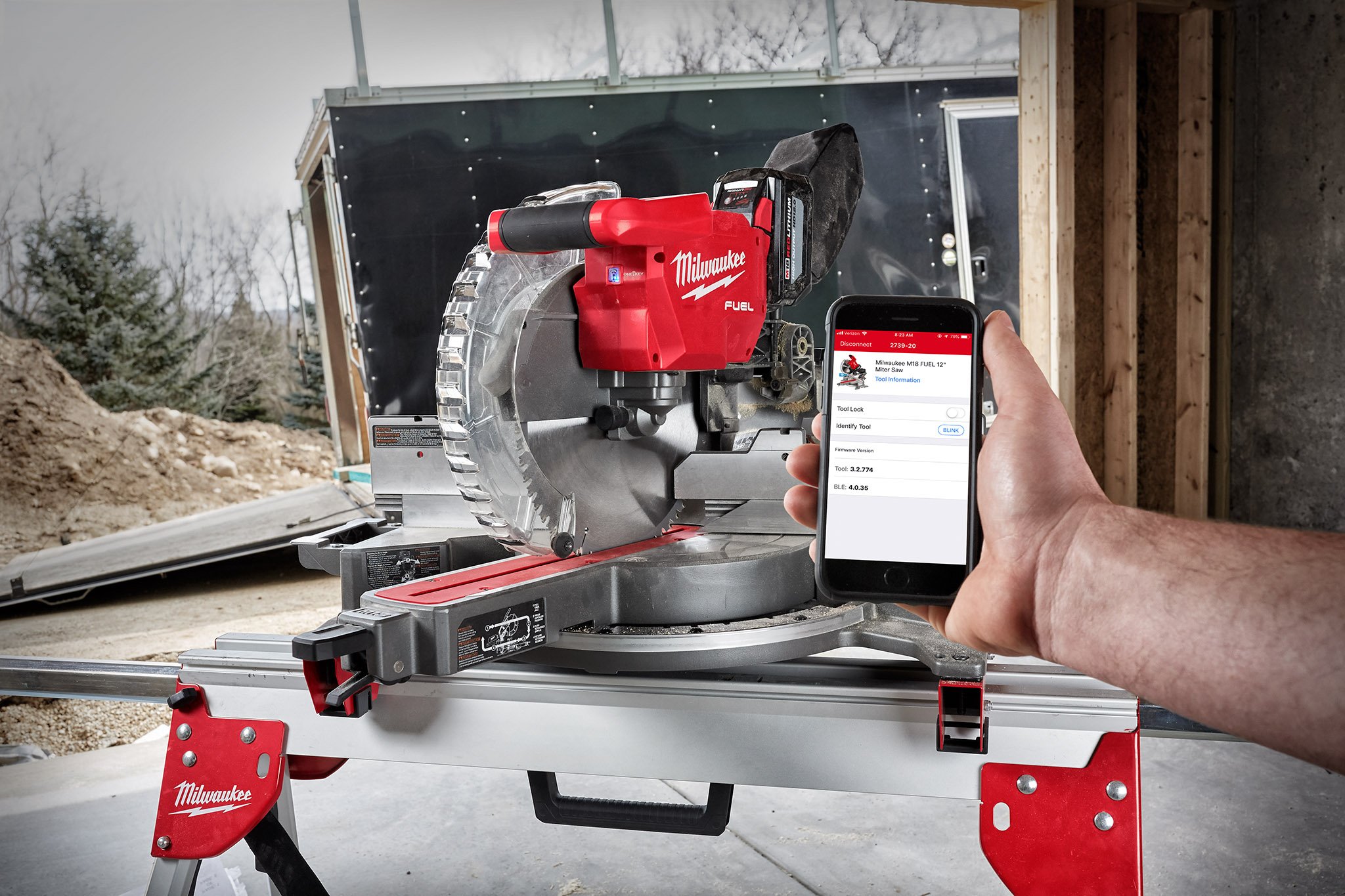 This doesn't mean that the future woodworkers will be a bleak one. Woodworking is an art form that has survived down the centuries and it's not going away anytime soon. In fact, it's going through a bit of a renaissance right now. Many people like fashion model Tonda Thompson threw themselves into woodworking while in lockdown during the COVID-19 pandemic. It's also fairly common to find software developers, network engineers, and other technical professionals dissatisfied with their jobs—in other words, the very people designing automated systems like HOMAG's—who have turned to woodworking in their free time. It's a phenomenon that makes a simple kind of sense, as many studies have been done that show humans are comforted by the sight, smell, and touch of wood.
And this next part might sound strange, but wood is the building material of the future. For one thing, wood has a much lower carbon footprint than concrete or steel. In fact, trees capture carbon from the atmosphere, one of the main reasons why clear cutting is so catastrophic to the environment. But it doesn't have to be this way. We can strike a balance, cutting only what we need and leaving the rest to regenerate. By replacing our industrialized penchant for deforestation with sustainable forestry management practices, we can combat the climate crisis while also providing humanity with a renewable building material for generations to come.
And if you think wood isn't a viable material for modern construction, think again. In the spring of 2019, construction wrapped up on the world's tallest building made of timber in the Norwegian town of Brumunddal. More wood skyscrapers have been built since then, and more are expected to go up in the coming years. According to Øystein Elgsaas, a partner at the architecture firm that built the wooden tower in Norway, one of the express purposes behind erecting the 18 story high-rise is to educate the public.
"People are interested, and that is actually the most important part of this building," Elgsaas said, "—to showcase that it is possible, and to inspire others to do the same."
Even in this technological age of concrete, steel, and glass, it's clear that wood isn't going anywhere, and neither for that matter are those who have the skill and creativity to shape it. The job market for woodworkers is more challenging than for other skilled trades, and this fact should certainly be carefully considered before taking any first steps. Still, there are deeper reasons to pursue this timeless craft that have nothing to do with money. By taking part in the rich historical tradition of working with wood, you renew contact with the natural world and root yourself in the here and now. Plus, there's nothing quite as satisfying as building something with your own two hands. Whether you decide to pursue it as a full-time career or as a labor of love in your free time, woodworking is bound to bring you a lifetime of joy and fulfillment.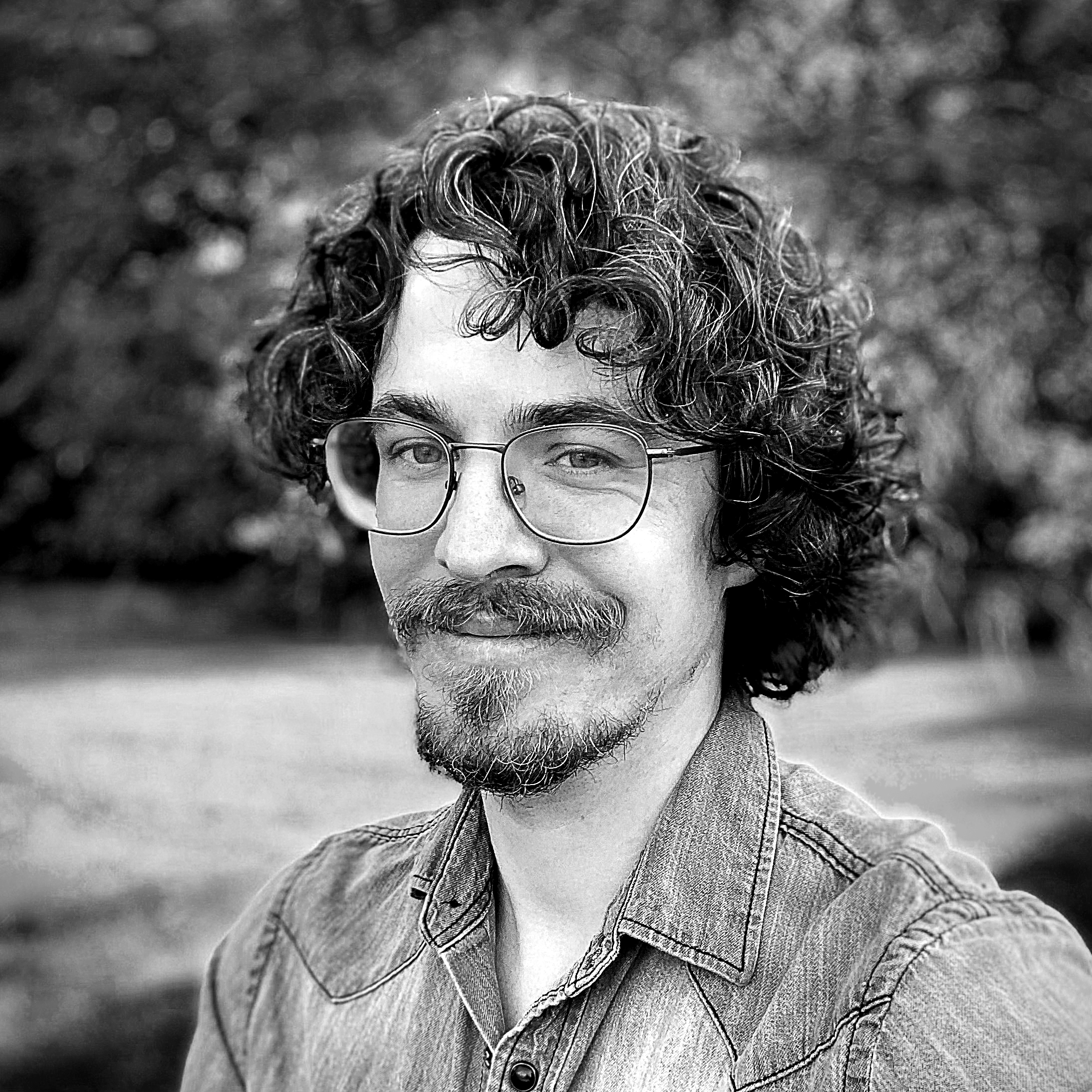 About the Author
Before joining the One-Key team as a Content Marketer, Mike Anderson served as a freelance writer and journalist for many years. His work has appeared in the New York Times and garnered investigative reporting awards from the Associated Press. He lives in Iowa City, IA with his wife Sarah and their three cats—Remy, Finn, and Scaredy Pete—whom they love very much.
More Content By Mike Anderson
Subscribe to Our Blog
Sign up to receive ONE-KEY™ news and updates.
Recent Articles
2023 has been a year of tremendous change and accomplishment for the One-Key team.
November 27, 2023
Editorial Note: This article was brought to you courtesy of Rose Morrison, managing editor of ...