Meet Dean: A Customer Success Manager Advocating for ONE-KEY™ Users
Employee Stories
Lucas Marshall
|
Published: March 20, 2023
|
Updated: May 30, 2023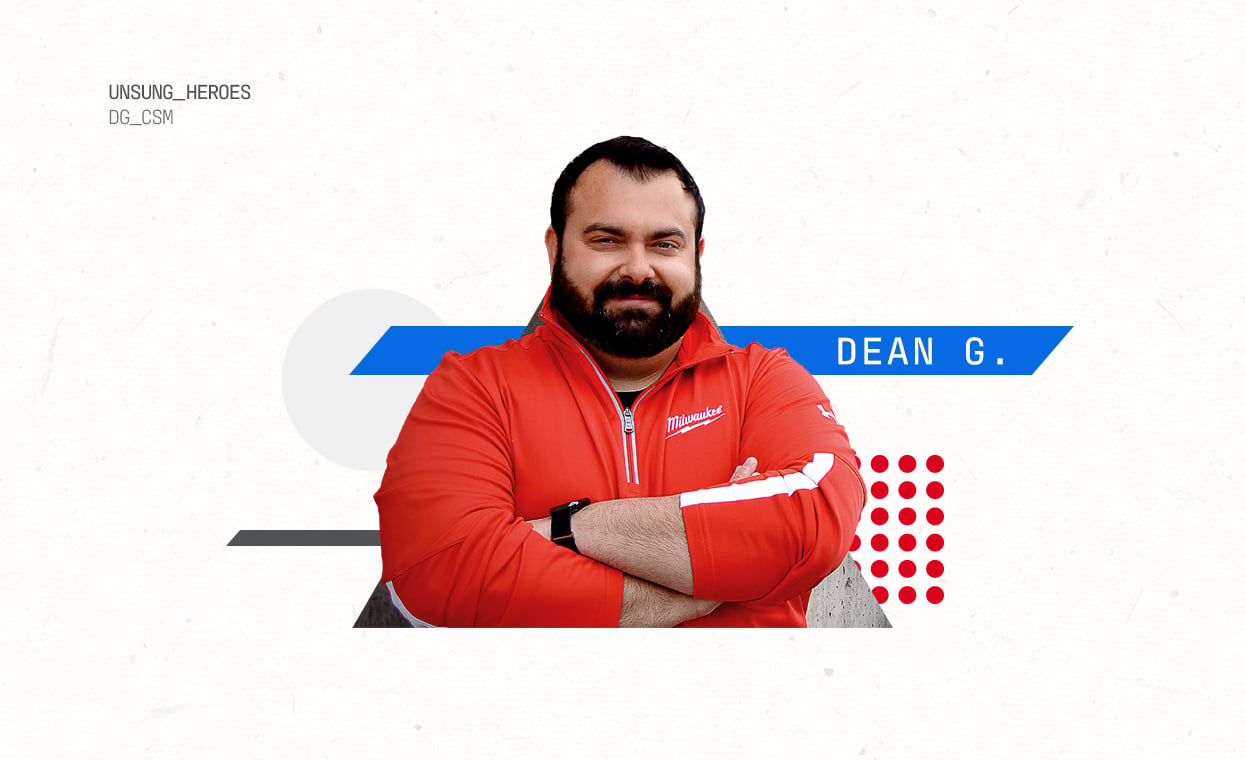 ---
In our next installment of our employee spotlight series, we highlight Dean Gagliano, a Customer Success Manager at Milwaukee Tool.
---
Classical music flourishing, the sound of a fast and virtuoso piano methodical in its every keystroke, reverberates from wall to wall. Natural wood floors are punctuated by oriental rugs, which guide me along a narrow walkway toward a cash register and a glass display case full of delectable pastries and muffins, tempting a purchase. This walkway is flanked with pockets, designated by wall partitions, within which patrons sip their coffee and tea from dark brown mugs and sit in serenity, quietly talking, in matching brown leather chairs beside bookshelves.
Community and relationships are present here at Literatus & Co., a "classic coffee café" and "full-service bookstore" in Watertown, Wisconsin. The staff is friendly, knowledgeable about the wide selection of books that line their shelves—some old and rare, some unique and humorous, like The Magnificent Book of Cats. This volume I gladly took home in my Milwaukee® branded backpack at Dean Gagliano's tongue-in-cheek recommendation, a testament to our long-standing working relationship and his knowledge of my feline persuasion.
The good-natured, mutual respect among the patrons within this local business runs parallel to the skillset needed to be successful as a Customer Success Manager, the role Dean Gagliano occupies for the One-Key team at Milwaukee Tool.
"Lead relationship first," he tells me, is a critical, high-level concept from customer success that tradespeople and contractors alike can take away when dealing with their own customers on a daily basis.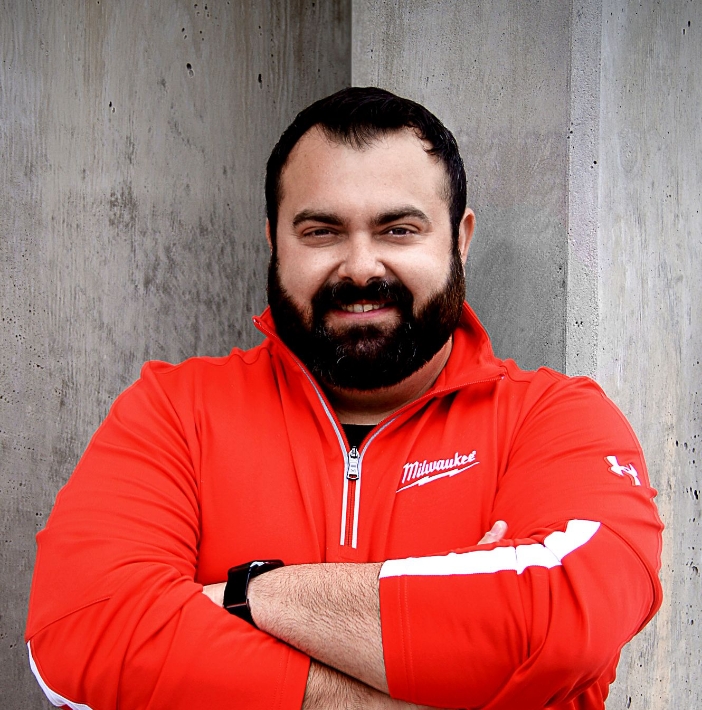 "Don't worry about the products that you're releasing or about to release—worry about the relationships that you're building. If you focus on building those relationships, the relationships that you've built will be there to try out your products. They'll give you honest feedback and they'll help make your products better."
Dean Gagliano, One-Key Customer Success Manager· Milwaukee Tool
A long-time employee for Milwaukee Tool, Gagliano first started in product management, responsible for commercializing the One-Key app. Interestingly enough, back in 2019, Gagliano actually served on the selection committee that interviewed and hired me. Together, we worked collaboratively to launch what is known now as One-Key Support as well as our Support YouTube Channel. Prior to this, One-Key support was limited to a one-page FAQ and disparate, outdated tutorial videos.
Gagliano served as an Associate Product Manager, launching our One-Key Asset ID Tags in 2020 and doing much of the preliminary product research behind the One-Key Bluetooth Tracking Tag before handing the torch off to another One-Key product manager.
He now serves as the Customer Success Manager for the One-Key team.
Customer Success Manager: The Holistic Voice of the Customer
Gagliano tells me that the Customer Success role is an emerging role at Milwaukee Tool. On the customer experience side within Milwaukee Tool's sales organization, customer success is a new role that has evolved from a recent reorganization.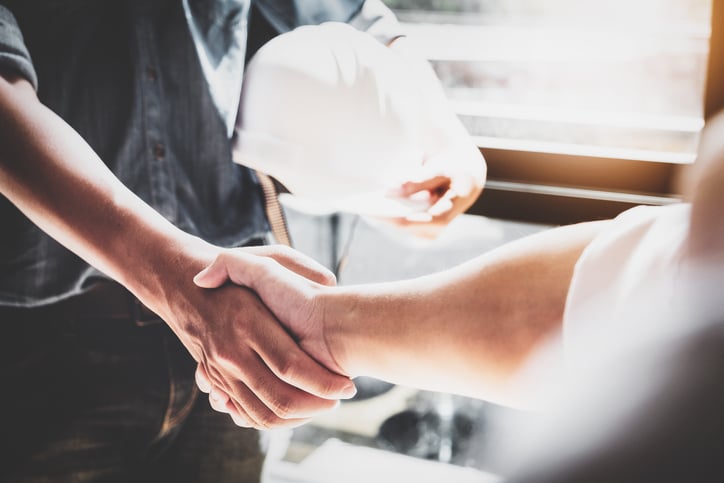 The other part of the business where customer success exists is on the One-Key team.
Gagliano tells me that Customer Success, as a discipline, first emerged in the technology sector, where enterprise "Software as a service" (SaaS) technology providers needed customer advocates on their technical sales teams to help educate prospective and current customers on how sometimes complicated platforms work, keeping these customers abreast on new features, and ensuring each customer, on a personal level and for their unique business needs, can get the most out of these respective platforms and use them within their workflows for maximal productivity.
How Does a Customer Success Manager Differ and Overlap with Support, Product Management, and Sales?
Whereas Product Support is there to "support the customer's problems" (e.g., find bugs they're dealing with and work with the development team to resolve them), "Customer Success is traditionally a profit center, getting new users into the system as well as building their adoption and advocacy, and making sure they're using One-Key to the best of its abilities based on their needs," Gagliano says.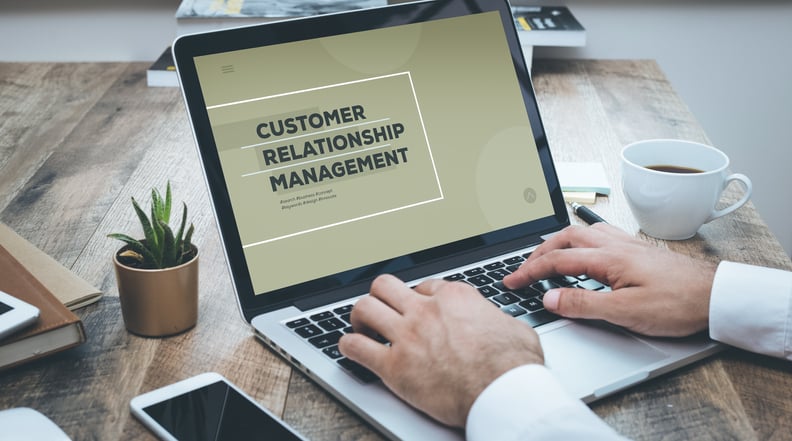 He adds, qualifying his role in Customer Success, "Some people may not need to use certain features within One-Key, but let's figure out what they do really need to use and how to match their real-world workflows with their digital workflows, to optimize that experience for them." He adds, "Through that, that will gain customer advocacy, which then at that point in time, I can call upon them to speak to another customer for me." Shrewdly, he expounds: "A customer is going to want to hear successes more from their peers that actually use the software, than from me, you know, being the manufacturer, right?"
While Product Management "also serves as the voice of the customer," he tells me, there's a distinction: "Product Management is more targeted on the products and features they're working on or researching. Customer Success is more universal for the entire system of One-Key."
Gagliano says Customer Success is most closely aligned with Sales with an exception. "Our system is unique where it's completely free to use, so I'm not selling anything. I'm more educating our customers on a technical software solution, that we offer, which may fulfill a need of theirs."
"No matter what industry you're in, and on a personal level, the world runs on relationships—and I think that's kind of been forgotten since COVID, where we've all been isolating."
A Unique Career Path Led Gagliano from the Music Industry to Product Management
Dean Gagliano's path to Milwaukee Tool and the CSM role, by his own admission, is "a weird story."
Prior to entering Product Management and getting hired into his original Associate Product Manager role at Milwaukee Tool, his personal story begins with a cross-country crisscross between Los Angeles and Wisconsin (moving to LA and back to Wisconsin twice).
"I sold everything I owned and bought a one-way ticket out to LA," he begins. "I did that specifically to work in the music industry. I didn't know anybody in the industry, when I moved out there, but I wanted to bet on myself."
His bet paid off in spades, gradually. When he first landed in LA, he worked as a video game tester for Electronic Arts (known colloquially as EA Games). To his credit, he has an IMDB Page, having served most notably as a tester on Medal of Honor: Airborne.
Through his role at EA, he was able to financially fuel an opportunity to build his network, by going out to local music shows every night. He eventually landed a job at Creative Artist Agency (CAA), one of the largest talent agencies in the world, representing top music talent as well as actors, literary figures, and everything in between. While at CAA, Gagliano worked for a well-known agent who represented all of the big Disney stars, American Idol winners, as well as notable sports legends. He didn't want to be an agent, leaving the agency to go back to EA to pay the bills, and managing bands on his own on the side. Gaining recognition, he joined a company called The Collective (since defunct), where he served as a day-to-day manager.
When YouTube influencers first started to grow into prominence, Gagliano tells me, The Collective began prioritizing them and deprioritizing their music talent. Both Gagliano and the manager he worked for at the time "started to see the writing on the wall," leaving the agency to start their own business.
In 2014, Gagliano moved back to Wisconsin, bought a condo in Milwaukee and lived there for two years. While in Milwaukee, he was managing bands remotely and getting those bands signed to record labels back in LA—this led him to move back to LA in 2016. Shortly after moving back to LA, he reconnected with an old friend who encouraged him to take a Product Management role at Sony Music, where he worked for two years. In 2018, Sony requested Gagliano move to their New York headquarters. "I said I love New York, but I don't want to live in New York," he tells me, laughing.
At this time, Gagliano and his then-fiancé (now-wife) decided they both wanted to move back to Wisconsin to be near family.
Still working for Sony remotely, in October of 2018, the company found a replacement for Gagliano, and he was let go. His partial music credits can be seen on All Music.
"I wanted to be really selective of where I worked," he remarks, "So, I sought after the top companies to work for in the state of Wisconsin," among them Milwaukee Tool.
After "not hearing back" and getting "stressed out," competing offers started to roll in. At Milwaukee Tool, One-Key was still developing and "still finding its way," but "sounded really exciting and intriguing to me."
He adds that "I saw a lot of parallels to what I was doing in the music space to the clientele that I'd be working with on the construction side of things, as well as the product and the technology in general." He explains:
"It's very similar in manufacturing goods. On the sales side, the product (in the music industry) was the CD or was the MP3 stream, the driver to get music to people. But it's not necessarily direct-to-consumer sales. We go through a distributor and the distributor releases the CD or MP3. You'd work hand-in-hand with the distributor and run data on who the target demographic is and where that demographic spends most of their time online or what types of shows they go out to, what type of other artists they listen to, so you can target "for fans of X artist, right?" When you're releasing a product here at Milwaukee, you kind of do the same thing. Sure, it's different because you're releasing this physical, tangible thing—which, for me, it was the asset ID tags, and it was the start of the Bluetooth tracker—but you're still doing the same type of research. You're still trying to figure out who your customers are going to be, where they live online and in the real-world, how they're going to use your product, so you can figure out what those pain points are and market towards how you have solutions for those pain points."
Leading into his new role in Customer Success, Gagliano notes, the similarities also abound. "There's a lot of larger-than-life personalities in the music industry," he laughs. "You need to figure out how to connect with these personalities or engage with these different personalities or build strong relationships with these different personalities."
In customer success, he adds, "It's the exact same thing," explaining, "With my role in Customer Success, I'm focused on some of our extremely large users, not only to One-Key but also to Milwaukee Tool."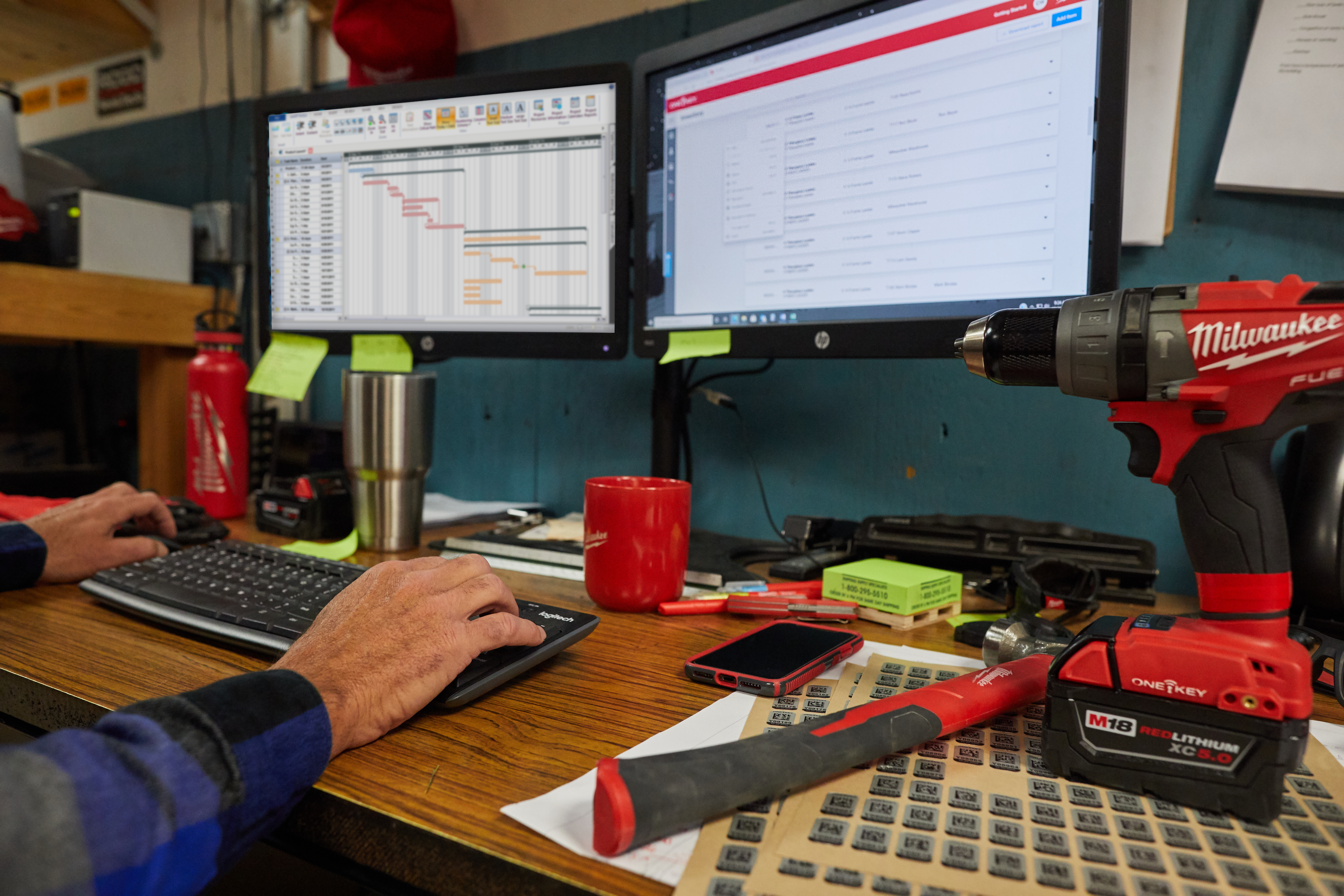 He explains that part of his role is focusing on engaging with Milwaukee Tool's exclusive "heavy-duty alliance" (aka: HDA) partners, large strategic partners that sign exclusive deals with Milwaukee Tool. "Sometimes, I need to figure out how to give them bad news, sometimes I need to figure out how to give them good news, and sometimes I need to just work through things with them. Communication is not 'One size fits all.' I need to learn how to get on their level, so that way I can better understand who they are and how to successfully communicate."
An Interview with Dean Gagliano – A Customer Success Manager for the One-Key Team at Milwaukee®
LM:
Where does a Customer Success role fit within Milwaukee Tool's org chart (e.g., what does collaboration look like between product management, customer support, UX, sales, any others)?
DG:
Currently, I'm under Product Management for One-Key. That may or may not change with restructuring, because it is a very sales-facing role.
I do a lot of work with sales. Basically, engagement-wise, the sales team usually reaches out to me for educational purposes. Maybe they want to use One-Key. So, it's training them. Or sometimes they reach out to me specifically to have discussions with some of their customers. Sometimes One-Key is the reason they're going to sign the Heavy-Duty Agreement (HDA) and the sales team isn't comfortable leading that, so they reach out to me to run that pitch, to answer those questions, to build those relationships with the back office.
The UX side, we do a lot of collaborative research together. Good example, Tennyson, a UX Researcher, actually hit me up today, asking me if I knew any general contractors that would be great for case studies with a project she's working on with you and the inbound marketing and education team. It's a lot of picking each other's brains, leaning on research that one another knows, since we're both out there doing research.
On the Product Management side, one of the key tenets of my role is to be the internal voice of the customer. So, I get a lot of feedback from some of our customers, and it's my responsibility to build the story around that feedback, build the needs and the "whys" around that feedback, and then give that to our product management team in hopes for one day getting through the processes to become an actual feature within the software or become a product. But I need to be the advocate for the customer to our product managers.
On the Support team, I work hand-in-hand with Corey, our One-Key support advisor, solving problems for our customers or trying to understand different things that our customers are going through, so that way we can better guide them throughout their journey to better build One-Key into being more valuable to them.
LM:
What would you say your favorite thing is about working for Milwaukee Tool?
DG:
Culture. I think it's cool seeing different aspects of the business and being privy to different sides of the business, especially the sales side and seeing how they work and interact.
But it seems like everybody loves their job. Or everybody has a good time going to work every day. And I think that says a lot about the culture that's built around Milwaukee Tool.
Me, personally, I really like the collaborative-ness, but I also like the autonomy and the flexibility that my job offers. You know, it's a situation where I can be trusted and I can be relied upon, because my bosses know that I will deliver every time. They know that I'm going to be there to get things done, and I've been able to prove that out, which has awarded me more flexibility or more freedom without being micromanaged. So, I really like that a lot.
And then, as far as flexibility is concerned, I have an 18 month old now, and I like spending time with him. More and more personal time is going to be needed when he gets into sports or music or whatever the hell he wants to get into, and I want to be there for all those things. I know working here, at this company, and how much they care about families. I'm not going to ever have a problem with that, I'm not going to worry about missing something.
LM:
You said, in your bio, you did a lot of transitioning to get where you are, which is very inspiring. For a tradesperson, who is very ambitious and who starts out as a trade, and who may be interested in (long-term) transitioning into a higher role, whether that be a project lead, a business owner, entrepreneur—what are some of the pieces of advice and tips you'd give a tradesperson like that?
DG:
This is going to sound really stupid. I have a tattoo on my arm. It's a Mark Twain quote. It says, "I've never let schooling interfere with my education." I really like that quote, because I think you gotta be thirsty, you gotta be thirsty for knowledge, and you gotta keep learning, keep growing.
When you start to get stagnant in your career, or whatever it is, then it's time to move on, it's time to find something else.
You gotta keep learning and growing, and if you're already ambitious, you're going to naturally do that. But there's always unconventional ways to get through things. You can't accept "no." You have to keep pushing and you have to keep proving—you don't owe it to other people to prove things, but you owe it to yourself to prove things to them, especially if you're ambitious and you want to get moving.
So, if you're a carpenter or electrician, and you want to be a master carpenter or master electrician, keep honing your craft, keep working on it—if you want to be a role in the back office, do your job, but also start learning what that job entails, try to find mentorship with someone in the back office that can slowly teach you and guide you.
LM:
A basic query for "Customer Success Manager" yields "Is customer success manager a stressful job?" Would you answer that question "yes" or "no," and what are some common challenges you face in your role, and how do you overcome the associated stressors?
DG:
How did the query answer it?
LM:
I didn't look, because I wanted to get your answer!
[laughter]
DG:
Is it a stressful job? I mean, in general, probably. For me, not really, but it can be. If there's a big bug that came out with a new release, and if it's really hitting or impacting one of our customers, or if we have a problem where the server goes down and there's nothing we can do, then it gets a little stressful because I have to deal with a lot of really upset customers that need One-Key and rely on One-Key to do their day-to-day work.
But day in and day out, no, I don't find it to be terribly stressful. It's a hard question for me to answer because I don't really let anything stress me out.
LM:
Yeah, I also feel like that that suggests that you're the right person for the job, like it's something that you need to have a cool temperament to do.
DG:
You do. There are stressful moments, though, where, you know, we get a customer, and they've been requesting features over and over and over, and we constantly say, "We know, we understand, you're also not the only customer that has asked for this," but, time goes by and we haven't fulfilled that need for them, and they just get even more upset. It's trying to be empathetic to them but also try to soothe them, so that way they're not as pissed off. But the reality is they don't care about what our internal processes are, they just want to see the product, and I get it.
LM:
Right, right, the final product. And then it's launched, and then there may be bugs [because it's software].
DG:
Right. Customer Success can be stressful… in moments. Overall, I don't find it to be terribly stressful.
LM:
Customer Success is a concept that businesses of all sizes should know about. But it's mostly in large companies with enterprise customers [in the tech space]. What are some of the high-level concepts that you might pass on to a business owner or tradesperson to improve how they react and deal with customers that they work with on a daily basis?
DG:
Relationship first, you know? Don't worry about the products that you're releasing or about to release—worry about the relationships that you're building. If you focus on building those relationships, the relationships that you've built will be there to try out your products. They'll give you honest feedback and they'll help make your products better.
So, lead relationship first.
LM:
So, for a construction company that's dealing with supply chain issues, labor shortages, and whatnot, if they have a relationship built, if they're going to run into a delay, at the very least, if they're empathetic with the customer, the customer is more likely to work with them.
DG:
Yeah, they're going to give them more leeway. Are they still going to be upset, because they're not going to get their product when they need it? Yeah, of course, because the work still needs to get done, but if you don't have that relationship, that conversation is going to be a really difficult one to have, and you might also lose your customer. If that relationship is there, it's still going to be a difficult conversation, but it's going to be a little bit easier, because they care about you, and you care about them. They're not going to be quick leave you—they want to work with you, because you've done right by them, you've built that relationship.
So, I think, no matter what industry you're in, and even on a personal level, the world runs on relationships, and I think that's kind of forgotten since COVID, where we've all been isolating.
But it's relationship first. It's all about building those relationships.

LM:
How do you measure success in a CSM role?

DG:
More, happy customers, haha! The Mission of Customer Success is to increase sustainable proven value for both the Customers of Milwaukee Tool and Milwaukee Tool. What I mean by that is, I want to gain more customers for Milwaukee Tool (through technical sales and onboarding), but I want those customers to experience high value success with our products (with tailor-made account plans), more specifically, One-Key. Not only that, I want to showcase success by turning our customers into advocates (be the mouthpiece for One-Key in peer groups, etc). I want to know that I've built that relationship to the point where they can rely on me when they need it and I can rely on them as well.
LM:
Do you have any people that you admire, either industry figures, coworkers, managers, mentors? Or it could be outside of work in general, too.
DG:
I knew this question was coming because I read Brianne's article, and Brianne had some really good answers for it.
I could say Lambert (Andy Lambert, our One-Key Director of Product). He was the one who kind of handpicked me and put me in this role. He saw that my skillset was better suited for Customer Success than as a Product Manager. I gotta give him credit to seeing that, identifying that and putting me in this position to build out my own thing and allowing me to prove out the need for this role.
The second is Marchok (Josh Marchok, our One-Key Product Manager focused on Connected Products). Josh started about a year before me. I sat next to him when I started and he really helped shepherd and guide me through to better understand the culture and expectations at Milwaukee Tool.
LM:
You knew it was coming. Tell me about Dean the person. What are some things that make you tick? Any hobbies outside of work?
DG:
I have a lot of hobbies. I love playing with my son, my 18 month-year-old son. It's been so fascinating to see him grow and develop from year zero.
LM:
It's a mini-Dean!
[laughter]
DG:
It's been so awesome to see things click, out of nowhere, and then he gets it.
But also, I love sports—big football fan, big baseball fan. I also love golf, though I'm not that good at it. I play softball, first baseman.
And if I could find a football team, like a flag football team, or whatever, I would totally join it. I'm competitive by nature and I love playing sports. I love fantasy football. My dynasty league, I've won two years in a row, so I have a big trophy sitting at home.
LM:
Do you have any podcasts or resources that you would recommend to an end user looking to stay up to date on the industry and also anything related to customer success or product management?
DG:
I use podcasts as an escape, so I don't listen to anything related to work.
Some of the everyday podcasts I listen to: The Daily, Today Explained, The Last Podcast on the Left, Unexplainable, and Something You Should Know.
LM:
If you weren't a customer success manager, what would you be (however probable or improbable)?
DG:
I originally wanted to be A&R at a record label. A&R is the person that finds bands, get's them signed, develops them and advocates for them. Now, I really want to own storage units.
LM:
Oh! That's actually a really good, smart idea. I watch Storage Wars, and I'm always like, "You could make a lot of money that way."
[laughter]
DG:
I'm saving up now. I really want to be a storage unit owner.
LM:
That's great. I'm gonna wait for Storage Wars: Watertown Edition.
[laughter]
Okay, last one. If you were going to curate a "Customer Success: Definitive Playlist" for 2023, what songs would you add to it?
DG:
[laughter]
It's hard to answer too because I only listen to podcasts.
LM:
I was going to ask if you were going to say, "Rebecca Black: It's Friday."
[laughter]
DG:
[laughter]
Am I just known for that now?
LM:
Yeah!
DG:
I gotta play into that. Yeah, so, "Rebecca Black: Friday," "Everybody's working for the weekend by Loverboy," what other songs can I think of that are about the weekend? Or maybe a song directly from The Weeknd?
Honestly, I don't listen to a lot of music now, as you can tell by all the podcasts I listed. I mainly just listen to podcasts now. I think it's a side effect from working in the music industry.
About the Author
Lucas is Content Marketing and SEO Manager for Milwaukee Tool, where he and his team raise awareness about the company's digital products and educate users on best practices through a variety of content vehicles.
More Content By Lucas Marshall
Subscribe to Our Blog
Sign up to receive ONE-KEY™ news and updates.
Recent Articles
Editorial Note: This article was brought to you courtesy of Rose Morrison, managing editor of ...
November 13, 2023
There's a whole alphabet soup of inventory management methods to choose from if you're a...