Meet Liz: A Software Product Manager Focused on Continuous Improvement
Employee Stories
Lucas Marshall
|
Published: May 31, 2023
|
Updated: May 31, 2023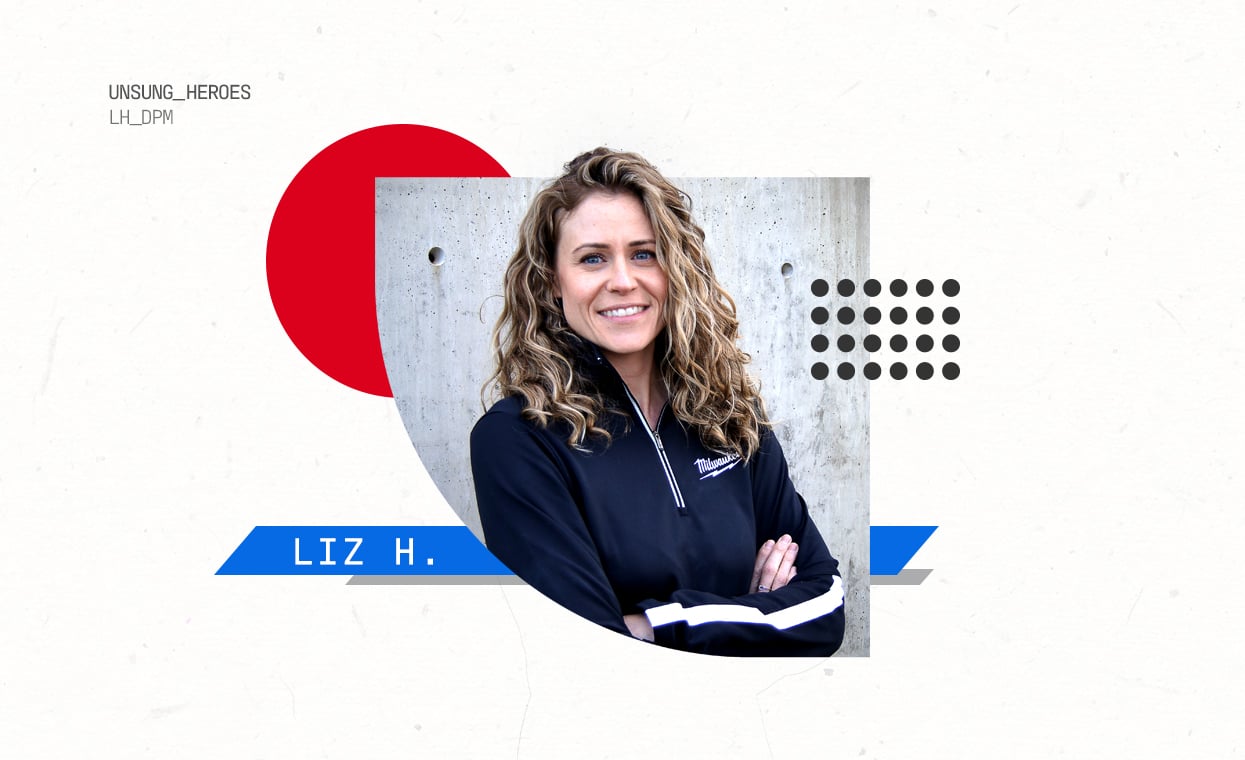 ---
In our next installment of our employee spotlight series, we highlight Liz Haagensen, a Software Product Manager at Milwaukee Tool focused on continuous improvement for the ONE-KEY™ app.
---
Liz Haagensen has led an eventful life. But it's precisely the string of seemingly "random experiences" from her life that has led her to where she is today.
A Software Product Manager for the ONE-KEY™ team, Liz works both behind the scenes, collaborating with software engineers and User Experience (UX) Researchers and Designers, and alongside end users in the field—contractors and construction inventory managers who rely on One-Key daily to complete their work.
It is the feedback she hears from end users that helps her lead discussions with the internal software engineering and design teams, as well as with One-Key department leadership.
I had the opportunity to sit down with Liz recently to get to know her a little better, ask her about her life, her work, and how she got to where she is today professionally.
An Exciting Life of Self-Discovery Culminates in Haagensen's Product Management Skillset
Haagensen is a Wisconsin native, having grown up just a stone's throw outside of Milwaukee.
She moved to Minneapolis to attend the University of Minnesota-Twin Cities as an undergraduate. During that time, she immersed herself in the culture of Spain, traveling and studying at the University of Seville (Universidad de Sevilla). While in college, she also worked for the School of Public Health for three years, a fascinating period that gave her the opportunity to work in close proximity of several research studies.
"Interspersed between that time in college," she tells me, she also lived abroad in London for a summer with her sister, nannied, worked in a night club, and worked at LexisNexis.
She then attended advertising school in San Francisco, initially planning to become an art director and a period she attests to honing her creativity. While there, she moved to India, where for three months interned in the India office of British, globally recognized advertising agency Bartle Bogle Hegarty.
"All of these random experiences," she tells me, led to who she is today—they helped shape her understanding of the world, and how she approaches her job as a product manager, leading with empathy. "I really like understanding different people, different cultures, the world," she says.
After living in San Francisco, Haagensen returned to Wisconsin, where she worked at a media company. After that, she worked at a bank. For the bank, she managed their foundation/nonprofit relationships, and was responsible for PR, content creation, and event planning.
Explaining what she thinks makes for a good product manager, she notes, "You have to have natural curiosity, zest for understanding all the different kinds of people that exist within our same world."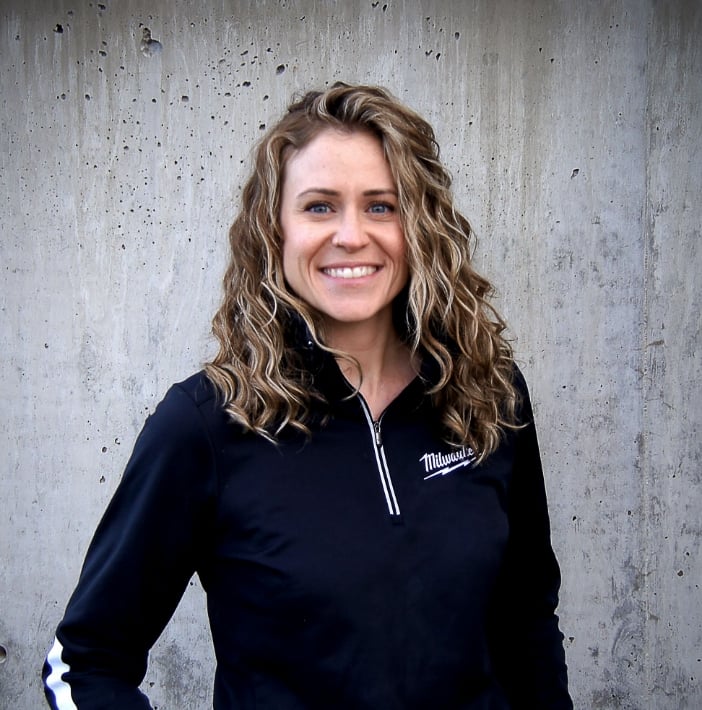 "I really like meeting new people and embracing new experiences—having this openness offers me the opportunity to learn from those with different perspectives and expands my worldview."
Liz Haagensen, Software Product Manager·Milwaukee Tool
An Interview with Liz Haagensen – A One-Key Software Product Manager at Milwaukee®
LM
Can you tell me a little bit about your job at Milwaukee Tool as a product manager, and what does your day look like during an average week?
LH
I'm one of the product managers who sits on the side of Software as a Service (SaaS). So, that means that I'm researching and discovering how we can provide additional value within the app itself—the One-Key mobile app (Android and iOS) and the web app.
Some days you'll have a bunch of end users you've done research with in the past and they'll reach out to you with questions, or issues, or bugs, or glitches, or nice-to-haves, or wants for the app. And then you'll connect with all of the different functional roles to first try and troubleshot as much as you can on your own. And then you'll connect with the rest of the team to address issues, capture feedback, so that you're always thinking about the next thing and validating that the next thing is the right thing to do for our users.
Additionally, we're trying to connect with the rest of the business and making sure we can transfer and share knowledge and operate systematically so that we're all moving and headed in the same direction.
LM
Has that been a challenge as we grow?
LH
There's a lot going on during the day-to-day to keep the lights on and making sure the app functions, making sure that new tools and devices that are outfitted with One-Key make their deadlines. And then you add new feature functionality and how that interacts with everything else in the app, and making sure you don't break anything when you're introducing new features or feature subsets, it can be a lot.
I will say, though, I'm connecting with more people outside of my area, even just on a casual friend basis, and understanding what they do and how they do it. That has been so helpful because it helps you empathize with them and understand practices you can adopt. But you can also be mindful of that person, and if you ever do something and it touches another person's hand, you're making sure their job is easier instead of introducing more complexity.
LM
Can you explain how a software PM differs and works in tandem with hardware PMs?
LH
Ooh, that's a great question! If you think about it in terms of any functionality that interacts directly with a tool, or maybe location updates that are associated with a tool or a tracking device, that's in the wheelhouse of the new product development (NPD) product managers, who work with hardware.
For me, it's everything else that you see within the app. Our focus casts a very wide net, a deep breadth, which gives us a lot of opportunities to understand how everything interacts with each other. So, if we limit ourselves to certain pieces of functionality, we might put blinders on to the interaction between other pieces of functionality and also with NPD. So [to avoid this], we constantly have to communicate and collaborate and talk to one another to understand what each other is working on, to make sure that functionality doesn't clash. But also, to maximize and capitalize on that value that we're extending to the end user, to make sure that we can extend additional value efficiently, together.
LM
Yeah, that must be a challenge, where everything has to interact smoothly. I imagine some end users don't have visibility into how complicated the process really is.
LH
And they shouldn't! They shouldn't have to worry about that.
They shouldn't have to worry about having a different experience or a different feel in one area of the app. To them, it doesn't matter how many PMs work in One-Key, or what the PMs are focused on, because their experience should be so seamless that it's never a thought in their mind. That's what I would hope.
LM
That's a very good approach. That speaks to user experience.
Considering that you work within software continuous improvement, can you explain how the process of updating and improving existing features may have similarities to introducing a new generation of a tool?
LH
That's a great question. It's about going in with a hypothesis and an area of focus at the same time, allowing yourself to be wrong—and also allowing whomever the end user or the customer you're working with, allowing them the space and freedom to take you where they want to go. So, with one person you might not validate or invalidate a hypothesis because that may not be the highest need or priority. But they may take you somewhere else that you didn't think of, and that's where more magic lies. And more opportunity to find friction points or areas where you could provide more value.
LM
That makes me think of the design research team, when they visit a jobsite and see a user is holding a drill in a different way than you thought—and you didn't realize that that's the way they held it. And then there's that lightbulb moment: "We could create a solution for that."
LH
Right! I really love hanging out with that team because they're so energized and they love seeing how things are done differently. Being around those kinds of minds take out my assumption or my want to be right or my want to prove what I think should be right, when the world, or how things are done, don't actually reflect that. And it reminds me that it's not about me—it's about the people who invest in these products and use these things for their livelihood.
It's about making sure that we're making what they do for a living easier.

LM
On a related note, are there any other parts of the Milwaukee Tool business that your role touches, and what has that experience been, working with all of those different departments?
LH
I have the most touchpoints with customer support. Outside of that, my role has been internal to One-Key, but I've made it a point to listen for opportunities to hop on a call for design research share-outs. I don't necessarily have to be in that meeting, but I'm curious what their approach is like, how they even approach sharing out research, and the different approaches between the different researchers. It's been great to learn and see how other teams do it, and what we can adopt and apply so that we're constantly improving. You know, why not do that internally instead of taking a course?
I think Milwaukee provides a lot of opportunities for professional development.
When I first joined, I took so many of our internal tutorials that are available to us as employees that had nothing to do with my job, just so I understood the company. What kind of videos does a jobsite solution (JSS) rep watch? What pertains to their role? Milwaukee does a good job of embedding you into the background of the company and how we got to where we are today and take you along that journey, so you have a frame of reference and you're not just dropped in and have to glean that, you know, over the course of a year.
I also had an opportunity to go on a Make-a-Wish Tour with some of our senior leaders. It was a great experience to get a little bit deeper into that background and getting to see the technology that's used at Milwaukee.
Even talking to people and trying to make friends across the hall. Then you can build relationships and they can understand us better, too.
LM
Can you tell me what you like most about your job as a PM?
LH
I really feel fortunate to be a product manager because the days and the problems are never look the same, and the people that you interact with—internally, externally—are vastly different, and it's just wonderful to be around so many different minds that think differently than I do. And just trying to connect with people on a human level first, to be able to then connect with them on a professional level and making that mutual understanding and respect from the start to ensure that we both have a good experience together. If I'm talking about research with end users, I want to ensure that person feels safe enough with me to be honest and open, and tell me what they don't like, and what's not working for them, without having to worry about how I feel about it.
LM
What would you say your favorite part is about working at Milwaukee Tool and, particularly, on the One-Key team?
LH
The culture and the people, hands down. I think we have a culture that inspires us to show up and challenge ourselves and feel like we're on a team. It's a very supportive atmosphere. You want to come to the next meeting, and you feel good about leaving the meeting as well.
LM
What would you say are some of the challenges you face in your role?
LH
I think a human challenge is that we constantly have to call ourselves out and understand that we shouldn't want or need to be right. That's not what life is about. That's one piece of it.
Learning to respect and appreciate people who have different life experiences and different personalities and knowing diverse frames of thought and people really help us progress forward, and respecting that and really embracing it as a positive.
Also, acknowledging that we live in a world that isn't black and white and where everything is gray. Not about right or wrong, but how can we be less wrong next time.
Also prioritizing – you know, really wanting to extend the most value to the most users. Obviously, we have to invest in the performance – that's something our users will feel but they won't see. So, always weighing that against new features and functionality.
LM
To that point: Big features versus continuous improvement. How do you communicate the value, which we know is there, but not as obvious? Big features are obviously going to make a big splash. How do you talk about what's going on in the background and the challenges you face?
LH
I think it's a learning process for us, and making sure that we do our part in educating our partners within Milwaukee on software development (and the challenges it presents). You know, we manufacture tools. But we also now have software in an app, (which is something relatively new to Milwaukee and complicated), so making sure we help people be less ignorant to what they don't know.
LM
If you could give one piece of advice to a One-Key user, what would that be?
LH
Don't be afraid to ask for help—don't be afraid to say how you feel about the app because it's not going to hurt my feelings.
LM
Yeah, you would say, that's what we want, actually. That feedback. That candidness.
LH
Exactly. I always tell them, "If you don't tell me your problems, then I don't get paid. I don't have a job."
[laughter]
LM
[laughter]
That's a good way to put it.
LH
You know? So, I'm happy to help how I can, and if I can't, and once I've done as much as I can, then I ask people for help to help someone else. I think that's a big piece of it. And just understanding that I'm here to help users and I do this to make their lives easier and better, and it's not about us.
LM
For sure. Are there any common problems that come up more than others?
LH
I don't know if it's a problem, but I think it's fascinating how the processes and procedures and how things are different from contractor to contractor, from user to user.
The end users who I've seen the most success with are the ones who don't view technology as an end-all-be-all, like "We'll adopt this, and all of our problems will be solved." It's not about the technology—it's how you marry that technology to your processes and how you make sure you have a committee, a group of people reflect the users that will be utilizing the app on your team, so that they're making sure when they roll it out, they're intentional with how they do it, they're empowered, and they're not scared away by throwing too much them, too soon.
LM
Are there any projects or initiatives you've worked on at Milwaukee Tool that you're particularly proud of?
LH
Yes, and that's the improvements in transfers. This is a tremendous improvement of what existed before, and I hope that it extends the right values for our end users' needs. I'm so proud, and there are so many people who have worked on this project over the course of a very long time, and it's finally out the door, and it feels really good to wrap things up. Hopefully, it will make their experience more fluid and seamless.
Editorial Note: The Transfers experience in One-Key has been recently updated. Try out the new Transfers Experience in One-Key!
I think sometimes we forget, constantly testing and having this app in our faces, that small improvements can really make a huge difference. If we can get even smaller with our improvements, we can deliver and provide that value quicker.
LM
Any favorite books, TV shows, or movies that you'd like to share, music?
LH
I'll always love Radiohead. Radiohead is my favorite band of all time.
LM
Nice!
LH
I love The Band because of my dad.
I love the movie Almost Famous.
About the Author
Lucas is Content Marketing and SEO Manager for Milwaukee Tool, where he and his team raise awareness about the company's digital products and educate users on best practices through a variety of content vehicles.
More Content By Lucas Marshall
Subscribe to Our Blog
Sign up to receive ONE-KEY™ news and updates.
Recent Articles
Editorial Note: This article was brought to you courtesy of Rose Morrison, managing editor of ...
September 13, 2023
In the next installment of our employee spotlight series, we introduce Aaron Wenzel, a product...
September 11, 2023
If you're a construction professional searching for a simpler way to efficiently manage your...