Careers in Construction: Elevator Installer and Repairer
Thought Leadership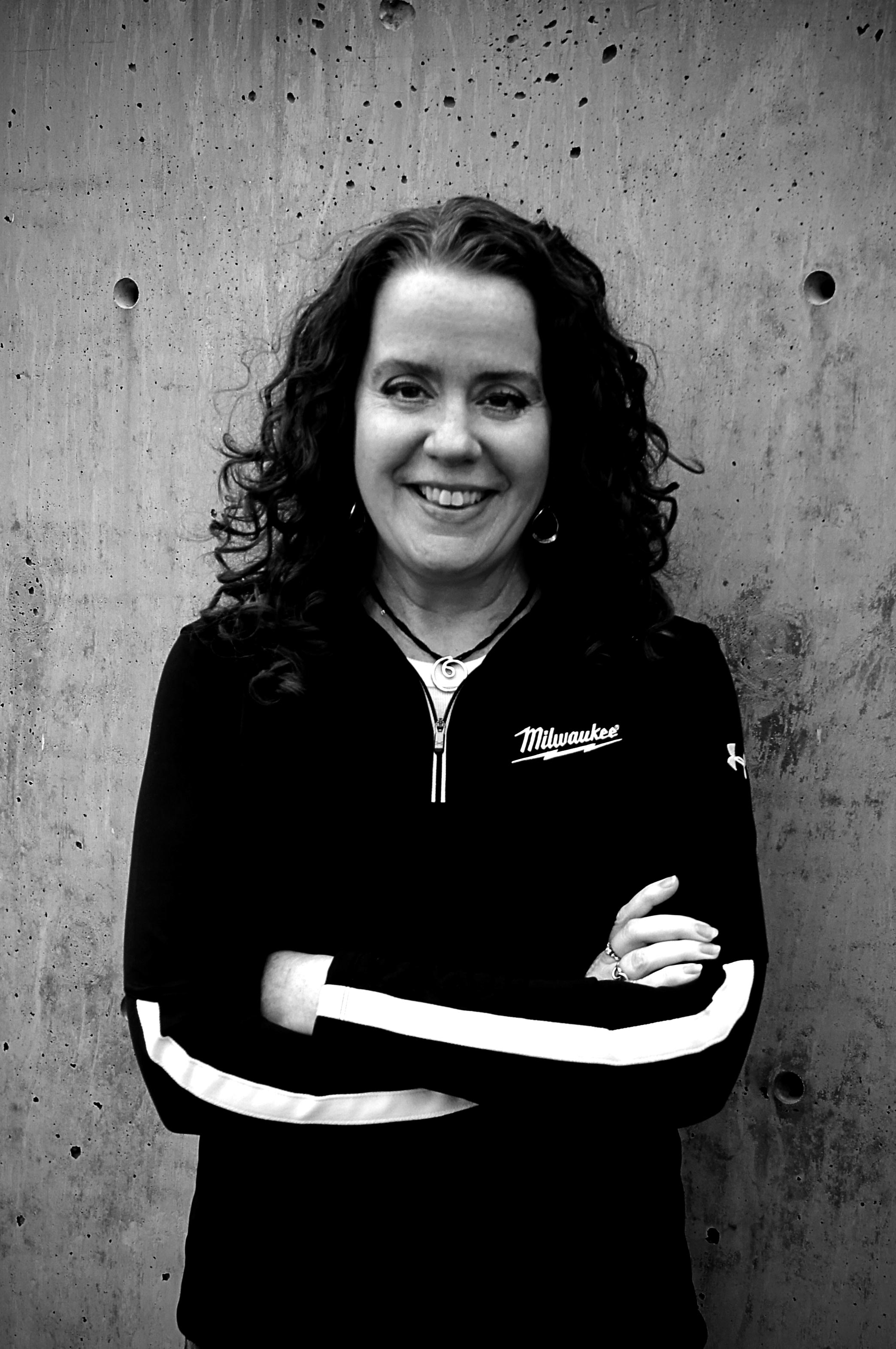 Lisa Martensen
|
Published: June 9, 2021
|
Updated: April 29, 2022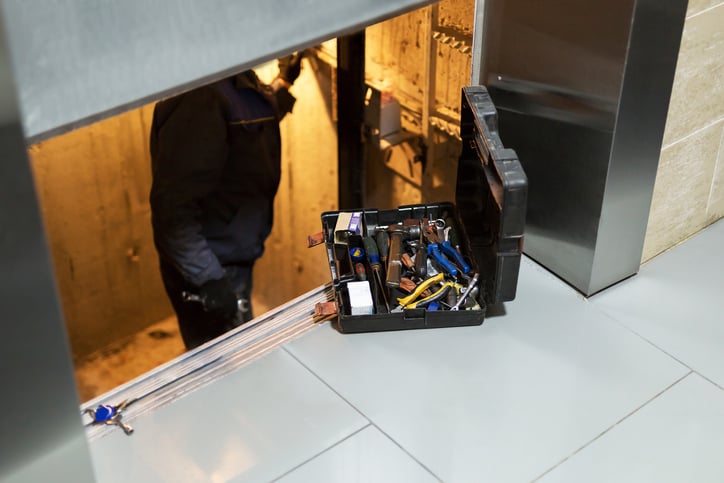 There are roughly 1.1 million elevators and 35,000 escalators in the United States. Each one had to be carefully built. Each one requires constant upkeep and maintenance, with routine inspections and repairs occurring on a tight schedule of at least once per year—more as issues arise, which they inevitably do.
It's easy to slip into magical thinking about our technology and how it continues to operate smoothly from one day to the next. But even in these heady days of automation and artificial intelligence, it's still someone's job to ensure the safe and precise function of the machines we rely on to traverse the fast paced, vertically built environments we work, live, and play in.
That someone is called an elevator installer and repairer.
Job Description
:
Elevator Installers and Repairers
What does an elevator installer and repairer do? The name may sound self-explanatory (see related titles below for similar, more exhaustive nomenclature) but there's more to this job than meets the eye. For starters, elevator installers and repairers don't just work with elevators. They also work on escalators, ski lifts, cable cars, and moving walkways.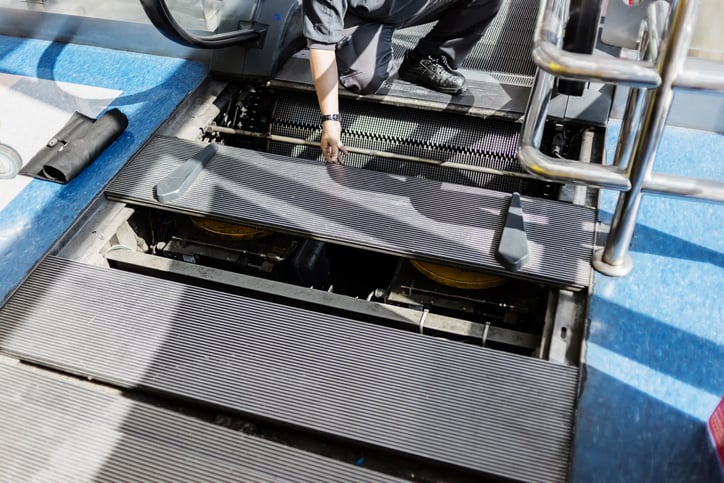 To be an elevator installer and repairer, you're going to need to possess enough technical knowledge to be able to read and interpret the relevant blueprints and schematics related to the job. Another thing you'll need is a baseline competency at using the various tools and equipment required to properly put together elevators, escalators, and other conveyance machinery. As is often the case in construction jobs, some amount of interdisciplinary proficiency is called for.
For instance, elevator installers and repairers need to have some skill at electrical wiring and troubleshooting issues that may arise with the elevator or escalator's computer systems—skills typically associated with electricians or IT personnel. In addition, you should have strong knowledge of hydraulics.
Once all the machinery is assembled and put into operation, it's the responsibility of the elevator installer and repairer to ensure that it continues functioning properly throughout its life cycle. This includes maintaining and replacing parts and performing regular adjustments to achieve optimal performance.
Full job duties, according to the U.S. Bureau of Labor statistics, include:
Reading and understanding blueprints to determine the layout of system components and select the equipment needed for installation and repair

Assembling elevator cars and components for similar systems

Connecting electrical wiring to control panels and motors

Testing newly installed equipment to ensure it meets specifications

Troubleshooting malfunctioning brakes, motors, switches, and control systems

Dismantling elevator, escalator, or similar units using hoists, ladders, and

hand tools

or

power tools

. Oiling and greasing moving parts. Replacing worn or defective parts and adjusting equipment for optimal performance

Repairing or replacing faulty components to return elevators or escalators to fully operational statuses.

Conducting preventive maintenance and inspections of elevators, escalators, or similar equipment to comply with safety regulations and building codes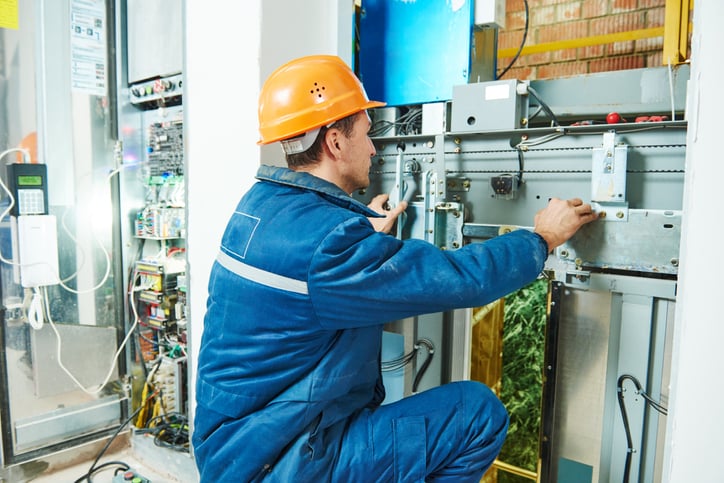 Related titles:
Elevator Mechanic

Elevator Technician

Escalator Installer and Repairer

Escalator Mechanic

Elevator/Escalator Technician

Elevator and Escalator Constructors
Similar professions/trades:
Electrical and Electronics Installer and Repairer

Boilermaker

Ironworker

Industrial Machinery Mechanics, Machinery Maintenance Worker, and Millwright
Got a friend interested in a career in the trades? We encourage you to explore and share our full List of Careers in Construction!  
Elevator Technician Pay
: What's the Average Elevator Installer and Repairer
Salary
?
Money is an important, if not the most important part of any job. And for elevator installers and repairers, the good news is that the pay is high—higher than most other professions in the construction world, in fact.
According to the Bureau of Labor Statistics, elevator installers and repairers earn anywhere in the range of about $46,000 per year on the low end to $128,500 on the high end, with the median annual salary listed at $88,540, or about $44 an hour. This is significantly higher than most other jobs in similar areas of construction, which on average earn a little more than $47,000 per year.
But that's a fully trained elevator technician, so how much money does an elevator apprentice make? The good news is that the elevator technician trade is pretty lucrative, from start to finish. Elevator apprentices are among the highest-paid apprenticeships at around $40k (or around 50% of the salary of a trained installer or repairer). Compare this to a well-known trade like plumbers who make an apprenticeship salary of $16,173-$26,955 (or about 30-50% of the salary of a fully trained plumber), and it's easy to see that an elevator installer and repairer career path is plenty financially soluble.
Job Outlook: Elevator Installer and Repairer
Along with higher pay comes a better than average job outlook. The field of elevator installation and repair is expected to grow by about 7% between now and 2029 (faster than average). That's compared to the 5% projected growth rate for most other jobs in the construction sector. The BLS estimates that the field of elevator installation and repair will grow by about 3,000 new jobs every year over the next decade.
How Do I Become an Elevator Installer and Repairer

?

Apprenticeship

and

Training

Info
The first thing you'll need is a high school diploma. The greater your strengths are in math, physics, technical drawing, and shop class, the better. As with most careers in construction, you don't need an expensive four-year college degree to become an elevator installer and repairer. You don't need to enroll in trade school for this role, either.
So, if the financial burden of continued education factors heavily into your decision making, a career in elevator and installation repair may have some extra appeal.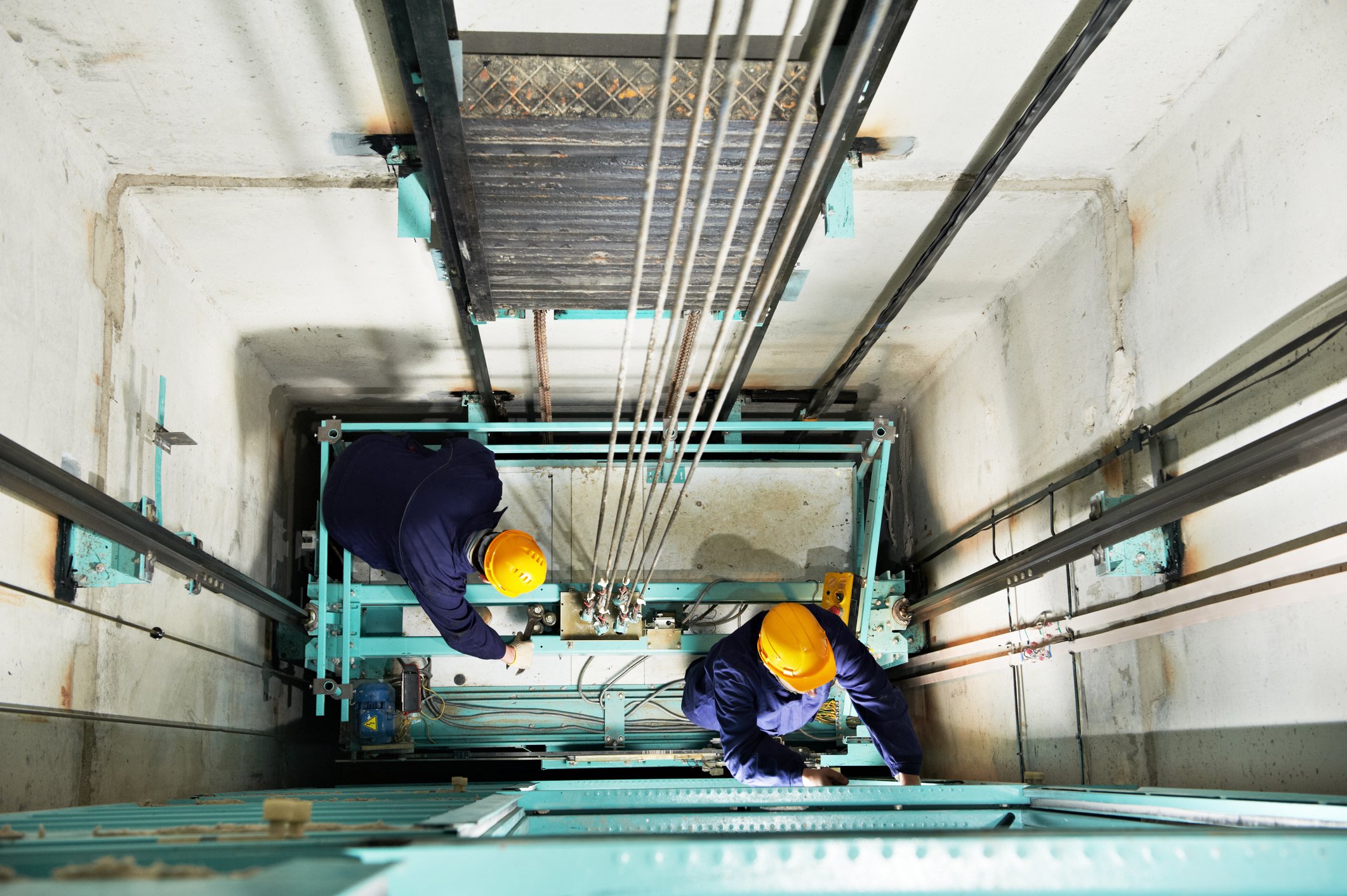 What you do need is an apprenticeship. These often take four years to complete and are sponsored either by a union, industry association, or employer. There may be some fees you need to pay depending on the apprenticeship program, though most offer paid-on-the-job training.
To begin your quest for an apprenticeship, a great starting point is to contact the National Elevator Industry Education Program (NEIEP), either by reaching out to the national headquarters or to a local branch. Serving the International Union of Elevator Constructors (IUEC), the NEIEP is the preeminent authority on administering apprenticeships for all aspiring professionals in the elevator installation and repair field.
The group's FAQ page does a good job of laying out everything you need to know to get started. If you're interested in reaching out directly to the union, the IUEC maintains a directory where you can look up your local chapter.
Once your apprenticeship has been completed, the next step is to get certified through the National Association of Elevator Contractors. Finally, while a degree from a trade school or community college is definitely not required, it may nonetheless be a good idea to get one. In today's highly competitive and rapidly changing economy, an associate's or bachelor's degree could be the one thing that distinguishes you from other applicants and pushes you over the finishing line during that next job interview. With this in mind, the NEIEP has compiled a list of colleges and universities that will provide college credit for the work you completed during your four-year apprenticeship.
Elevator Safety:
How Dangerous Is It to Be an Elevator Mechanic
?
Safety is the highest priority when it comes to elevators and escalators. Unfortunately, this remains a major concern for those who work with these machines, and we'll explain why in a moment.
Let's first note that for passengers, elevators are incredibly safe, thanks in no small part to the people who install and repair them. Ensuring a high level of safety starts with a set of rigid standards. All lifts and conveyance machinery must be designed, built, installed, and operated in strict accordance with the rules laid out in the Safety Code for Elevators and Escalators. In place since 1921, the code has been regularly updated over the years, and requires everything to be built with materials of the correct type and strength, and with all the proper safety features installed. These features include safety brakes, sensors, alarms, and systems for fires and emergencies.
Because of all these built-in safety measures, modern elevators are one of the safest ways to travel within buildings, even safer than stairs in fact. Falls on the stairs regularly result in over 1 million injuries and about 1,600 deaths a year in the US. Meanwhile, elevator accidents account for about 27 deaths a year. That's pretty remarkable when you consider that each elevator is estimated to carry about 20,000 people per year.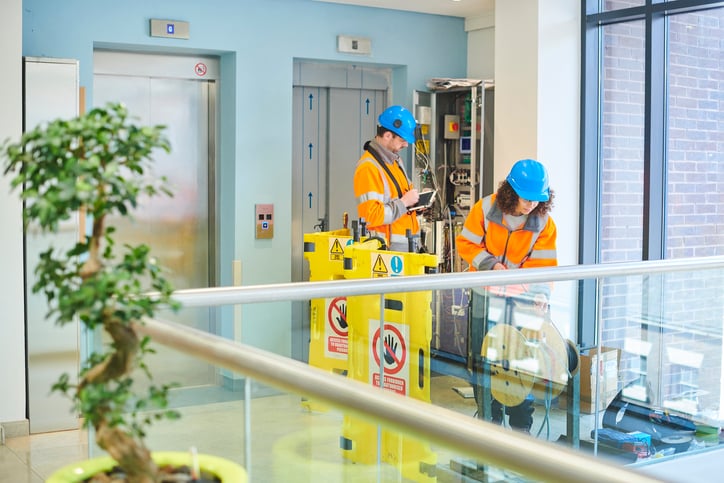 The statistics take on a more somber shade however in light of the fact that the overwhelming majority of elevator related fatalities involve installers and repairers. This brings us to a major downside of the job: the serious risk of injury or death. A 2019 report by the Center for Construction Research and Training showed that 145 construction workers died due to elevator related injuries between 2011 and 2016.
There's no way around the fact that elevator installation and repair is a dangerous line of work. The good news is that some of the riskiest parts of the job can be mitigated with proper training and holding employers accountable for the safety of their workers.
To that end, the Occupational Safety and Health Administration (OSHA) recently entered into a partnership with key elevator industry stakeholders to promote greater safety in the workplace.
A brief history of elevators
The modern elevator as we know it—used primarily for transporting people—was invented in 1854 by Elisha Otis. But humans have been building machines to ease vertical transport since ancient times. The Greek mathematician Archimedes is credited with devising a system for raising and lowering wooden platforms with hemp rope and a series of axles as early as 236 BC. These and other examples throughout history were mainly used to freight heavy loads of goods and materials, and were powered by animals or workers.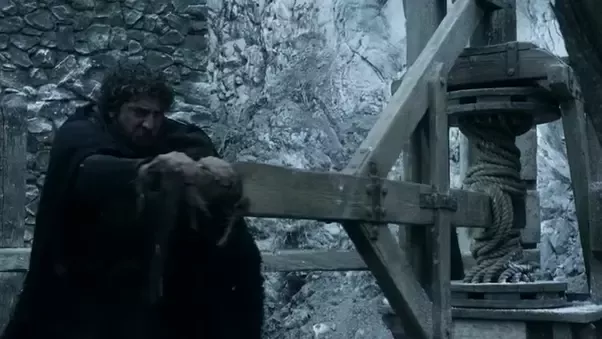 Pictured above: Elevator operator at Castle Black as featured in HBO's Game of Thrones (based on the book series by George R. R. Martin).
The first steam powered Otis elevator was installed in a New York department store in 1857. These were remarkably slow but came with an important safety feature that was critical to selling them to a wary public: if the cable were severed, the elevator car would be halted from its disastrous plummet by a ratchet catching on a set of rails built into the elevator shaft.
As elevators gained popularity, they transformed the field of architecture. More and more buildings began to be designed upward around the elevator shafts at their hearts. Floors high above the city streets that once required long arduous treks up many flights of stairs could now be reached in the comfort and leisure of an elevator car. This upended our understanding of real estate as well, and it wasn't long before the once low-rent living quarters at the top of buildings were converted into high-end luxury penthouse apartments.
These days, there are two main types of elevators. The most common type is the traction elevator, which works by hauling the car up the shaft on a steel rope or cable via a counterweighted system of pulleys. The second kind is the hydraulic elevator, which lowers and raises the cars on electric powered hydraulic pistons. These are found in smaller buildings, since traction elevators are the only kind that work in taller structures.
What Does the Future Hold for Elevator Installers and Repairers?
It's an exciting time to become an elevator installer and repairer. Not only will thousands of new jobs open up every year for the foreseeable future, the global elevator and escalator market is projected to grow from $117.5 billion this year to about $154.91 billion by 2025.
Much of this growth in the elevator industry is tied to the upward trend of urbanization. While it's true that we live in a time of volatile economic, political, and climatological forces, nothing can seem to dampen our drive to keep building. For better or for worse, our cities are expected to grow into megacities over the coming decades. The United Nations estimates that by 2050, more than two-thirds of the world's human population will live in urban areas. With limited space available to expand outwardly into, cities will continue to grow skyward instead.
In short, this means more elevators.
Since their debut at the Crystal Palace in New York City during the nation's very first world fair, elevators have had a futuristic aura to them. The fastest and highest reaching elevator in the world is currently in Shanghai Tower in China. At 2,074 feet, the building trails only behind the Burj Khalifa in Dubai in the rankings of the world's tallest skyscrapers. Designed and built by Mitsubishi Electric, the elevator can reach the remarkable speed of 67 feet per second. This equates to about 46 miles per hour. Starting from Shanghai Tower's basement levels, the elevator can shoot you up to the building's 119th floor in 55 seconds flat.
The technology behind elevators continues to evolve in exciting new directions. A German engineering firm has developed a revolutionary new system that will someday enable multiple ropeless cars per shaft to travel both vertically and horizontally within and between buildings. This Multi-Elevator system is poised to upend how we think about, design, and build the skyscrapers in the megacities of tomorrow. In science-fiction novels like The Fountains of Paradise by Arthur C. Clarke, elevators are no less than a bridge to the stars themselves; an idea that's less far-fetched than you might think.
Elevators will continue to be our vehicles into the future. As long as there are human passengers to ride them, we will need skilled workers to install and repair the machines we use to travel throughout the built environments we will increasingly call home.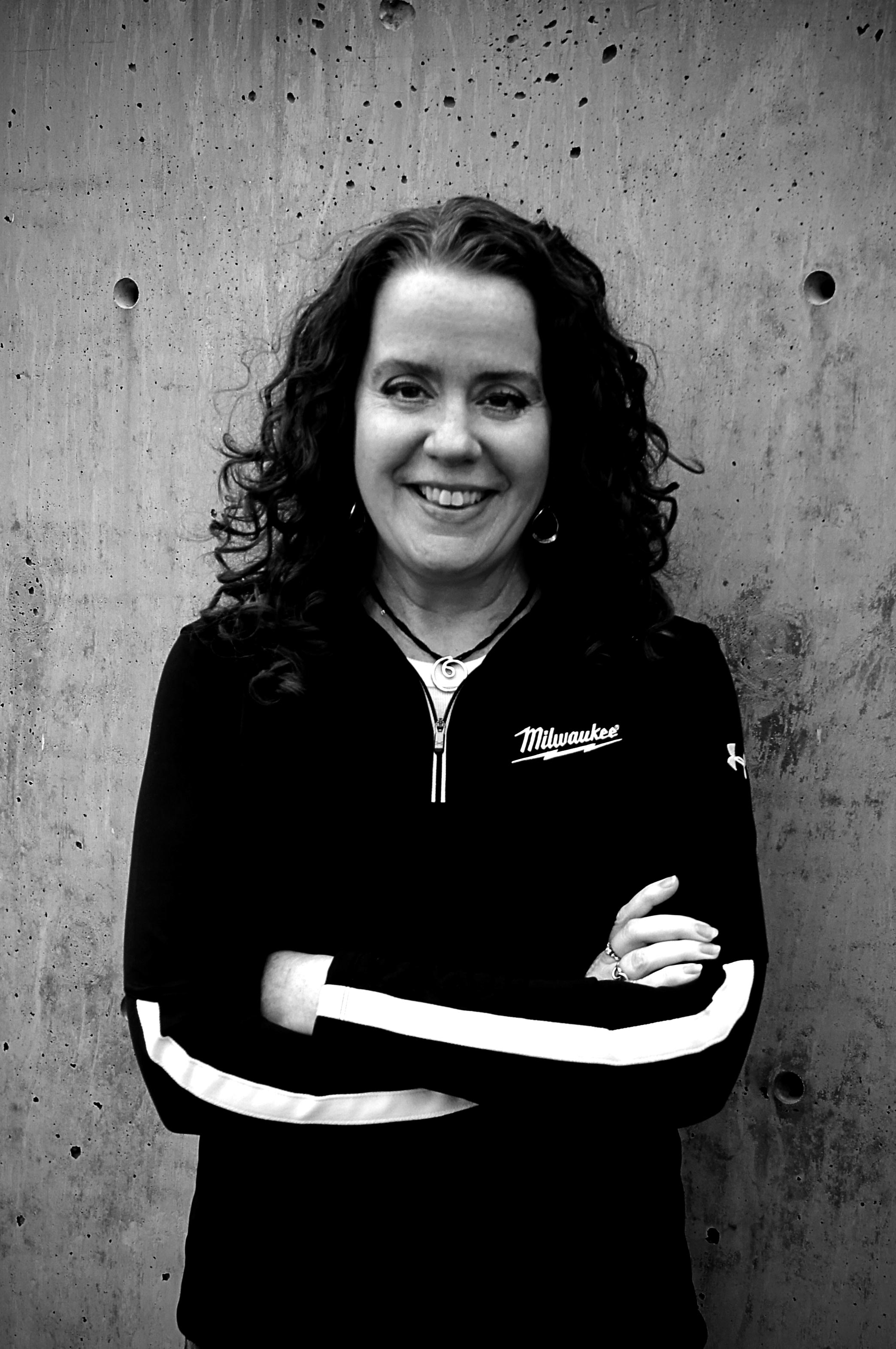 About the Author
As Group Marketing Manager for Milwaukee, Lisa leads the overall strategy for marketing and education for the One-Key app, pushing the team to deliver a better customer experience and grow the One-Key community. She brings over 18 years of experience in creative direction and marketing account management, representing iconic brands like Harley-Davidson prior to joining the One-Key team at Milwaukee.
More Content By Lisa Martensen
Subscribe to Our Blog
Sign up to receive ONE-KEY™ news and updates.
Recent Articles
Editorial Note: This article was brought to you courtesy of Rose Morrison, managing editor of ...
November 13, 2023
There's a whole alphabet soup of inventory management methods to choose from if you're a...