Now Here: In-App Onboarding
A new, better onboarding experience now exists to help new users become more familiar with our app for the first time!
We realized the process of experiencing both of our mobile and web apps for the first time as new One-Key users could be improved.
Prior, downloading the app from the App Store or from Google Play for the first time led to some user confusion. Questions like, "where do I start? how do I start managing my inventory? how do I start tracking my tools?", were bound to arise.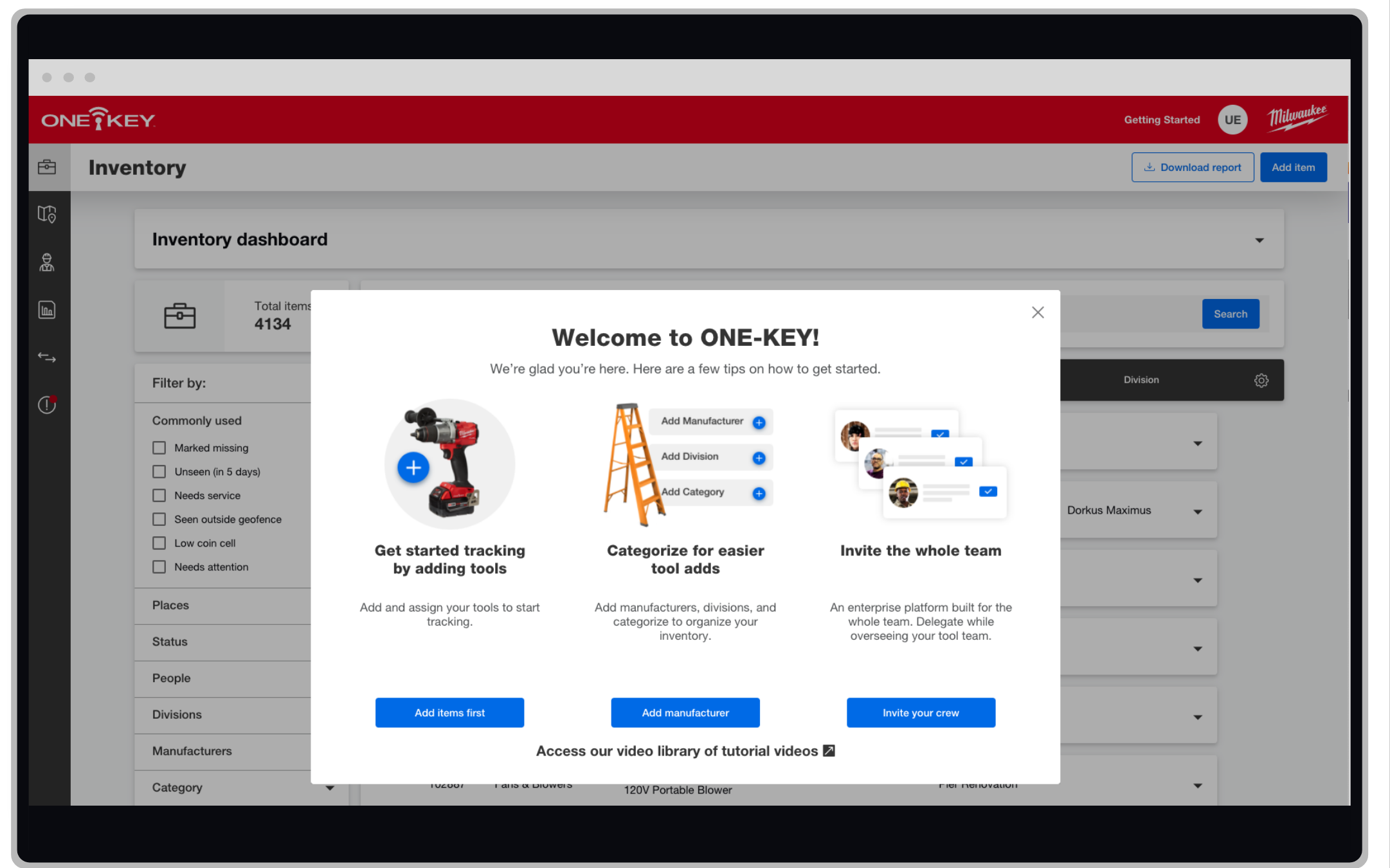 To help push new users into a more clear-cut path, we've added in some educational screens to help them find the workflow that suits their needs most, whether that's:
Adding items to get started importing their new tools into the system: To start tracking or taking advantage of One-Key customization features.

Adding manufacturers if they have a lot of inventory that they want to start managing.

Inviting the entire crew if they're interested in One-Key as an enterprise inventory management tool and taking advantage of our multi-user functionality and learning how to use it.
We've also included a link to our YouTube channel, where we've curated all of our video tutorials into partitioned playlists that will help educate in a more guided fashion. We hope by drawing attention to the existence of these support channels, new users will feel comfortable to learn about our app's functionality at their leisure.
Still Coming Soon: Alerts Reporting
Our new feature, Alerts Reporting, is still being worked on.
This feature will allow you to create a custom inventory report. This could be a report that's tailored to bring attention to a number of important information: Items that need service, items that have a low coin cell level, items that are missing or have been missing for more than 5 days, items that have been seen outside their assigned geofence. With this feature, you'll be able to generate and send a custom report to anyone who might need them—tool managers, project managers, etc.—to draw their attention where needed.
In the spirit of bringing best-in-class features that are of the highest value to you, we will be delaying Alerts Reporting, now coming soon—we're expecting that to be in v7.4. Stay tuned!