With this update, we've focused on some important features to help you increase visibility to your tools and manage your inventory with greater efficiency. We've also added more app functionality into a number of our
connected tools
for enhanced compatibility.
A Quick 6.0 Recap: Personal Inventories Add Accountability to Jobs
A major feature that was added to One-Key with the 6.0 software update is
People Management
. 6.0 introduced better One-Key/device synchronization. In addition to you now being able to call, text, or email your guys without leaving the app, 6.0 presented individual tool inventories for added accountability on the jobsite.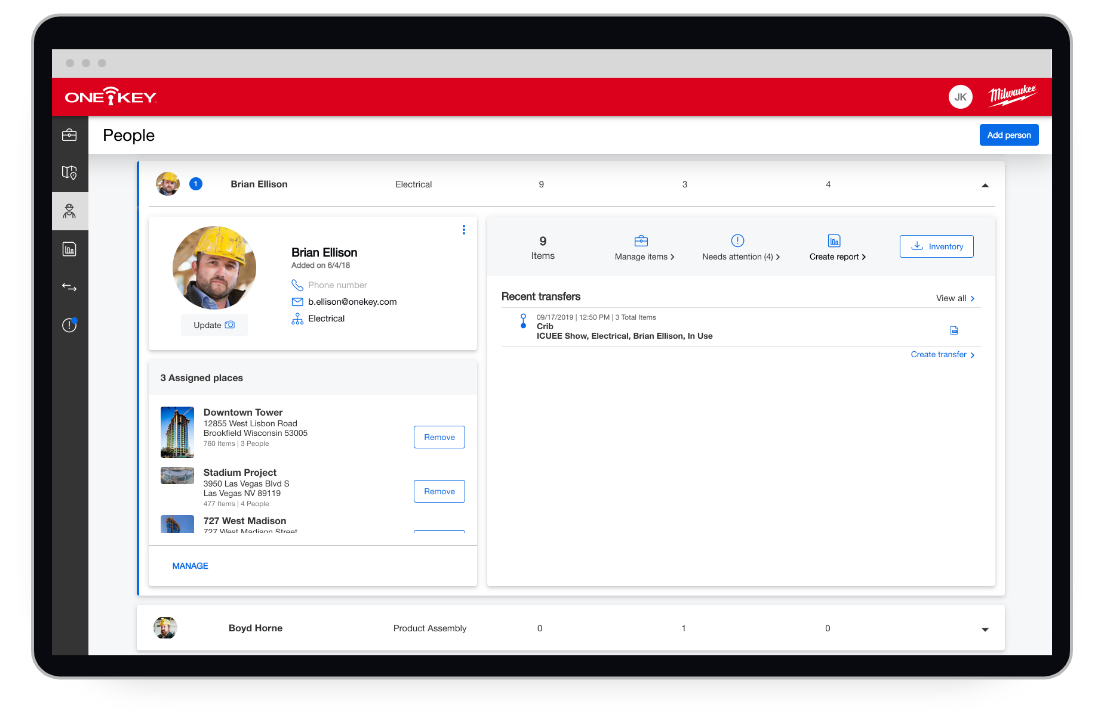 Team members can now be assigned to specific jobs, tools, and equipment.
They can be held accountable if assets aren't returned to the tool crib when a job reaches its completion.
They can be alerted when tools in their possession require service.
People Management presents a more robust way to assign tools and equipment to your team, while maintaining visibility to where your tools are, in One-Key. But with more functionality, potential complications can arise. In 6.3, we wanted to attack these potential complications head on and solve them before you encountered them on your end.
6.3: No More "Orphaned Tools." Complete Visibility to Your Equipment. Effortless Inventory Management.
With tool assignments, a potential complication we identified is what we refer to internally as "orphaned tools."
What's an orphaned tool?
These are tools that have become unassigned due to a team member being removed from a job.
Where might I encounter orphaned tools?
When a job ends, you might delete it from your One-Key web account, to help declutter your Places' inventory. On the other hand, you might want to reassign a team member, based on the needs at another jobsite, or remove an employee that has left your organization. If tools are not transferred from your team member before removing them from a job, these tools can become unassigned. This can decrease visibility to these tools.
What have you done to prevent tools from becoming unassigned?
We've deployed a safeguard to prevent tools from becoming unassigned in these instances. Once you've installed 6.3, if you attempt to remove a team member from a job, you'll be prompted with a new screen that reminds you to reassign your tools. You have the option to keep your tools at the current jobsite or reassign them to another jobsite or person.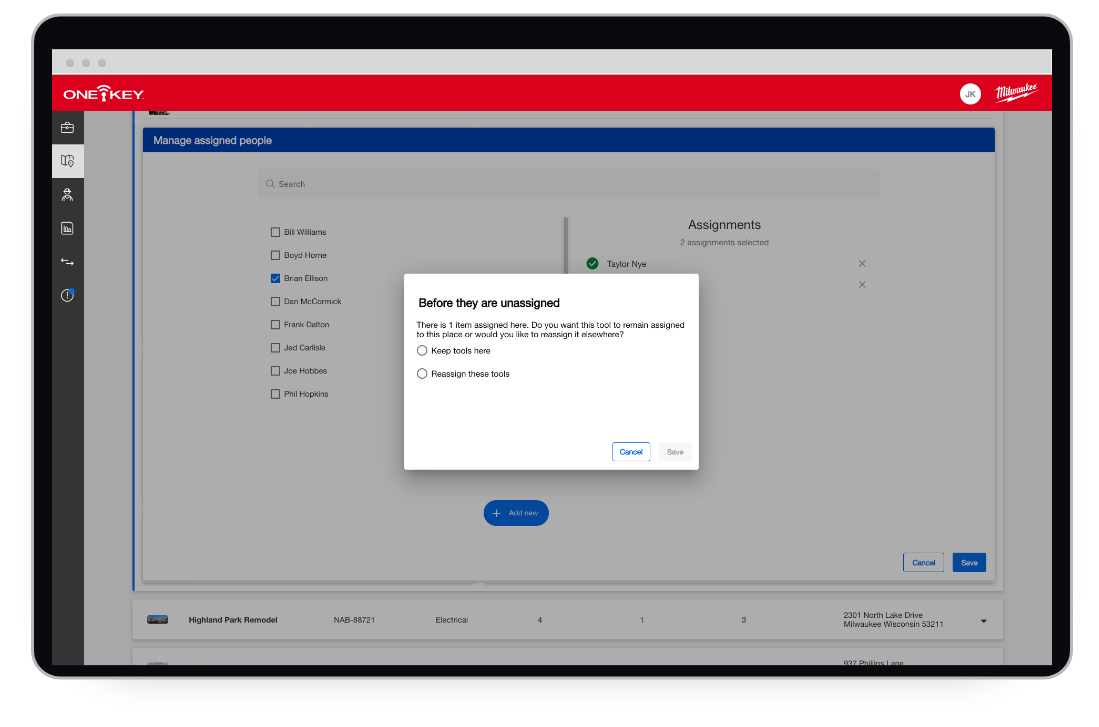 This ensures that your tools don't become unassigned, and that visibility to your tool inventory is maintained. One less thing to worry about. This feature aims to make your tool crib management process more effortless.
Mobile-Specific 6.3 Updates
We've made a few software updates to improve your mobile user experience on the jobsite.
Enhanced Filters with "Sort By": Find What You're Looking for Faster
You can now sort what you see in your tool inventory based on specific filters. First, open the One-Key mobile app, then tap the small "Filters" button that appears at the bottom of your device's screen.
Once here, you'll notice that you'll now be able to Sort By item description, model number, or tool number. This will allow you to find a specific item quickly by recategorizing your inventory list.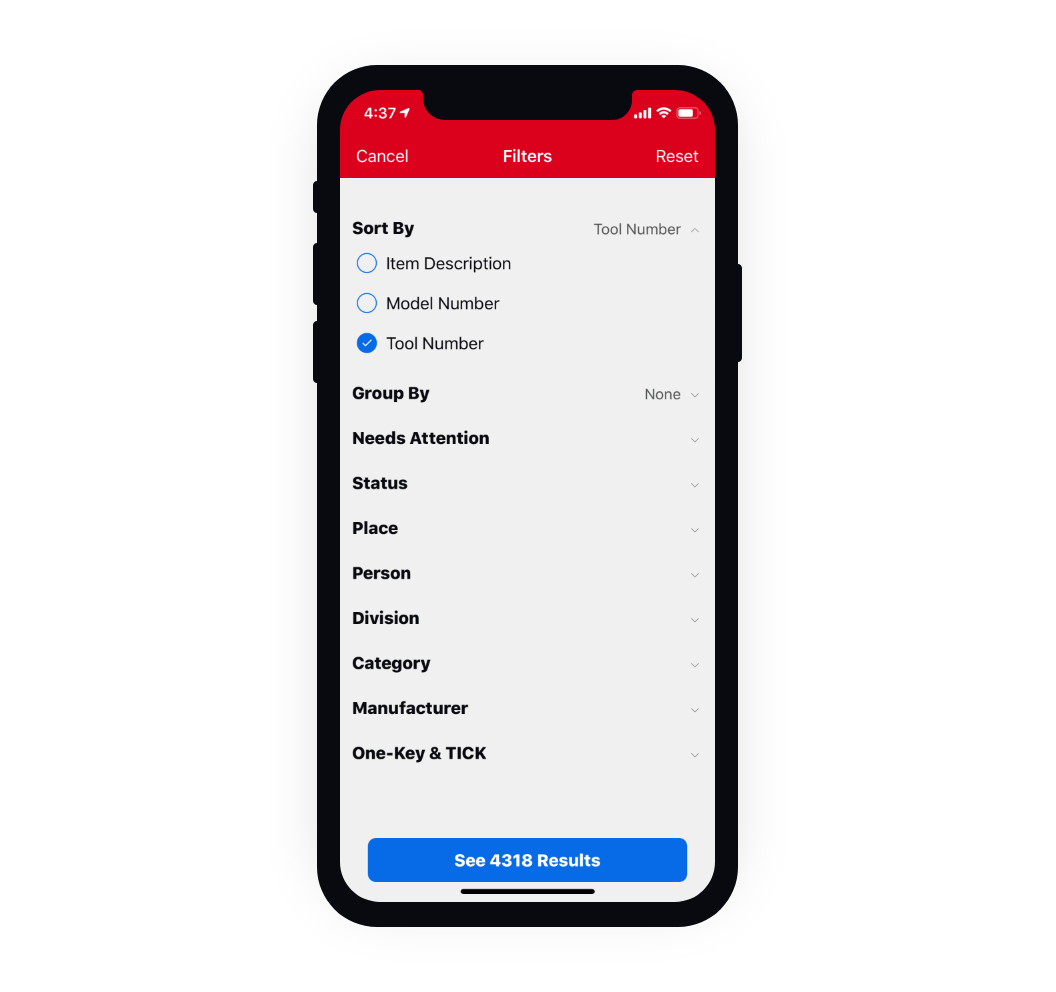 Sort By functionality also exists in Places. When you tap into Places, you'll see the same small "Filters" button appears at the bottom of your device screen.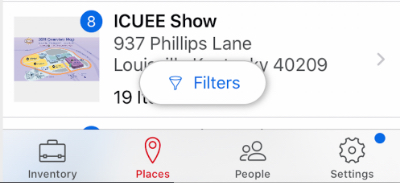 Once you tap into Filters, you'll notice that you can now Sort By Type, Name, Division, Total Items, Total People, and Needs Attention.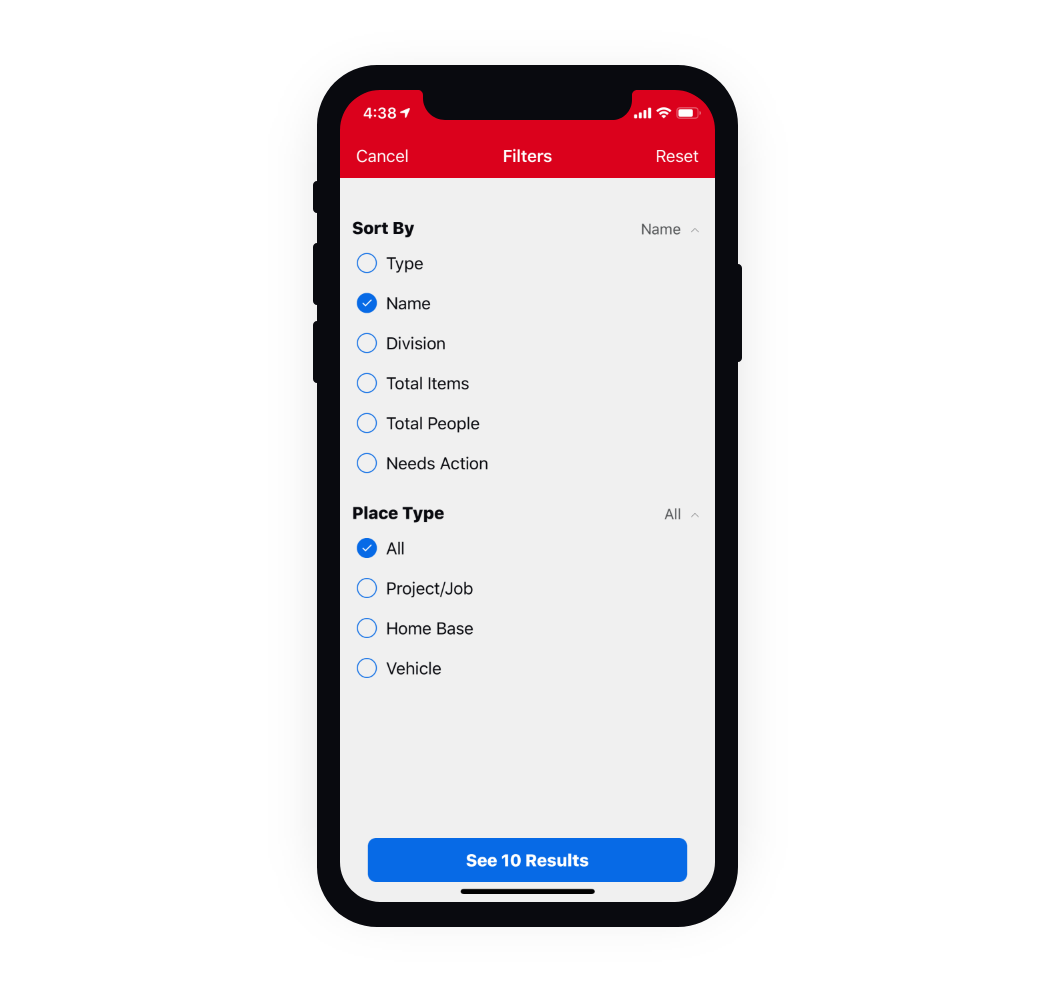 More jobsite data and inventory management at your fingertips.
Finally, we've added a layer of personalization to the mobile app. You can now choose your trade type.
First, navigate from Settings --> Notifications
Once here, you'll notice, near the bottom of your device's screen, that you can now select a Trade/Occupation.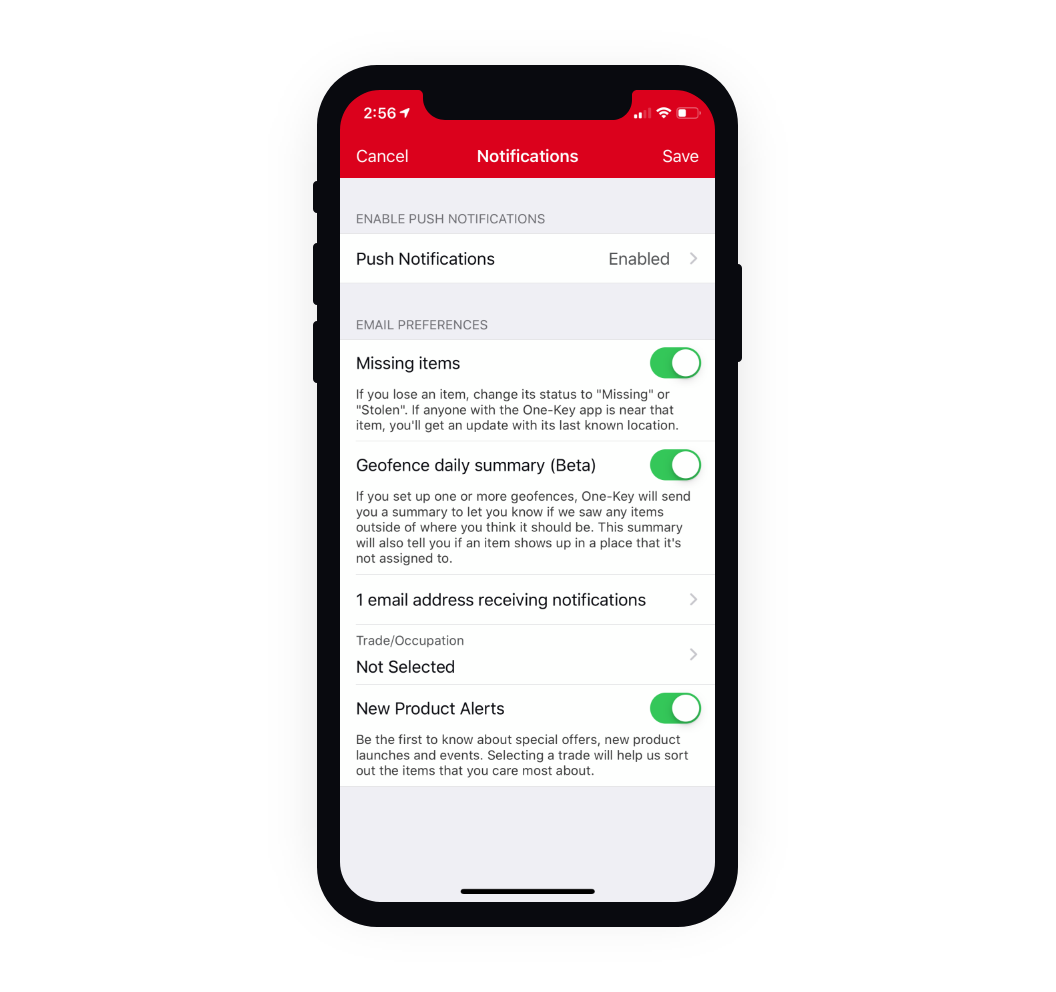 If you tap into this screen, Trade/Occupation, you'll be brought to a new screen where you can select your trade from:
Auto/Transportation Maintenance, Carpentry
Civil Construction
Distributor/Dealer
DIY
Drain Cleaning
Drywall/Insulation/Paint
Electrical, Facility Maintenance
Farm/Agriculture.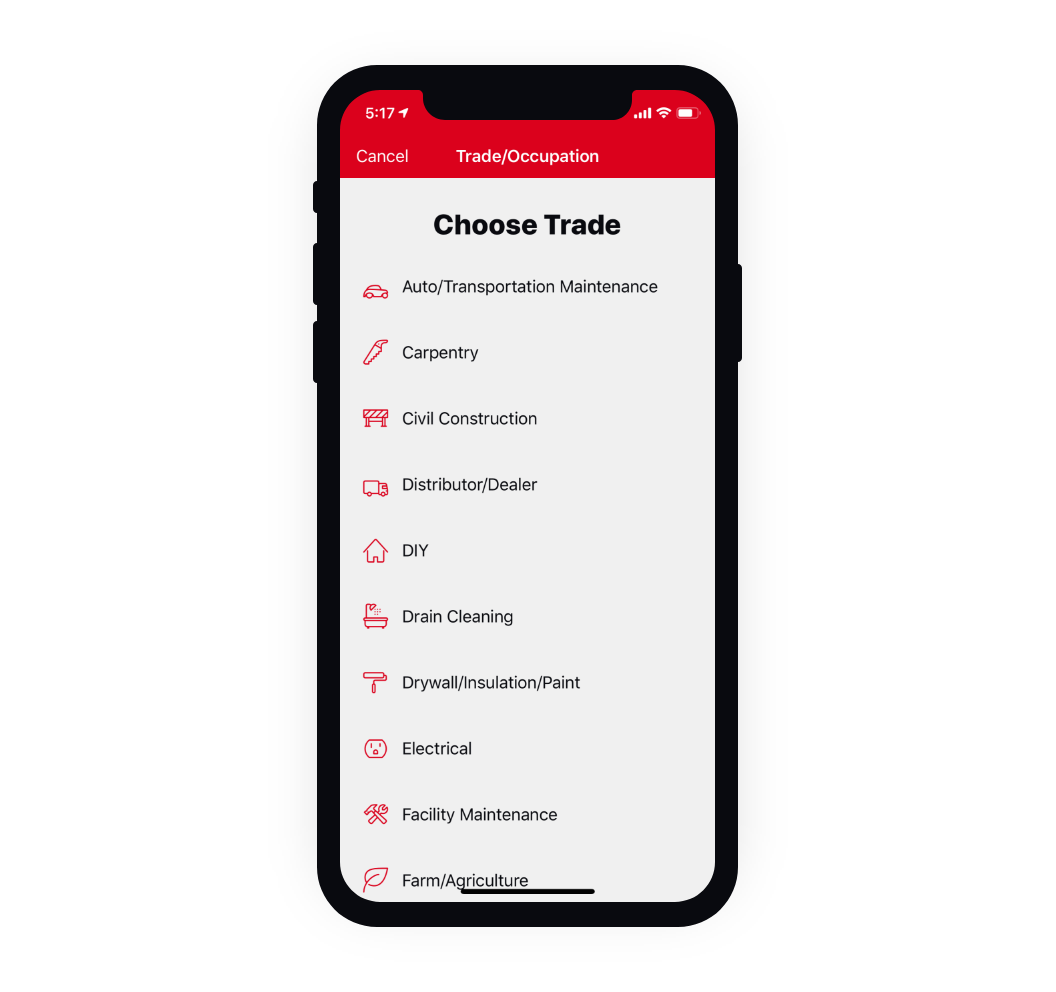 6.3: Effortless Tool Crib Management and On-the-Job Tool Controls
With the 6.3 inventory management software update, you, and your team, have more access to your tools than ever.
From the office or tool crib, you can manage your operations effortlessly without worrying about straying tools. On the job, you can access One-Key to perform installations quicker, with greater accuracy, and instantly find the tool you're looking for in the mobile app.
Launch the app
to get started. If you have any questions about any of these features or would like to provide feedback on our app, please reach out to us at: onekeyfeedback@milwaukeetool.com