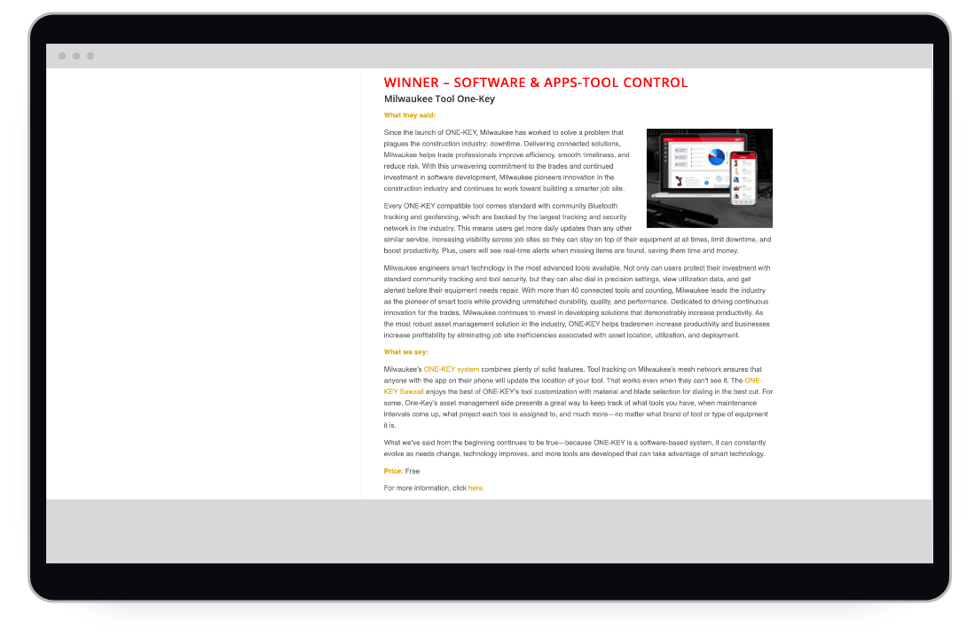 We've outlined this win, as well as what it might mean for you, with more detail in this article. But first, we'll provide you with more context on the Pro Tool Innovation Awards (PTIAs).
PTIAs: Background
The Pro Tool Innovation Awards are the construction industry's largest of awards programs. They're also the widest reaching of awards programs in terms of the trades groups they represent. Overseen by a panel of industry experts, the PTIA judges strive to highlight tools which are pushing or shaping the industry, innovative tools providing excellent value, advanced features, and the newest innovations.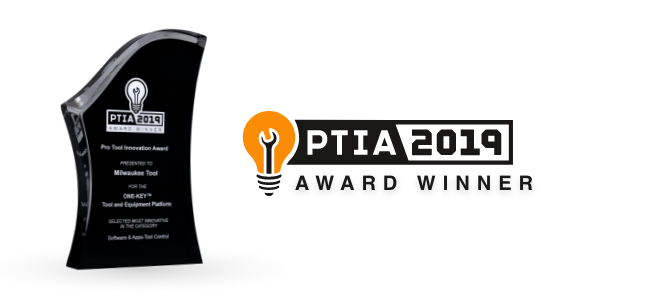 PTIA: Where Does Milwaukee and One-Key Fall into The Mix?
The 2019 Pro Tool Innovation Awards were announced in September and represent an historic year for Milwaukee Tool. In total, Milwaukee won in 55 categories, the most we've ever been honored as a company, categories that range widely and diversely, from ergonomic hand tools built to solve some unique problems, to cordless power tools like our Drill Driver, the industry's most powerful.
So, where does One-Key fall in? As the construction industry's leading developer of smart tool technology, we've introduced over 40 connected tools to our platform, 11 this year alone.
Each of these tools is equipped with some essence of the highlighted tool control features that One-Key received a Pro Tool Innovation Award for, whether that's the ability to track your tools and secure them remotely, or to customize them for improved performance in specific applications.
Tool Control: What Is It?
Every One-Key compatible tool contains some degree of tool control. All One-Key compatible tools can be tracked, secured, and managed remotely. Other One-Key compatible tools have a higher degree of customization and control for increasing the performance or offer reporting functionality for improved user analytics. That said, being awarded a Pro Tool Innovation Award, we believe, is a huge honor and an endorsement of our system as a whole.
To get more specific, the different features of our compatible tools include:
Tracking and tool security: One-Key compatible tools with these features can be tracked via app or desktop and locked out remotely.
Customization: These One-Key compatible tools can be dialed in for enhanced performance. These are task-oriented controls that let you get in and out of jobs faster, with greater efficiency and accuracy.
Reporting and analytics: These One-Key compatible tools offer improved user analytics. You can view utilization data to make sure the tool is performing to specification. You can then make informed decisions about your tool's continued use.
Notable One-Key Compatible Tools
The judges of the PTIAs highlighted the One-Key compatible version of Milwaukee's Sawzall® reciprocating saw for its tool customization with material and blade selection.
Other novel innovations and commitments this year include those that we have made to our drills. These include an important Anti-Kickback feature, which will automatically stop when the tool starts to bind up in a material.
What's more, our new Digital Torque Wrench was honored with an award in the Hand Tools category and lauded for its precise torque measurements and novel reporting capabilities.
Construction Inventory Management: Complete Equipment Visibility
Last, but certainly not least, the judges spotlighted our inventory management solutions as a great way to keep track of what tools you have, when maintenance intervals come up, what project each tool is assigned to, and much more. More significantly, they commented on our platform's inclusivity of all brands, not just Milwaukee® and One-Key compatible tools.
As a free-to-use inventory tracking app, we designed One-Key to offer you value and performance, with complete visibility to all your tools and equipment. You can add tools from other manufacturers to One-Key from desktop or mobile. This saves you from the headache and expense of having to buy new equipment when joining our system.
But adding equipment is just a starting point. We want to ensure you can track these tools. We've added barcoding as one way you can keep track of your tools and equipment from other manufacturers. One-Key incorporates a barcode scanner for iPhone® or Android™ that uses your device's camera, so you can quickly identify, track, and manage all your barcoded items.
Our equipment tracker, TICK™, lets you add any of your equipment items to One for complete visibility. Both weather and impact-resistant, what makes the Tick unique is its heavy-duty construction, providing durability for the unique needs and conditions of the jobsite. How does our Tick work? Check out this video to learn how to add a Tick to one of your inventory items and get set up in One-Key, so you can start taking advantage of equipment tracking and the coverage provided by our industry-leading Bluetooth® tracking network.
Final Takeaway from the PTIAs
It shouldn't be understated the gratitude we feel for being featured in the PTIAs this year.
As the judges conclude:
What we've said from the beginning continues to be true—because ONE-KEY is a software-based system, it can constantly evolve as needs change, technology improves, and more tools are developed that can take advantage of smart technology.
We can assure you that we are committed to doing just this, evolving our platform to provide you the best possible inventory tracking and connected solutions possible and to move your jobs forward and our industry into the future, for the better.