A Strong Foundation for Customer Support: We've taken a multi-pronged approach to providing you support, both guided by our support team and in the form of self-service support for your convenience:
All-new support site: Find support articles on common topics related to our app. Start a conversation with our support team with the use of our site's interactive chat feature.
Support YouTube: Watch and learn about our app at your pace.
One-Key Facebook Group: Join an online community of fellow One-Key users. Share success stories, pose questions to fellow equipment managers, and engage with the One-Key team right from Facebook.
Without further ado, let's take you through the major features of One-Key support.
One-Key Knowledge Base
We have launched a new One-Key knowledge base, accessible here: https://onekeysupport.milwaukeetool.com/en/knowledge
We know it can be a pain when something doesn't go right with the app and you don't know where to look to figure out how to solve the problem.
One-Key support is your one-stop-shop for everything related on how to use the One-Key app. Whether you need help setting up tool tracking, are interested in learning about the inventory management features you didn't know existed, or want to explore new topics, we encourage you to stop by.
The search bar at the top of the site helps you find subjects by keyword. For your convenience, this search bar is located at the top of each page of the support site.

Or, if it's something we haven't written about just yet, we're always open to suggestions and will gladly answer your support questions at onekeysupport@milwaukeetool.com.
You'll also find support articles on common topics, categorized into a few different key areas.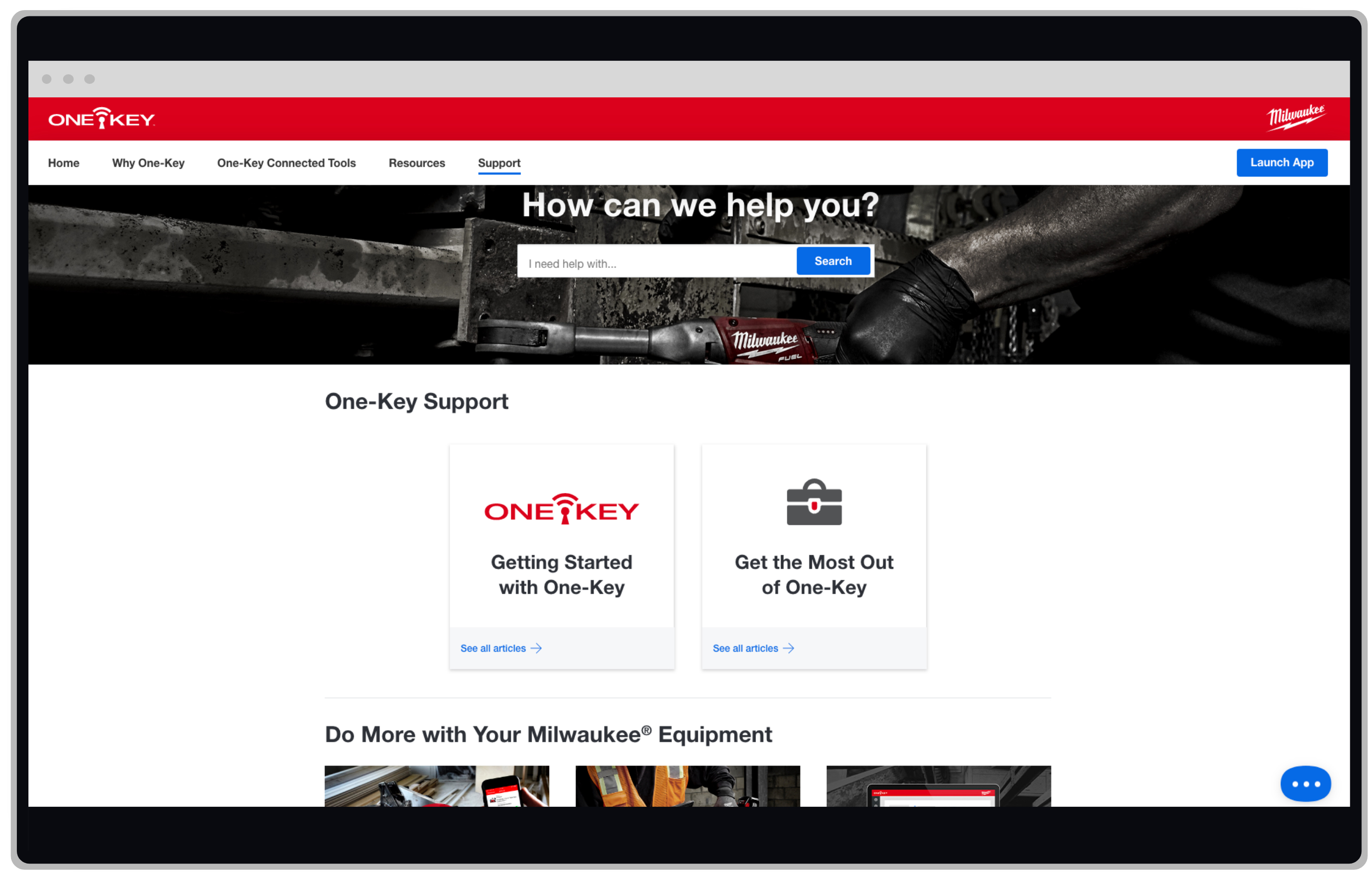 Getting Started with One-Key
New to One-Key? Great! This section of our support site is designed with you specifically in mind.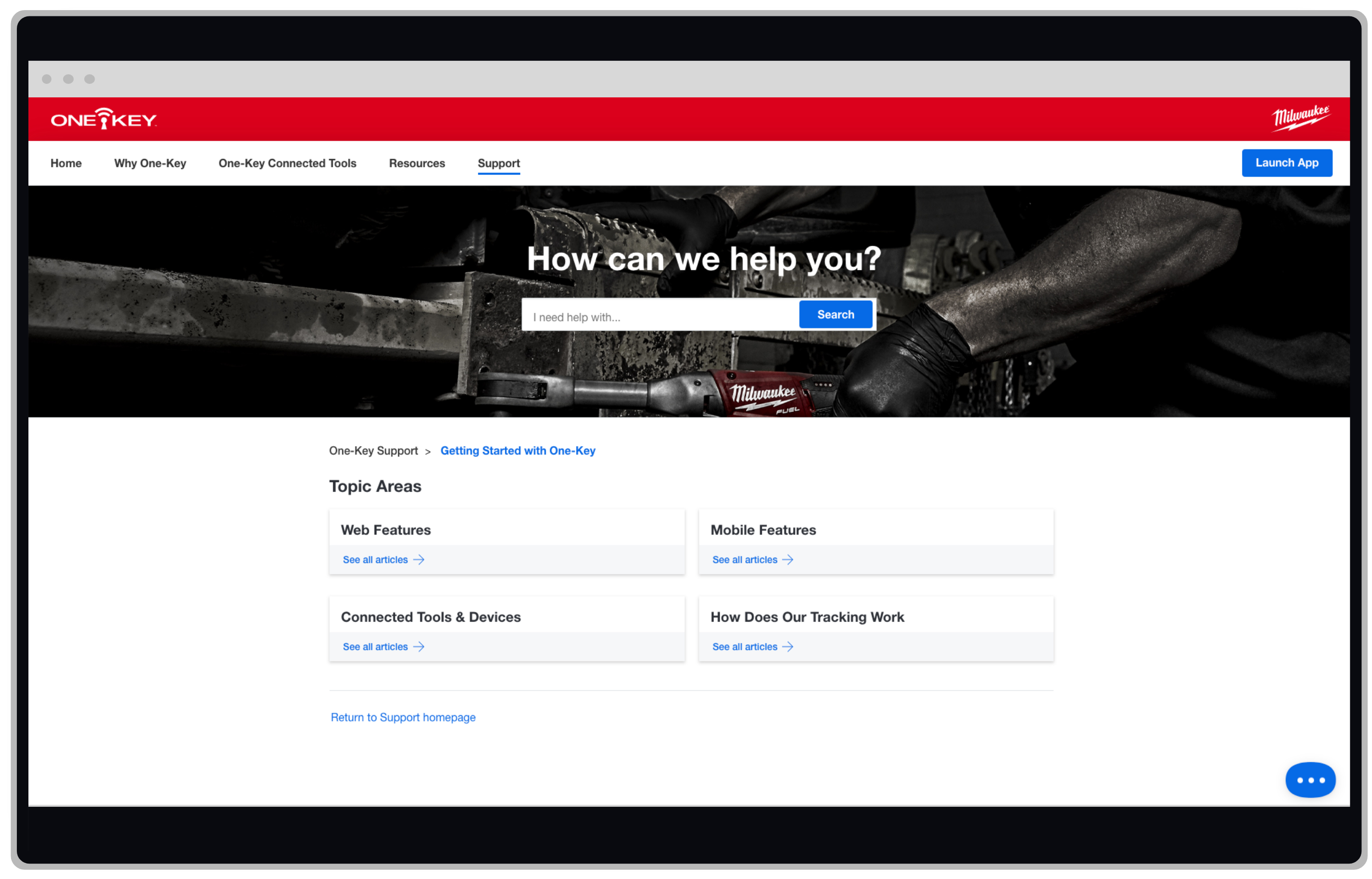 In this section, you can:
Learn the basics of our platform, how our tracking works, and how you can take advantage of both the One-Key website and the mobile app, for all your on- and offsite construction inventory needs.
You'll also gain an understanding of One-Key connected tools and devices. Learn about how to add Milwaukee compatible tools and equipment to your inventory, or how Milwaukee TICK™ equipment trackers can help you keep track of your tools and equipment of other brands and manufacturers.
Get the Most Out of One-Key
This section of the One-Key support site is designed to help you with your day-to-day operations and more effortlessly manage and track your inventory with One-Key.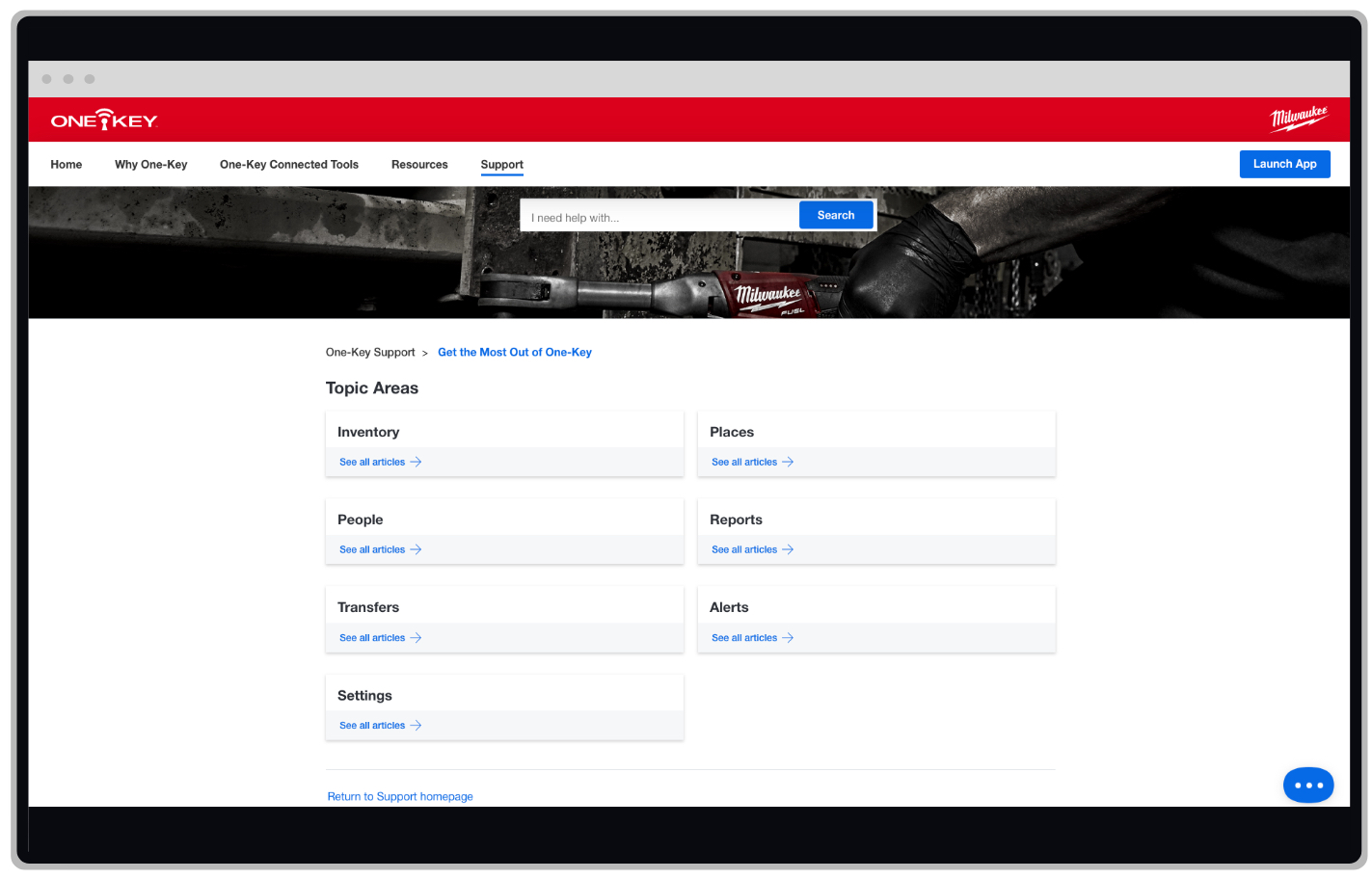 In this section, you can:
Learn about our inventory, places, and people management features for both the web and mobile app.
Understand how tool transfers work in One-Key.
Find out about the different kinds of detailed reports you can generate for compatible tools with reporting functionality.
Set up documentation on your inventory items and get alerted before equipment is due for repair.
Adjust your profile notifications and One-Key settings.
Content Clusters and Support Article Pages
Once you've determined a topic area you're interested in learning about, like Inventory, you'll click into the related tab, where you'll find a page with individual articles clustered around this topic.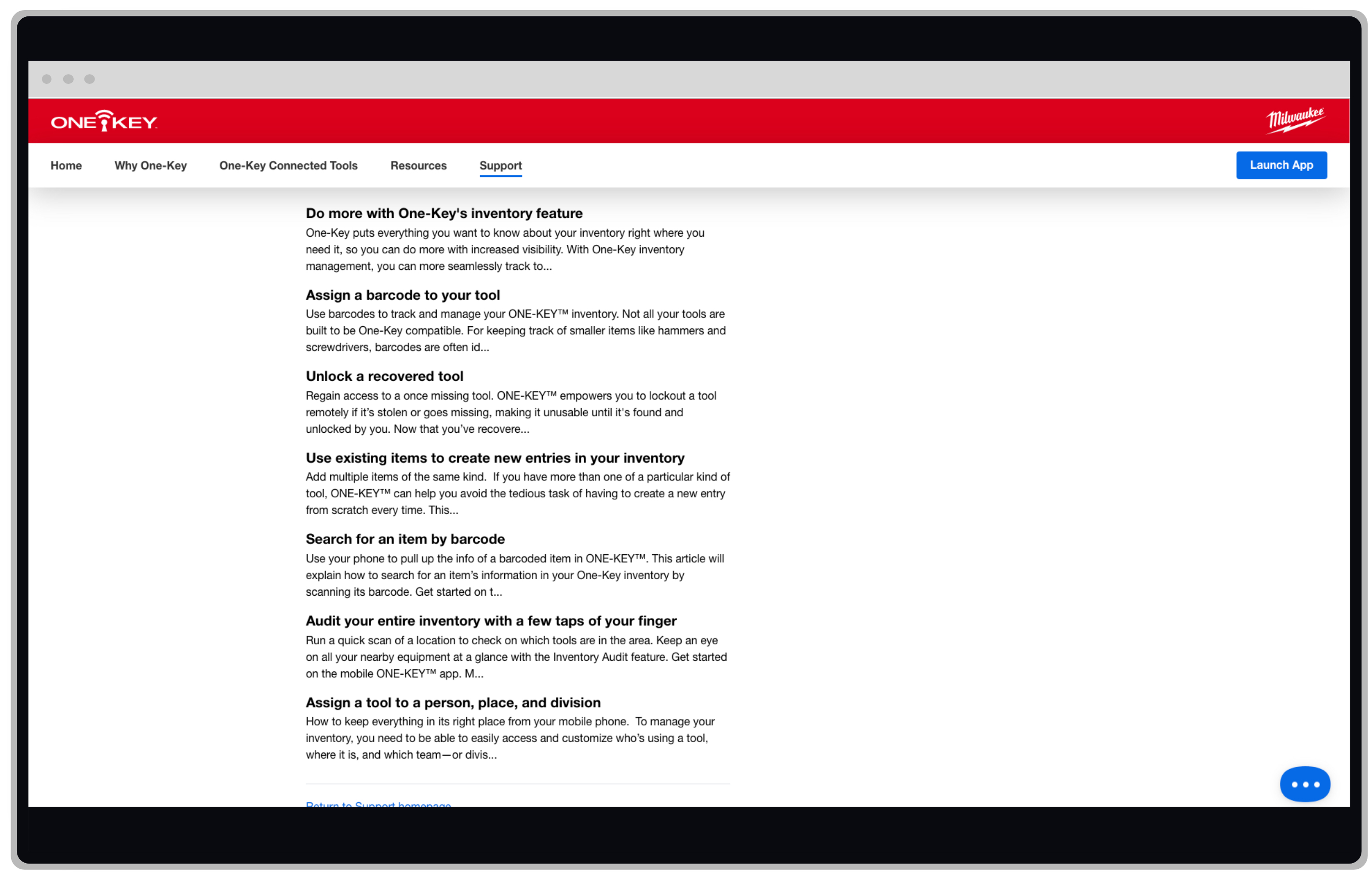 Once here, you can scroll through the articles in the selected section and click into the specific article that discusses the subject you want to learn about, like how to use existing One-Key items as a template to create a new entry.
In the following article page, your subject will be discussed in more detail.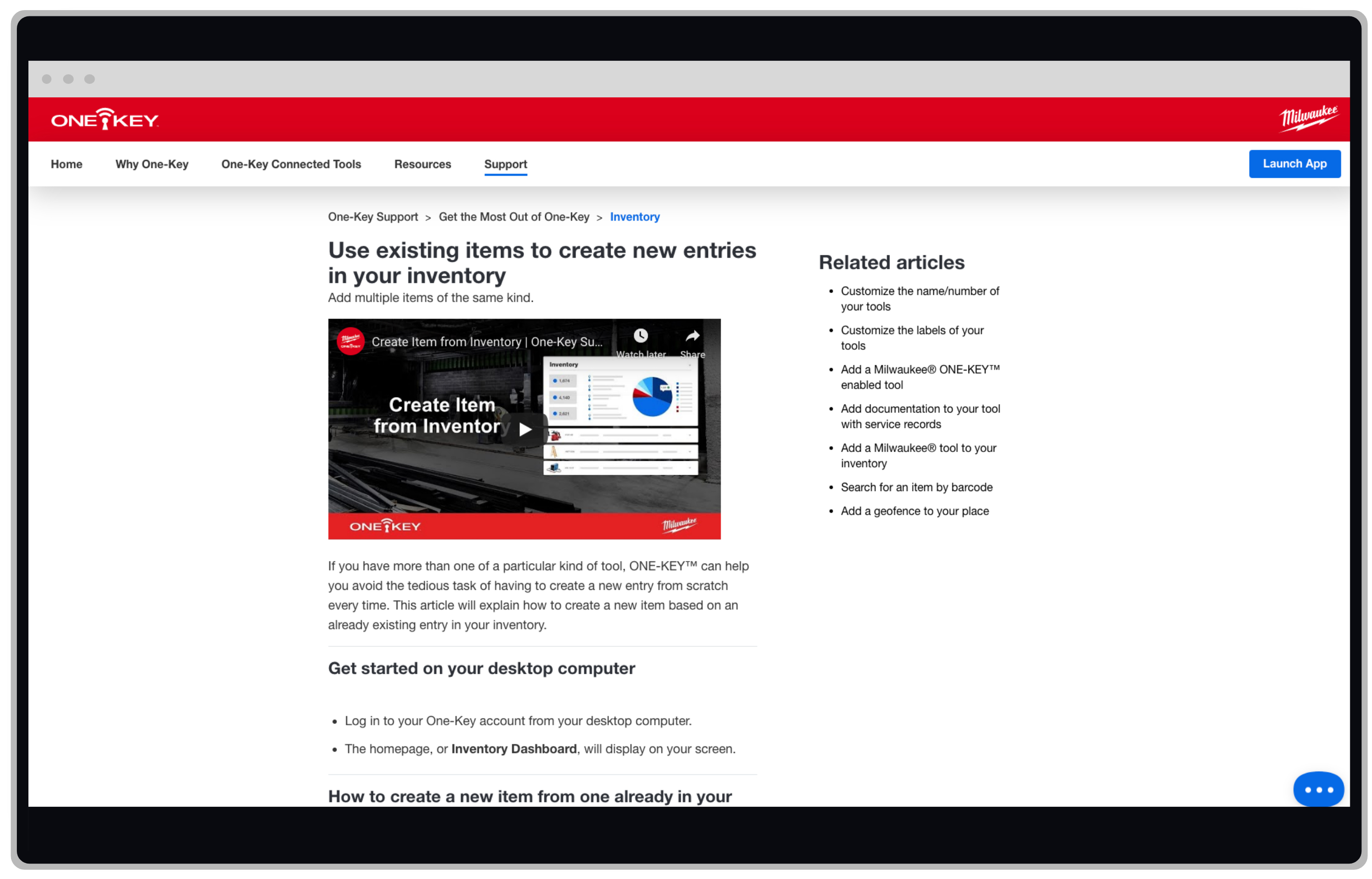 Most article pages include a video tutorial at the start of the page, taking you through your task, so you can quickly learn what steps are needed.
You can also read through the steps in the article and get more context on each task. To the right of each article page, you'll see related articles to help you through similar tasks.
Don't see what you're looking for?
You can always click the overflow icon, at the bottom righthand corner of your screen.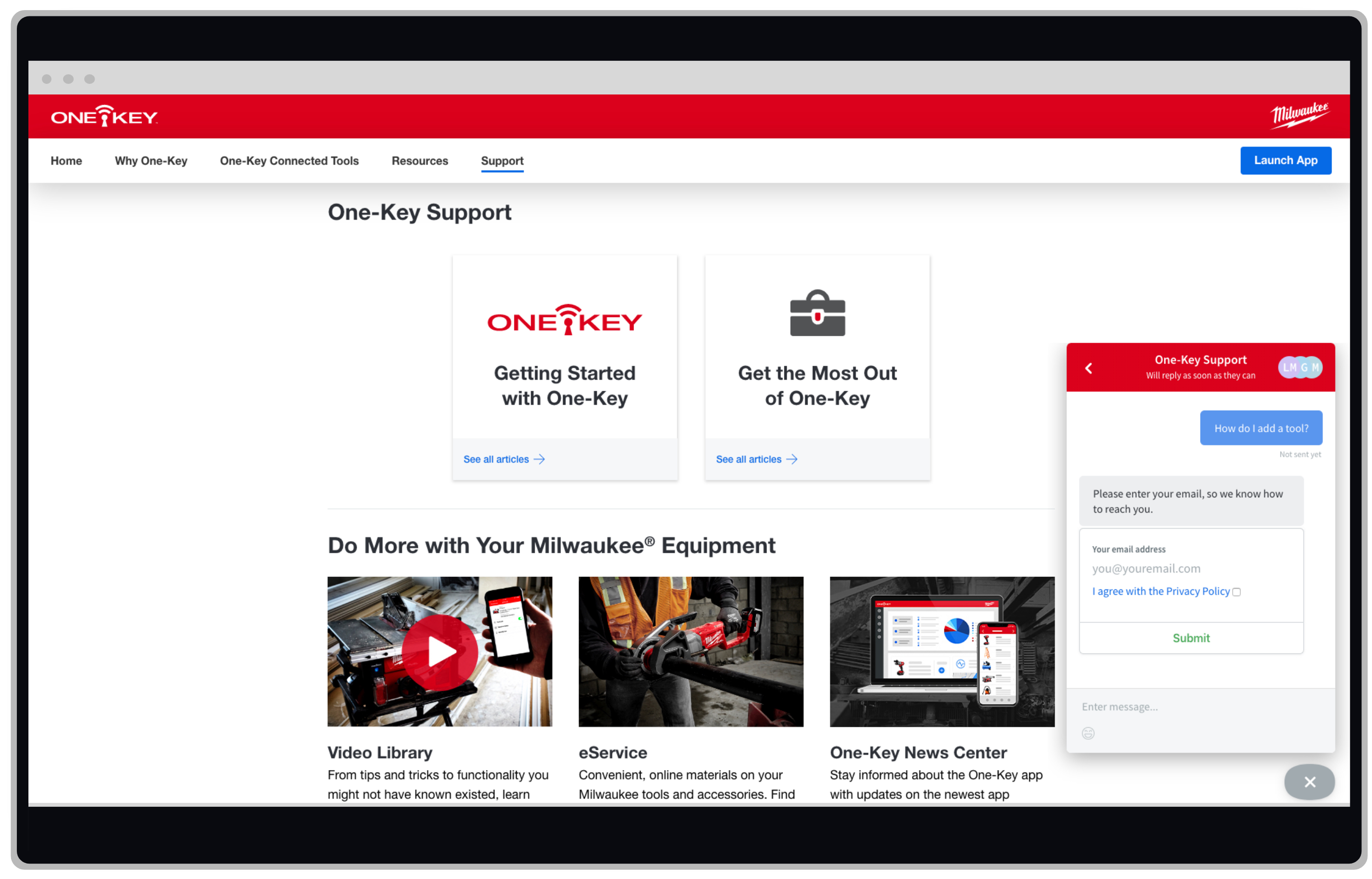 This will open a chat window, where you'll be able to start a conversation with our friendly support team, outline the problem you're encountering, and we'll be able to provide a timely answer for you and get you back on track.
One-Key Support YouTube
If you're more of a visual leaner, you can visit our newly launched One-Key YouTube page.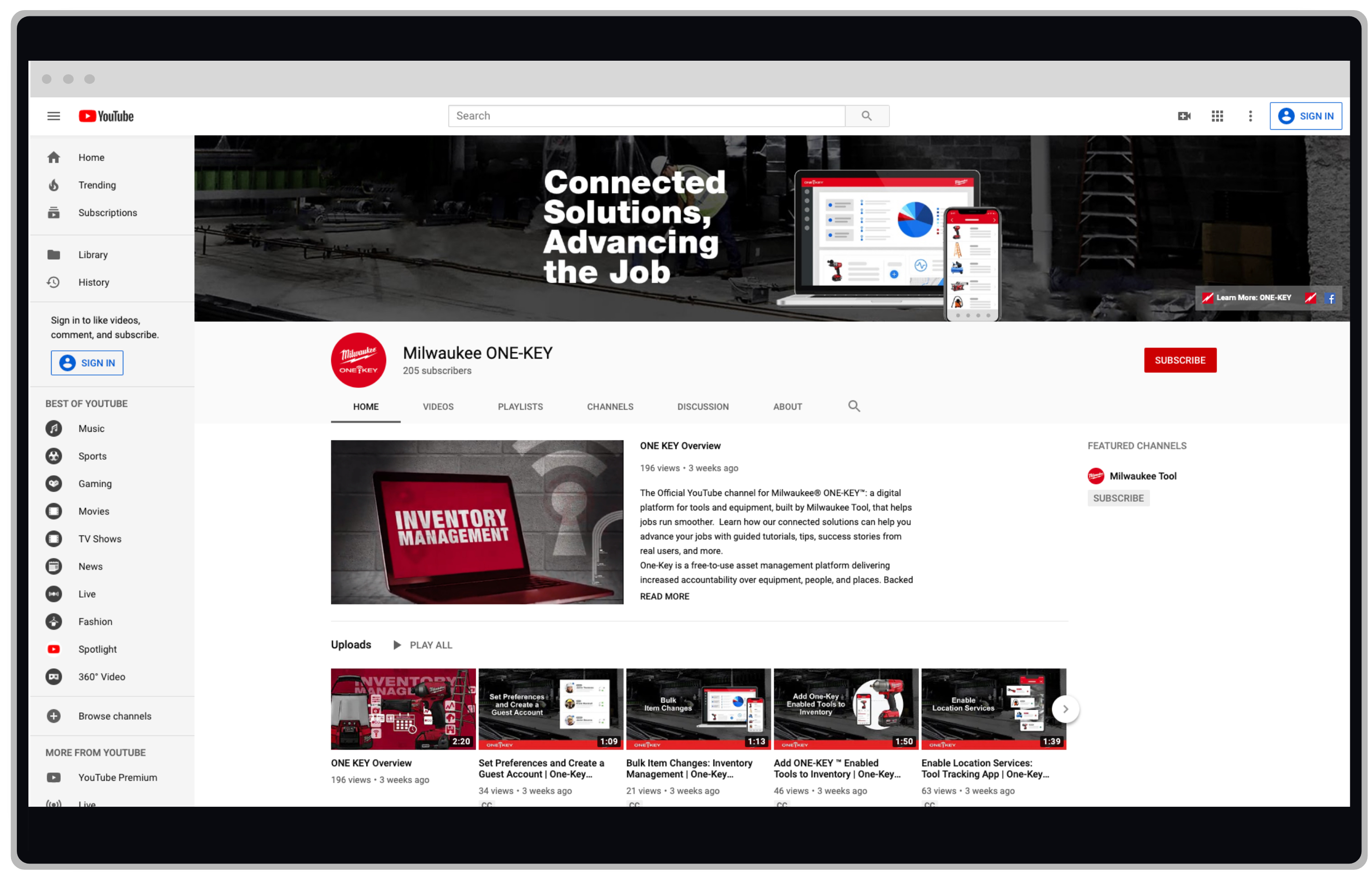 Here, you'll find support videos categorized into playlists designed to help you find what you're looking for, fast. You'll also find other One-Key related video content here.
Be sure to tap the subscribe button to make sure you're notified whenever we upload a new video!
One-Key Facebook Group
The official One-Key Facebook group is a place for you to connect with other One-Key users.
Here, you'll find a stream of helpful information from our support team and likeminded tradesmen. Post a question right in the group to get a conversation going with the greater group, or message us directly.