Procore Integration
We've partnered with Procore, the construction industry's premier project management software provider, to allow you to link your One-Key and Procore accounts together if your company is currently using both platforms.
You can read more about the Milwaukee One-Key/Procore partnership.
How Do I Link My One-Key Account to Procore?
To connect to a Procore account from your One-Key web account, you'll navigate to the "View my profile" tab by clicking on your photo in the top right navigation bar, next to the Milwaukee logo.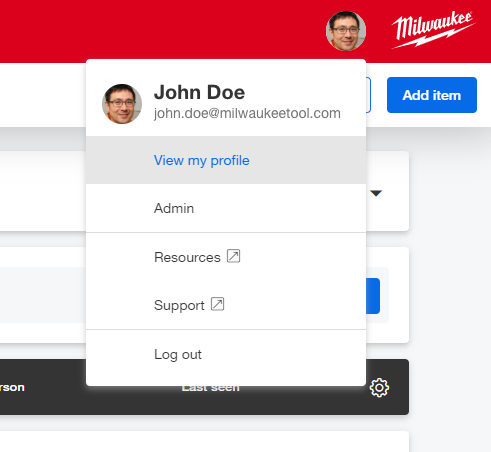 From the profile screen, you'll scroll to the bottom of the page, where there will be a black "Connect to Procore" button. Once you've selected to link to your Procore account, an authorization screen will prompt.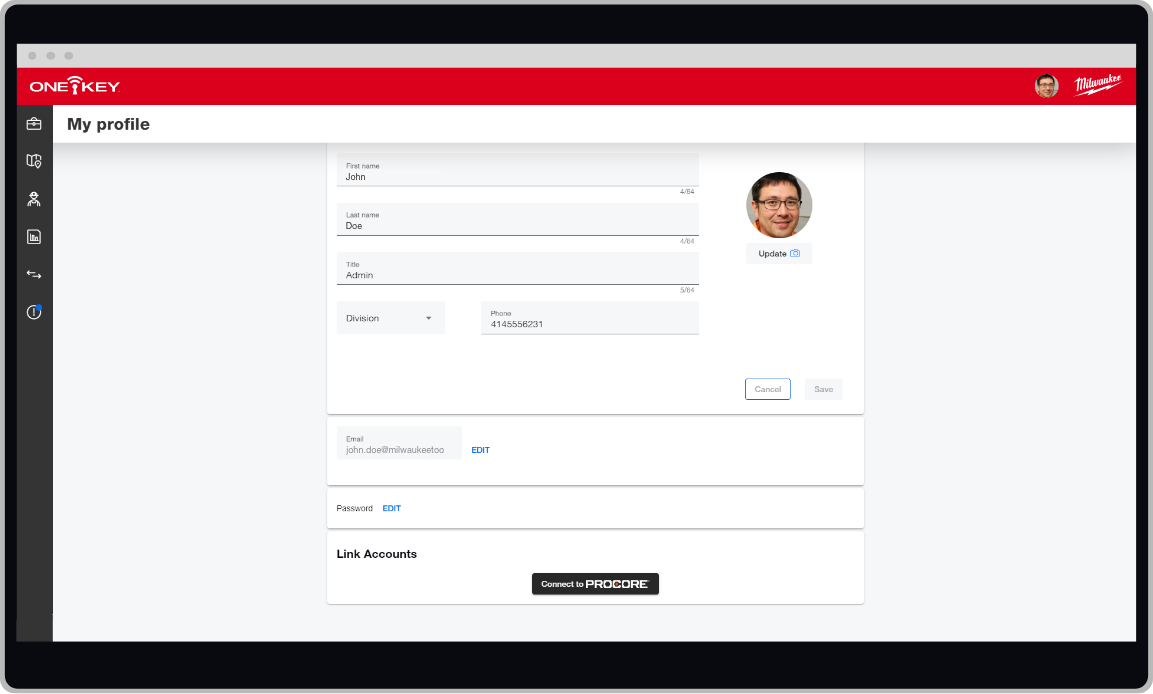 You can always unlink these accounts later by navigating to "View my profile" and clicking the "Unlink your Procore account" button.
How Does the Integration Work?
Once you've integrated your One-Key account with Procore, there are three areas of the app where data can be consolidated.
Places
To start, with the new integration, you'll now be able to import all your existing Procore projects into One-Key. To do this, you'll navigate to your places' directory from your web account. Once here, you'll select "Add Place." Of your three options, you'll notice that the middle option, "Project/Job," will feature the new "Import from Procore" button.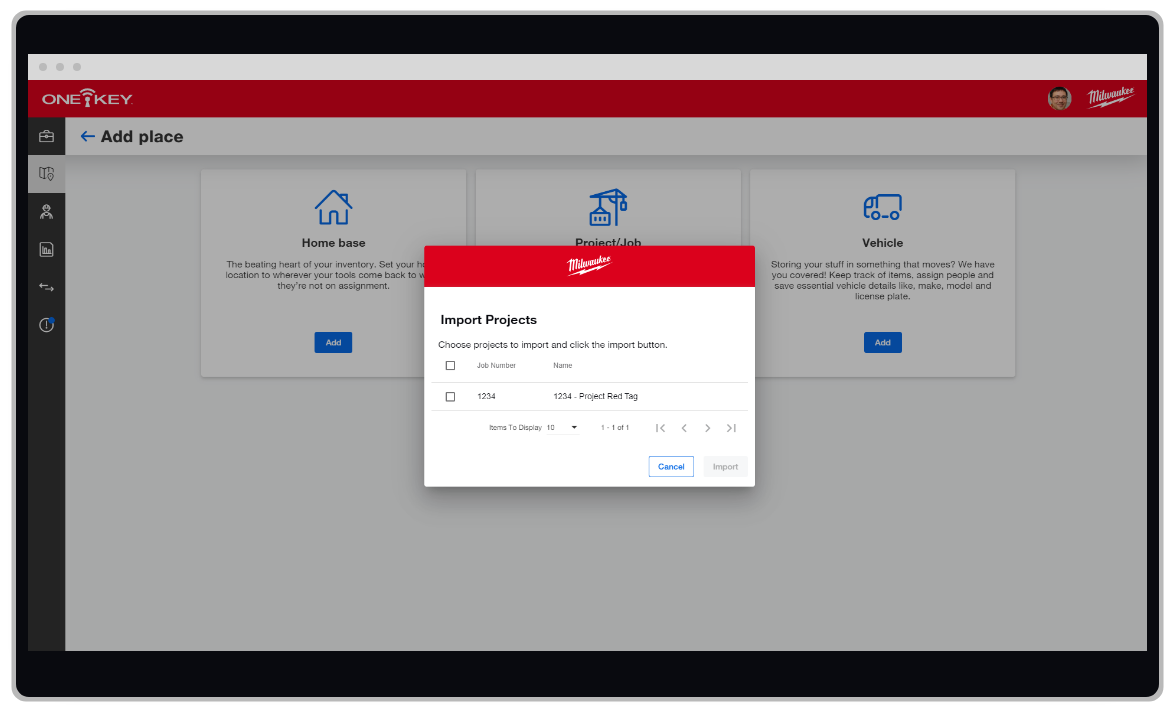 Once your Procore and One-Key accounts have been linked, new projects added in Procore will auto-import into your company's One-Key places' directory. This will save your crib manager from having to make new entries for each project, ensures accuracy among ongoing projects, and will allow for them to prioritize their time.
People
Similar to Places, you'll now be able to import the entries you have for workers in Procore into One-Key. To do this, navigate to People. Along the top navigation bar, beside the "Add person" button, there will be a button labeled "Import from Procore." Here, you can pick and choose the specific contacts you'd like to import.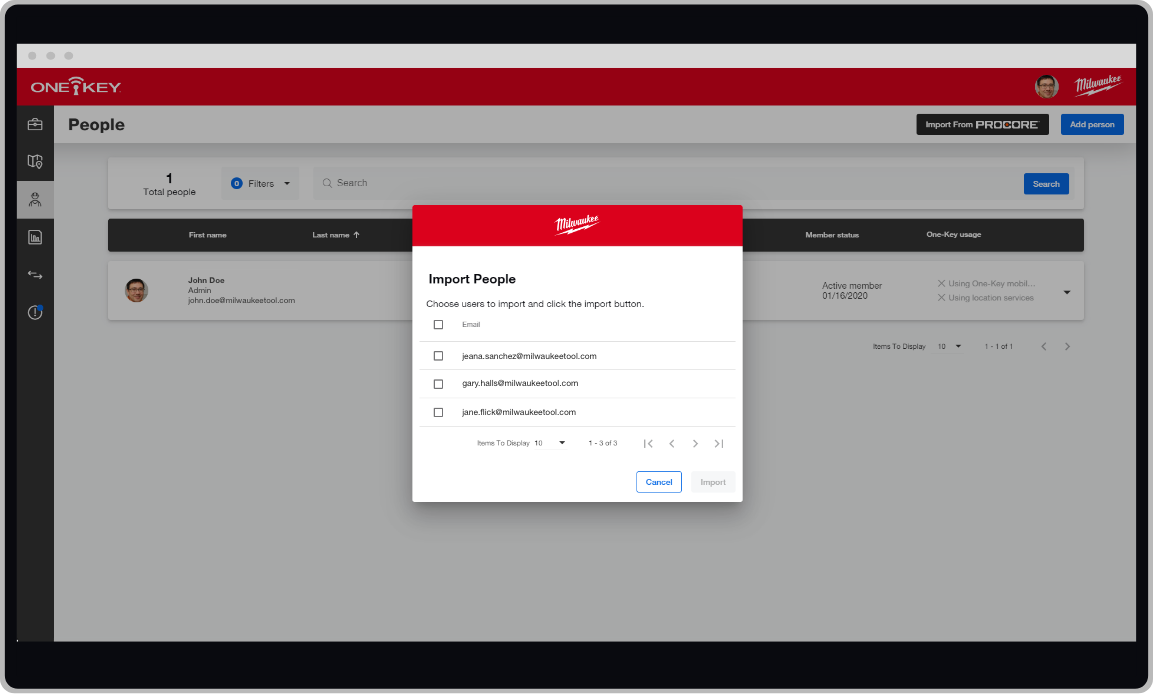 Now, once your account has been linked, new people entries from Procore will be similarly sent to One-Key automatically.
Reports
Too frequently, teams operating on different platforms become siloed, with neither team seeing the full picture across company operations. With this linkage in play between One-Key and Procore, we're breaking down these barriers and allowing for the flow of important information between teams.
The reporting integration feature in One-Key will automatically configure and send daily reports to your Procore account, combining:
Inventory transfer history
Geofence daily summary
This high-level summary provides your project managers with the important need-to-know information should something go wrong and require teams to work together to make timely changes.
Get Started by Downloading the New Update
6.7 brings some exciting new features for inventory managers and project managers, helping you work together more efficiently by tracking important equipment and keeping to deadlines.
To get the full benefits of the One-Key app and these new Procore integration, remember to download the new update from the App Store or Google Play.