With this partnership, we hope to reaffirm our commitments to our industry, and to offer you the best possible inventory management and tool tracking solutions.
What/Who is Procore?
Procore is a construction management company based out of California, and among the most popular in our industry. Procore's customers are owners of construction companies, general contractors, and specialty contractors.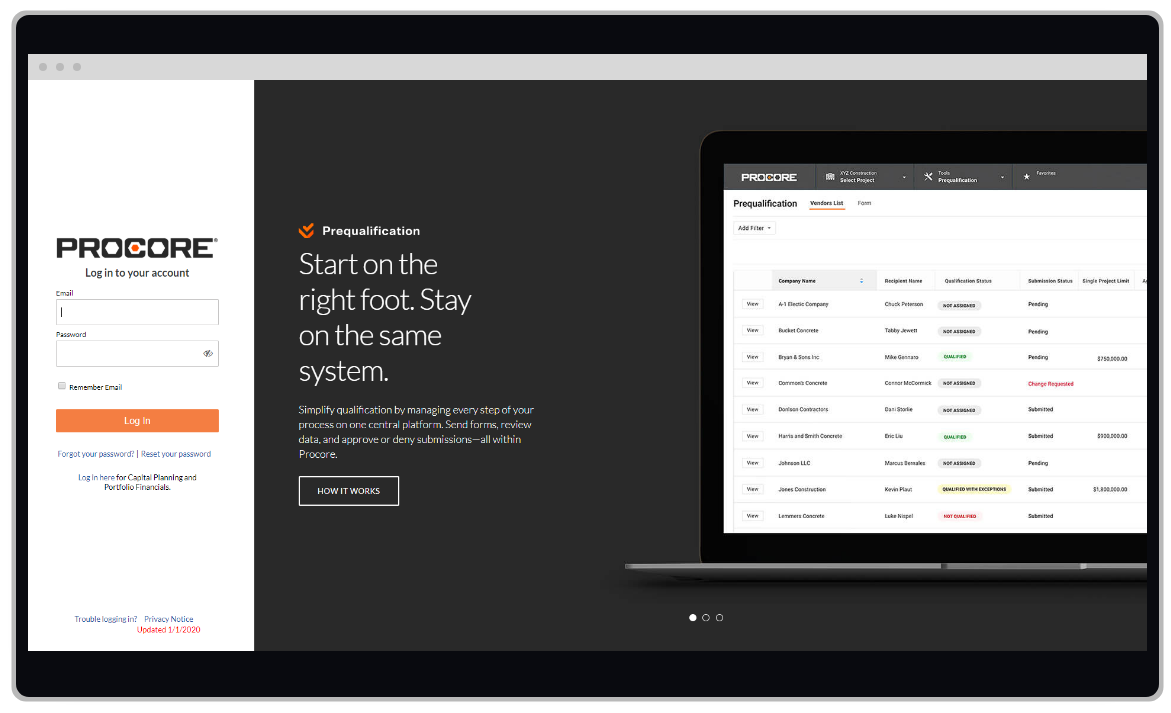 The company offers a comprehensive software suite that spans the entire construction process:
Preconstruction: Prequalification tools and bid management tools
Project management: Scheduling tools, predictive risk management tools, design coordination tools, field BIM tools
Resource management: Field productivity tools
Financial management: Project financial tools, invoices, accounting integrations
Why Partner with Procore?
Too frequently, there is a disconnect between the various teams within your organization and the programs they use. The result is, each team becomes siloed—operating, for all intents and purposes, independently, with little accurate communication going on cross-functionally.
As a developer of easy-to-use cloud-based software built for the trades, it's our top priority to put a stop to this fragmented communication. We've partnered with Procore to offer a software integration between both of our platforms.
Breaking down the barriers that have historically existed between your back office and your guys in the field, we're creating the much-needed transfer of data between your various operations. This will accomplish a couple of important things:
It will help facilitate an ecosystem where both teams thrive and harmoniously coexist.

It will simplify your IT department's lives, preventing a lot of unneeded headaches as it helps them more seamlessly transfer data between teams and ensure that everyone is on the same page.
One-Key/Procore Integration: When Will It Be Live, How Does it Work?
Our integration with Procore was deployed in the 6.7 One-Key app software update, which is officially live now.
As an example, with this integration in place, teams operating in One-Key and Procore, respectively, will no longer have to do the "double work" of creating new entries for tools added to your inventory or crew members added to your team. An entry made in Procore will auto-generate an entry in One-Key.
Learn how Milwaukee One-Key integrates with Procore.
Milwaukee One-Key/Procore Partnership: Moving Jobs Forward
Our partnership with Procore is another step toward increasing productivity on jobsites and making the construction industry nimbler. We hope to accomplish this not by disregarding or relegating any team's process to the periphery. Rather, our integration helps embrace and support the processes of cross-functional teams by creating a source of truth for company-wide operations.
Read the official press release.
Learn more about Procore.
If you have any questions about this partnership or need any help getting set up, contact us at onekeysupport@milwaukeetool.com or visit our support page.