The launch of this product is the result of Milwaukee's approach to new product development. This starts with working in the field to understand where we can help improve a process, falling in love with a problem, and then setting a team of dedicated engineers, designers, and developers loose to passionately pursue a solution. Several years of hard work later, we're able to celebrate the delivery of this highly anticipated, award-winning tool:
Historic for Milwaukee Tool: The digital torque wrench has the most capable LCD display and on-tool software that we've created. Given the nature of a job, it was important to be able to offer the ability to configure the torque wrench directly at the application, without having to pull out a phone.
Historic for the electrical construction industry: The digital torque wrench is the first battery-powered, motorized torque wrench. With this tool, you can now perform a once lengthy two-tool installation process faster, with one tool, while delivering accuracy of up to ±2% of full scale for torque critical fasteners. Even better, you can record your events and provide verification to anyone.
Novel Features
The digital torque wrench is a new-to-world tool, a game changer for the electrical contractor.
Some of its noteworthy features include:
Motorized: Uses a POWERSTATE™ Brushless Motor, known in the construction industry for delivering unmatched power, run-time, and durability.
Torque accuracy: Offers precision within 2% for torque-critical fasteners.
Battery powered: Compatible with the entire M12™ line.
This tool is offered in two size options:
Tool Configuration
You have more control over your equipment and your installations with on-tool customization and one-button recording functionality.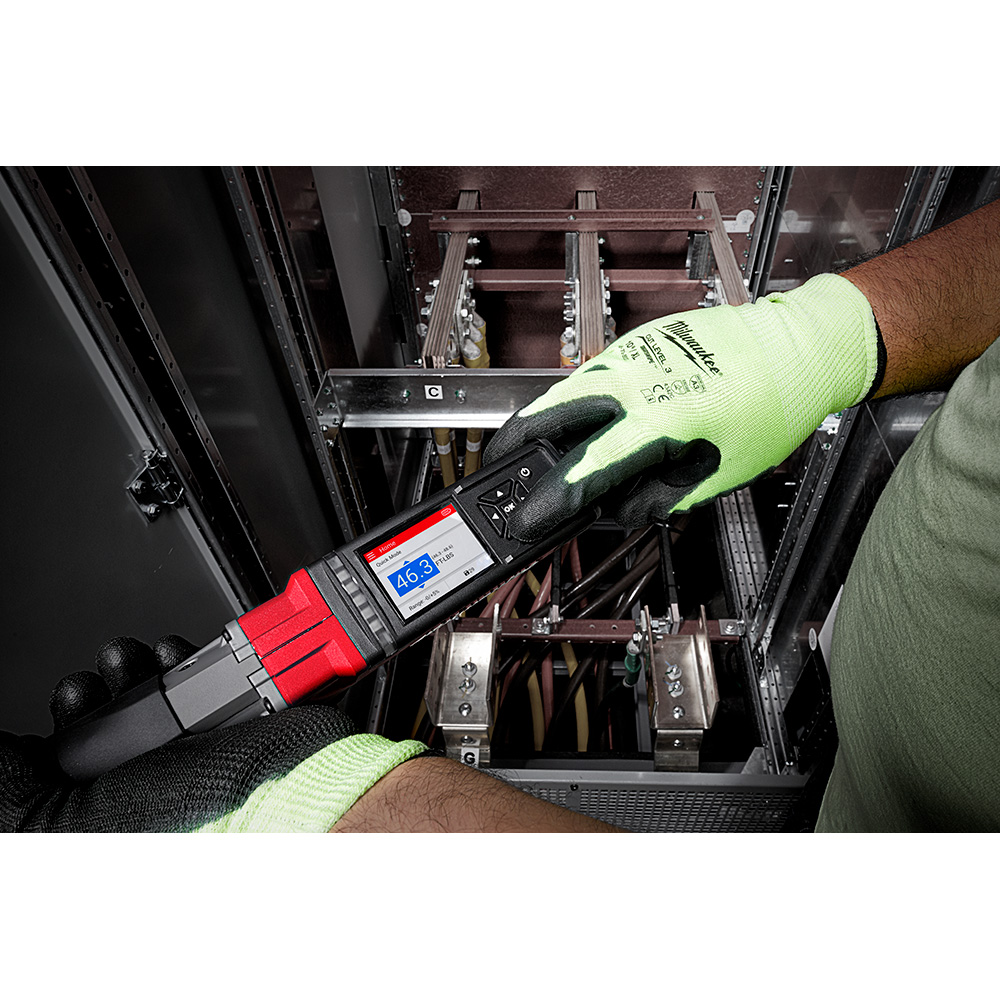 15 Custom Presets
You can program and use up to 15 preset modes on the digital torque wrench. If you find yourself constantly tightening the same fasteners, this can cut down the setup process, letting you get to your popular settings quickly, and on to the next task on the punch list.
Mode Library
When you use the One-Key app to create a new mode, you can give it a custom name and back it up to your account. Your library can be filled with an unlimited amount of preset modes, which you can access at any time to set up another Torque Wrench in your inventory when the time comes.
Generate Reports
Say goodbye to the carpenter's pencil and scratch paper. You no longer have to manually record the torque value for each fasten. With the one-button recording functionality, you can create a record of each fastening event as it is performed. Keep a total of up to 28,500 torque events stored on the tool. Upload this data to your account, where it can be accessed from any workstation at any time. This allows you to generate customizable reports, providing transparency and verification to your customers, inspectors, and engineers.
More Productivity for the Electrical Contractor
The digital torque wrench is now here, and we couldn't be more excited about it.
What do you think about this tool? Excited to get your hands on it? Let us know your thoughts at onekeyfeedback@milwaukeetool.com or join the conversation by becoming a new member of the official One-Key user group on Facebook.