Torque Reports Now Available on Web
The highly anticipated Milwaukee® Digital Torque Wrench, which is NOW HERE, helps you speed up your electrical installations by up to 50% while also delivering torque accuracy of up to of up to ±2% of full scale for torque critical fasteners.
Aside from being able to perform your installations quicker with its programmable on-tool modes, a big feature of the digital torque wrench is its reporting functionality.
With the 6.5 launch, you can now generate torque reports from your web account.
Generating Torque Reports
You can now generate customizable reports for customers, inspectors, and anyone else who might need them.
To generate your report, you'll need to follow a few steps: Perform the event.
Save the event on the tool by hitting the record button.
Connect to the tool with your One-Key mobile app. Your data will upload to the cloud.
Log into your One-Key web account.
Build your report.
You'll choose a date range for the events you want to report.
You can group your items and name them.
You can format the report to your liking.
"My company information" lets you add your contact information or company logo to your report. Turning this on adds context and professionalism for your client or inspector.
"My customer information" can be enabled if you'd like to designate the client or project that a report is being built for
If you'd like to add comments or clarifications about any of the work included in your report, you can do so by enabling "Include Notes" and adding whatever you need to say in the provided text box.
If you'd like to summarize the specific information in your report, you can select "Include summary," which will indicate how many events in total were completed during the selected date range, how many were successful, and how many were out of range.
Selecting "Include signature" creates a space in your report for you, a foreman, or project manager to sign off on the work that was done.
Once your report is formatted and customized to your satisfaction, you'll choose your preferred download option. You can download as a PDF or a CSV and it will save to your computer. Print this off for inspectors or attach it to an email for your customer's convenience.
People Sort/Filter Feature Added to Web
We've added a new sorting/filter feature for people that gives you more control over how your crew is organized. This is reminiscent of One-Key's sorting/filter capabilities in other areas of the web app, like in Inventory, where you can filter items by model/description, or by the person or place they're assigned to; or like in Places, where you can filter by division, total number of items/people, or by the places that need your attention.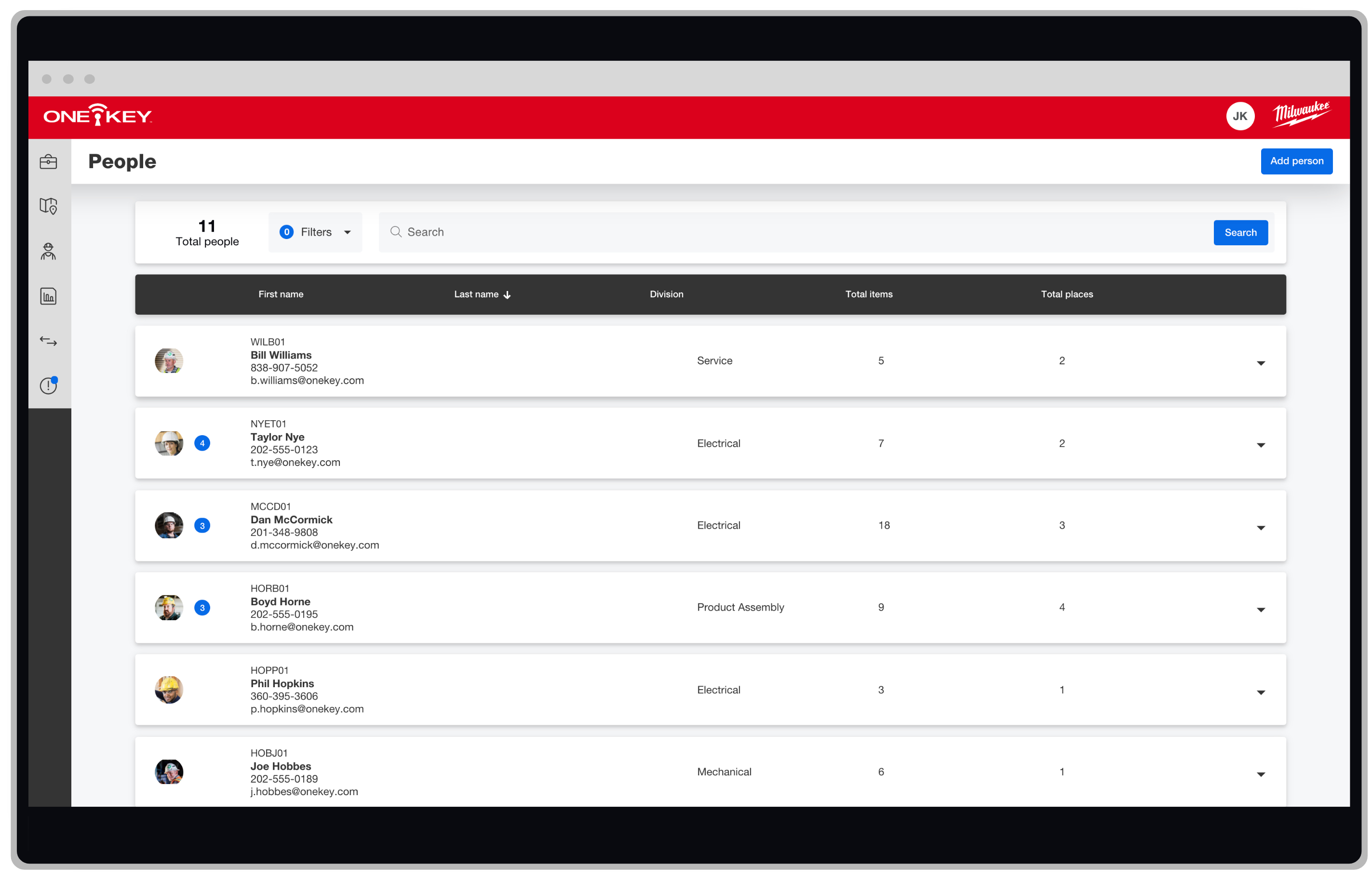 You might notice that your crew is in a different order than before. That's because People Sort/Filter feature prioritizes your crew members by last name—by default. Depending on your preferences, this new default sorting filter may be convenient or need some tweaking. We've defaulted to last name because we got a lot of feedback requesting this change. But like other parts of the app, you can now modify how your crew members display to your preferred parameters: items assigned, people that require your attention, etc. You can modify your list to any values associated with your people.
Image Adjuster Added to Web
The 6.4 One-Key app software update saw a new feature: the image adjuster.
Context: Because of the wide variety of image sizes, importing images into One-Key in the past was less-than-perfect, and you probably experienced images getting cut off when you uploaded them. To fix this for you, we updated our software so you can now crop and zoom both profile and item photos.
In 6.4, this functionality was applied to our mobile app. With the 6.5 software update, this same functionality has been added to our web app. So, if you're using our web app from the office, you can now clean up your item inventory and create visual consistency and professionalism with the images in your account.
6.5 Adds New Features
To wrap up, you can now:
Adjust images before uploading them to your web account.
Generate reports for any of your digital torque wrenches.
Tweak how your crew members are displayed in web with the new people sort/filter feature.
Thoughts on these new features?
Give us your opinions at onekeyfeedback@milwaukeetool.com