Apple is taking steps to ensure that your data is protected. This is a long-time-coming with so many privacy and security gaffes making national headlines.
If you use any third-party location-based apps, like for finding lost items, the way you use these apps is likely going to change.
The main takeaway? iOS 13 represents a major victory for protecting your data. Because of this, howevever, you should be aware of new steps you'll need to take to get full functionality from your location-based apps.
Privacy is at the Center of iOS 13
With the launch of iOS 13, Apple highlights an overhaul of its privacy and security settings. The company rethinks how third-party apps can interact with user data. As laid out in their Privacy featurette:
New location controls and transparency features help you stay more in control of your data. Choose to allow apps access to your location just once. And there are more protections than before from people who want to track you without your permission.
It makes sense for there to be pause when apps that aren't built with the specific purpose of item tracking begin to access user location data. Take, for example, a flashlight app. This kind of app provides accessory functions. It shouldn't require access to your location data. But if it attempted to access the tracking functions of your mobile device, that would be suspicious. In these instances, apps should be intensely scrutinized, to understand their intent.
Tracking for App Developers is Indiscriminate
In certain situations, you might encounter limited functionality in the apps you use. If it's location-based app that you use, like an app for tracking items, the experience you've grown accustomed to in this app is likely going to change. New permissions will be needed first before the tracking features of your app will work.
As Apple claims, you are given the choice to "allow apps to access your location just once."
This is presented in a way that you are likely familiar with. The problem is: In the past, selecting "allow" turned location services on permanently for an app. Now, if this is what you want to do, they need to follow several additional steps. This is particularly problematic for apps that, by design, require ongoing location access in order to provide accurate tracking functionality.
One-Key: A Case Study
First launched in 2015, One-Key has introduced several new technologies to help contractors become more efficient by eliminating downtime at their jobs. These have included geofencing, to build visibility to tools at a given job, and security features such as tracking alerts and tool lockout, for when tools are stolen, among others.
The success of these features has hinged largely on the growth of our community Bluetooth® tracking network, using your phone's Bluetooth connection to scan for and locate nearby items.
And one point should be made very clear: We use phone location data to track tools, not people.
The nature of our app's features, as a free-to-use asset management and tool tracking software platform, requires ongoing location tracking and Bluetooth® connectivity in order to help accurately track tools and send continuously up-to-date tracking alerts.
To understand how iOS 13 will impact you, back when iOS 13 was originally announced and the beta version was opened to the public, we ran through every imaginable instance where you'll be alerted by iOS of our app's intended use of your location and Bluetooth®.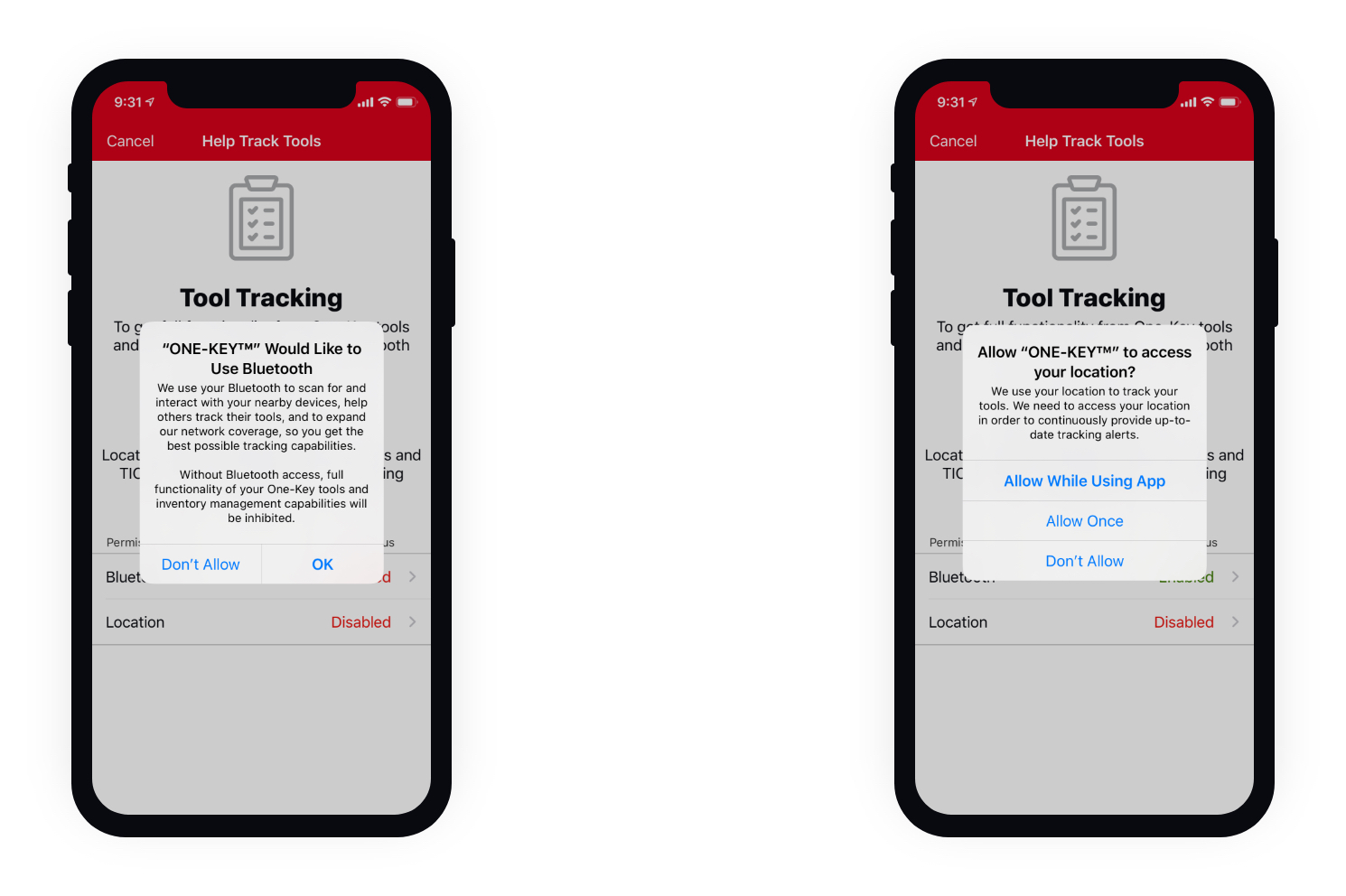 To start, at the initial location and Bluetooth® access request, you no longer have "always allow" as a selectable option.
As a functionality-dependent device setting, these new levels of permissions will be especially frustrating when you try to track your tools or interact with the Bluetooth® component of the app. Without both Location and Bluetooth enabled, you will experience limited, or complete lack, of functionality, depending on what you need to do in the app.
To help solve these issues and reinstate full One-Key functionality, we've reengineered our app. We've designed educational screens to help redirect you to the areas of their device where they can establish the needed permissions.
With these screens, we've also attempted to improve the overall user experience by softening these various system prompts with instructions to help you navigate these new procedures.
Location Needed to Track Tools
If you're looking to add a new tool to inventory, you'll be shown our "Enable Tool Tracking" education screen. This screen explains why location is needed for tool tracking, prior to the system prompt being initiated.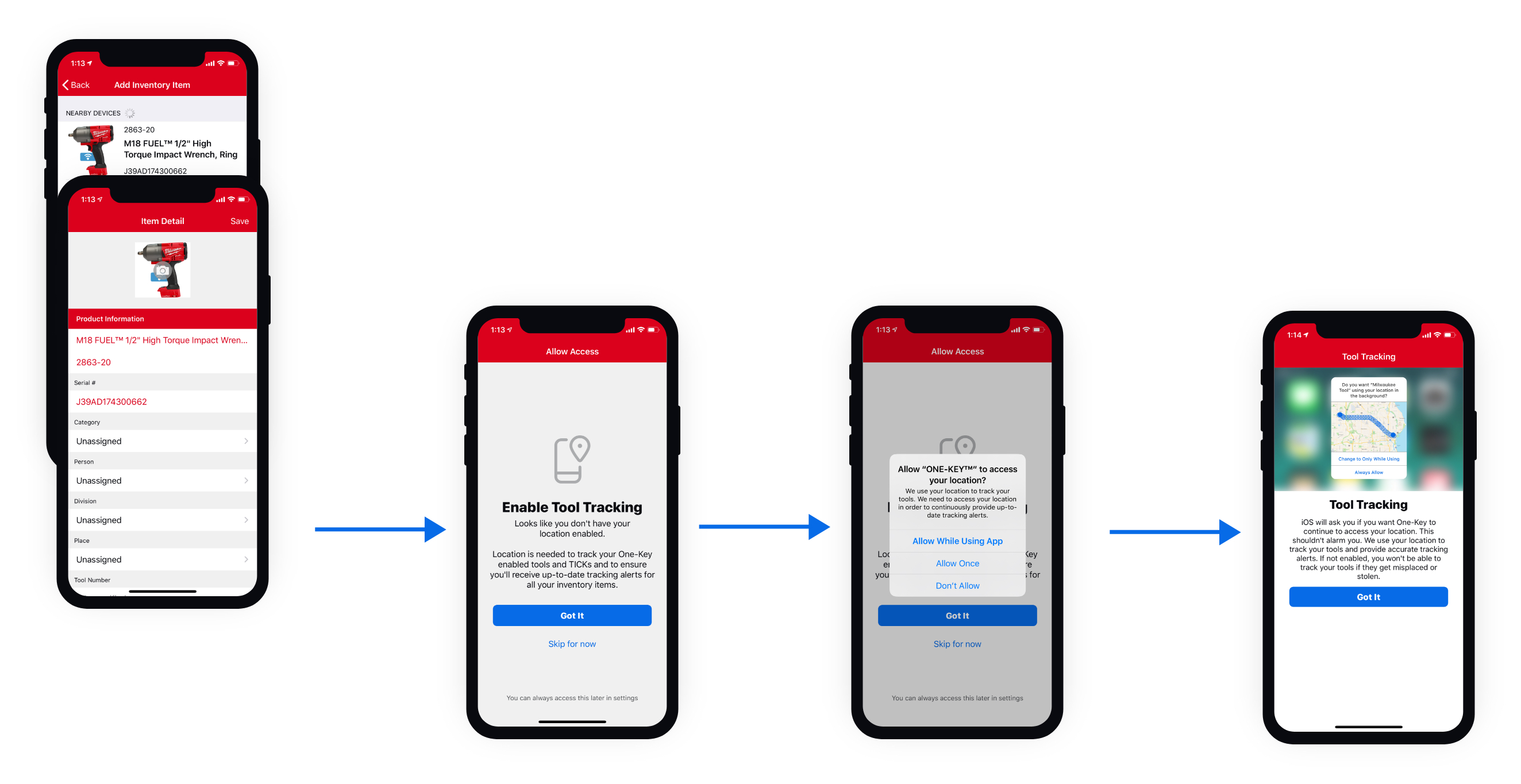 These permissions levels don't stop at initial approval, either, but are layered. You will receive system prompts that seek to confirm background location permission, for example.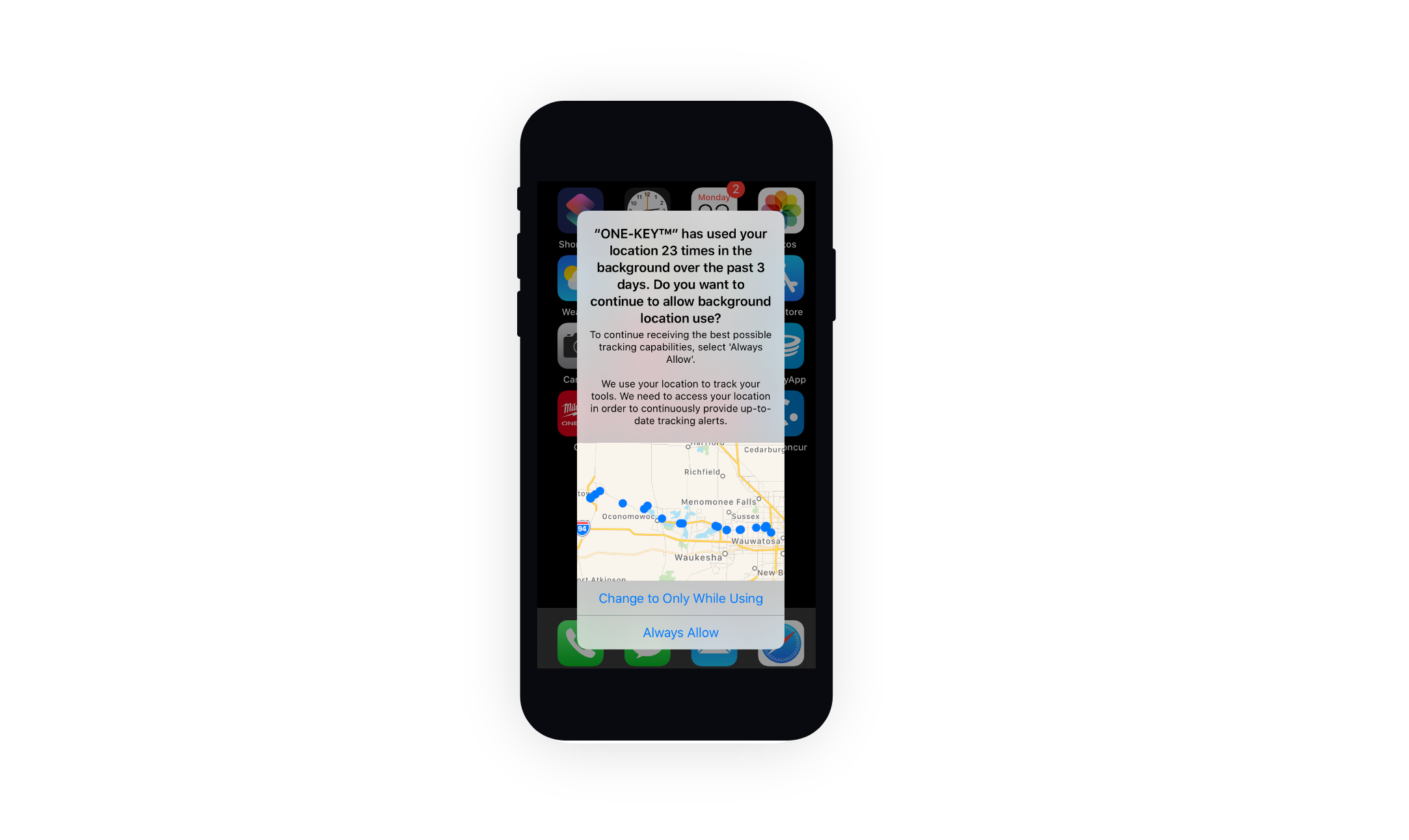 This is problematic for two reasons:
These prompts are likely to be frustrating if you remember previously allowing access.
Because it might seem scary to be informed of all the places you've been "tracked."
Bluetooth® Connectivity Needed to Enable Smart Tool Functionality
Bluetooth® connectivity is needed in order to add Ticks or One-Key tools to your tool inventory. It's also needed to scan for nearby devices.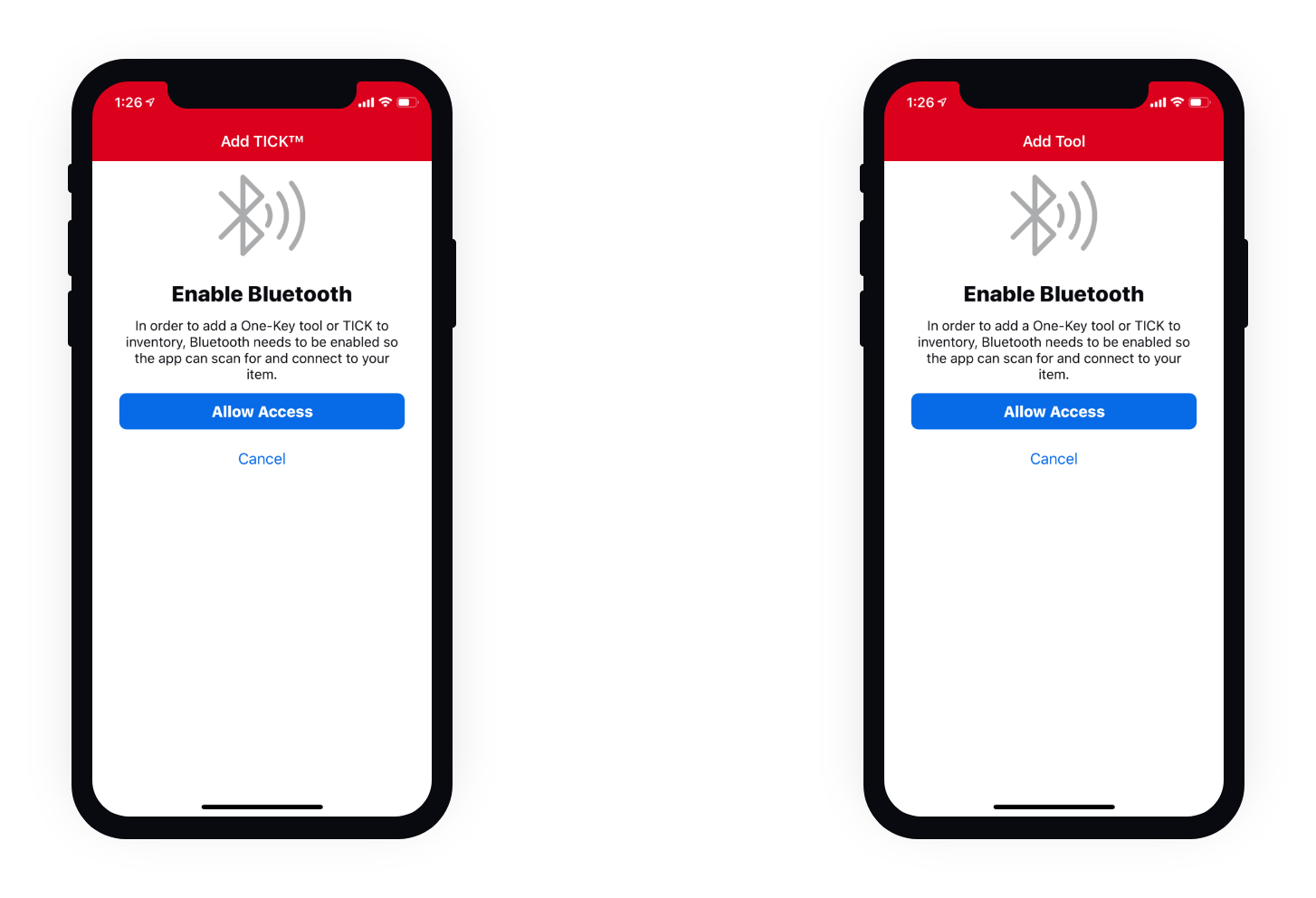 If the app can't connect to your item, it can't be added to inventory. What's more, full functionality of the tool is limited. One example is tool controls. These help customize the tool for a specific application. Without being able to establish a Bluetooth® connection, the app is unable to connect to the tool and this functionality becomes unavailable.
What Steps Are Needed to Reestablish Tool Tracking?
If you're running iOS 13 or later (iOS 13.1, iOS 13.1.2), you'll need to take a few steps to reestablish tool tracking.
Step 1
Upon downloading iOS 13, you will receive new system prompts, asking if you'd like to grant apps, including ONE-KEY™, access to your Bluetooth® and location.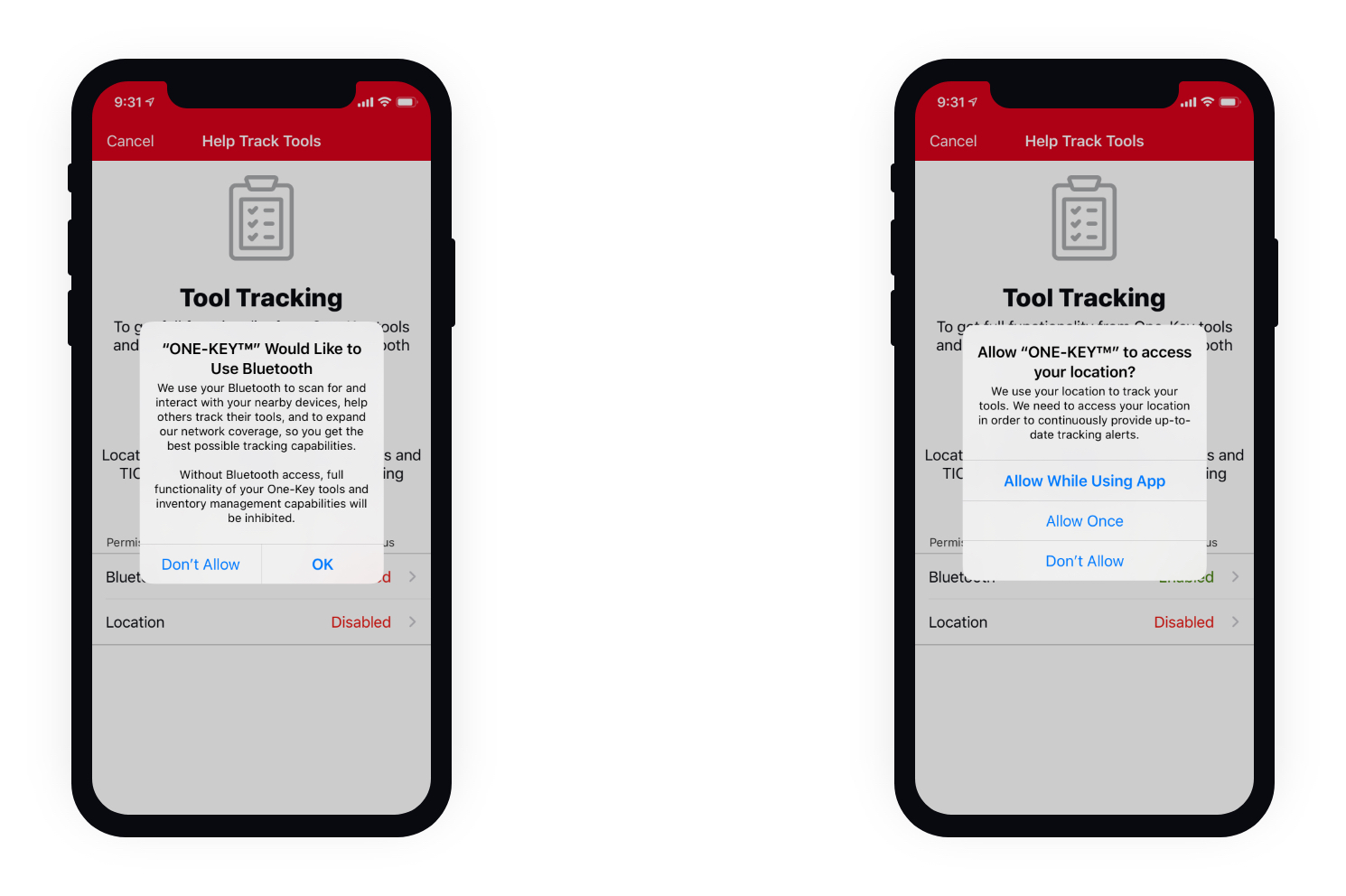 For Bluetooth®, select OK when prompted.
You also want to make sure you always have location available so that tool tracking will work properly and you'll receive the best performance. Because "Always Allow" isn't immediately available, first select "Allow While Using App" when the system generates you a location prompt.
Step 2
In your One-Key app Settings, under Tool Tracking, enable Bluetooth and Location. For Bluetooth, hit OK when prompted.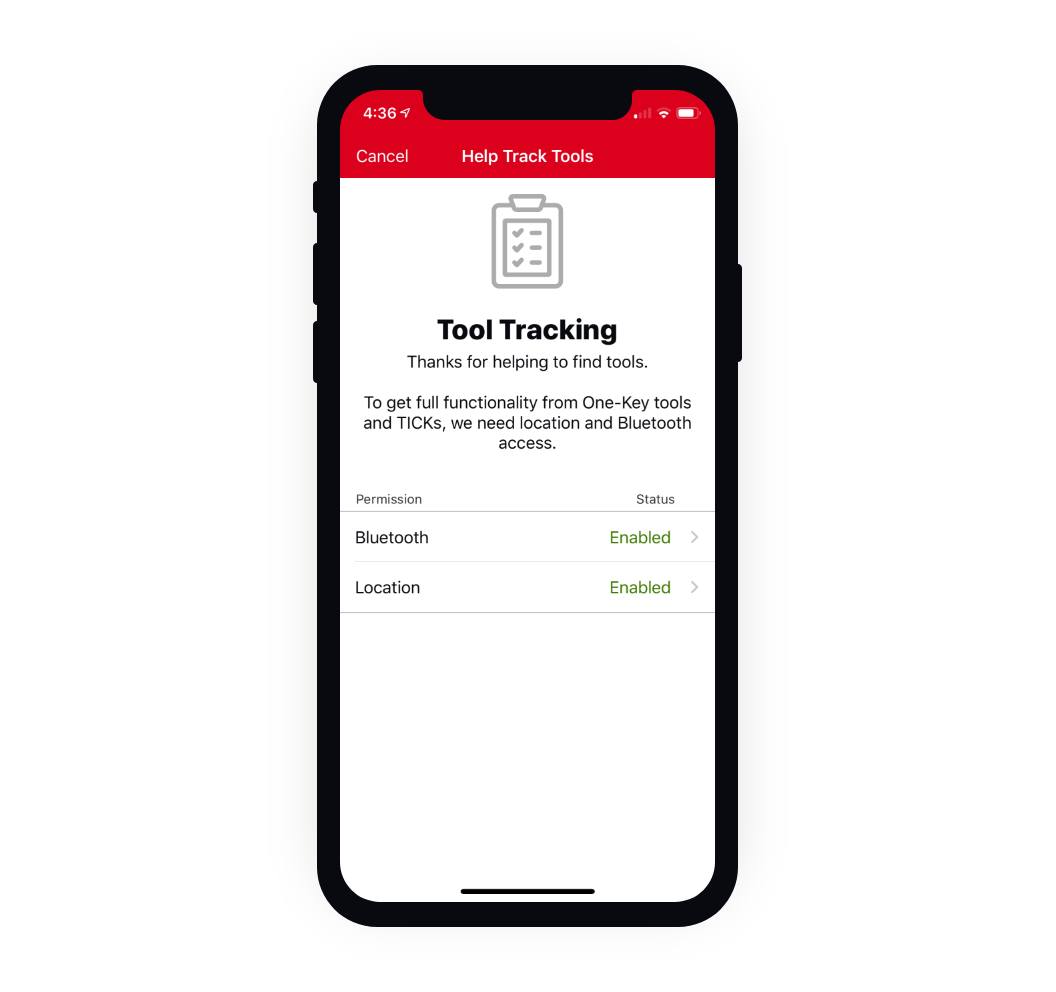 Step 3
To finish fully enabling One-Key tracking, navigate to your device settings, then tap into ONE-KEY™. Under Location, select Always.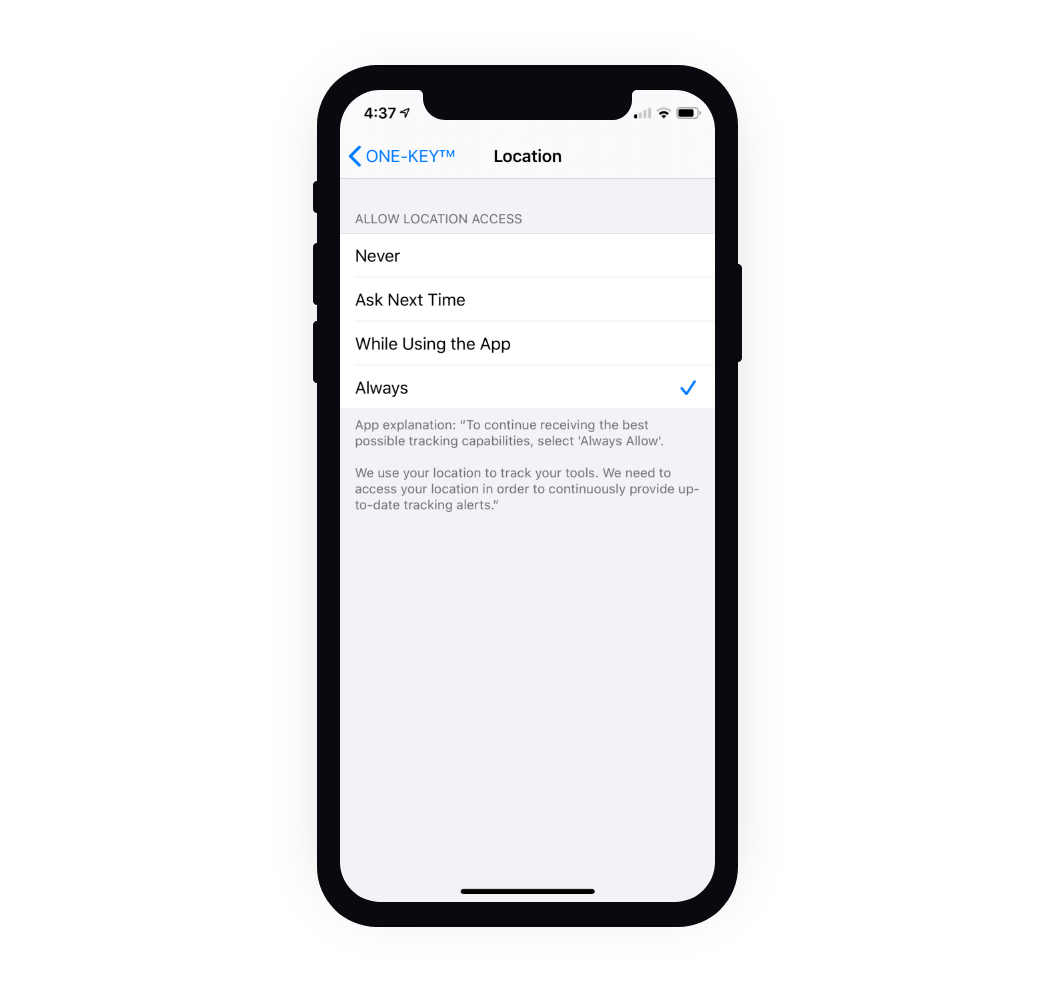 For your security, iOS 13 requires Bluetooth and Location settings to be manually updated.
iOS 13: Privacy & Security Features Need Refinement to Interact with Preferred User Apps
In short: Privacy and security barriers should be better thought out, and the permissions election process made more seamless, to ensure Apple's good intentions don't ruin the experience of their apps. iOS 13 is a huge step forward for protecting user data with strong privacy and security overhauls that prohibit malicious applications that, unfortunately, oversaturate the digital world.
These new changes are here. It's important that you familiarize yourself with how they might impact you, as well as the additional steps you'll need to take to reestablish full functionality of your preferred location-based apps.
Something to Keep in Mind
iOS 13 Bluetooth® and location system prompts will auto-generate even after you've reestablished tool tracking.
Apple wants to make sure you're aware how your third-party apps are using your phone location data. To reiterate: We use phone location data to track tools, not people. Your phone location data is used only to help others find their tools.
References
Miller, C. (2019). Developers criticize Apple's changes to location permissions in iOS 13 as 'anti-
competitive.' Retrieved from https://9to5mac.com/2019/08/17/ios-13-location-access-developers/
iOS 13 preview. (2019). Retrieved from https://www.apple.com/ios/ios-13-preview/
Tilley, A. (2019). Developers call Apple privacy changes anti-completive. Retrieved from https://www.theinformation.com/articles/developers-call-apple-privacy-changes-anti-competitive
Clover, J. (2019). App developers claim Apple's iOS 13 location tracking changes are anti-competitive. Retrieved from https://www.macrumors.com/2019/08/16/app-developers-tracking-restrictions-ios-13/