Building Green: What Are the Top 5 Most Sustainable Buildings in the World?
Thought Leadership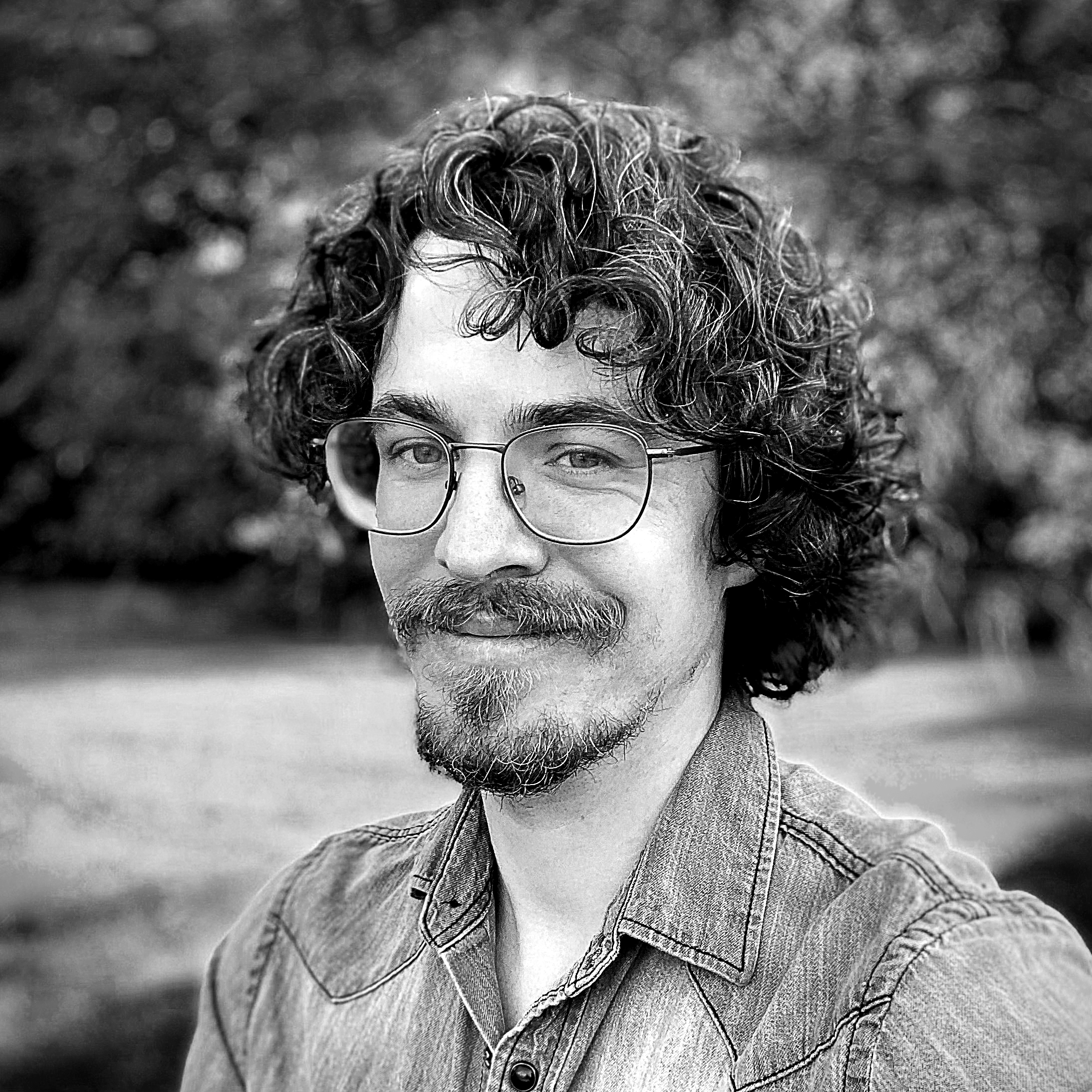 Mike Anderson
|
Published: March 11, 2022
|
Updated: July 8, 2022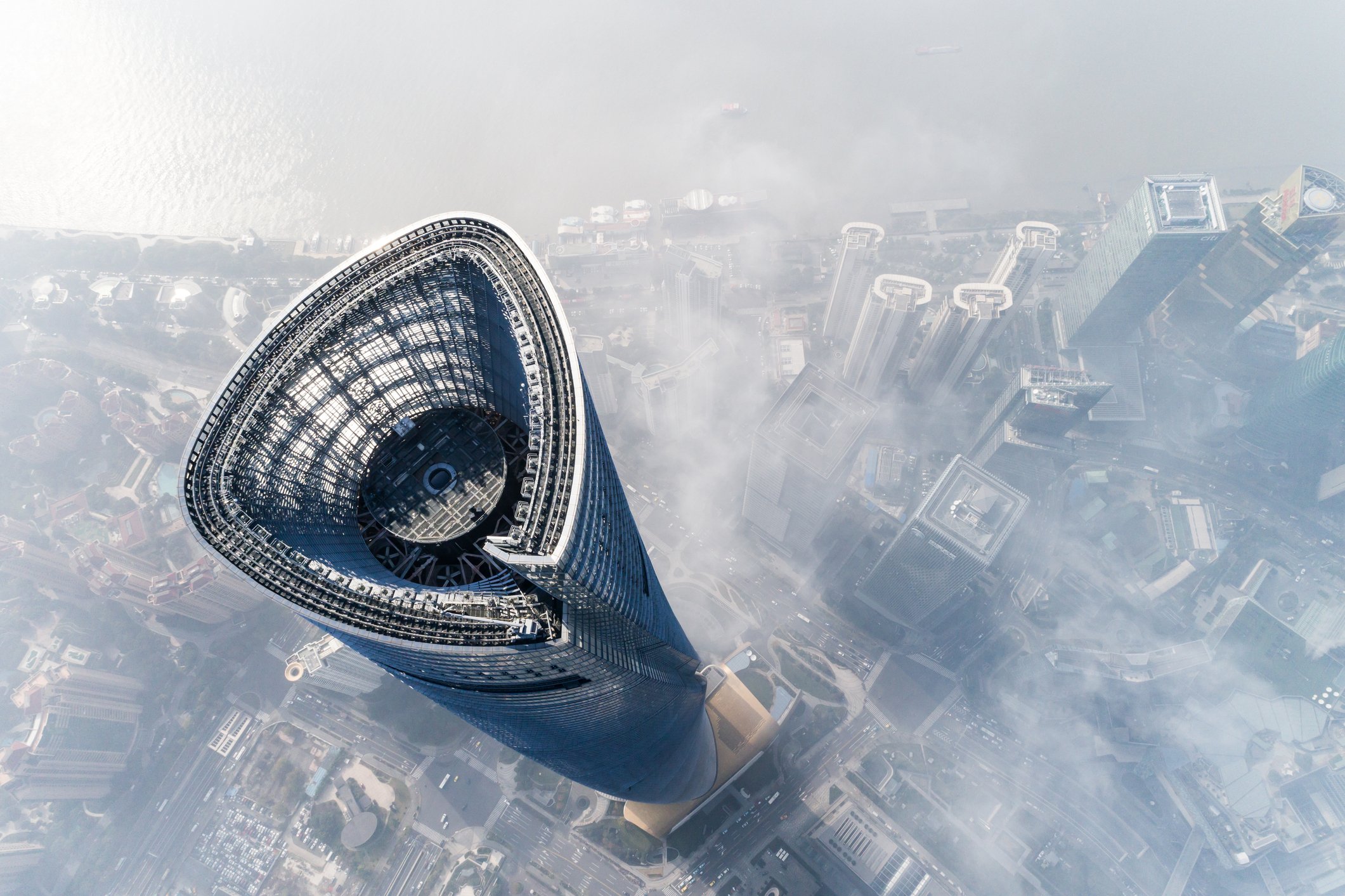 Construction is one of the largest contributors to climate change, generating nearly 40% of the globe's total carbon dioxide emissions every year. The dire warnings of climate scientists have made it crystal clear that this is not a truth we can afford to ignore.
The good news is that sustainable construction is on the rise. A recent survey showed that nearly 47% of engineering and construction executives named sustainability as their number one priority. There are plans to build entire "green" cities from scratch, while many existing cities are actively working to make themselves greener. And as of 2020, there are roughly 100,000 buildings across the globe that meet the Leadership Energy and Environmental Design (LEED construction) sustainability standards codified by the US Green Building Council.
When buildings are built sustainably, they're more eco-friendly, more livable, more energy efficient, and less expensive to operate. They're also just really cool. Let's take a closer look at a few already existing and soon-to-exist buildings that are carving a green path into the future.
5 Examples of Green Buildings
Here are our top picks for the 5 most sustainable buildings in the world. Explore their stunning green architecture and design, features, and novel technology below!
1. Vancouver Convention Centre West
Our first building showcases how an urban structure can operate at incredibly high efficiency while also serving as a protective bastion for local ecosystems. Designed as an expansion of an existing structure by Seattle-based LMN Architects, the Vancouver Convention Centre West in British Columbia, Canada is one the most sustainable buildings on this list. Indeed, it has a double LEED Platinum certification, the highest level awarded by the U.S. Green Building Council (USGBC).
Boasting 1.2 million square feet of floor space, the center is situated in downtown Vancouver on 14 acres of a former brownfield site, eight acres of which jut out into the harbor. One of its most ecologically friendly features is also its most visually striking. The building is capped with a living roof, a six acre swath of greenery that hosts 400,000 indigenous plants and 240,000 bees in four hives, whose honey is used in the convention center's restaurant.
Pleasing aesthetics and positive environmental impacts aside, green roofs like this one confer a variety of other sustainability benefits, including natural heating and cooling, reduced energy costs, stormwater mitigation, and a dampening of the Urban Heat Island Effect.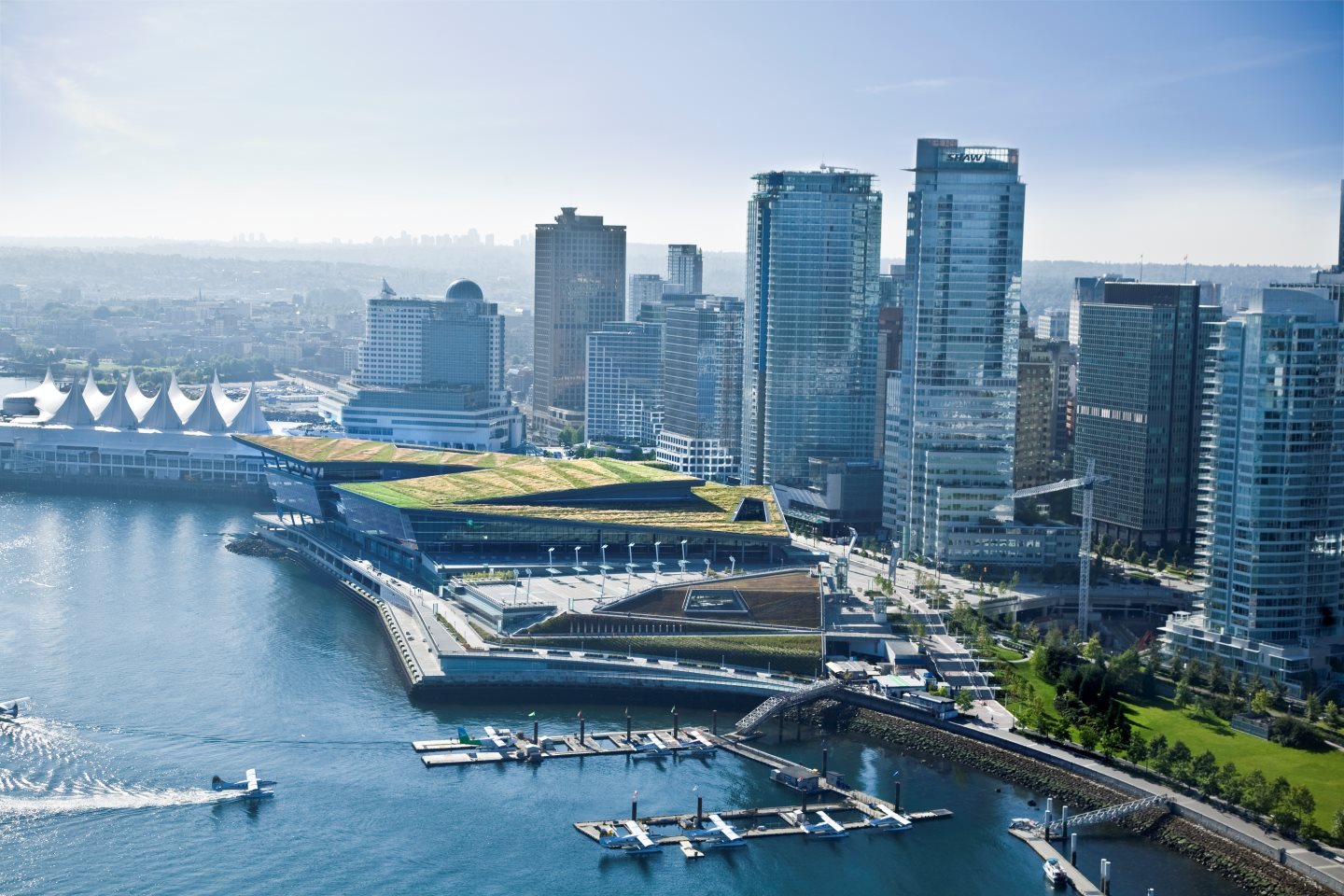 Image Source: LMN Architects
The convention center's positive relationship with surrounding ecosystems also extends beneath its surface. The foundation of the building's shoreline section–held up by about 1,000 steel piles–houses an artificial reef that supports a whole underwater ecosystem. Formed from five submerged concrete tiers, this rocky marine habitat provides shelter for a variety of aquatic life, including salmon, crabs, starfish, shellfish, and many other species native to the area.
Water also plays a massive role in making the Vancouver Convention Centre West vastly more energy efficient than other buildings of its kind. A seawater heat pump cools the building in warm months and heats it during the cold seasons, reducing energy use by 60% in comparison to other large event spaces.
The center also boasts a robust water reuse system: An onsite blackwater treatment plant processes the building's sewage into graywater that can then be safely recycled for flushing toilets and irrigation for the living roof. The center has several other sustainable features as well, including radiant heating and cooling, energy efficient light fixtures, natural ventilation, and the extensive use of daylight.
Granted, the value of massive event spaces is the subject of some debate. Still, it's impossible to deny the principles of sustainable construction that are on display in the world's first LEED certified convention center.
2. Hotel Marcel (New Haven, Connecticut)
There's a saying in the architecture world that the most sustainable buildings are the ones that have already been built. The idea is that new construction, no matter how sustainable, generates significant carbon emissions, and that instead of creating more buildings, the more eco-friendly alternative is to simply renovate existing ones with greener systems. At a similar rate, construction companies should seriously consider using battery-powered equipment to lower the overall environmental footprint their projects contribute.
The Hotel Marcel in New Haven, Connecticut is a prime example of just how effective this "adaptive reuse" approach to sustainability can be. As of this writing, the 165 room boutique hotel at 500 Sargent Drive is not yet fully operational, but once it opens its doors this spring, it will be the first hotel in the United States to achieve net-zero emissions and a platinum LEED certification. It will also be the first hotel in the US to receive certification as a Passive House.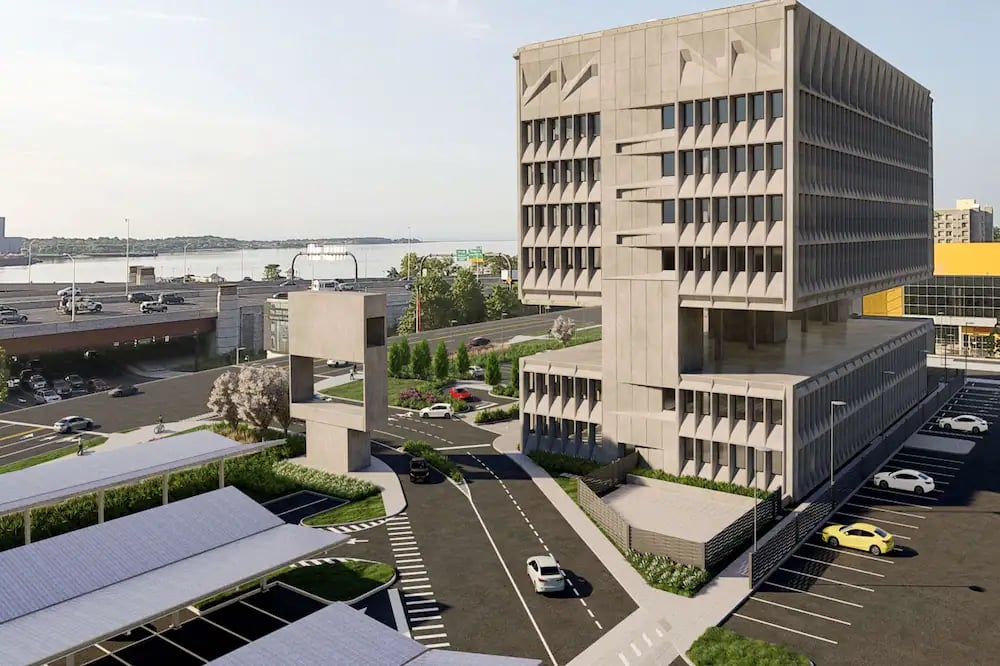 Image Source: Hotels.com
Formerly known as the Pirelli Tire Building, the Hotel Marcel–named after the building's original designer, Marcel Breuer–is a rare jewel of Brutalist architecture and an iconic New Haven landmark that is listed on the National Register of Historic Places. Built in 1970, the imposing concrete structure originally served as a research and development facility for the Armstrong Rubber Company. The distinctive gap between the upper and lower levels of the building was intended as a sound buffer between the labs below and the offices above.
The building changed hands in 1988 when it was taken over by the Pirelli Tire Company, which ended up selling it to IKEA in 2003. The furniture company has used the abandoned structure as a billboard ever since. At the time of its sale for redevelopment as a hotel in 2019, the building had sat empty for more than 30 years.
The newly renovated Hotel Marcel's biggest claim to sustainability fame is its renewable energy profile. Once it opens in April of this year, the hotel will generate 100% of its own electricity, heat, and hot water. In fact, the entire hotel will run completely on electricity, all generated by solar panels on the roof and a series of solarized parking canopies. An amount of the power will be stored in on-site battery backups to be used in case of a solar grid outage. The building will also have 12 outlets for charging electric vehicles. Other sustainability features include the use of recycled and local materials on the building's interior, high-performance thermal insulation, variable refrigerant flow (VRF) air-source heat pumps, and LED light fixtures.
It's important to remember that even the most sustainably built new buildings can take anywhere from 10 to 80 years to offset the carbon emissions and negative environmental impacts generated during their construction. The adaptive reuse of buildings like the Hotel Marcel, on the other hand, demonstrates the vast sustainability potential that lies mostly untapped in the "already built" environment that surrounds us.
"With the climate crisis and continued use of fossil fuels posing an existential threat to humanity, I felt an obligation to build a building that can serve as a model for environmental sustainability," said Bruce Redman Becker of Becker and Becker, the New Haven based architecture firm that spearheaded the hotel's renovation. "The question should not be why are we doing this, but why isn't everyone else?"
3. Beach Green Dunes II (Queens, New York)
The Beach Green Dunes II building shows that sustainable living isn't just for the rich.
This eight-story multi-family residential building in Queens, New York–designed by L+M Development Partners–is both extremely energy efficient and intentionally affordable for very low and low to moderate income households.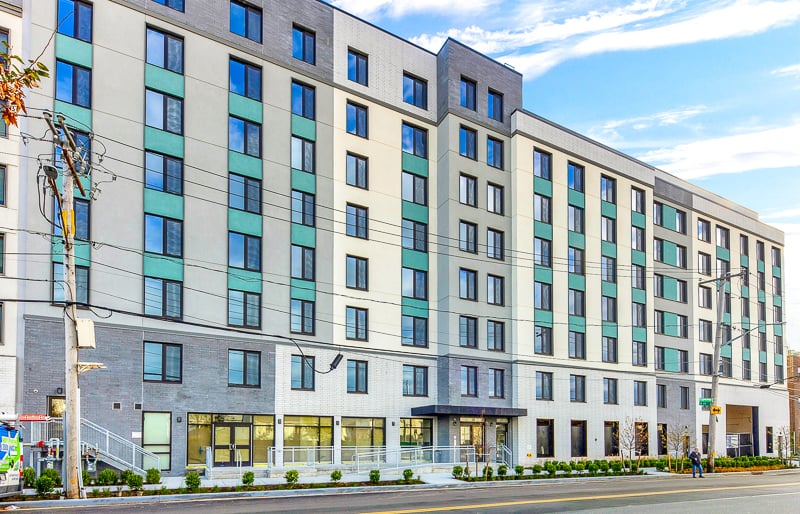 Image Source: L + M Development Partners
Like "sustainability," the term "affordability" is sometimes thrown around to the point that its meaning is muddied beyond recognition. It can therefore become difficult to assess how affordable a particular housing development actually is. The Beach Green Dunes II building, however, appears to be the genuine article.
Of its 127 units, 50 are for families that make less than $50,000 per year, while another 13 units are reserved for homeless residents. Also, rent at Beach Green Dunes II is as low as $331 for some units in a city whose average rent for a one-bedroom apartment in 2021 was a staggering $3,684 per month.
On top of its affordability, Beach Green Dunes II boasts several sustainable technologies and practices that are typically only found in luxury condos or "green" office structures. The building draws a portion of its power from an array of solar photovoltaic cells on the roof and parking structure, a bioswale garden, and a geothermal heat pump for heating and cooling.
Which brings us to the building's most notable feature: its passive design. Beach Green Dunes II is constructed in such a way as to make it extremely energy efficient–to the point that residents' cooling bills can be as low as $10 per month in the summertime. In fact, the energy efficient design of Beach Green Dunes II has earned it certification as a Passive House from the Passive House Institute US, Inc. (PHIUS).
Created in the 1970s, PHIUS is an independent research institute that's developed a broad range of sustainability standards to evaluate energy efficiency of all types of buildings in a variety of different climates. In general though, to receive certification as a Passive House, the building must have:
A seamless, airtight envelope of insulation throughout its entire structure that prevents infiltration of outside air and loss of conditioned air from within.
Doors and windows–double or triple paned–that excel at letting in solar energy for natural warmth during the cold seasons while minimizing overheating during the warm seasons.
Some form of balanced heat and moisture recovery ventilation system.
An air conditioning system that takes up a relatively small amount of physical space.
The result? Buildings that have much-lower-than-average energy costs, higher air quality, and are extremely comfortable in all types of weather. Taken altogether, Beach Green Dunes II is a shining example of how sustainability can be married with affordability to create livable high-density housing for people of all income levels.
4. HAUT (Amsterdam, Netherlands)
The materials we use in the construction of our buildings can be just as devastating to the natural world as the fossil fuel driven energy systems that power them. Concrete and steel make for sturdy structures, but their manufacture generates a whopping 3 billion tons of carbon dioxide per year–which adds up to about 16% of annual global carbon emissions between the two of them. If we are serious about making the construction industry less environmentally destructive, then we must actively seek out and begin to use more sustainable building materials, like green concrete, for example.
It turns out one of the most sustainable building materials available to us is good old fashioned wood. When farmed sustainably, lumber is a renewable resource that actually absorbs carbon instead of emitting it. Cross laminated timber, or CLT, in particular has emerged in recent years as a viable alternative to concrete and steel that can reduce a building's global warming potential by as much as 26.5%.
In essence, CLT is made by gluing perpendicular layers of wood together to form larger structural beams and panels that have enough tensile and compressive strength to withstand an earthquake. This wooden material is so strong, in fact, that it's even being used to build skyscrapers.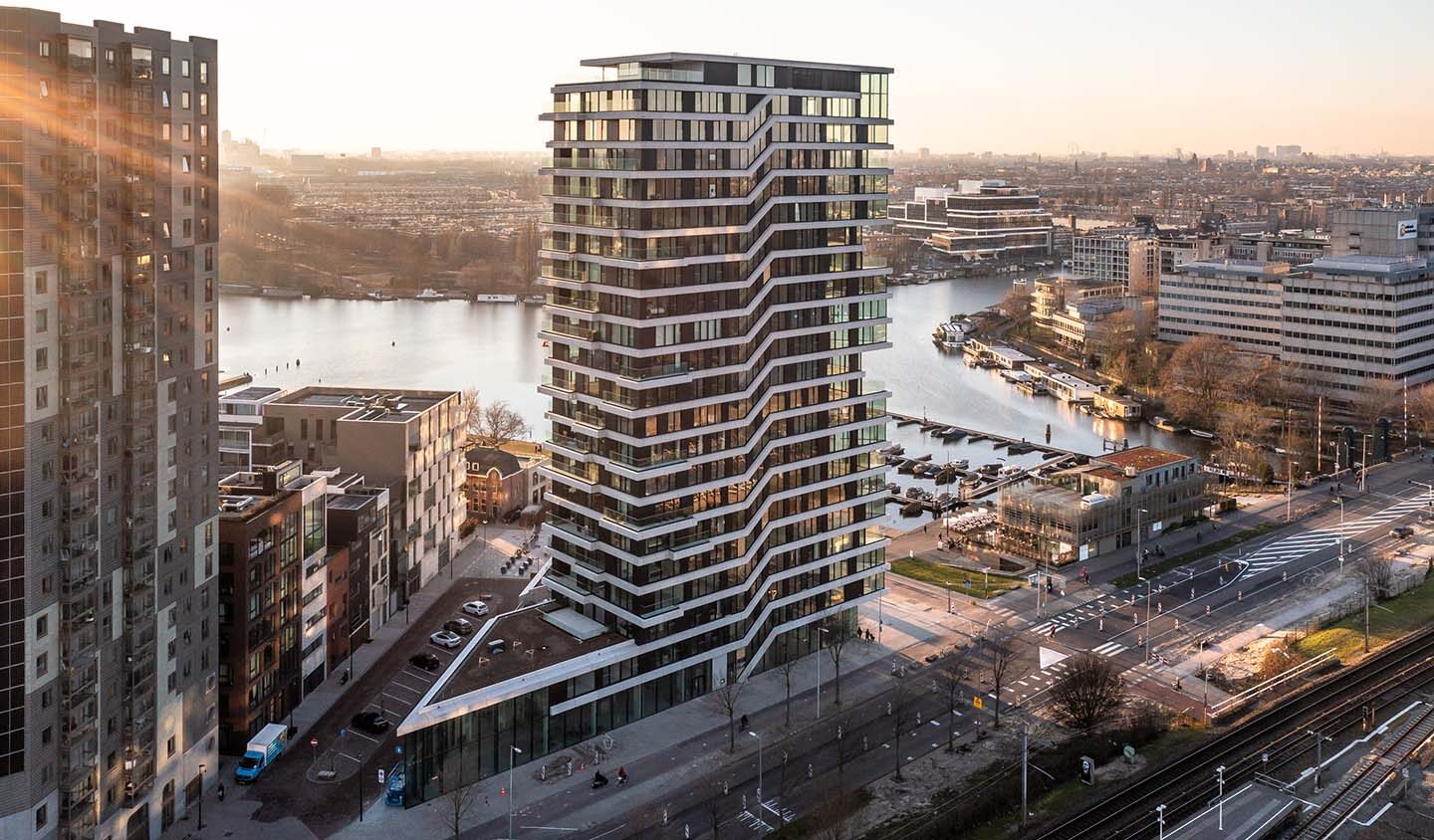 Image Source: Team V Architects
Skyscrapers like HAUT in Amsterdam, Netherlands. Designed by Amsterdam based Team V Architecture, this 21-story residential tower is one of the tallest wooden structures in the world. It's also the nation's first high-rise residential building to achieve an "outstanding" classification from BREEAM (Building Research Establishment Environmental Assessment Method), a sustainability ranking system similar to LEED.
Though its foundation and core are concrete, HAUT's load-bearing structure was built entirely out of sustainably sourced CLT components that were designed in BIM and fabricated off-site. Other sustainability features include rooftop solar panels and energy efficient radiant heating and cooling systems built into the floors.
HAUT illustrates not only what is possible, but what is already being achieved with sustainable alternatives to concrete and steel. When properly stewarded, lumber is a renewable resource that can be used in even the most complex of construction projects. To learn more about some other projects that use CLT, check out Patch22, also in Amsterdam; Mjøstårnet in Brumunddal, Norway; the ongoing FABRIC project in Reykjavik, Iceland; and the Timber Lofts in Milwaukee's very own 5th ward.
5. Under Construction: Agora Garden (Taipei, Taiwan)
One way to make a building "greener" is to infuse it with literal greenery. Lush plants and vegetation can be woven into structures to create living facades that absorb carbon and support local ecosystems while also softening the negative psychological impacts of modern urban life.
Once completed, one of the most stunning and sustainable examples of this growing trend in green architecture will be the Tao Zhu Yin Yuan tower in Taipei, Taiwan. Otherwise known as Agora Garden, this 305 foot tall, 21 story residential high-rise will contain 40 luxury condos and a panoply of sustainability features.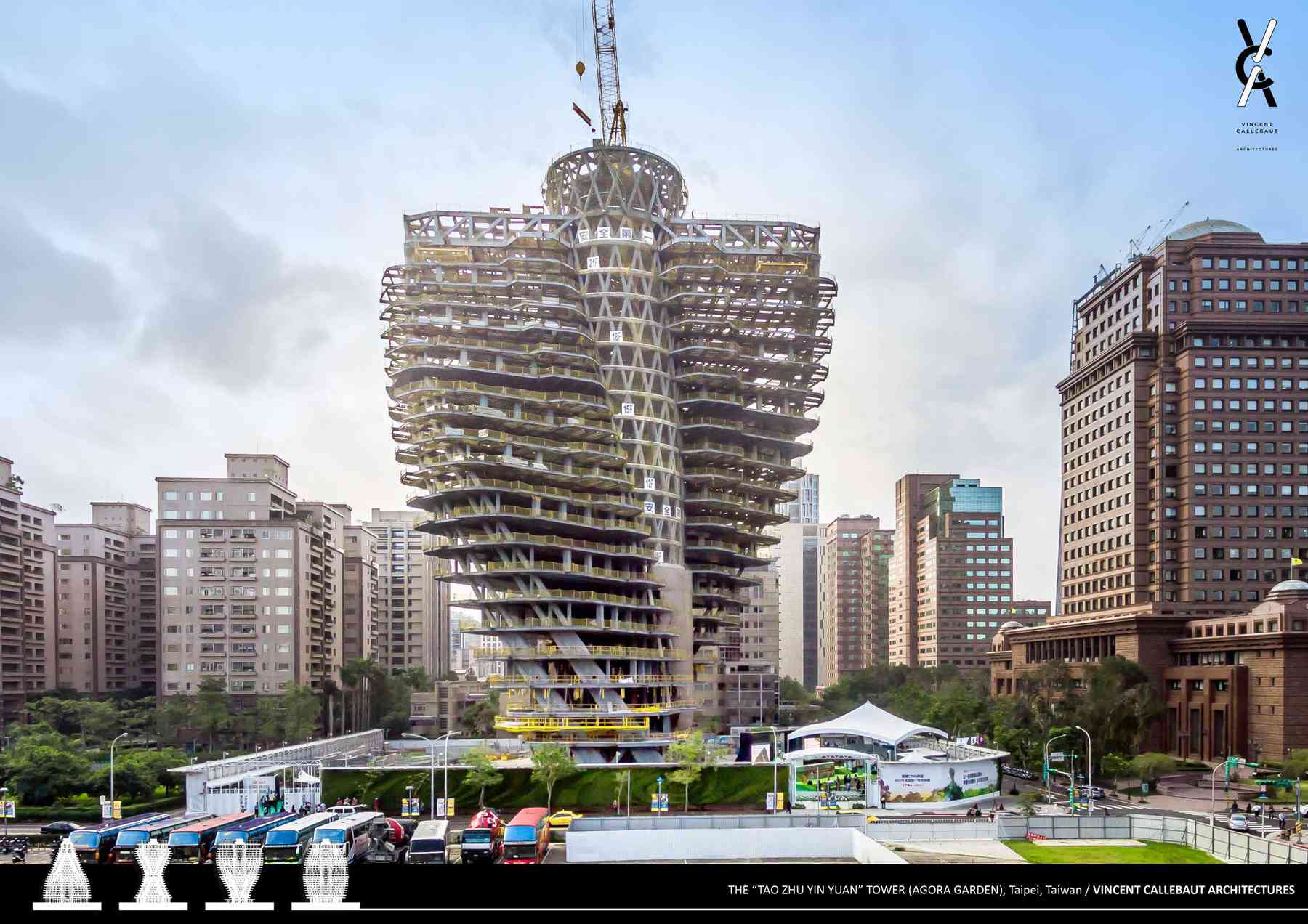 Image Source: Vincent Callebaut Architectures
Agora Garden is equal parts forest and skyscraper. Once construction is complete and the plants grow to full maturity, the tower's roof, facade, and balconies will be festooned with more than 20,000 trees and shrubs–which Business Insider pointed out is nearly as much plant life as can be found in New York's Central Park. The building's designer, eco-utopian architect Vincent Callebaut of Belgium, estimates that the greenery will absorb as much as 130 tons of carbon dioxide per year.
The building has an eye-catching design, its iconic DNA-like frame reminiscent of Helix City, an unbuilt Metabolist megastructure dreamt up by Japanese architect Kisho Kurokawa in 1961. Its clever design and green credentials aren't just skin deep, however. Agora Garden is expected to receive a gold LEED certification and will feature an array of sustainable elements, including solar and wind power, rainwater recycling, and regenerative elevators that capture ambient heat and convert it into energy.
While exciting, it remains to be seen if this living tower can actually deliver on its lofty sustainability promises. Construction began in 2013 and will likely be completed some time this year. Given that Agora Garden is not yet finished, it's perhaps a little unfair to the other buildings on this list to include it. Honestly though, it was just too cool to pass up. Projects like this illustrate what's possible when nature, bold design, and sustainable technologies are blended together into a seamless and beautiful whole.
The Green Buildings of Tomorrow
Sustainable construction isn't just some passing fad. There are all kinds of exciting green building projects sprouting up all over the world, and the need for them isn't going to go away anytime soon. The harsh reality of climate change demands that we take immediate action to heal the natural world. One of the most impactful ways to accomplish this is to make the built environment more sustainable. The stakes are high, but this need not be a grim undertaking. As many of the projects on this list show, building a greener more sustainable world can be a thrilling act that sparks joy, kindles the imagination, and improves the lives of the people around us.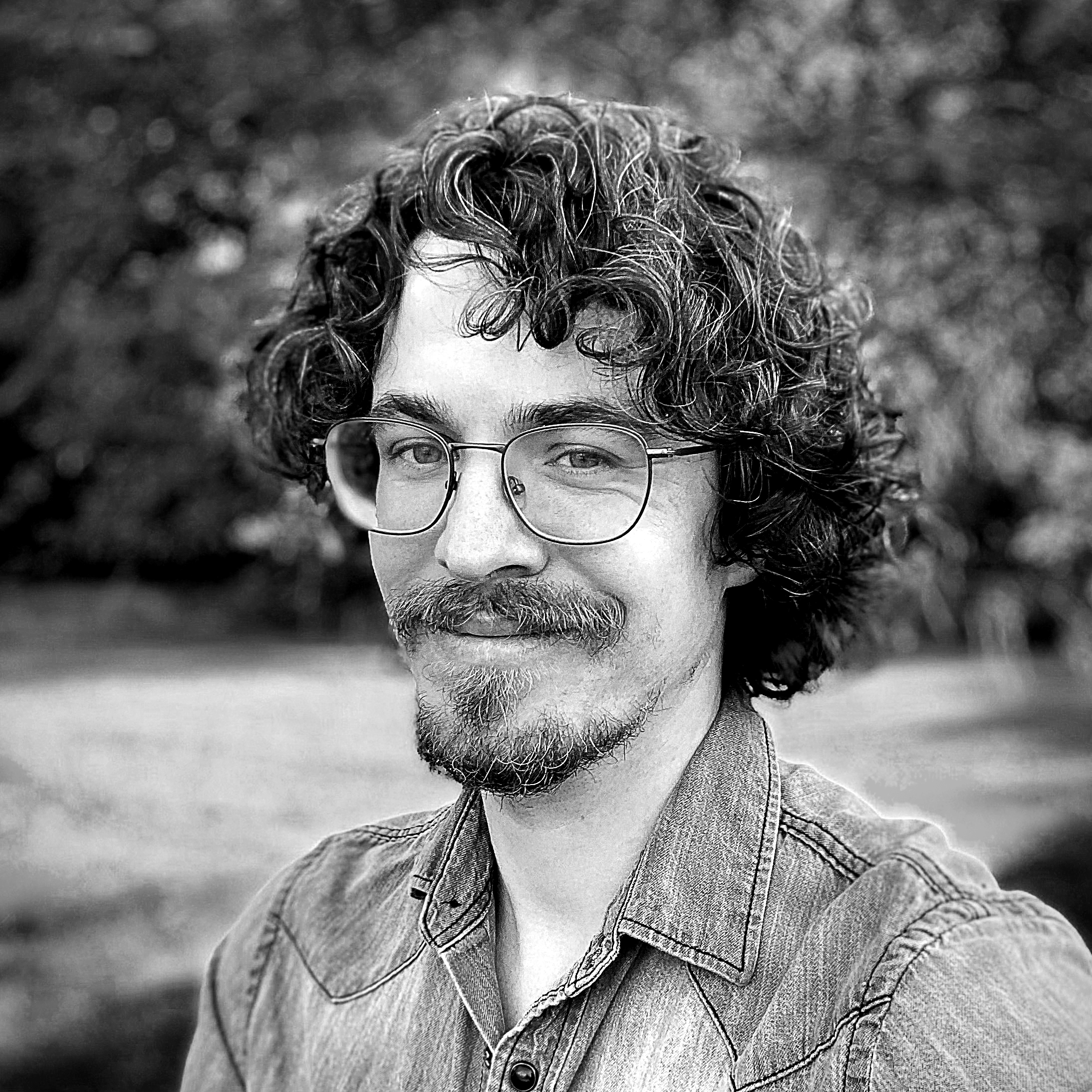 About the Author
Before joining the One-Key team as a Content Marketer, Mike Anderson served as a freelance writer and journalist for many years. His work has appeared in the New York Times and garnered investigative reporting awards from the Associated Press. He lives in Iowa City, IA with his wife Sarah and their three cats—Remy, Finn, and Scaredy Pete—whom they love very much.
More Content By Mike Anderson
Subscribe to Our Blog
Sign up to receive ONE-KEY™ news and updates.
Recent Articles
Editorial Note: This article was brought to you courtesy of Rose Morrison, managing editor of ...
November 13, 2023
There's a whole alphabet soup of inventory management methods to choose from if you're a...